Previous posts on WW in this series: One Two Three Four Five, Six .
________________
So I already expressed my growing enthusiasm for the original Charles Moulton/Harry G. Peter Wonder Woman comics. I haven't read a ton of them, though, so I decided to start at the beginning with Wonder Woman #1, from 1942 (and yes, I know that Wonder Woman started a couple years earlier in Sensation Comics…but this is what I could get my hands on.)
Anyway, the first thing I noticed was, holy shit, comics were really long back in the day. 64 pages, pretty small panels, lots of text, four full Wonder Woman stories, plus a story about Florence Nightingale, plus a short prose story about something or other plus some random funnies, all for a dime. Even taking inflation into account, that's some value for money.
Of the four WW stories, three of them are…a little disappointing. Artist Harry Peter doesn't seem to have quite hit his stride yet; his layouts and stylization aren't as adventurous as his best work. The stories are all also set on the home front, with WW fighting Axis spies and essentially normal folk, so there's less opportunity for some of the nuttier visuals (mystic fires leaping out of typewriters, attacking Seal Men, that sort of thing.) Instead, we're treated to busloads of racial caricatures (not surprising) and an equal number of ungulates (which did take me somewhat aback.) And, of course, there's bondage too.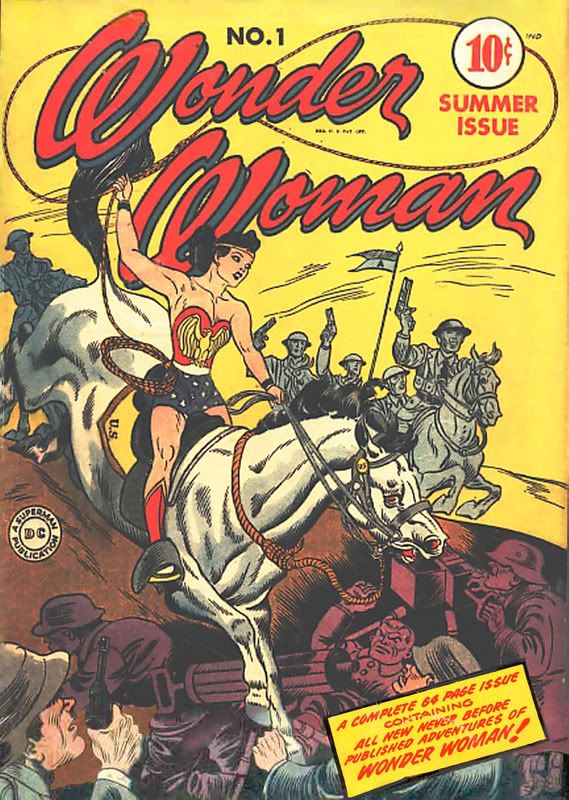 Ungulate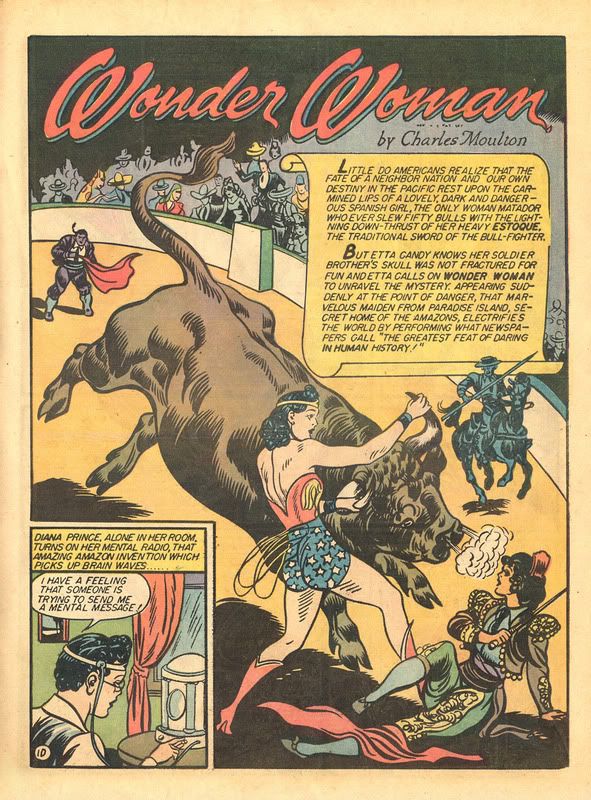 Ungulate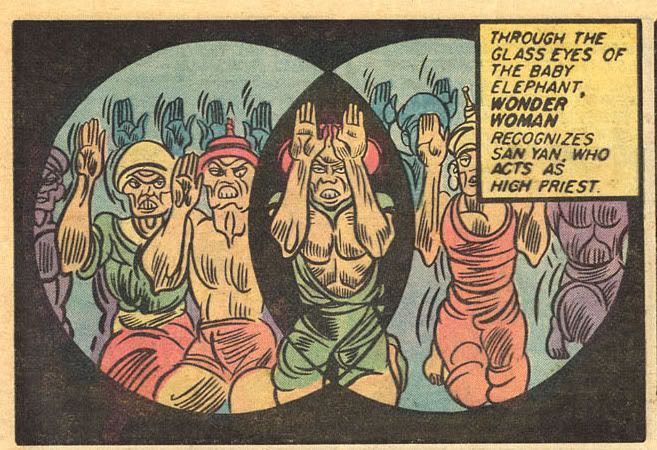 Racist Caricature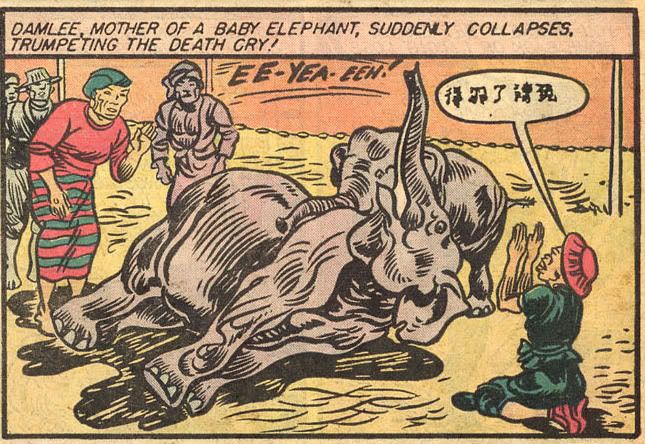 Ungulate with Racist Caricature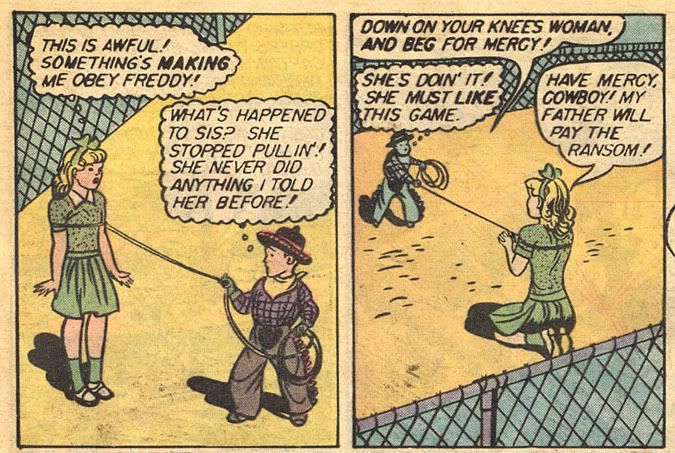 Playful Underage Bondage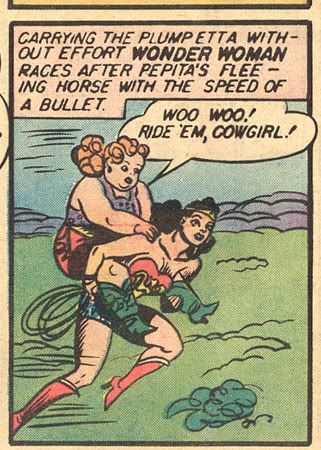 Ungulate Role-Play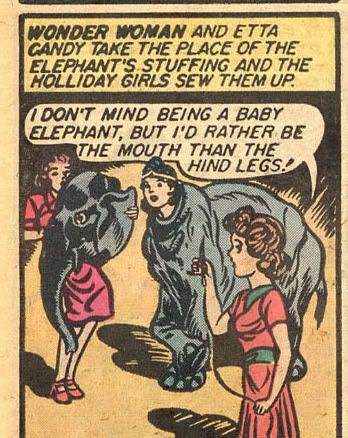 More Ungulate Role-Play
Looking at these, I've gotta say; even if it's not his absolute best work, I still love Harry Peter's art. That (obviously completely morally reprehensible) panel of the evil Burmese doing their unholy rituals while WW watches through the mask eyeholes, with the overlapping circles, the bizarre twisted faces, and the lovely colors…or the scribbly line-work on the elephant, with that misshapen shadow under it… or the weirdly stiff bondage children drawings, with the aggressive use of blank space; –those are all just beautiful drawings.
Another thing you notice on reading thorugh these; I've seen some commentary on the implied lesbianism on Paradise Island, but has anyone commented on WW's relationship with Etta Candy. It is…strangely intense. Obviously, Etta's oral fixation (she's always eating or begging to eat candy. That's her character. All of it.) seems suggestive. And I don't think Steve Trevor ever got to ride on Wonder Woman's back like that. Or to put his face in her backside — it's Etta who is the hindquarters in that elephant costume (in the previous panel, WW comments "I've never dressed up as an elephant before!" As if someone would have assumed that she had.)
So…maybe I was underselling these stories. They're pretty insane. But, for all their virtues, they pale in comparison to the first story in the issue, which I think is now one of my favorite comics stories ever. It's just a delight.
I mentioned before that George Perez's first issue was, by a fair margin, my favorite part of his run. I hadn't realized the extent to which he'd cribbed it from this story. Most of the major plot points come from Moulton; the Amazons are created by the Gods to teach love and be stronger than men. Hippolyta, the queen of the Amazons is given a girdle which makes her invincible; Ares (who hates love and women), sends Hercules to fight Hippolyta; he fails, but uses treachery to get her girdle from her and then he and his men conquer them. But the Gods come to the aid of the Amazons, and show them the path to an island where they can live in peace. Hippolyta, inspired by the gods, crafts a image of clay which comes to life as Diana. Eventually the Amazons need to choose a champion to go to man's world; after a series of contests, Diana wins, much to her mother's chagrin, and so heads off to man's world as Wonder Woman.
It's a great story; as I noted in my discussion of Perez, it has a lot of the inevitability and — especially in Moulton's telling — a lot of the weirdness of the actual Greek myths. Perez played the tale for drama and pathos; the Amazons are explicitly raped in his version, for example. Moulton's tone is lighter — he's writing for a younger audience — but the submerged violence is still there, just distanced and ritualized. It comes across as iconic rather than as soap opera.
Perhaps the biggest difference between Moulton/Peter and Perez, though…or, actually, between Moulton/Peter and any later WW writer I've seen — is that Mouton and his artist are willing to just go ahead and hate men. It's refreshing, both because you don't see enough of that sort of thing in popular culture, damn it…and because it just makes so much sense for the story. No amount of whining about man's world or man's evil or whatever is going to be as effective as a good, vicious, scurrilous caricature: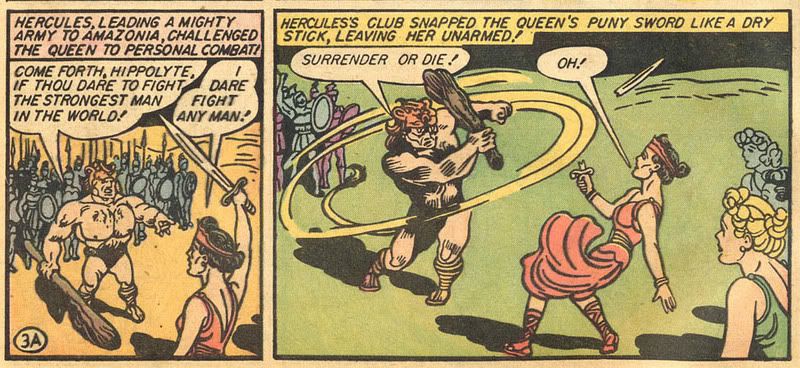 There personified is the extreme feminist vision of ravaging masculinity; dumb, animalistic muscle-bound, wiedling a giant penis-substitute which, in Peter's rendering, is bigger than Hercules' entire body. (And again, what kick-ass drawings these are. I love the crazy motion lines, which are solid enough to actually stop connoting motion and end up as a still design element. And I love the way the stiffness of Hippolyta's arm contrasts with the curves of her blowing dress. Her anatomy is deliberately out of whack, too; the legs and the torso couldn't actually meet, I don't think, which makes her look broken, like her sword.)
Making Hercules (and also the masculine God Ares) so thoroughly repugnant allows Moulton's Amazons a coherence they never really got to have again.  There's still not a logical philosophy, but there is a myythological one.  Moulton is a real gender essentialist; he believes in the idea of a male archtype and a female archetype. As a result, the exact philosophical content of the Amazonian code (do they represent love? do they represent strength in battle?) can be resolved by that appeal to essentialism. An Amazon bashing Hercules is different than Hercules bashing an Amazon because men and women are different, and their acts are disproportionate.  (This is, in fact, true, I think; at least percentage wise, for example, men murder women for quite different reasons than women murder men.)  The Amazons represent love — in comparison to men, which means that when they fight they fight for love, and when men love, they love as a strategem of battle (when Hercules loses the fight, he tricks Hippolyta by, as he puts it, making love to her.) Amazon strength, likewise, is a mystical offshoot of the power of love; the Venus Girdle, which means love, is their strength. And it's weakness, too, since it's her love or lust for Hercules which allows him to trick her out of the girdle, and so capture her.
Moulton, in other words, believes in what he's doing.  He's kind of a crank, basically.  And if you're not a crank, it's hard to take the character seriously…which is why Darwyn Cooke's frank satire from the New Frontier JLA annual, with very cartoony art by J. Bone, is about the best take on Wonder Woman I've seen outside of Moulton: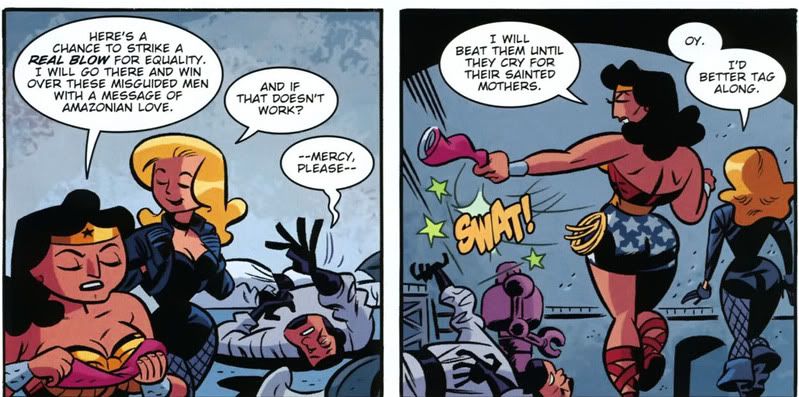 (Thanks to Bryan for tipping me off to this story, by the by.)
Cooke's actually interpreting the character correctly: Moulton believes that love is best expressed by having a dominating woman with a perfect figure and a swimsuit beat the tar out of you. That's funny; Cooke gets it — and he goes on in the story to make fun of WW's supposed connection to feminism (she roughs up the guys at the Playboy Club, to the amusement of an undercover Gloria Steinem.)
However, when Cooke tries a more sober take on the character in the first story of the annual (with art by Cooke himself, I believe) we get this: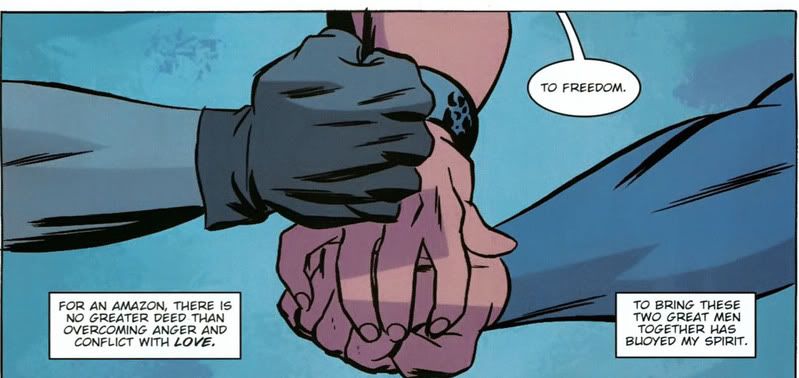 She's all about overcoming anger and conflict with love, and bringing men together…which means that in this here adventure comic, Superman and Batman get to have the big cool fight where they smack the snot out of each other, and WW has to be the peacemaker and talk about how happy she is to have her story be boring and subordinate. On the next pages she burbles along happily about how much darkness and pain there is in the Batman's soul, and how "Kal" is to be the "savior" of them all. Fucking gag me.
So yeah, Moulton's a crank, but maybe you still, even now, in fucking 2008, need to be a crank to be willing to do this: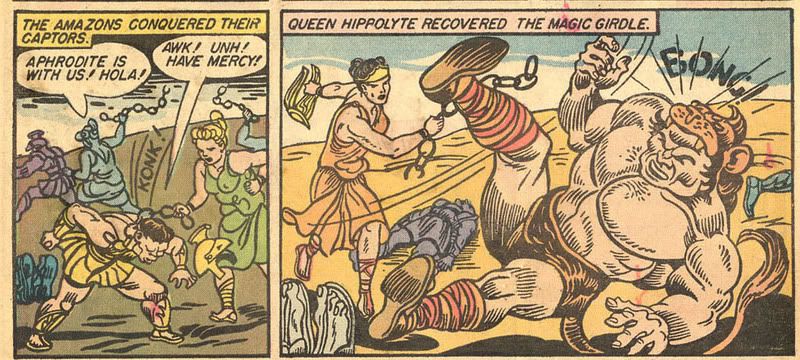 That's a funny panel too…but it's funny at the guy's expense. Hercules is a bumbling oaf who gets beaten down; Hippolyta's the hero — and still feminine (her power comes form Aphrodite, after all.) For Cooke, Wonder Woman is either strong and beating people up (in which case she's a masculinized hypocrite and therefore amusing) or she's standing around pacifically helping her men (in which case she's feminine and boring.) Moulton doesn't have to make that choice; his women are feminine even if they're bashing the hell out of some brute (there's even a nipple lurking in that first panel, if you look close.) Indeed, the women can do the bashing because they are feminine.
Cooke gets tripped up on the pacifist/violence dichotomy, but it's just as easy to bump over the feminist/erotic one. George Perez, for example, made Hippolyta's defeat more traumatic and realistic, and in doing so seemed to be trying to put across a a sincere feminist message about the evils of violence and rape. But Perez couldn't resist the exploitation imagery, somewhat undercutting his stance: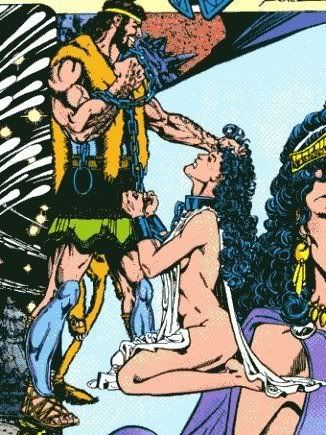 It's hard to take an anti-rape message seriously when it's draped in classic cheesecake imagery; if sexualized violence is bad, you probably shouldn't be sexualizing your violence.
Or here's a third way WW can trip you up: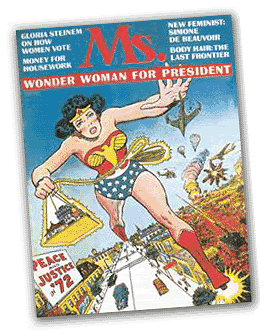 I talked about this cover a bit earlier in the week Thinking about it more, I think that maybe what's really messed up about this image isn't that the eroticism undercuts the feminism (as with the Perez cover), but rather that the use of dominance imagery is very confused. The artist has made WW into a giant. Presumably this is to make her seem powerful and important. But making her into a rampaging Brobdingnagian doesn't project authority (Wonder Woman for President!) Instead, it makes her grotesque…and, I think, along with that swimsuit, serves to sexualize her. Chaging scale this way emphasizes WW's body and the manipulation of it…which is why "Attack of the Fifty Foot Woman" for example, has, and is meant to have, an erotic charge. Ms. is trying to show a woman in control, but instead they get sexualized, deformed femininity — femininity that is sexualized because it is deformed, and deformed because it is sexualized. (Again, when Moulton and Peter show Hippolyta beating up Hercules, he's the sexualized monster, not her.)
On the other hand, there's this: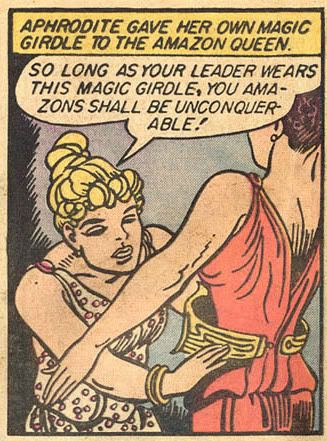 This panel is about women gaining power through a connection with each other.  At the same time, this is, and is meant to be, a sensual image; Hippolyta's stiffness as she is bound, the intimacy between the two women, the fact that their outfits show a fair bit of skin, etc.  In Moulton, though, there's no contradiction; eroticism, strength, and submission all make sense together, because they are all linked to femininity.  Bondage is made a metaphor, or a stand in, for close, (eroticized) female bonds, and so for feminist community.
I'm not saying that Moulton's take on women is impregnable (if that's really the word I want.) Obviously, you could critique as misogynist or just ridiculous the idea that feminine bonding is either (A) innately erotic, or (B) somehow akin to bondage. But, whether you like what he has to say or not, he's aesthetically coherent; the eroticism and the bondage don't work against his feminist vision; they're integrated into it, creating a frisson of desire and devotion and political hope that's both unique and sublime.
_________________
Update: More on Wonder Woman 1 here.