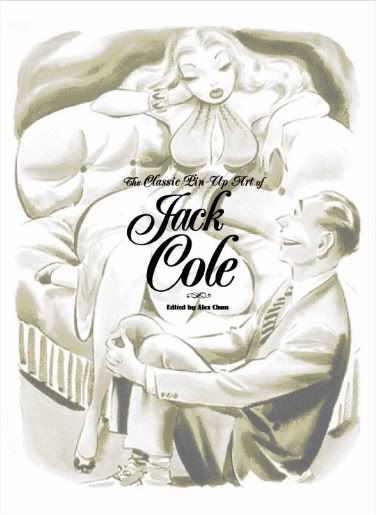 I've been looking at Jack Cole's pin-up art as collected in Alex Chun's excellent (and aptly named) "The Classic Pin-Up Art of Jack Cole." If you have any affection for pin-up art at all, it's pretty great. Cole's impossibly fluid lines are perfect for limning impossible proportions, and the grey washes he uses adds weight in all the right places:
I posted yesterday about Dan DeCarlo's pin-up work. One of the things about DeCarlo is that, when you look at his pin-ups, you instantly tend to say "My God! I'd always wanted to see Veronica do that!" Or not as the case may be…the point is, it looks like Veronica. Cole is very famous for his non-racy work as well, but you don't get the same effect. You can occasionally look at a Cole drawing and say, yeah, it makes sense that this guy drew Plastic Man. Butt you never look at a cartoon and say, "Hey! That's Woozy Winks looking at that girl's unmentionables!!"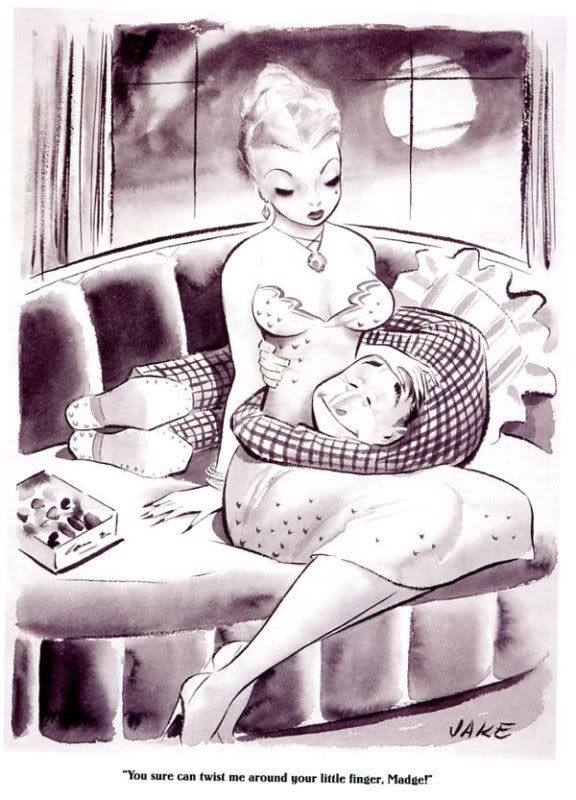 The reason for this, at least in some sense, I think, is that Cole's a better artist than DeCarlo — or maybe not better exactly, but more versatile. DeCarlo's style is a wonderful style, but it is only one style. Whether he's drawing innocent comics for teens or racy illustrations for grown ups, his pictures look like they take place in the same world, with cartoony, expressive faces, stylized, slightly stiff movements, clear lines, and so forth.
Cole has a style too…but the style is defined by his facility more than by any particular look or character. Plastic Man, the pin-up work, and his late Betsy and Me strip are all recognizable as the work of the same artist, but they're all also really different — not just in terms of how the strips look, but in what they try to do. In the intro to the pin-up book, Chun says that Cole had to relearn how to tell gags when he left comic books for magazines. That's a pretty interesting claim, inasmuch as Plastic Man was, like, all gags wasn't it? And gags which were a lot funnier than those you get in these pin-up bits.
But Cole was doing magazine work, and so he was doing magazine work; he didn't seem to want, or need, to try to carry over his interests from one project to another. Sure there are a couple of moments that recall Plastic Man level nuttiness: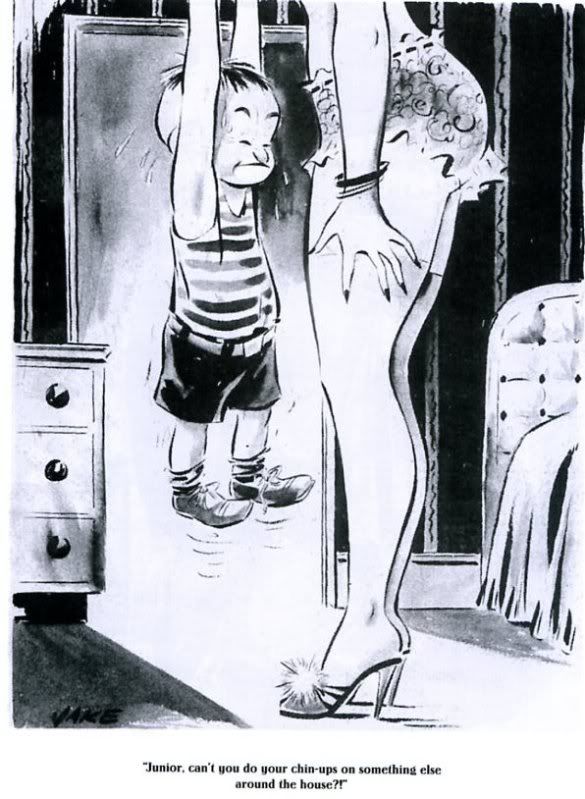 But for the most part he's happy to stick with boring one-liners that rely very little on the kind of frenetic visual hijinks he used in his comic books. (Again as opposed to DeCarlo, for whom the clunky humor of the pin-up gags wasn't all that far removed from the clunky humor of Archie.)
Looking at Cole's seemingly effortless transformations from one medium to the other, you sort of wonder if Plastic Man really was his most personal work, just because Plastic Man the character is so resolutely impersonal. The whole point of Plastic Man, after all, is that he can fit himself to any form, just like his creator. It's a weird, ultra-professionalized version of auteurishness; his signature style is no style, or every style. And it's probably why, while he's much admired, he doesn't exactly have any acolytes. DeCarlo has the Hernandez Brothers, Winsor McCay has Chris Ware…but you can't easily, or perhaps at all, imitate a style the main hallmark of which is the ability to do everything. Cole's art is a triumph of form over content. It's impossible not to admire, but it's very hard to feel a sense of personal connection with it. And indeed, when you look at Decarlo's women, you get the sense that they're people, with something going on behind their mobile features. Cole's women, on the other hand, often have narrowed eyes and impassive expressions. Who needs soul when you can shape the surface however you'd like? His polymorphous is perverse not because it hides a twisted psyche, but because it refuses to refer to the psyche at all.