I've been looking through a Dover collection of Utagawa Kuniyoshi's samurai prints. Kuniyoshi was one of the last great classic Japanese printmakers; he worked during the1800s. This book, 101 Great Samurai Prints, includes two series. The first, "Heroic Biographies from the 'Tale of Grand Pacification'" depicts samurai involved in the battles for the unification of Japan in the 1500s. It's a very pulpy series — a lot of the pleasure comes from "holy shit!" moments of preposterous battles, grotesque toughness, and so forth.
Here for example, is a samurai hiding among corpses to surprise his enemies: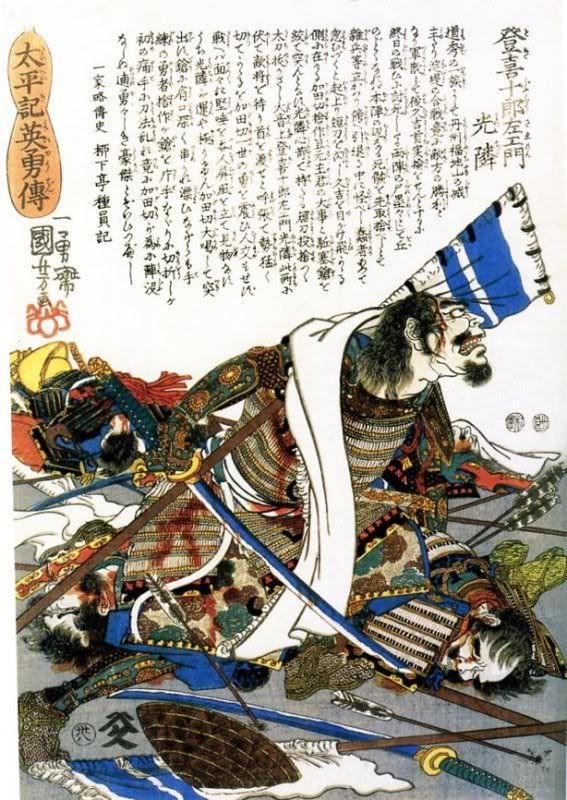 And here a samurai fights a wild boar: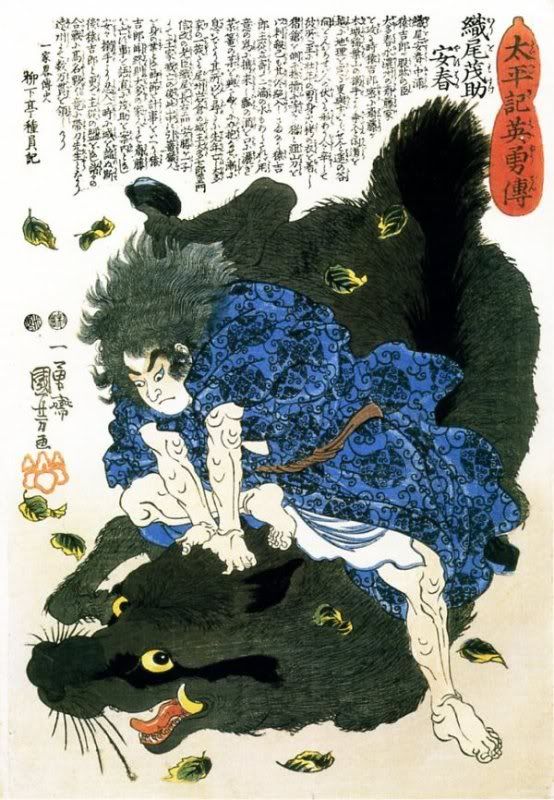 This samurai is squeezing the life out of three opponents: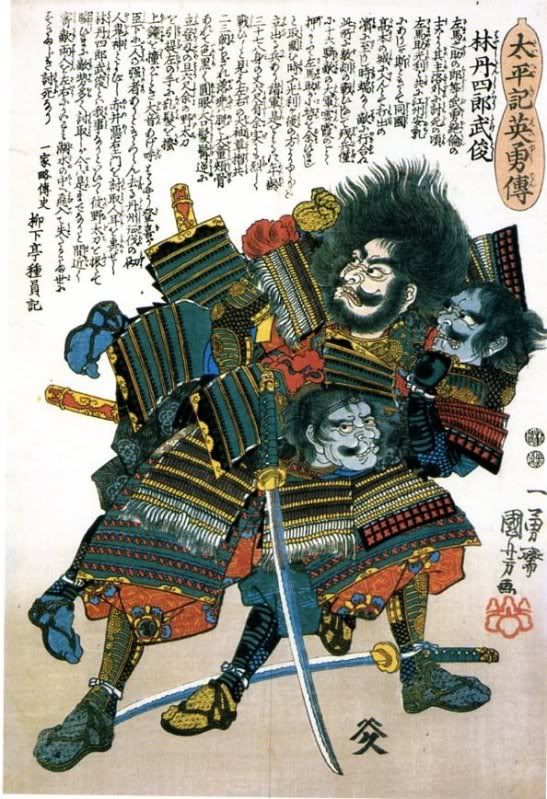 And this one is my favorite I think; it's an underwater battle (notice the fish.)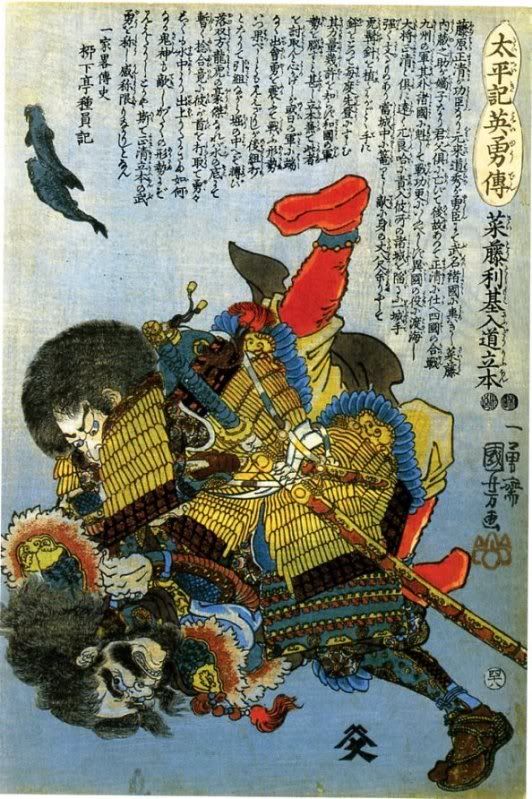 The second series included in the book is "The Faithful Samurai," which is a very famous revenge narrative. It's very different in tone from the other series. Stylistically, it's much less aggressive; the situations are less outlandish, and even the clothing is less elaborately patterned and individualized; all of the samurai here pretty much wear some variation on a black and white robe (though there's still plenty of patterns besides the robe; it's really only less elaborate in comparison to the first series.)
In addition, while the Pacification series above goes for jaw-dropping set pieces, this series is more focused on, of all things, humor. Most of the climactic fight scene takes place inside a residence, and Kuniyoshi appears to have just thought this was hysterical. Many of the scenes show samurai struggling to defeat common household objects, like kindling wood:
Alternately, we see samurai hiding behind kimonos: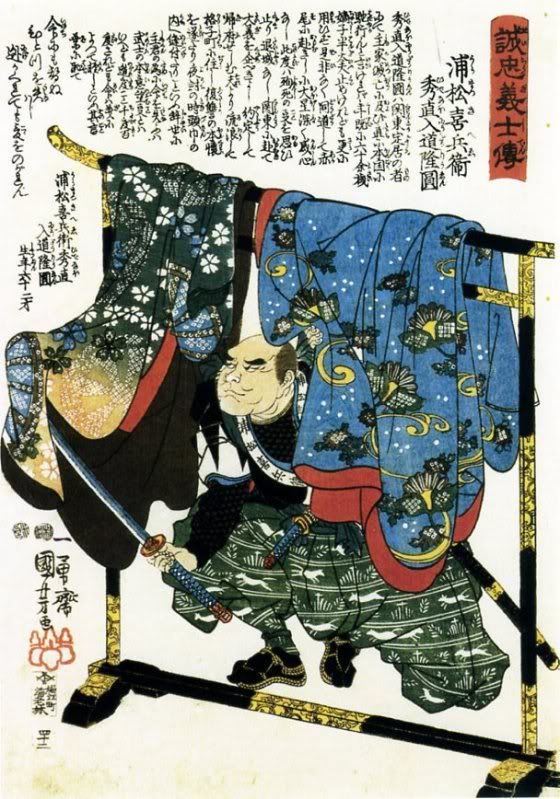 or chatting with the household dog: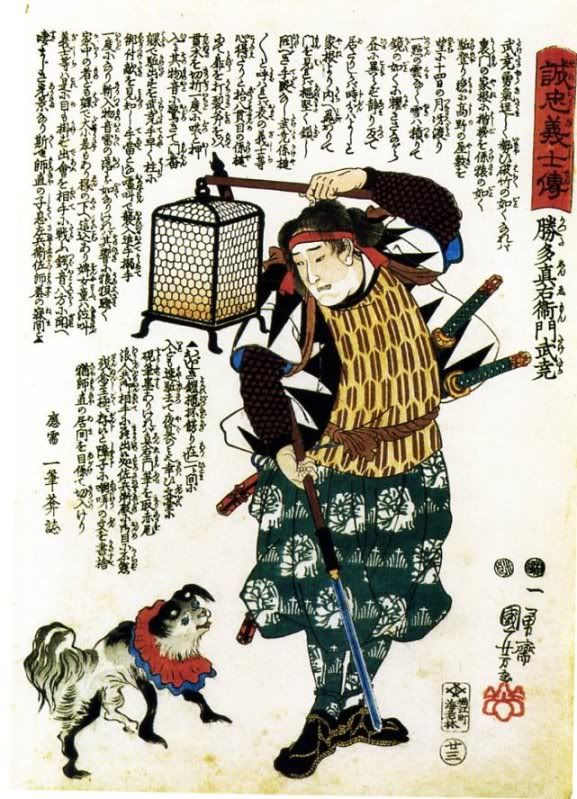 Even the outdoor scenes are mined for slapstick. Here's a samurai being assaulted by a pine tree:
These series were executed about the same time (in the 1840s), so the issue here isn't a change in taste. And obviously they're similar in content. Kuniyoshi just decided to treat them differently…which suggests that each of these series was expected to be seen as a whole, with individual themes and ideas.
It also struck me looking through these that the relationship between narrative and image here is a little odd. These series both work off of well known legends. A more familiar western way to handle a retelling would be to have someone write out a version of the story, and then have the illustrations come out of the text, illustrating the story. Here, though, at least as far as I understand it, the text here isn't a retelling of the story. Rather, the words tell about particular incidents, or give background on the individual samurais. The illustrations can be of particular incidents, but they don't necessarily have to be, and even when they are, they're not necessarily in context (the fight with the pine branch, for example, didn't happen during the famous raid; it was an incident from the history of the samurai, or an anecdote he liked to tell.) Each series then doesn't so much help tell or illustrate a story as it creates a particular take on a legend; narrative gilds the picture, rather than vice versa. It's historical painting…except, since it's a series, there is some sense of sequence, or at least of multiple views of the same incident. It's not comics, but it does integrate stories and multiple images in a way that maybe points to something that you could see turning into comics. It's clear enough, anyway, why comics found such a receptive audience in Japan; there have obviously been popular, aesthetically validated picture narratives over there for some time.