I read the Twilight novel this week as well as Wonder Woman #13. And after finishing both, I have come to a conclusion. Girls like to read about pale, cold, spooky guys.

Yes, that's right, this is the issue with Seal Men! (Not to be confused with Mole Men.) Anyway, the Seal Men are badguys rather than love interests… at least theoretically. It's a little hard to tell, honestly. The head Seal Man does seem to have some kind of frisson with WW: there's some mutural complimenting going on here, for example: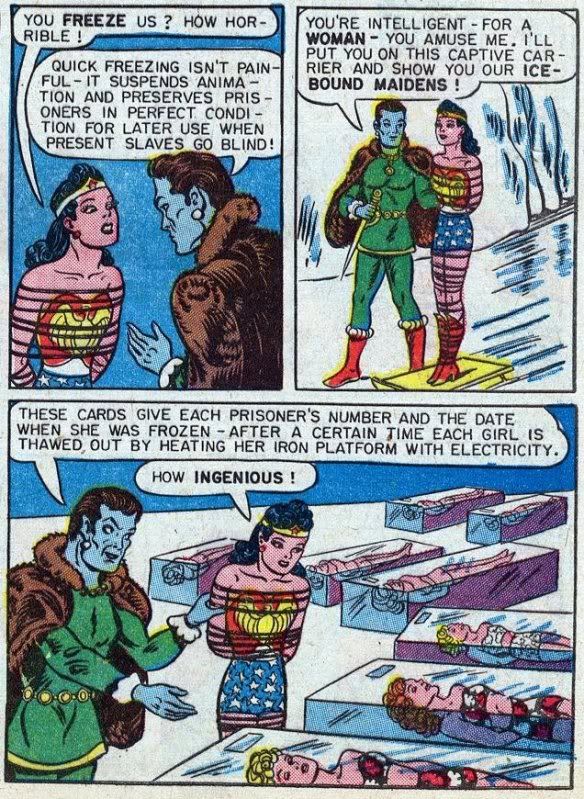 And then, at the end, the Seal Men renounce their evil ways and agree to worship Venus, in return for which the women they've oppressed agree to cook for them.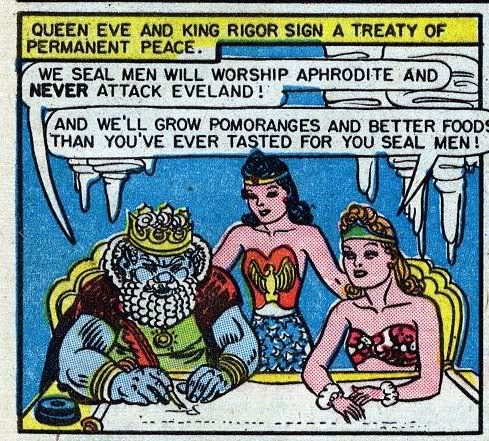 It's kind of fun to think about what Marston would make of Twilight, actually. As I mentioned in my review of the movie, Twilight is obsessed with safety — vampire Edward is always talking about how he wants to keep human Bella safe. In fact, Bella's major trait is that she's accident prone. She's incredibly physically clumsy, constantly endangering herself and others in gym. But that's the least of it — she's actually a magnet for danger. First, of course, she has some sort of superpowerful attractiveness for Edward in particular, which makes him want to bite her (because isn't that what all tween girls secretly want?) And, of course, in later books, she's also beloved by a giant werewolf with self-control issues. But more than that, she seems to really and truly attract everything dangerous within like 100 miles. In the first book, she's almost gang-raped in a town that we are told (somewhat gratuitously) has no crime. Then she meets up with another vampire, and he too, decides that it is the goal of his life to drink her blood. At least in the second book she starts to actually take steps to put herself in danger (Edward leaves her, and she goes all bad girl), so it's not all left up to chance…but even so, it's pretty excessive.
This is a plot device, of course; we've got to have some vampirey super-stunts in here, after all. But it's not *just* a plot device; it's part of the wish-fulfillment. That is, where boys fantasize about being the heroic savior who sweeps the damsel in distress to safety, girls fantasize about being in danger so that the super-hero can come along and protect her. Bella isn't actually a weak character; she's very strong-willed and stubborn, and she's pretty smart (not Elizabeth Bennet smart, as one snarky writer noted, but that really seems like a cruelly high standard.) In a lot of ways, she's stronger, or at least more vivid than Edward, who is always a bit too unreal and perfect as much more than an over-perfect paper cutout. But she can't be too strong, or the fantasy doens't work; she's got to have a weakness, and that weakness is physical. She's not only weaker than the vampire; she's weaker, physically, than everybody. She hurts herself playing volleyball.
It's kind of amazing how blatant this is…and how it seems to have been this blatant forever. That is, you look at Twilight, and female physical power, or lack thereof, is absolutely front and center in gender relations. And you look at Wonder Woman, written sixty years earlier…and it's the same thing. Marston's fantasy of female equality is absolutely centered on his insistence that women can be as strong as — no, check that — can be stronger than men. This is the case for WW herself, obviously, but Marston also presents it as true more generally; inspired by her example, the Amazons perform amazing feats, for example.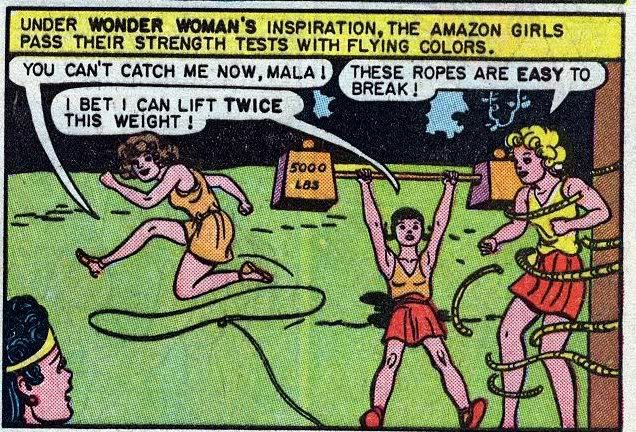 In both Twilight and WW, too, women's weakness is fairly explicitly linked to male insecurity. That is, both Twilight and WW seem to assume that women are weak more or less as a sop to male egos. Edward is obsessed with keeping Bella safe…so much so that he veers right over the line between cutely attentive and creepily stalkery; he has major, major control issues, which Bella more or less, and the narrative absolutely, caters to. And those control issues are supposed to be attractive from a female perspective. That is, the book's fantasy is of having someone so into you that they want to keep you from all harm. Which is a fantasy which obviously requires you not to be able to take care of yourself.
Marston analyzes relationships in the same way, though he comes to somewhat different conclusions. In the first place, he's a good bit more merciless in his assessment of the gap between male ego and male reality: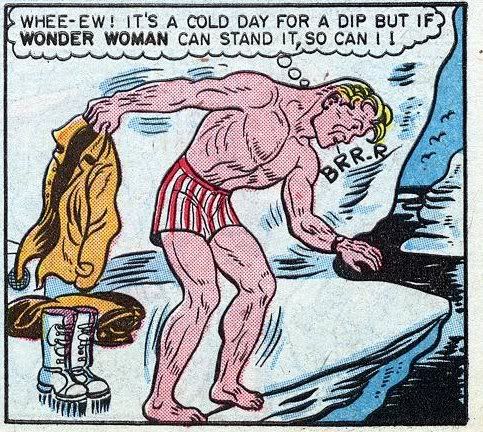 This is Steve diving into icy cold water in his boxer shorts to save WW. And, of course, this is played for laughs, with the shivering and the striped shorts and the fact that we know that WW doesn't need the himbos help. And, indeed, Steve just gets himself in trouble: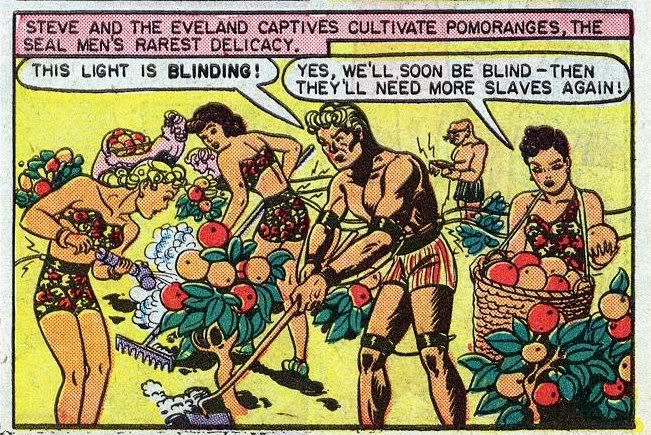 For Marston, men are ridiculous when they try to be strong rescuers. Which is why WW refuses to marry Steve:
To have a relationship with a man, you have to pretend you're weaker than he is. So far, Twilight and WW seem to agree. But Twilight differs in assuming that you should choose the relationship, while WW chooses the strength.
On the one hand, Marston does actually seem to be rejecting male-female relationships altogether; thus, perhaps, his obsession with female only communities. Another one pops up here, and is introduced and explicated in one of Peter's most ravishing pages: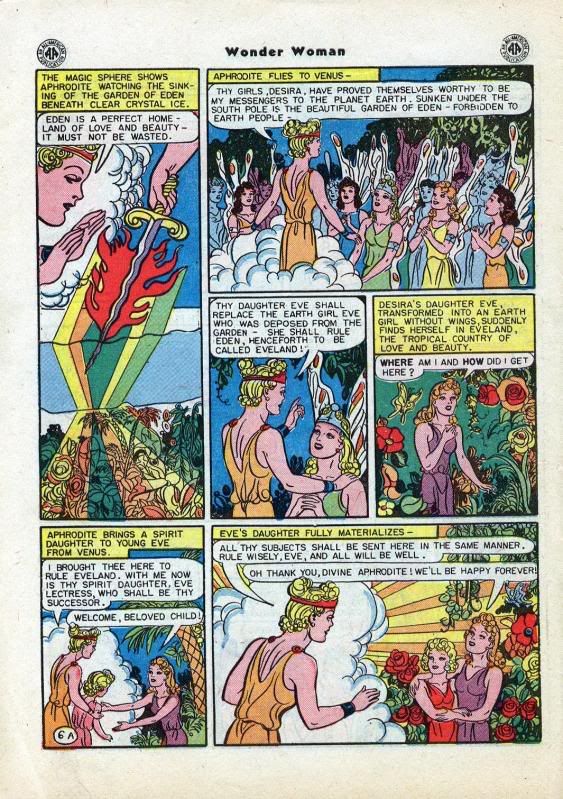 This is essentially a pagan, female recasting of the Garden of Eden. In this version, women don't cause the fall; rather, they are so worthy that they are placed to rule alone in Eden, where they appear to propagate happily without the help of men at all. And when the dark, evil Seal Men do show up, it is they who are the tempters, luring women into their dark realm (what this luring consists of exactly is delicately passed over.)
The thing is that, of course, Marston doesn't *really* hate men. It's just that, what he wants as a man, is more or less the same thing that Bella seems to want as a woman. He wants someone to protect and control him, basically; as I mentioned, once the Seal Men submit to Venus, they and the women can live in peace, and the women will even cook for them (Bella is an excellent cook as well, perhaps not so coincidentally.)
Masochism, in other words, does appeal to both men and women. One of the things that appeals about a relationship is that you get the chance to be weak and have somebody else take care of you; you get mothered, and have somebody setting down laws and limits because they love you, not because they are just (which is a more stereotypically male mode.) Because Stephenie Meyer is female, Mormon, and (I think) conservative, and because Marston is male, a crank, and radical, the way the masochism works out in terms of gender politics is pretty different. But I think the impulse for, and the pleasures of, the fantasies are pretty similar
_____________________
Just to add: this is one of Peter's most impressive issues to date. I don't have much to add to my already ga-ga enthusiasm for his work, but I did want to reproduce a few more pictures. So here you go: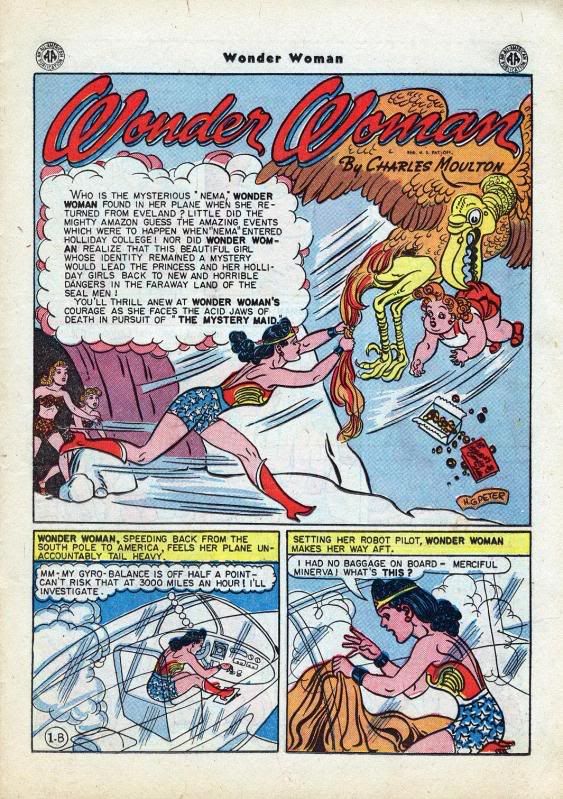 His animals as always kill me. That cloth in the lower-right panel is also something pretty special, I think.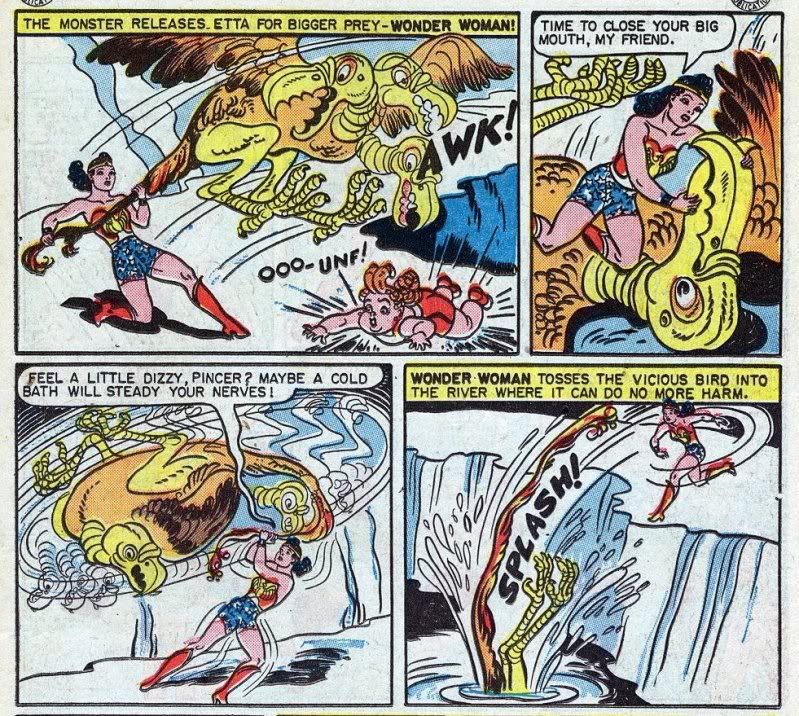 The way he blends detailed linework with goofy cartooning is really phenomenal; he reminds me both of Winsor McCay and somebody like Uderzo here. It's ravishing slapstick.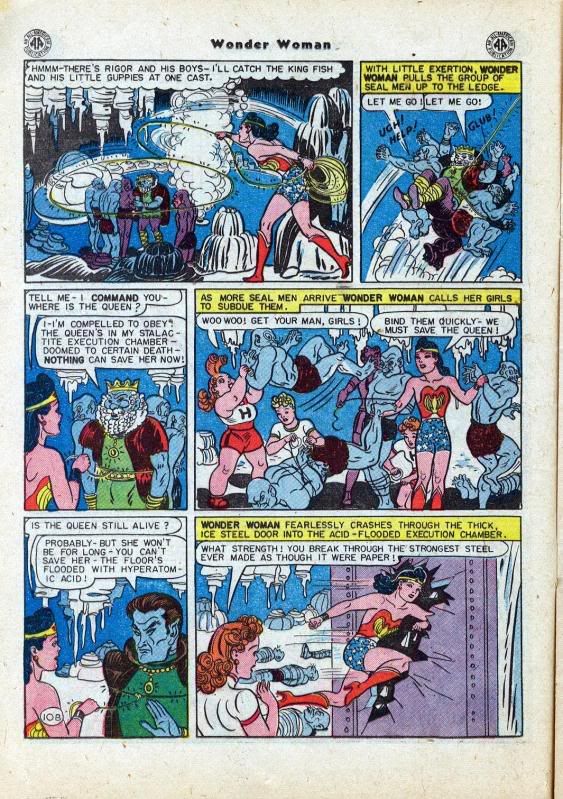 As I've said before, I wish I knew who did the color work on these. It's some of the most beautiful effects I've seen in comics, I think. I love the dark color palette in a lot of these underground scenes.
Notice how the fish and the water swirls complement the patterns in WW's costume. He really was the only one who's ever been able to make anything out of that outfit.
And finally: beware the Walrus Idol!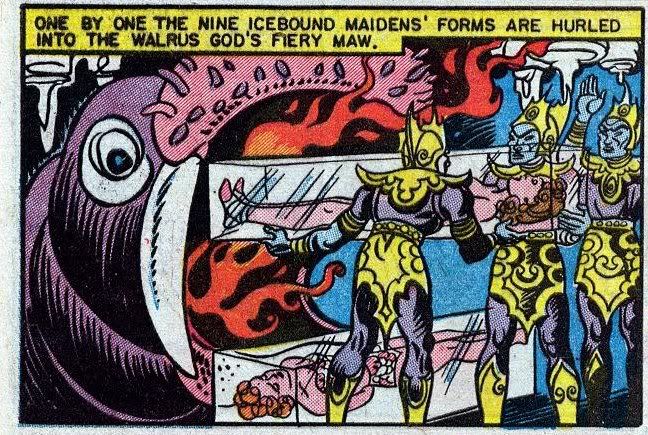 _________
Obviously the whole once a week thing with these isn't quite happening…but I am going to finish them eventually, damn it. So 14 will show up at some point…maybe even next week, if I'm lucky.