A while back I read (via Andrew Sullivan) about the Erin Andrews video. For those who aren't up-to-the-minute on internet memes, Andrews is an attractive ESPN sportscaster who was illicitly filmed semi-nude in her hotel room via a hidden camera. The video went viral, there was much excitement and hand-wringing and hypocritical panting of various sorts by various news outlets. Jennie Yabroff at Newsweek had a pretty thoughtful comment about the brou-ha-ha in which she said:
Andrews has a nice body, but so do lots of other naked women you can find on the Internet, and in much higher-resolution pictures. In the video, she appears to be getting ready to go out: brushing her hair, looking in the mirror. It's not super-racy stuff. The quality of the video is so poor, it's hard to tell Andrews's identity. In fact, the tape has been online for months, and generated interest only when ESPN's lawyers confirmed Andrews's identity as the woman in the hotel room.

Obviously, the fact that Andrews is a celebrity has a lot to do with it. The fact that we've seen her face before somehow makes her body more interesting. And certainly, the fascination with naked celebrities is nothing new. Playboy understood that when it put Marilyn Monroe on the cover of its inaugural issue. But it's doubtful Andrews would have caused such a stir had she posed for the magazine. What's really provocative about the Andrews tape, what makes it good copy for Fox et al. is not that she's naked, but that she thinks she's alone.

Privacy, it seems, is the new nudity (my italics) This is why, when Jennifer Aniston poses topless for the cover of GQ no one does more than shrug, but when paparazzi catch her sunbathing topless, it's tabloid fodder for weeks. Same with Britney Spears. Same with Janet Jackson. It's not so much a desire to see nudity as it is to see candor, to see what the person looks like when she's unaware she's being watched.
I think Yabroff is pretty spot on in her analysis for the most part. But she's wrong when she says that privacy is the new nudity. Privacy and porn have been linked for a really long time. In fact, in her book about pornography, Hard Core, Linda Williams essentially argues that the whole point of pornography, the impetus behind it, is as much knowledge as lust. Why does so much porn look like a clinical gynecological exam? Clinical isn't really especially sexy; if the point was prurience, surely you could find a more appealing way to do it.
Williams argues that the reason for the gynecology is that porn is obsessed, essentially, with obliterating privacy; with making visible women's interiors, both literally and figuratively. There's an essentially sadistic desire to know and possess the women's private self; to consume or fill that private space, so that the woman is entirely obliterated by the observer. That's the kink; to have everything visible, accessible, and controllable. The violation, of self and of privacy, is always part of the thrill.
As just one example of the long-established fetishization of privacy, take the work of Bill Ward. Ward was a fifties pin-up cartoonist, a contemporary of Jack Cole and Dan DeCarlo. Ward was extremely prolific, but among of his most famous schticks (according to editor and scholar Alex Chun) were the telephone girls. Here are a couple of examples, from Chun's The Glamour Girls of Bill Ward.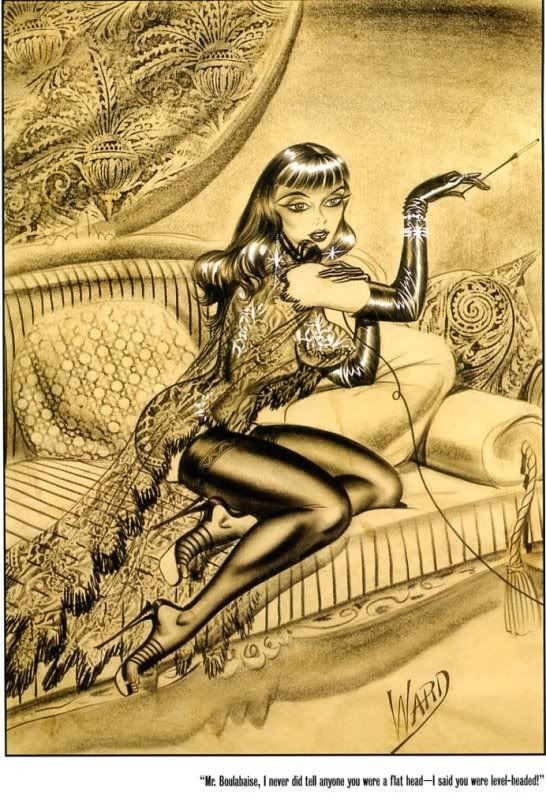 As you can see, it's a pretty simple idea: luscious, top-heavy girls lounge about the room in lingerie, delivering their gag line into a phone. The scenario is built around a winking violation of privacy; the girls, safe in their rooms, think they are unseen by their interlocutors and therefore are free to cavort in lacy underthings. The viewer is like the camera in Erin Andrews hotel room; they get to see What Women Get Up To When They Believe They Are Unobserved. (Though, obviously, Ward's fantasy women get up to more exotic shenanigans, at least in terms of attire, than Ms. Andrews did.)
One of the odd things about the fetishization of privacy in Ward's drawings is how entirely undifferentiated it is. You get to be a secret voyeur in the boudoir of bevies of bodacious beauties — and dang if all those bevies are bodacious and beautiful in just about exactly the same way. Alone and uninhibited, they all wear garters and stockings and ridiculous heels, lace and filigree and fetishy nothings. There's a similarity here to traditional porn movies, where, as Williams says, the obsession is with revealing the hidden insides of women — and what that means, functionally, is the same ritual shots of genitalia over and over. The point of the fetish is not just to reveal the private self, but to reduce that self to a series of easily recognizable tropes; you want to both know everything about the individual and have that knowledge be utterly banal. Again, this is pretty much textbook sadism, with individuals compulsively and repetitively turned into interchangeable, collectible objects — the denial, and indeed, the defilement of personality functioning in itself as the fetish.
I don't actually mean to say that I hate Ward's work or anything. He's a talented artist, and he's certainly nowhere near as sadistic as, say, Tabico, a pornographer whose work I admire excessively. Still, when I compare him to DeCarlo or Jack Cole, I have to say I do find his work kind of numbing…and even a little disturbing. DeCarlo's women always have definite personality. For Cole, on the other hand, personality always seems to be beside the point — he's really much more interested in surface voluptuousness than in pretending that his confections have, or are meant to have, actual brains, which is maybe why he so often doesn't even bother to show you his women's eyes. For Ward, though, personality matters — it's just the same frozen personality over and over and over. His women's eyes often look weirdly painted on; it's like an endless procession of mannequins, all dressed in the same more or less fetishy style, all with the same overblown proportions. Probably the effect wouldn't be so stultifying if you saw just one or two of the cartoons in those old Humorama magazines as they were originally run, but when you see them all together in a collection, it does become a little oppressive. Eliminating privacy goes a long way towards eliminating difference; if you systematically obliterate mystery, all that you're left with is the homogenous and mundane. That's why so much porn is so aggressively boring and why, though I can admire Ward's skill, looking at his drawings gets wearisome very quickly.