(Once again, all hail Memory Alpha, although Wikipedia also contributed to this report.)
I am faced with a task that never ends, and I'm posting this episode out of order — Friday should have been this one, not "Devil." Hence my bright mood: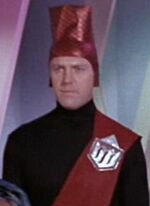 Costume is from "Amageddon," which has especially wacky costumes. Maybe Theiss was feeling punch drunk by this point.
Okay, looking at the cast. The head alien guy (a recurring type on old Star Trek: the 50ish character actor who is front man for some misguided local setup, this episode being the one about the computer-estimate war and the alien civilians submitting to disintegration chambers). Called Anan-7, played by the son of a Yiddish writer. First movie role was Yiddish. "His Semitic features and knowledge of the Yiddish language led to frequent roles as Jewish or Arabic characters." (update, That's a wig, per Joe S. Walker in Comments.)
Exodus, The Wall (Broadway), Raid on Entebbe (as Begin). Got into tv when he was 34, stayed there into his 60s, apparently did okay. He looks distinguished, and it's nice to know he married at 23 and apparently stayed married, "to Lillian Weinberg, a psychiatric social worker." He was born 1918. 
… As near as I can make out, the voice for one of the 2 alien societies' all-powerful computer is done by the guy who voiced the chief Keebler elf. (Mem Alpha identifies his part as "the Eminiar Security [Voice].") He also did voice work in The Green Berets, Bullitt and, years later, the Warren Beatty Dick Tracy.

Below is the police commissioner from Ironside (b. 1921):
Mea 3 was Grace Gardner in Hill Street Blues! I had no idea; she was really good. Barbara Babcock, b. 1937 in Pasadena, Calif. Also did voice of Trelane's mother for one of the floating superior light-blobs in "Squire of Gothos," a voice in "Tholian Web," and played the mean lady in "Plato's Stepchildren." (Mel Alpha)
Grew up in Tokyo because her dad was a general in the occupation. Went to Miss Porter's School and Wellesley. (Her page at Wellesley's site, with a jolly first sentence: "Where does one go after being named Wellesley's Tree Day Mistress at the placid start of the turbulent '60's?") Won the Emmy in 1981 for Outstanding Lead Actress—Drama as part of the big Emmy sweep that helped keep Hill Street alive. Did a lot of tv work thru the '80s and '90s.
Mea 3 has to be saved by Kirk from disintegrating herself. Apparently she gives Kirk a speech about the virtues of disintegration, so Babcock gets some sort of moment there.
Either Grace Gardner or from around then:
Bridget's hip-Catholic-priest brother in Bridget Loves Bernie, the 1974 sitcom about a young taxi driver getting his degree (who's Jewish) and a wealthy young blond teacher (she's Irish Catholic) who get married and cause headaches for their families. The show was no 5 in the ratings but got canceled because of viewer mail complaining about the intermarriage. 
… A tv series called Hey Landlord, NBC, 1966-67.
… "the 1973 blaxploitation film That Man Bolt"
… Walter Koenig sold a script to Land of the Lost.

Miko Mayama, "Yeoman Tamura," appeared in "I Spy, It Takes a Thief (with Malachi Throne), The Flying Nun (in an episode with Gregory Sierra), The Beverly Hillbillies, Ironside, Medical Center (with Glenn Corbett), Hawaii Five-O, Kojak, and Mannix."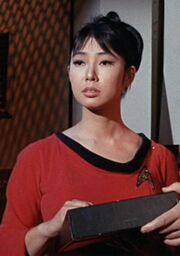 Recurring blueshirt:  Lieutenant Brent.
He was also a redshirt called Vinci:
Single-appearance watch:  A Starfleet flunky.