Joan Collins (b. May 23, 1933, in London)! Her dad was Jewish and from South Africa. Holy shit, Wiki says he was agent for Tom Jones, Shirley Bassey and the Beatles. (They had someone besides Epstein? Wiki's Beatles timeline turns up nothing for Collins.) Anyway, from the client list it sounds like the dad was hitting his career peak just when  his daughter was making it as a starlet.

 She trained at RADA, which I didn't expect, signed with J. Arthur Rank at 17, First movie was Lady Godiva Rides Again (1951). Signed with 20th Century Fox in 1954 as "their answer to Elizabeth Taylor" (Wiki), was "popular as a magazine pinup in the UK throughout the 1950s and into the 1960s."
 Chose to slow her movie career in the early '60s, Mem Alpha says; at any rate, by 1967 she was doing a Star Trek episode, and she also did Batman and Mission: Impossible (which I expect were great credits to have, as tv went ).
 What a face! She was okay in the show, carried off the speech where she gets exalted about how one day there will be space travel.
 I think she had one of the few parts in old Star Trek that put a woman at the center of the story. There was the princess in "Friday's Child," the princess in "All Our Yesterdays," and Elaan in "Elaan of Troylus" (also a princess.) The three alien princesses are spoiled brats; the Joan Collins character is brisk and determined but an idealist, which is meant to be the feminine element in her makeup. In the end, of course, she's there to be knocked over by a car.
… Only two lines of Ellison's script made it into the final, per Memory Alpha.

… The story is set in 1930. But in Kirk and Spock's room you can see the emblem for a fallout shelter up on the wall. That's per Mem Alpha again. I never noticed, which is humiliating. Also, Mem Alpha says someone matched real calendar dates with the wall calendar on view in one scene and established that it was for May 1930. 
Look at this guy (John Harmon, b. 1905). He's a bum in the mission, but he was also Tepo, the Durante-like gangster in "Piece of the Action" (the one who got transported in his underwear and said "Mamma!"). About 200 parts over the years, including a Buck Rogers serial in 1939. In 1975 he played "Old Hippie" on The Odd Couple.

"His career spanned seven decades and almost three hundred movie roles and television guest spots, many of them uncredited. Most of his television work was in the 1960s; he was a staple in television of that era …"

The skeptical cop. Actor, b. 1918, started as boxer, then a Marine in WWII, then acting; 200-plus parts. Name: Hal Baylor (orig. Hal Brittan).
Soup kitchen drunk. Actor, b. 1918, played "the hotel clerk for the entire run of Gunsmoke" and showed up a lot on Dragnet. (Name: Howard Culver)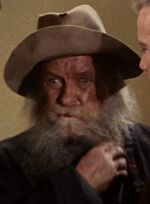 The fellow who drives the truck that hits Joan Collins is the same guy who drove the truck in Duel! Carey Loftin, (1914 –1997, he had an amazing career. Stunt coordinator for THX 1138, The Deer Hunter and The Goonies, which is quite a spread, career-wise, and he drove for Bullitt, The French Connection and The Getaway. I really had no idea.
 Mem Alpha's caption for the photo below: "The truck driver inside his vehicle."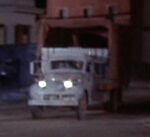 Finally, from Mem Alpha: "Mary Statler is a stuntwoman and stunt actress who was the stunt double for Joan Collins in the Star Trek: The Original Series episode 'The City on the Edge of Forever.' She doubled Collins in a scene where she was hit by a truck. Statler received no credit for her work.
"Statler was one of the founding and charter members of the Stuntwomens Association of Motion Pictures in 1967 alongside fellow Star Trek stuntwomen Regina Parton and Donna Garrett."