Some production facts from Mem Alpha, just because they interest me:
… Similarly to "The Corbomite Maneuver", this episode was filmed early in the season, but aired much later because of the many, newly created special effect shots which took lot of time to be filmed and added in post-production.
… more costume changes than any other TOS character with the exception of Barbara Anderson (Lenore Karidian) in "The Conscience of the King." Guest star France Nuyen's costumes are far more revealing, however: the purple halter top, the silver flowered thing on black mesh, the orange dress, and the blue wedding gown with no sides.
This episode marks the first appearance of the Matt Jefferies-designed Klingon ship ... The new emblem of the Klingon Empire is seen on the model …





War vessel. Like people say, Matt Jefferies did great work. He designed the Enterprise and the bridge, both of which are magnificent, then followed himself with the Klingons' war ship, also a triumph. The ship is oddly beautiful: kind of scary and off looking, like an alien warship should be, but in subtle ways, and at the same time it draws the eye: the ship is uncomfortable to look at but also pleasing to look at. I think it outclasses everything else about the old-series Klingons: the make-up, the dumb names ("Klingon" itself is kind of dumb). In fact I'd say it was better than the show's Vulcan stuff, even better than Mr. Spock's ears. The Klingon ship is old Star Trek's best go at representing alienness, a pretty fundamental mission for the series. 
Shatner's enemy.  MemAlpha mentioned France Nuyen's outfits. She was born 1939, Marseilles; original name: France-Nguyen Van-Nga. The wig is copied off the cover painting of a science fiction magazine from a good ways back.
Per Wiki, Nuyen's father was Vietnamese, mother was a French gypsy. When she was a teen somebody photographed her on the beach and she became a starlet.
In 1958 Nuyen and Bill Shatner starred in the Broadway adaptation of a hit novel, The World of Suzie Wong. Shatner says the play was sold out for months in advance because of mass theater parties booked from out of town. He claims that the result was a disaster because Nuyen was incompetent and impossible, a temperamental brat, somebody who couldn't be trusted even to deliver her lines or do what the stage directions said.
The play would just fall apart, night after night, and Shatner had to stay alive up there somehow. So he began bending his lines; he twisted their delivery, sent the emphasis where it wasn't expected. That way he could give the audience something to pay attention to. This is the origin story for the famous Shatner delivery, the crosswire rat-a-tat-tat everyone parodies. ("Man … was meant … to try," and on "to" his voice goes up, and on "try" it goes down, throws the word away.)  He learned those tricks so he could survive France Nuyen. Sources: Up Till Now and Neal Pollack's comments during Shatner's Comedy Central roast, though I don't advise watching the roast unless you're some kind of moron. ( update, Not Neal Pollack. It was Kevin Pollak. )
Eyerolling.  In "Elaan," Nuyen is just fine. Every big scene has got her in it, she has to carry the episode, and she comes thru. Moues, eye rolling, bellowing, cooing: she puts some life into the business, and it's not just noise, there's a performance. Some people you are really happy to see when you're watching old Trek, and she's one of them. (This effect, I mean brightening at the sight of competence, gets stronger if you're watching a lot of episodes in a row. Now that I'm a few weeks into doing this rundown, I have to remind myself that I'm not really a James Doohan fan, that I'm just very grateful whenever he shows up.)
Nuyen was a reg on St. Elsewhere, got a master's in clinical psych in 1986 and started counseling battered women, women inmates. After three years someone gave her a "Woman of the Year" award. 
Ambassador, others.  The green ambassador (Petri), b. 1930, NYC. Wiki says he did a lot of "summer stock and repertory companies," then Shakespeare on Broadway, first movie was The Robe (1953), played Caligula.
Mem Alpha: "After recovering from a drug addiction and a career-ruining jail sentence, Robinson returned to acting on television in the late 1960s, … Besides TOS, other TV series on which he has made guest appearances include Mannix, Bewitched, The Wild Wild West, Kolchak: The Night Stalker (with fellow TOS guest actor John Fiedler), The Waltons, Barney Miller (with another TOS guest star, Lee Meriwether), and Murder, She Wrote." Movie parts listed for 1970s to '90s. In 1997-2000, hosted Beyond Bizarre for the Discovery Channel.
 Orange shoulders.  Big alien flunky, b. 1937, NYC. Married to the woman who played the pretty historian who falls for Khan, 1962-70, had a kid. First credits mentioned are movies in 1964, including Taggart, in which he starred. Last role was in Quantum Leap, decades later.
 During 1960s, Mem Alpha says, "guest appearances on such television series as The Virginian, Mannix, and Mission: Impossible, as well as Fantasy Island …"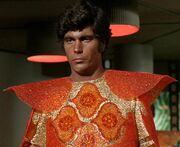 Black redshirt. He has a couple of lines, pops up in a couple of scenes, though he doesn't get to do anything useful. Was also Greg Morris's stunt double on Mission: Impossible.
 Did a lot of small parts over the years, latest being a judge on Boston Legal.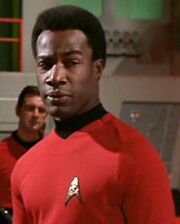 Swamp Thing.  Alien bodyguard #1. He was born 1938, started as stunt double on Lost in Space in 1965, would eventually have speaking part on the '70s Battlestar Galactica.
He was the guy in the Swamp Thing costume in Swamp Thing, The Return of Swamp Thing, and the Swamp Thing tv series. Mem Apha mentions movie credits in '70s, '80s, '90s, in most cases decently budgeted films.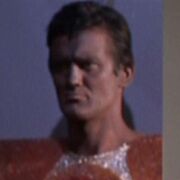 Viewscreen role. The Klingon, b. 1922. Mem Alpha: "Guest appearances on numerous television series, includingGunsmoke, Rawhide, The Untouchables, Wagon Train, Bonanza, The Virginian, and Gene Roddenberry's The Lieutenant. … last appearance was in the 1972 pilot movie for the short-lived series The Delphi Bureau …"
Only known appearance:  The other alien bodyguard, another soul killed by Star Trek's wig deptartment: