Joan Didion said belief in more advanced alien civilizations was a sign of intellectual immaturity. Three points: 1) She should know, 2) It's nice that Jerry Siegel and Doris Lessing have something in common, and 3) Didion is probably right, kind of, and especially if a person fetishizes the superior alien development, makes a big fuss about the aliens being up there and us being down here, which old Trek certainly does — Jesus, again with the all-powerful light blobs. I guess the easiest way to get across we-are-not-the-center is by means of we-are-not-the-top, and the easiest way to understand we-are-not-the-top is to say they-are-the-top, those guys there, just look at them. It's the baby version of a decentered perspective.
Anyway … The head guy on the planet. This time a 60-ish character actor in charge of a misguided local set-up—they're pacifists—but it turns out the set-up isn't really misguided because the aliens are all-powerful light blobs and can exercise overwhelming force without it counting as force, which I think is pacifism at its best.
Mem Alpha says the actor (John Abbott, born John Kefford in 1905, England) was "particularly active in sixties television, with guest appearances in many of the shows of that era. He lent a quiet dignity to the roles he played …" Wound up in Hollywood because during wartime that was the safest way home from Moscow, where he'd been serving as part of the British consulate. Got blacklisted a little later on, was then un-blacklisted because a producer wanted him.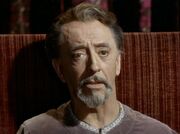 And the Klingon commander, in the first episode with Klingons. John Colicos (b. 1928, Montreal!). 
 A long and lush career on U.S. tv, including three villains on Mission: Impossible and a lot of other guest spots, plus he was a reg on the first Battlestar: Galactica. Wiki says he was also "a distinguished stage actor in the UK, USA and Canada. He is mentioned in The Kenneth Williams Diaries, where the acerbic British actor/comedian mentions how impressed he was by the performance of the young understudy who took over a stage performance as King Lear when the aging, alcoholic star name who was supposed to play the role was unable to perform …" (Kenneth Williams starred in the Carry On films.)
Mem Alphs says: "Colicos made his final acting appearance in the concept demonstration trailer for Battlestar Galactica: The Second Coming, in which he reprised his role as Baltar … The four-minute trailer … was actually part of a thirty-minute pilot film for a proposed new Battlestar Galactica television series that would have continued where the original series left off. … However, the project was never picked up …"
Sidekick old alien. The actor (b. 1903, American) lived in Laurel Canyon for 40 years, got killed off twice in the Reeves Superman series, got blacklisted during the red scare, and basically worked a ton of smallish parts over the years. Wiki says he was Colonel Matterson in One Flew Over the Cuckoo's Nest. 
 Unnamed flunky Klingon:  Mem Alpha says he's been doing convention appearances.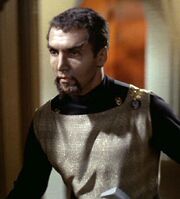 Quite a face: Another venerable alien. Actor (b. 1901) had only four screen appearances, Mem Alpha says. Presumably they were all around this stage of his life.