Kirk loses his memory and marries an Indian princess. Spock does his second mindmeld on Kirk in 3 episodes, by Mem Alpha's count. The site also says:
The obelisk was built especially for this episode.

The lake featured in this episode is the Franklin Reservoir above Los Angeles. It has been featured in hundreds of westerns and police shows, but is most famous as the fishin' hole in the opening credits for 

The Andy Griffith Show

.

Other than the street sword fight in "

All Our Yesterdays

", this was the only episode with outdoor shooting in the entire third season.

Uhura is not on the bridge in this episode, but stock footage from "

And the Children Shall Lead

" places her there for a moment.

During the first attempt to deflect the asteroid a rare top shot of the 

Enterprise

 is shown.
A lousy episode unless you enjoy seeing Shatner making an ass of himself. It's a ham display, and not the familiar, herky-jerky hamminess Shatner fell into when trying to goose a line. Here we see Shatner's special mode, in which he would physically try to overwhelm whatever emotion he had to put across, bring his whole body into it. In this episode he has to convey Kirk's deep happiness at being an Indian god and marrying the Indian princess in a beautiful forest, so he squeezes his eyes shut and swings his arms wide while swiveling. He puts a lot of force into the squeezing and beaming; I think his face goes red. The moment isn't so much fake as unreal. A fine distinction, of course, but watching him you don't feel like Shatner is trying to shortcut his way to his goal. He's just deeply misguided. Very few people could make such a mistake and then pursue it at such white heat.
The Indian princess is played by Sabrina Scharf. "Born Sandra Mae Trentman in Delphos, Ohio," per Mem Alpha, and IMDB says she was a bunny at the Playboy Club in NYC. No birth year.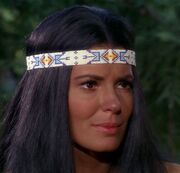 She was a late '60s/early '70s type exemplified by Ali MacGraw: long straight black hair, wholesome features. Barbara Hershey was another. Don't think Angelina Jolie today would qualify, too facially exotic. The earlier type was more like a lush, wholesome blonde but with the hair somehow gone black.
Scharf's credits start in 1965 with a role on Gidget ("Penelope Peterson"). Her Star Trek role was her 10th in 3 years, including a couple of movie parts. The movies have really dreadful period titles: The Virgin President ("President's Girlfriend") and the very hard-bitten Dead Heat on a Merry-Go-Round. The credit line for the second film, per IMDB, is "Girl in bed with James Coburn." In 1969 she was in Easy Rider as Sarah, possibly not a large role. (update,  In Comments, Joe S. Walker says this: "Sabrina Scharf was the female lead in "Hell's Angels On Wheels", a 1967 American International effort starring Jack Nicholson. It's been a long time since I saw "Easy Rider" but as I recall Peter Fonda and Dennis Hopper spend some time in a commune where she's one of the leading spirits, and she questions why they want to go back out into the bad wide world.")
Also in 1969  she married Bob Schiller, who had been doing fine as a comedy writer since the 1950s and would do even better in the 1970s, thanks to Norman Lear. Scharf had a dozen more roles, mainly tv, after the marriage, then her credits stop in 1975. Mem Alpha says that at some point she entered politics and even became a state senator, but that's all it says. Googling turns up a bunch of little show-biz items that also mention her being a state senator but say nothing about party, period served, etc. Damn.
The episode shows off her legs a bit, and they're not just long but toned. Nowadays being toned is standard for actors/actresses. Back then it wasn't, even for cheesecake.
The jealous lug, b. 1934, Stanislaus County, Calif., had 50 parts by IMDB's count, started in 1957, ended in 1983 with a Quincy. Mem Alpha: "Solari died of cancer in 1991 at the age of 56. A popular acting coach and theater director, Solari once had a theater named after him. It has since been renamed." Jesus.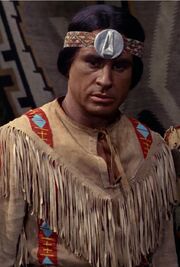 The old chief. 
His name was Richard Hale, b. 1892 in Rogersville, Tenn. IMDB lists 130 credits, earliest None Shall Escape (1944, his role was "Rabbi David Levin"), latest a Police Woman ep (1978, ep was titled "Sons"). The site dug up some photos from very, very early in his career; at least I assume they're for/from theater work.
"Blind Man," "Soothsayer," "King Chandra," "Chief Xolic," "Gaunt Man." He was in the Night Gallery pilot. Mem Alpha says, "He was often cast in the role of a Native American, and as such, made guest appearances on seveal television Westerns, including Bonanza, Cheyenne, Gunsmoke, Rawhide, and Wagon Train. He has also appeared in several episodes of Perry Mason."
… There's a movie called The Explosive Generation, from 1961, William Shatner as a sex ed teacher with a turbulent classroom. Tag: "They look like kids — but they want love like adults!" Trailer here, though Shatner just sticks his hands in his jacket pockets and registers concern.