The good guy among the people on the planet was played by Harry Townes, who was born in 1914 and played 200 tv parts and 29 movie parts. Wiki says he was "ordained as an Episcopal priest in St. Paul's Cathedral on March 16, 1974, and served at St. Mary of the Angels Church in Hollywood, California." He retired from acting in 1989, when he was 75, and lived his last 11 years in his hometown of Huntsville, Ala.
… In 1995, a movie called Project: Metalbeast, with cast members named Diaunte (one word only) and Musetta Vander.
… A tv episode titled "Long and Thin, Lorna Lynn," from a show called The Duke (1979).
The episode's girl, Tula, was played by Brioni Farrell, whose real name was Xenia Gratsos. She was born in Greece in 1940, then came to the U.S. to act.  She seems to have been doing okay with tv work right thru 1968, then there's a 5-year gap, then her parts resume but not at as frequent as earlier. What she was doing around when she did "Archons," per Wiki:
A lot of ethnic names in those parts: Rossi, Waa-Nibe, Luciana.
…as Tula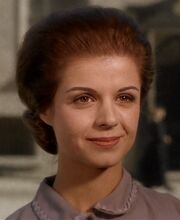 The First Lawgiver, meaning a guy in a monk's robe and hood, is played by Sid Haig, who turns out to have a cult-films career behind him. He was in a bunch of Jack Hill films, meaning blaxploitation and the '70s, and a bunch of Rob Zombie films, meaning Fantagoria-type comedy-horror vehicles. And he's worked a whole lot in tv shows. He turned down the part of Marcellus Wallace because he wanted to get out of the B's. His real name is Sidney Mosesian and he was born in Fresno, went to the Pasadena Playhouse, met Stuart Margolin there and roomed with him.
Landru, sort of the head alien, was this guy, who sometimes played Hamilton Burger ("Perry Mason's hapless opponent"):
All right, this is weird. The guy who played the brunette mid-30ish ensign ("Lindstrom") was also in Perry Mason but as Perry Mason's assistant. And both he and Sid Haig were in Diamonds Are Forever.
This guy is a babyface who popped up in a few Trek episodes because he was friends with Joe D'Agosta, who did casting. He did a Lucy Show too, in 1968, for whatever that tells us: by then Lucy had sold Desilu. Anyway, the guy's credits keep on into the '80s. Wind-up: "Morgan eventually left acting to pursue a career in financial services and insurance. Today, he lives in Kalispell, Montana." Here he is in "Archons": 
This guy ("Bilar") was also in Stargate and Independence Day. Born Lev Mailer, called himself Ralph Maurer: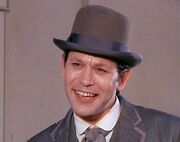 He was born in 1933 but just starting on tv when he did Trek. Other credits around then: "The Lucy Show (1967), Mission: Impossible (1967, alongside Mark Lenard, Jack Donner, and Dick Dial), Daniel Boone (1967, with Michael Forest and Morgan Jones), and It Takes a Thief (1968, with Malachi Throne, Steve Ihnat, and Lawrence Montaigne)." That's from Mem Alpha, so the other actors' names are all of people who appeared in Trek. Of the shows named, Lucy and Mission: Impossible were both Desilu, and Gene L. Coon (who produced "Archons") was producer for It Takes a Thief when Mailer/Maurer worked there.
Recurring Redshirt watch:  Lieut. Galloway, who sometimes had a name and sometimes didn't, who died in one episode and was back in another. The actor was pushing 30.
Galloway 
Only known appearance:  Barbara Webber. The Archons had mass fits where everyone acted out, and during one of these fits she twirled around and danced.