… TV series of the late '50s and early '60s: The Man from Blackhawk, Sam Benedict, The Farmer's Daughter. One from the late '60s, a favorite title of mine: Bracken's World. A boy who had a regular role on that show killed himself, something that shows up in What Really Happened to the Class of '65.
… Jubilee Trail,

 a 

Western from the 1950s. Here's another:

 

Drum Beat

.
Ensign Rodriguez, the
young fellow
with the girlfriend, was also Lt. Escobar in
Chinatown
. … Kirk's
long-lost love interest
 starred in an attempt to make a sitcom of
My Sister Eileen
. I like the earrings, which I assume William Theiss hunted down somewhere.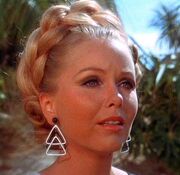 The man who played
Don Juan
was named James Gruzal, which just hits me as an unusual name to have.