I like Ricardo Montalban (b. 1920, Mexico City).

Not really a great actor, but you're always glad to see him. He's got vitality, and I think in real life he was supposed to be notably generous and good-natured. You can imagine him spending eighty years sharing his glory with everyone and never realizing he couldn't act. Hey, it all worked out. The guy was built and he always gave it his all.
Note: That was Montalban's real chest when he played Khan, according to Nicholas Meyer, who didn't direct "Space Seed" but did direct its movie sequel, Wrath of Khan, a decade and a half later. Khan's costuming was designed to show off the bod, per Nicholas Meyer quoted in Wiki's Montalban entry.

Shatner didn't like other leading men being on the set; Inside Star Trek says he baffled Montalban with his hostility. Shatner has the same vitality as Montalban and a lot more tricks as a performer. But he's kind of a dick, very grasping and neurotic about his screen time. It's a mania for him, and in the end it took him over. Hence the "Shatman" stage of his career, which has been busy but humiliating. I don't think Montalban ever sank that low, though Fantasy Island sounds like it was right on the edge.
Wiki says Montalban's "first starring film was He's a Latin from Staten Island (1941)." Also: "Montalbán recalled that when he arrived in Hollywood in 1943, studios wanted to change his name to Ricky Martin. He frequently portrayed Asian characters – mostly of Japanese background …"
His first big U.S. film was opposite Esther Williams. He was also in two films with Joan Crawford. In 1949 he became "the first Hispanic actor to appear on the front cover of Life Magazine." He sang opposite Lena Horne on Broadway, "light-hearted calypso numbers."
Montalban was crippled in 1993 by an injury he had suffered in 1951 filming a Western and kept secret. He continued to take roles and lived until 2009. For instance, he was the granddad in the Spy Kids movies.
"His final role was the voice of a cow in an episode of Seth MacFarlane's series Family Guy, in which he parodies his Khan role by paraphrasing some of his lines from Star Trek II."
The pretty historian who falls in love with Khan: Madlyn Rhue, born Madeline Roche in Washington, DC, in 1936. She played Montalban's wife in a 1960 Bonanza episode, and she did a Bracken's World. In 1977 she was confined to a wheelchair by multiple sclerosis. She did a Fantasy Island appearance that way. 
A favorite actor name: Blaisdell Makee. He was Hawaiian, b. 1931, and played Spinelli in "Space Seed" and Singh in "The Changeling," in each case one of your standard Enterprise underlings. When Nimoy was being troublesome about his contract, Makee showed up on a list of possible replacements.
Makee's Singh (l.) and Spinelli (l.):
Only known appearance: Kathy Ahart as a superhuman Khan follower. I could swear the costume involved bubble wrap.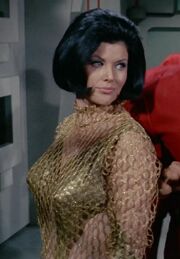 Random redshirt: Bobby Bass, who was also James Doohan's stunt double sometimes. He did stunt work in Smokey and the Bandit and the Pacino Scarface, among others. His widow was Bo Derek's mother.
Single appearance:  Joan Webster as a nurse, no lines. The spray bottles showed up a lot in sickbay; I guess they were considered modern enough.