… Scotty did the voice for the warning device sent up by the aliens (which Mem Alpha i.d.s as "Melkotian buoy"—"buoy" is odd, but nobody's on board the thing so what else do you call it?)

 … The voice for the Melkotian itself (pop-eyed creature that looks like a dummy) was done by Abraham Sofaer. He voiced a superior glowing light blob two years before, in "Charlie X."
… There was an early '60s tv Western called The Tall Man. What a great name.
I'm going to start with the unspeaking slain rancher. Born as Palmer Lee in San Francisco, 1927, stage name was Gregg Palmer. In "Spectre" he gets plugged and falls over; this is right when the Enterprise crew has first arrived in the old West.
Why start with him? Because, if you want to read Wiki entries about minor '60s tv actors, this is the greatest Wiki entry ever. It goes on for show after show, part after part. Gregg got his first role in 1950, a Martin and Lewis vehicle called My Friend Irma Goes West. Then, from 1955 to 1978, he did nothing except stand in front of cameras, mostly while episodes of tv Westerns were being shot. The entry's got  character names, episode titles, co-stars: 14 paragraphs of this stuff. Palmer was "Burly Man" in John Wayne's last movie. 
Somehow he also got over to England and appeared in two episodes of Doctor Who, the episode that closed off the first Doctor's run and the episode that did the same for the second Doctor. Not major parts, but credited. Wiki says Gregg is the first actor to do both Star Trek and Doctor Who. 
All right, the rest of the actors. They're good. Like "Devil in the Dark," this is a real line-up of mugs, hard-bitten masculine types, but "Spectre" has a much better selection. Apparently Hollywood had great choices to offer if you were looking for Western types.
Villains are often a weak point of old Trek casting. Not this time. We have a very good Wyatt Earp, b. 1928, Chicago. The guy is scary. He did some notable manly films of the late '60s/early '70s: True Grit, Papillon, Chisum. His first film: Roger Corman's I, Mobster (1958), which also had Celia Lovsky. "His last film role was an uncredited appearance as a judge in the popular comedy Deuce Bigalow: Male Gigolo." Died "from lung and brain cancer in 2002."
The Virgil Earp, also good, b. 1913. The voice of the announcer on the castaways' radio in Gilligan's Island, which Wiki says was his longest-running role. Did a lot of series westerns in the '60s, including 8 different Bonanzas as different characters. (Mem Alpha and Wiki)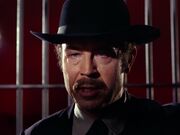 The Doc Holliday, b. 1915 in Lynn, Mass. Did some tv western guest shots in '60s, also a bunch of Brando films. First role was a cameo in The Men, kept on a with a bunch of other Brandos in '50s/early '60s, then pops up in The Missouri Breaks (1976).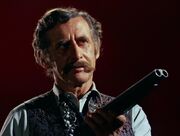 Chekov's love interest: the blond bargirl, b. 1941. This was her next-to-last acting role. She'd done guest spots on a number of shows: The Fugitive, Gunsmoke, The Invaders, started with a Twilight Zone in 1964 in which she'd been the central character, a folk singer. Had been Bob Dylan's girlfriend in college, possibly inspired "Girl from the North Country." In 1965 she married Wavy Gravy. Mem Alpha: "The two are still married, and Beecher now goes by the name Jahanara Romney. With her husband, she helps run a number of charitable organizations."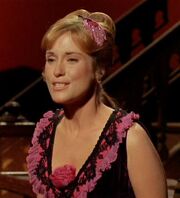 Ed the barkeep, b. 1897, NYC. He's good; he carries the scene where he reacts to Kirk's claim to be from the future, etc. (by "react," I mean he breaks up and guffaws elaborately). His credits all seem to be from the mid-'50s into the '60s, last is Westworld (1973). Lot of Westerns, including tv work and some John Fords.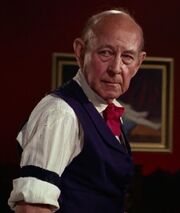 The sheriff, actor b. 1915 in NYC. TV/movie work from late '50s on, but entry also says he was in Honeymooners. Last roles are in first Ace Ventura and Naked Gun: The Final Insult.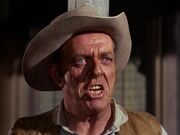 The barber, b. 1930, Philadelphia. Vincent McEveety put him into five episodes. The thing is, I'd say McCready was quite good; wonder why the other directors didn't use him.
Here he is as a wild child in "Miri," a torture victim in "Dagger of the Mind," and a space Nazi in "Patterns of Force." I don't know, I buy him each time.
The Morgan Earp, one hell of a scary face. The actor did an album "called Here in the Land of Victory. It featured a mix of country, blues, and eastern influenced folk." Born 1928 in Denver, also appeared in Star Trek V, "his last known screen appearance."

Latter shot directed by Shatner — naturally.