Marston and Peter's Wonder Woman 16 may have been the best of the run so far, both in terms of the unusually ominous story and the adventurous art. #17 starts out well, with a marvelous cover.
Peter uses almost all of his favorite tricks here: the bison is out of scale, so WW looks almost like a doll, and even the horse seems bizarrely tiny. The motion lines are incredibly dynamic…in part because the circle is split up, I think. He also uses some of his scribbly linework for the bison's breath…and that little cue cartoony squirrel is hard to resist. Plus, it looks like we're going to get WW in the wild west, which sounds like it has potential. The last time travel episode, with evolving gorillas and dinosaurs and Steve turning into a cave man, was pretty great, so I was optimistic that a second might work as well.
Unfortunately, after that cover, the issue itself is pretty much…eh. Part of the problem is that the entire plot is built around a scientist Lana, her love for the no-good Carl, and WW and the Holiday girls' efforts to cure her of same. Lana's confusion is such that it causes her to whip up time winds which cause all and sundry to fall back into the past and relive former lives in roman and colonial times…but even such full-bore nuttiness can't disguise the fact that this is a pretty staid man-done-her-wrong plot. Marston's fetishes are kept mostly under wraps (as it were); Lana triumphs simply by getting rid of the bad guy in her life, not by teaching him the joys of bondage and loving submission. The feminism is less conflicted, but also a good bit duller. Or maybe the problem is just that pure, naive Lana is not a particularly sparkling protagonist; whether as modern scientist, Roman maiden, or pioneer daughter, her trust in her blandly evil boyfriend and love for her blandly gruff father are equally uninvolving. You can see why Marston didn't care enough about her to even bother tying her up.
As is often the case in this series, as Marston goes, so goes Peter; the artist doesn't seem nearly as inspired as in his last couple of outings. Still, there are a couple of moments. The duo does some more experimenting with wordless action sequences, and again the effect is lovely:
This is an interesting moment too.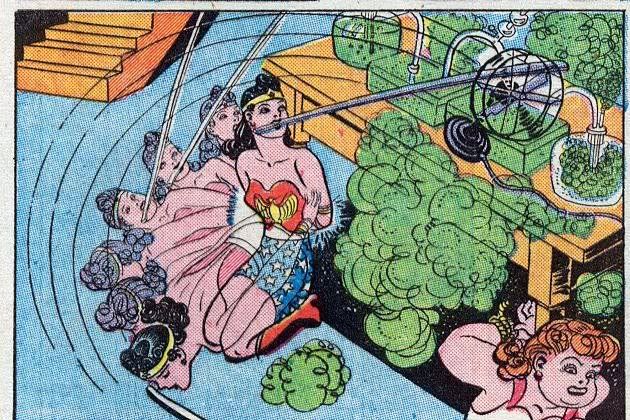 Wonder Woman is using a pole to pick up a fan so the blades can cut the ropes tying Etta. I'm not sure the sequence entirely works; it's hard to figure out whether WW is supposed to be moving up or down in that first panel, and the way the image is cropped, cutting off the end of the pole and the bottom two-thirds of Etta, seems awkward. But, again, I like the experiment with wordlessness, and the use of mutliple, Flash-like images of WW to convey motion is intriguing. Again, I wonder if this is something we'll see more of in future issues. (I know we'll see more of bound WW manipulating objects with her teeth — Marston lives for that.)
Going into the past also allows Etta to fully embrace her butchness:
Yep; in a past life, Etta was a gun-toting madam…er, that is, cantina owner. I like this intimation of jealousy as well:
Peter also makes Etta rather handsome there. The borderline men's attire suits her. (More evidence that Marston doesn't necessarily see women in drag as evil.
And…yeah, I think that's really about all I've got to say here. You can tell the issue wasn't firing on all cylinders because I'm not having to stifle the impulse to reproduce every single page. Peter's art is still worth looking at, but there's little evidence here of the breath-taking double page layouts that made last issue so stunning. But that's the way it goes sometimes. We'll see hope for better on the next one….