I like this episode okay. Melvin Belli, the celebrity lawyer, plays a space demon who takes over a bunch of kids. The kids use telepathy to take over the Enterprise, but then Kirk shows them a tape of the old days when they had parents, so the kids come back to normal and reject the demon. The story works okay and the children playing the possessed kids are nice.
Belli's shower curtain.  Mem Alpha says Walter Koenig was pissed because casting Belli meant that a working actor wouldn't get the job. If I recall right, co-producer Robert Justman also objected. Belli seems okay in the role, but he comes to us thru a lot of studio tricks that make him blurry and fuck with his voice. His costume is a real crime, but I don't think anyone got cheesed off about that.
Here is the translucent Belli (b. 1907 in Sonora, Calif.) wearing his Mother Hubbard/shower curtain: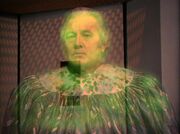 Shatner's musical director.  The skinny redheaded kid who's ringleader of the messed-up children. This guy (b. 1953, Minneapolis) has had the most extraordinary high-level schlock music career you can imagine. Mem Alpha doesn't do it credit; you have to check Wiki.
He did a lot of tv acting and jazz combo-leading in his teens, took a couple of years to study "progressive, multi-dimensional philosophy with a number of important futurists," then started the high-level Hollywood schlock music career.
How to say this? He became "the Music Director for William Shatner, appearing in many shows and concerts, and helping to create songs such as Rocket Man, and Lucy in the Sky with Diamonds." Of course Shatner did his "Lucy in the Sky" in 1968, so the kid would have been just the age he in this episode. Maybe Shatner figured the kid had what it took.
Also, in the early '80s the kid "began performing most of the synthesizers on a variety of Stevie Wonder albums, and later with Earth, Wind & Fire. This prolific era culminated with a half year project in which Huxley performed most of the keyboard work on Michael Jackson's Thriller."  This career section largely is not schlock. But he also contributed bits to the scores of the first four Star Trek films, he produced the soundtrack of 2010, and he wrote and produced (or helped to) the music for Captain Eo.
Started the Enterprise Group (I guess the Star Trek connection was a good calling card with clients), which Billboard "named the #2 mixing studio in the US" in 2001.
All in all, that's a lot.
Cute kids.  Above, Felix's little girl in the tv Odd Couple. What a cute little blond girl (b. 1959 in LA), now an animal rights activist who likes to go to Trek cons and sign autographs. She was quite good in "Children," notably better than the skinny redheaded boy.
She did a lot of movie and tv work in the '60s/'70s ("the original voice of Lucy Van Pelt in the Peanuts series of television films," the lead girl's voice in Charlotte's Web, etc.), became a nurse, married a surgeon, and the two of them got into animal rights. IMDB lists 72 roles, starting with an ep of The Littlest Hobo in the early '60s, ending with Christmas the Horse in Elf Sparkle Meets Christmas the Horse (2007). Around the time of her Trek episode she was doing Monkees, Green Acres, Custer, Gunsmoke, Mad Mad Scientist, Blondie (5 eps), an ep of The Flying Nun called "The Reconversion of Sister Shapiro" in which she played "Linda Shapiro."
One and only.  Above is a one-and-only appearance, and Mem Alpha doesn't give his age. There's a moment when Belli as space demon is giving the kids their instructions and this boy breaks into a grin. Not in line with the scene, but it was charming.
Career start. The guy below (b. 1959, LA) has done a ton of voice work and tv guest spots, including a Next Gen episode."Children" was his first role. 
Takashi from Revenge of the Nerds 1, 3 and 4. (James Cromwell was also in the listed films, which blows my mind). Also Police Academy 3 and 4. He was also a St. Elsewhere reg for one season, and the voice of Leonardo in Teenage Mutant Ninja Turtles 1, 2 and 3.  Wiki says, "Of Asian ancestry, Tochi frequently plays characters who are Japanese, Chinese, or of other Asiatic origin, adopting the appropriate accent as needed." IMDB lists 74 acting jobs, of which "Children" was the first, then a Brady Bunch, a Partridge Family, a Nanny and the Professor, 14 eps voicing a kid in The Amazing Chan and the Chan Clan, and so on to "Preacher" in I Do (2007).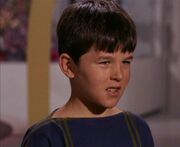 Doesn't like it.  Melvin Belli's kid, b. 1957. Made a face over some ice cream, if I recall. Role was also a one-time thing.
In the grip.  Above is the hypnotized tech guy who mouths off to Scotty. Name was Lou Elias, did two other Trek episodes, both as guards. Mem Alpha: "Additional TV credits include Batman, Gunsmoke, M*A*S*H, Hill Street Blues, The Fall Guy, Knight Rider, and L.A. Law … performed stunts for films like Spartacus, True Grit, The Wild Bunch, The Longest Yard, Flashdance, and Dick Tracy."
Jewish redshirt.  The redshirt who was going to arrest Kirk. Dick Dial, b. 1931. In "The Apple," left, he was the only Jewish redshirt I've heard about, Lieut. Kaplan.
Enigma.  The episode's mysteriously beautiful but wordless tech guy. He was Jay Jones and also worked as Doohan's stunt double.
"To Serve Man."  The man below, no birth year, is listed as "Second Man in Line" for the Twilight Zone episode "To Serve Man," the one about aliens who are really doing a cookbook. In "Children" he's the lost colony's leader who delivers a warning on tape. He looks a bit like Randy Quaid. IMDB lists 13 acting jobs, starting in 1950 as "Welsh Captain/Gardener" in a (I think) British tv version of Shakespeare's Richard II, then over to the U.S. with Zone, then a few others. Did a Lucy Show (as "Airport Passenger") and in 1968 a Mission: Impossible (as "Hotel Manager"), right after his Trek. The Trek part may have been his biggest on screen. Last credit is 1972.