The Romulans have a woman commander, and she's in charge in all, but she has to do the sort of dumb things a commander has to do in a bad tv script. The big thing: she romances Spock without knowing about the seven-year mating cycle. (WTF? Mem Alpha says this of D. C. Fontana's first draft: "the first draft script describes Spock as 'raining kisses on every square inch above the shoulder.'" Fontana wrote that? Apparently she went further and used a Trek novel to rejig the rules so that Vulcans didn't become horny every seven years, they became fertile, which is bullshit. Spock in "Amok Time" does not behave like a man who is suddenly and painfully fertile.
To me D.C. Fontana will always be the woman who wrote "Journey to Babel," the script that did the neatest job of getting drama and fun out of the three core series regulars. Disappointing to see her do this silly tap dance.)
The commander, b. 1928, Bakersfield, Calif. IMDB lists 74 parts. She did some movies, but mainly tv. Her credits go back to 1954 and Studio One, then the Kaiser Aluminum Hour, things like that. She and Shatner played husband and wife a few times. Wiki says her "many television credits include appearances in The Twilight Zone, COronado 9, The Eleventh Hour, Bus Stop, Hawaii Five-O, Dr. Kildare, Ben Casey, Kojak, I Spy, Bonanza, Felony Squad, Gunsmoke, The Streets of San Francisco, L.A. Law, Columbo, The Invaders, Alfred Hitchcock Presents, and Charlie's Angels."
Married to director Mark Rydell from 1962 to 1979, per Wiki. Mem Alpha says they're still married and "it was only for a supporting role in his 2001 TV biopic on James Dean that she briefly came out of retirement" (to play Hedda Hopper).
… The Romulans have knit uniforms. That's unexpected for a warrior race.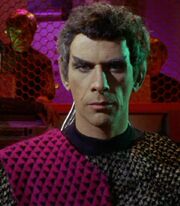 The number-two Romulan, b. 1928, LA. Wiki says he did "such shows as The Streets of San Francisco, Mannix, Kojak, The Man from U.N.C.L.E., and eleven episodes (the most by any guest star) of Mission: Impossible. … He founded Oxford Theater with fellow actor Lee Delano. Their students included Barry Levinson, Craig T. Nelson, Barbara Parkins, and Don Johnson. He now has a recurring role on General Hospital as Nikolas and Spencer Cassadine's butler Alfred."
Romulan tech officer, b. 1938. He directed and co-wrote Macon County Line and Return to Macon County, a couple of mid-'70s guns-and-gas exploitation films. Then he directed tv episodes for a couple of decades, including a first season episode of Next Generation. He was also in "The Deadly Years."
Romulan tech flunky, b. 1938.
The commander's guards.
Unknown redshirt, goldshirt . Mem Alpha says they were also at Kirk's funeral in "The Tholian Web."
Two Romulan hostages. Notable for the shadowy glimpse of their plus-fours.