The episode involves a space disease. I find the following item hard to believe, but it's from Mem Alpha:
An early press release misspelled the disease as "xenopallasathemia". Fan writer Ruth Berman picked up on the gaffe and reported it to Devra Langsam's zine Spockanalia, adding "Talk about too much of a god thing."
Because of "pallas" being in the middle of the space disease's name. I don't normally go for nerdy bad puns, but this case is so extreme that it commands respect. (Side note: Kind of odd that the script would impose such a tongue twister on the cast.) 
By now Star Trek had sets, props and footage it could cannibalize. MemAlpha notes:
 The Book of the People is the same as Chicago Mobs of the Twenties in "A Piece of the Action".

The metal helical staircase is recycled from "The Empath".

The scenes showing Yonada are reused footage of the asteroid from "The Paradise Syndrome", and the curved staircase in the control room at the end of this episode seems to be the same one used inside the Obelisk in that same episode.
Lousy script.  "Hollow" is another lousy show, again because of script. Space disease hits reg from nowhere; there's a space tribe bossed by a computer; the head gal falls in love w/ regular for no apparent reason; Kirk and Spock are captured, then let go, so what; the regular decides he'll stay w/ gal and die from his disease, but then he doesn't have to because the tribe's memory banks have advanced alien knowledge; regular winds up back on bridge w/ rest, gal stays w/ tribe, but I forget how we reach this point.
Just a fucking stinker of a turd of a dead plot, and the regular who gets the terminal disease/alien gal is McCoy. Of all old Star Trek's first-line cast, DeForest Kelley had the least to keep him afloat. He was likable, which counts, but there wasn't much he could pull off as an actor. I think James Doohan was a good deal better. In season three he was getting enough business to count as number 3½ of the big three, but too bad he wasn't higher up. Would have helped if he'd been the lead for this ep, which Mem Alpha says was the case in the story's early stages.
McCoy's eyebrow.  McCoy and the alien priestess have their first clinch. The camera tracks in slightly on McCoy – and DeForest Kelley raises one eyebrow. It's like Dave Thomas doing an impression of McCoy registering consternation.
Also, when the show wants to remind us of McCoy's fatal illness, he coughs. It's like Chopin in a biopic. And there's a lot 
of standing around and talking, though that's the case even with decent old Trek. Couldn't the writers/directors use the hack's trick of giving the actors something to do with their hands? Even that would have helped.
The episode is a planet show, big on sets and costumes, about a dozen extras running about in various configurations. Theiss went crazy with the costumes, as he tended to when a whole bunch of aliens had to be got up. Wish I could show some, but Mem Alpha and Google aren't helping me on this one.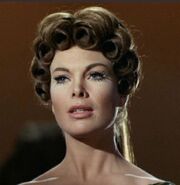 Alien priestess.  The love interest, b. 1938, London. Didn't really hear an accent. She was Patrick Macnee's wife when the episode was shot. Wiki says she had parts in "Z-Cars, The Avengers, Danger Man, Mission: Impossible, Mannix, Days of our Lives, and Eight is Enough. She retired from acting in the late 1970s." Married Eddie Albert's son in 1978, when she was 40 or so and he was 28. IMDB lists 53 screen acting jobs, first was in 1960 (ep titled "A Girl for George" on Inside Story), last was in 1979 (two eps of Eight Is Enough as "Ms. Chovick"). Around time of "Hollow" she had eps of The Spies, Mission: Impossible, and The Outsider, and a role in something called The Greatest Mother of Them All. 
The cruelty of the system, or what?.  My theory is that tv science fiction was a tough thing for old character actors back in the 1960s. They wanted to keep working, but they had no idea how strange tv sf's demands might be, or how awful the results were when the production crew didn't hit the mark.
Below, I think this is a bad way for someone to wind up — at least per my theory. Maybe the actor (b. 1906 in Canton, Ohio; orig name Jon Lormier, stage name Jon Lormer) himself didn't care. But the progression looks sad. Star Trek upped its demands on him until there he was, 62 years old and … Christ.
That runs from "The Cage" (first pilot) to a stand-by alien in "Return of the Archons" to the wig shot, which is from the actor's brief but big scene in "Hollow." He staggers up to the Trek men like an apparition and gives them a quavering, old-soothsayer speech that includes the episode's title phrase; then he falls over and dies. This is by far the most that Trek ever gave the actor to do, but he had to put on that robe and that wig.
On the other hand, check out these credits:
 "Judge Chester on the prime time soap opera Peyton Place (1964-69 …), and guest appearances on Thriller (1960, hosted by Boris Karloff), The Untouchables (1962 …), Family Affair (1970 …), Barney Miller (1976 …), Mission: Impossible … and The Twilight Zone (1960-1963 …). He also made repeated appearances on Perry Mason (often as a coroner) from 1959 through 1963 …

He also had roles in the 1978 TV miniseries Arthur Hailey's the Moneychangers …  and Loose Change …

His many feature film credits include The Comancheros (1961 …), The Singing Nun (1966 …), Dimension 5 (1966 …), Doctors' Wives (1971 …), Rooster Cogburn (1975 …), and George A. Romero's Creepshow (1982 …).
IMDB lists 147 screen acting jobs, starting with an ep of Nash Airflyte Theater in 1950 (great series title, of course), ending with a movie called Beyond the Next Mountain in 1987. Around the time of "Hollow," he was doing eps of Batman, Lancer, Run for Your Life, The Big Valley, The Outcasts, The Guns of Will Sonnett, Mission: Impossible, and The Wild Wild West, not to mention the role of "Chaplain" in a movie called If He Hollers, Let Him Go. So I doubt that he was desperate to get a part. Maybe being a working-pro actor just requires a certain degree of not getting too fussed about a wig for one role.
… Gunsmoke had an episode called "Jailbait Janet" in 1960.
First admiral. Wiki says this man (b. 1911, Chicago) played the first admiral to show up in a Star Trek episode, namely "Amok Time." Here he is again, in "Hollow."
Played Nimitz in Baa Baa Black Sheep and admirals in the 2 Herman Wouk miniseries about World War II, Winds of War and Winds of Remembrance.
Did theater during his own WWII service, started in tv/movies in late 1950s, finally retired in 1991, had "amassed some 200 appearances in a career spanning … 35 years." Seven times as a judge on Perry Mason, 1960-66. Tons of '60s/'70s tv work, even '80s: Untouchables, Twilight Zone, Rawhide, The Invaders, Get Smart, I Dream of Jeannie, Wild Wild West, Waltons, Kolchak,  Rockford Files, Fantasy Island, Quincy, on and on. Mem Alpha says:
On film, Morrow made appearances in the English version of 1962's King Kong vs. Godzilla, the 1963 dramedy Captain Newman, M.D. …, Gore Vidal's The Best Man (1964), Disney's The Computer Wore Tennis Shoes (1969 …), the war drama Johnny Got His Gun (1971 …), and Elia Kazan's 1976 drama The Last Tycoon …), among others. Morrow went uncredited in nearly all of these films; however, one film he did receive credit for was the 1970 science fiction classic Colossus: The Forbin Project, directed by Joseph Sargent.