This is another of the four episodes I'm missing. Saw it last summer but not this summer, so I'm going from memory and the relevant Web sites.
Another ancient Greek temple found in outer space? All right, I guess that stuff is okay. As long as the plot doesn't have too many wide-open structural faults and people don't just stand around and let their mouths run with no result. This ep has a lot of horsing around induced by telekinesis, so I guess that helped move the show along
A good line for Spock in one of his McCoy banter sessions: "I have noted that the healthy release of emotion is frequently unhealthy for those closest to you."
… A 1967 NBC musical special called Movin' with Nancy, starring Nancy Sinatra. Mem Alpha mentions the program because on it she kissed Sammy Davis hello, making for the first interracial kiss on U.S. tv. Kirk and Uhura were second.
Mem Alpha says: 
… both Shatner and Nichols claim in Star Trek Memories that NBC exerted pressure to forbid lip contact, and to use a clever camera technique to conceal the "separation." If you look closely at the image, you can tell that the actors' lips are not touching, the angle only makes it look like they might be slightly touching.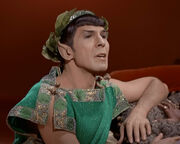 MemAlp: "Leonard Nimoy composed 'Maiden Wine,' the song that he performs in this episode."
Michael Dunn, b. 1934 in Shattuck, Okla., "during the Dust Bowl drought," Wiki says. Orig name: Gary Neil Miller. He had a high IQ and a dynamic personality. He entered the University of Michigan just before he turned 17, then transferred to University of Miami, where he became an all-around campus star (check out the Wiki account, it's interesting). At 23 he became an actor in New York theater but soon moved on to Hollywood.
Dunn made a career of dramatic roles, received a Tony nom for Best Supporting in 1964, an Oscar nom for Best Supporting in 1965. These were for performances in highbrow vehicles, adaptations of Carson McCullers and Katherine Anne Porter. When somebody needed to make a visual statement about the condition of mankind, Dunn was right there and ready to go. So again with "Plato's Stepchildren," I guess, given the ep's statement about human dignity and what it means for a human to be worth something.
IMBD lists a lot of mid-'60 guest shots: Get Smart, etc. Most notable are his 10 eps with Wild Wild West as a villain, Dr. Miguelito Loveless. (Some enthusiastic discussion of his performance at the blog The College Crowd Digs Me. Warning: I took my Dunn photos from this post, so it may look a bit familiar. Still, there's also a clip of Dunn doing one of his Loveless scenes.)
The actor died at age 38. Per Wiki, rumors of alcoholism were contradicted by autopsy reports, nothing to back up suicide rumors either. His lungs had trouble functioning because of the shape forced on his body by the condition that had made him a dwarf.
The Kirk/Uhura kiss—I really don't remember it. Mainly I was embarrassed by the presence of the dwarf, a dumb reflex I have. The actor did fine and the character played a big role in the story, though he also had to put up with Kirk's speech about how even short people are respected by the Federation. There's a lot of gratitude on the character's part: "That's the first time anyone's thought of my life before his own."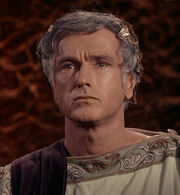 The mean man, b. 1923 in Jacksonville, Ill. Wiki says he played a lot of villains. IMDB lists 113 parts. Start: tv show Lights Out in 1950; finish: "Reporter" in George Wallace, a 1997 tv movie. Around the time of his Trek role he was doing Gunsmoke,  26 eps as a reg on The Monroes, Dragnet '67, Family Affair, Bracken's World, Daniel Boone.
The mean lady, b. 1937. This is Barbara Babock again, so see the post here.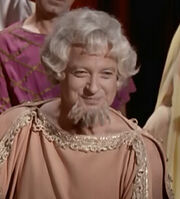 Only known appearance.  Ted Scott, no birth year, as giggling flunky.
Attending fop. Derek Partridge, no birth year. IMDB lists 25 roles. Start: two eps of Studio 4 in 1962 ("Stamboul Train" and "Flight into Danger"); finish: "Doctor" in a Murder, She Wrote in 1989.