It really is dreadful. "Brain and brain! What is 'brain'?" After the brain goes missing, there's a scene where Kirk, McCoy, and Scotty discuss the problem at hand. The exchange becomes a surrealist exercise just because the term "Spock's brain" keeps popping up.
A woman is the chief menace, and she can't strong-arm the men, so she uses a pain device that zaps them. Shatner does some extroverted waltzing with the air and the floorboards to demonstrate his suffering. There's one scene where the other guys have settled to the ground and Shatner, having also settled, then arches his pelvis to give the moment that last little bit.
For some reason, Spock has to wear overalls. Why? If he's brainless, would have been simpler to leave him in his old clothes. It's not like they were going to slide off because he couldn't keep pulling at them.   
Gene L. Coon wrote the script under duress, to play out his contract with the show after he had moved on to It Takes a Thief. He knocked out "Brain" and "Spectre of the Gun" and some outlines for other eps as fast as he could. "Spectre" wasn't so bad, but "Brain" … Jesus.
Coon had become fed up with Nimoy's demands for line rewrites and bigger roles, so maybe "Brain" is his revenge: Spock has to walk around like Frankenstein's monster for most of the show and gets no lines until the end. He does the automaton walk quite well, which I guess is the sign of a professional. (Counter to my grudge theory, there's an anecdote about Shatner deliberately turning his back on Coon toward the end of Coon's time with the show, and yet Shatner does okay in the episode.)

Spock's brainkeeper. Marj Dusay (b. 1936 in Hays, Kansas as Marjorie Ellen Pivonka Mahoney),was just starting out but went on to work for decades, wound up in the 90s as  a regular on Guiding Light and All My Children. 
"Spock's Brain" catches her early on, and she's game and overeager. She does a lot of reactions, none of them lifelike. But at least she's in there, tracking all the events with her eyes, doing something with her mouth and nose. You can see how she might hang on and get a soap career later.
IMDB lists 90 acting jobs, starting in 1967 with "Susan" in the episode "Instant Fatherhood" of Occasional Wife, then "Kaos Girl" in a Get Smart ep, then "Waitress" in a Presley film, Clambake (1967), then eps of Cimarron Strip, The Second Hundred Years, someone in Sweet November (1967), the Star Trek, 2 eps of Wild Wild West (different characters), a Felony Squad two-parter, a Bonanza, eps of Hogan's Heroes and Hawaii Five-O. She kept working thru the '80s, on primetime soaps, 

Other girls.  This is the other girl with a speaking part, not much of one. IMDB lists seven acting jobs, first is "Salesgirl" in "The Dippy Blonde Affair" (Man from UNCLE, 1966), last is "Secretary #4" in the Beverly Hillbillies ep "Hotel for Women" (1970).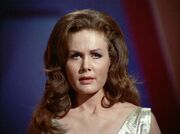 The two other babes, Mem Alpha doesn't know who played them. Wig on the first, don't know about the second:
Wig and beard. Actor's name was James Daris. IMDB lists 19 credits, earliest being "Burly Man" on I, Spy in 1966.
Fair amount of tv work thru 1975, then a long, long gap, then a tv horror movie called Larva in 2005. Around Trek he was doing "Realtor" in I Dream of Jeannie, "Shorty" in a Bonanza, "Matt" in Daniel Boone, "Super Giant Robot" in Land of the Giants, some guy in a Hawaii Five-O. 
Big guy.  Stunt man and extra Pete Kellett. IMDB lists six stunt credits, 33 acting. Earliest is in 1949, movie Canadian Pacific, stunts and a part ("Saboteur"). Last is "Security Guard" in The Magic of Lassie (1978). Mem Alpha says, "He performed stunts and made numerous appearances on the Western television series Gunsmoke. Other TV shows on which he appeared include Branded … The Man from U.N.C.L.E. … Mission: Impossible, Mannix … The Big Valley … and Land of the Giants"
The unidentified.  No names or lines for the people below. The first has a uniform like Pete Kellett's because their two characters have been enslaved as guards.
I think these guys are kind of pets of the babes: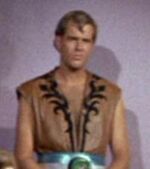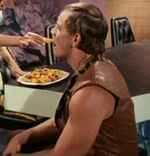 And three savage surface dwellers: