update,  
Down in Comments, Joe S. Walker tells us about the BBC and
Star Trek
:
There were four TOS episodes that for many years weren't shown on the BBC. I think they were left out of the original run (c. 1969) because of attitudes back then, and it just took a long time for somebody to include them in a repeat showing.

Anyway, they were "The Empath," "Whom Gods Destroy," "Plato's Stepchildren" and "Miri." 
Didn't see "Empath," but "WGD" is about the insane, "PS" about a dwarf, and "Miri" about children. Maybe the BBC didn't like the way they were all being presented.
Kirk does some reasoning with a misguided local set-up: "
This Arena of Death that you've devised for your pleasure … will it prevent this catastrophe?
"
Jerry Finnerman's last episode. He was the cinematographer and had been with the show from the start. 
Inside Star Trek
 says that just before the guy's first show Robert Justman had to talk him out of a bad case of cold feet, and then Finnerman got all cocky and would make an ass of himself on set by goosing people with a swagger stick. At any rate, he did some great lighting, all those oranges and purples and deep shadows and so on. The idea was to make the colors jump off the screen: RCA owned the network and had color tvs it wanted to move.
This is another of the four I don't have. Saw it last year but have forgotten it. The MemAlpha/Wiki synopses indicate a subterranean planet world with corridors and hulking guys who have strange foreheads. There's an asteroid or something heading toward the alien culture or the Enterprise, probably both, and a woman who forms a monumental but transient connection with a member of the cast.
The story's centerpiece is the woman and her psychic powers — third-season
Trek
has a lot of psychic powers, especially on the part of women. Earlier
Trek
, such as the first pilot, had its share of mind powers but not episode after episode, and not necessarily with girls. Spock's mindmelding is the main example, I think.
Another example of sf ideas that require some talking out and explaining to the audience. In this case there's a whole new word that's front and center, the way "cyborg" would be in a few years. 
This episode was written by Joyce Muskat, one of only four fans who were able to sell scripts to the original series; the others being David Gerrold, Judy Burns, and Jean Lisette Aroeste. Co-producer Robert Justman read her unsolicited script and recommended it be bought.
The Jean Lisette Aroeste script, or the first one by her, was "Is There in Truth No Beauty?", which also has a woman psychic and sf concepts that needed explaining.
Wasn't there a lot of '60s/70s/80s sf with alien cultures that had women as mind-reading/soul-sensing alien priestesses/witches/etc?
Dune, 
the Darkover books, the Pern books, and a bunch of others, right? I haven't actually read up in the area. My impression is that most were written by women (not 
Dune,
 of course) and that the trend really picked up steam in the '70s after getting started in the '60s. If so, "The Empath" puts 
Star Trek
 early enough in the trend, and the script is by a woman.
The BBC wouldn't show this series until 1994 because it was too violent. Trek books are always making fun of NBC standards & practices, but the BBC seems more skittish.
The empath, b. 1933 in Princeton, Ill. Kim on As the World Turns from 1972 on. During "Empath" she was married to Glenn Ford. IMDB credits start with Hawaiian Eye and Surfside Six in 1962, continue with Alfred Hitchcock, Kraft Suspense Theatre. The Virginian, Bonanza,  High Chapparal, The Man from UNCLE, The Road West, Night Gallery, even a Law and Order and a Law and Order: SVU in recent years.
Wiki says, "Hays played bit parts in many sitcoms and drama series throughout the 1960s and into the 1970s … Billed as 'and introducing Kathryn Hays,' she had a major role in a June 1962 episode of Naked City, 'The Ryedecker Case.' The script was written by Gene Roddenberry. Hays appeared on the Roddenberry's series The Lieutenant."
In 1968 she appeared in a New York stage production of Dames at Sea that starred Bernadette Peters just starting out.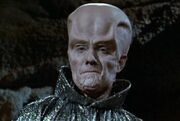 Big-headed alien. Born in NYC. '60s/70s tv, some familiar titles: High Chapparal, Mannix, Wild Wild West, Big Valley, M:I, Bracken's World, etc., plus a few movies. IMDB lists first credit in 1963 on soap The Nurses (episode's incredible title: "To Spend, to Want, to Give"), last credit for main career is "Director" on a 1977 Wonder Woman ep where she visits Hollywood, so I guess he was just playing a director. A long while after, we get one last credit "Mr. Kramer" in the 1997 film Turbulence,  a would-be action blockbuster from MGM that starred Ray Liotta and Lauren Holly. Yish.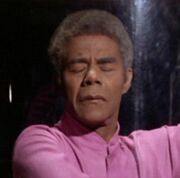 Black doctor, b. 1917 in Mobile, Ala. "More than 30 feature films," something in Roots, Gunsmoke, I Dream of Jeannie, All in the Family, Sanford and Son, Mary Tyler Moore Show. IMDB and MemAlpha don't quite match up, but guy may have had more than a hundred roles from circa 1950 to 1993. The Killers with Reagan (1964), To Sleep with Anger (1990). Lot of tv from mid-1950s into 1980s. A role in Jungle Drums of Africa (1953) as "Native Ambusher." In the very early years he even did the Amos and Andy tv show (he was "Mr. Royal," one ep).
Boba Fett's voice. B. 1919 in Brooklyn. Plus he was in Twilight Zone's famous "A Stop at Willoughby" and another ep, "Midnight Sun." And he was "Man #2" in a Seinfeld ("The Opera, 1992). Voiced Boba in pre-2004 versions of Empire Strikes Back. His "Empath" role is as an earth scientist who gets tortured and killed by the aliens.
IMDB lists about 150 roles, going back to 1955 and Armstring Circle Theatre, ending with In the Heat of the Night in 1994.

Wiki says, "best known for his role as Harry Snowden on the classic television sitcom All in the Family and its spin-off series, Archie Bunker's Place. He played the character from 1977 until 1983.. … regular during the 1960-61 season of The Untouchables, playing Police Captain Dorsett…. recurring role as Judge Arthur Beaumont in the series Matlock  guest-starred in … Mission: Impossible, The Outer Limits, Bonanza, The Rockford Files, and The Fugitive," among others. Also was in Roots: The Next Generations.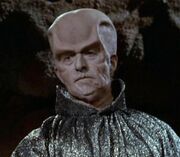 Another alien, b. 1922 in Canada. IMDB gives him 82 credits from 1943 to 1974, when he died. "Second Reporter" on The Lloyd Bridges Show, things like that. In 1963 appeared as "Self" in The Man Nobody Liked, which IMDB lists as a documentary. The cast also had Philip Boyce, who was the Enterprise medical officer in "The Cage" (Star Trek's first pilot). Weird. Apparently it was a service film.