Not a really bad show, I think, though it's one of my missing four and I can't watch it again to make sure. As I remember, the episode's effects were pretty good and I liked the space suits the guys wore early on. I think Kirk has his suit all thru the scene he does as a phantom. (And I see from Mem Alpha that the episode got an Emmy for its special effects, so there you go.)

The episode's gimmick is dimensions and passing between them; the script introduces a special term, "interspace." The idea is fairly advanced s.f., like the ideas in "Empath" and "Is There in Truth No Beauty?" None of the ideas involved were breakthrus for the field, but they took some thought and explaining; they weren't the sort of thing normally lobbed in front of tv audiences as s.f. at the time.
Yet the episodes aren't good. "Tholian Web" may not suck as much as "Truth No Beauty," but the show is still faulty work. There's a lot of standing around for the characters, the dialogue spins its wheels, or so I remember.
"Pointy-eared Vulcan."  The worst of it is Spock and McCoy. Because Kirk is in limbo, the two of them are thrown on each other. This brings out a serious recurring weakness in old Trek, because the Spock-McCoy relation never worked too well. It needed a light touch, and maybe not enough writing/acting skill was around to do the job. The two characters sound carping and snide; they seem to dislike each other and they're petty about it. This is also the case during the first and second season—yes, there's the occasional McCoy-Spock moment that works, but not a lot of them.
The faultiness of the relationship really comes thru when something big is at stake, as in this episode. (Another example: "Paradise Syndrome.") The ship is in a crisis, the burden is on Spock, so what does McCoy do? He says nasty personal things about Spock's judgment and motives. He kicks the guy when he's down and he does it viciously. Then a little time goes by and he comes back and says how maybe Spock isn't a monster after all. Well, damn.
Moment of truth.  If McCoy could say such nasty things to Spock, and believe such nasty things about him, how can we pretend we're watching a warm, barbed, bantering relationship between two professionals who have their differences but still like and respect each other? That's what we're supposed to be looking at; the pretence runs all thru the old series. But the relationship is not there. Odd, because 1) writing such a relationship doesn't seem like it would be so tough for tv pros, 2) character banter/schtick has been such a mainstay of the franchise from one incarnation to another, and 3) why would viewers sign on to such an emperor's-new-clothes sort of situation?
Side-note: during his Spock-confrontation scenes, McCoy always seems ready to stroke out. DeForest Kelley was a likable actor, but he didn't really do a high-performance job as McCoy. When he put his character into gear, made him active in a scene and not just a sounding board, he did it by acting like an overcafeeinated man who's confronting the fellow in the next cubicle about clicking his pen. Reasoning with Kirk, defying a space computer, bantering with Spock—he always gets ferocious real fast. (Did he ever do that shit back during his Westerns? In those days he had mainly villain parts, and I thought those guys played it cool in Western films.) 
Space helmets.  McCoy makes himself useful here by showing one of the "environmental suits" worn in the episode. I like these. They're more like what you'd see in 2001, and as a kid that gave me the sense of a crossover. Mem Alpha says: "These suits were designed by William Ware Theiss and consisted of silver lamé with a fabric helmet with screen mesh visor. This allowed the actors to breathe easier while wearing the suit."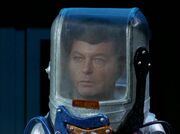 Also Mem Alpha:
This is one of the few episodes in which all of the regular second and third-season characters—Kirk, Spock, McCoy, Scott, Sulu, Uhura, Chekov, and Chapel—appear.

In the scenes in which Captain Kirk's head is partially obscured by his spacesuit, William Shatner does not wear his frontal hairpiece.
The ship's chapel, which had previously appeared in "Balance of Terror", was a redress of the transporter room.

The Exo III graphic from "What Are Little Girls Made Of?" reappears in the sickbay of the Defiant.



Utility man. Paul Baxley, b. 1923, Wyoming. He had six Trek appearance, including as a native in "Private Little War" (wig) and the captain of the ghost ship Defiant:
Mainly he was a stunt man. IMDB gives him 85 stunt credits, 41 acting credits, plus he directed a half dozen tv eps and worked as 2nd unit director or assistant director a dozen times. Stunt credits start in 1947 (Deep Valley), end in 2000 (Dukes of Hazzard: Hazzard in Hollywood, a tv movie). Acting credits start in 1948 (Whiplash), end in 1980 (In God We Tru$t).
Crazy redshirt.  Got up to director, had about a dozen credits as such from mid-80s thru early 90s.
Stunt work: 48 credits. Acting: 20. Both start in the mid-60s (with I, Spy), and the stunt work is going strong in the late 90s, after his directing career. His Trek credit came after stunt/acting credits for eps of I, Spy, Man from U.N.C.L.E., Girl from U.N.C.L.E., and after Trek his next stunt/acting jobs were both for Mission: Impossible.
During the 70s he also worked as a gym teacher at Sutter Junior High in Canoga Park, Calif., though he was doing tv work too.