This is the first in a roundtable on race in comics titled Black and White and Startlingly Offensive All Over. It's also the latest in a series of posts on the Marston/Peter run on Wonder Woman.
___________________________________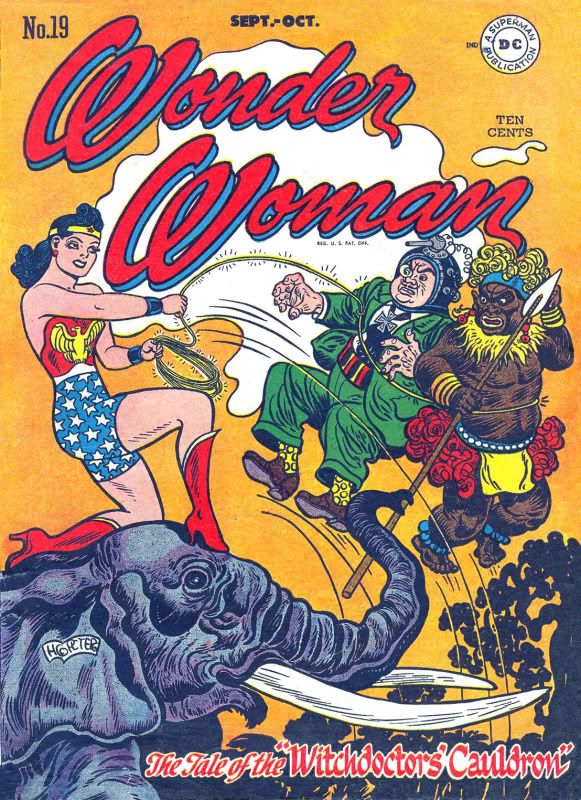 William Marston indulges in the occasional vicious asian or Jewish stereotype during his run on Wonder Woman. He doesn't, however, tend to have many black characters. Wonder Woman 19, therefore, is something of a departure. But, as is their way, Marston and Peter make the most of it. Practically every comics creator from Herge to McCay to Crumb, has retailed offensive black stereotypes. But how many of them have done this?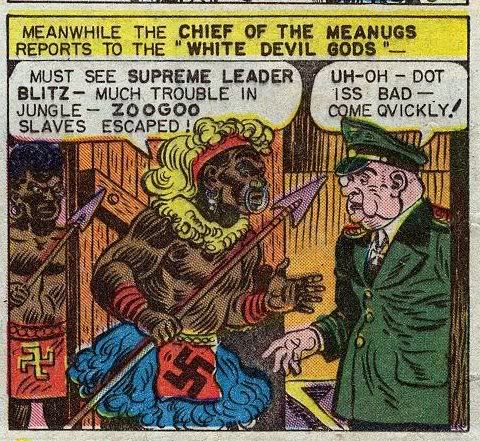 No, you're not seeing things. Those are primitive African natives with swastika's on their loincloths. The Nazis have allied with some evil natives, y'see, and the natives have, as a gesture of subservience, placed the Nazi symbol on their persons to demonstrate that they hold to the ideals of Hitler, including, presumably, the genocidal cleansing of both themselves and their entire continent. Really, it's a kind of genius; the stereotypical, gibberish-spouting, African native has to be one of the most viscerally offensive images our quaint pictographs offer. You might think that there wasn't really any way to take that and make it decidedly more vile. But I think Marston and Peter have managed it. Way to go, fellas.
I guess I could, at this point, go through the entire issue pointing out some of the more egregious incidents of racism — but I'm not sure there's really a point, exactly. Marston and Peter buy every stereotype you'd imagine they'd buy. The natives think white people are gods; they have rhythm (Etta and the Holiday girls distract the natives by playing band music, because Africans can't resist dancing when they hear indifferently-played college march tunes.) And, of course Africans are superstititious — WW mocks them for believing in voodoo, as opposed to in, I don't know, invisible planes, (and, of course, voodoo is a syncretic New World phenomena, not based in Africa at all — though I guess maybe that's pretty far down on the list of things to complain about at this point). In short, while Marston's wackiness does shine through in certain ways (the swastika's on the loincloths; his resolute refusal to sideline his slavery fetish no matter how hideously inappropriate it is in this particular context), he spends relatively less time on his own crackpottery and relatively more on the familiar crackpottery of racial prejudice.
In fact, in some ways the most surprising thing about this issue is not that Marston is a big old racist, but rather the extent to which he has to, or is willing to, compromise his own vision in order to accommodate that racism. As I've mentioned a time or two, Marston isn't shy about indulging his obsessions. One of his standard plots/fantasy scenarios involves societies of more-or-less subhuman men paired with parallel societies of beautiful/enslaved women. I'm thinking particularly of the mole men (from Wonder Woman 4) and the Seal Men (from Wonder Woman 13).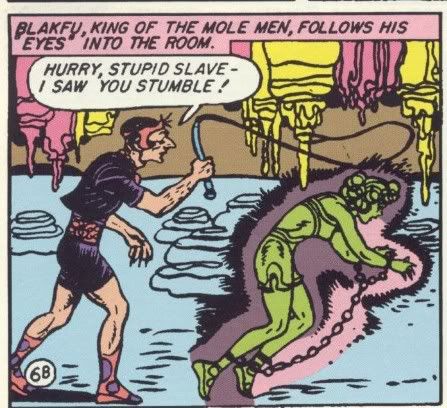 In both of these stories, Marston uses the split between animalistic men/lovely women to work through his fetishes and his feminism. The bestial men enslave and dominate the women (which is fun, obviously); then the women turn the tables, conquer the men, dominate them, and make them fully human (because men can only reach their full potential when they're ruled by women.) It's a narrative near and dear to Marston's kinky, kooky heart..
This issue of Wonder Woman initially seems like a perfect forum for him to break out those old tropes one more time. After all, the African men here are explicitly portrayed as animalistic: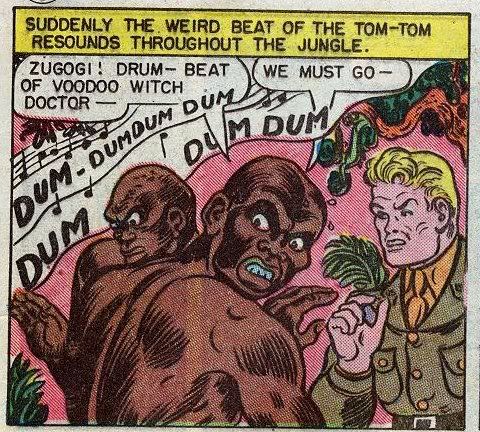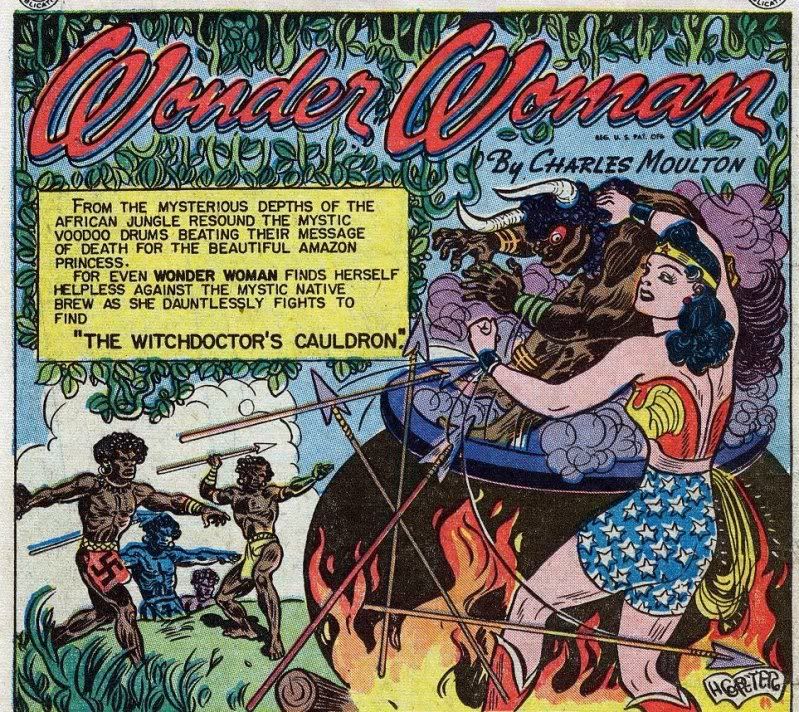 Moreover, they are portrayed as almost exclusively male. When women are shown in the background, as here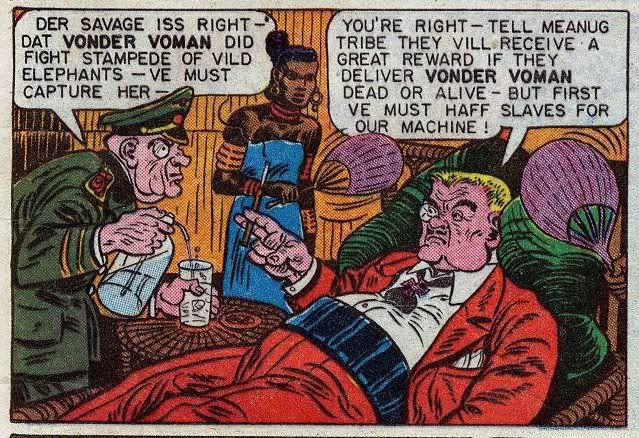 they fit the standard Marston/Peter formula you'd expect; that is, they look more human and appealing than they're bestial mates. There is even one panel where Marston toys with the idea of giving these women a more prominent (and dominant) role: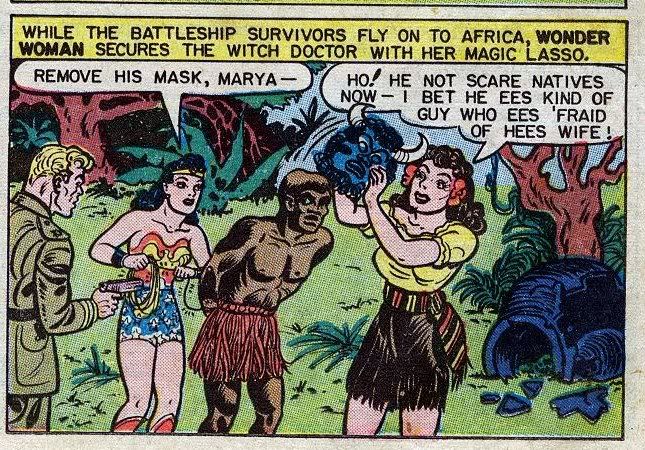 This comment denigrates the chief in some sense (suggesting he's in thrall to his wife.) But within Marston's framework, men are *supposed to* be dominated by their wives. In the normal course of a Marston story, this would be the moment to bring out that wife, and have her influence transform and save her mate, turning him not only into a good man, but into a human being.
But while that can work for Mole Men and Seal Men, it can't work for Africans. Marston is chary about portraying African women with good reason. Women for him are always superior; Africans are, and have to remain, inferior. A major role for an African women in a Marston comic is, therefore, literally unthinkable — in the sense that he doesn't seem to be able to think it. Not only his feminism, but his interest in gender politics seems to buckle under the pressure of his racism.
It's perhaps interesting in this regard that WW #19 includes one of Marston's most explicit elucidations of romantic female friendship. For most of the adventure, Wonder Woman is aided by Marya, a giant Mexican woman who idolizes WW, referring to her as "My preencess!" Trina Robbins summarizes this relationship nicely in her essay Wonder Woman: Lesbian or Dyke?
Another story deals with Marya, a beautiful eight foot tall "Mexican mountain girl," who definitely has a crush on Wonder Woman. She calls Wonder Woman "brave princess" and "beautiful princess." When the two women are captured in nets, Wonder Woman, ungraciously considering only her dumb blond "boyfriend," Steve Trevor, tells her, "I'm sorry for you, Marya, but at least we've saved Steve…" Marya, with the selflessness of true love, replies, "I care not what happen to me if I help save your friend, Preencess!" Finally, Marya is encased in cement up to her chest. But when the amazon princess is about to be killed, "Driven desperate by her great love for Wonder Woman, Marya wrenches savagely at the solid cement which encases her legs." Leaping from the cement she shouts, "My preencess — I come!" Finally, Wonder Woman freed and the villains vanquished, Wonder Woman declares, "The credit goes to the biggest girl and the bravest — my little friend Marya!" Marya kneels at the amazon's feet, clutching her hand rapturously, saying, "Oh Preencess!"
Female-female relationships (bordering on, or more than bordering on, lesbianism) are important throughout Marston. But it seems telling that one of the most explicit appears in, and takes so much space in, this particular issue. It's interesting too that Marya is essentially a white Latina marked as racially different (her size, her accent) and yet also as white (the "natives" call her white repeatedly.) It's as if Marston started, say, the Seal Men story, suddenly realized he couldn't run variations on his women-dominating-men fetish, and so instead backed-and-filled in order to run variations on his lesbian fetish.
The thing about the lesbian fetish, at least as represented here, is that it doesn't have any political or social implications. The WW/Marya story is of personal friendship and love; in this case Marston doesn't connect his fetishes to broader social ideals the way he does in the Seal Men and Mole Men stories. Marston can't think of African women having power; therefore, though he can imagine individual examples of sisterhood, he can't, in this particular comic, imagine a collective feminist movement. Marston's racism, in other words, actually and actively gets in the way of his feminism. Reading this, I was reminded of the fate of numerous civil rights struggles after Reconstruction failed — basically, when the U.S. abandoned its commitment to equality for black people, it also abandoned its faith in social justice generally, with the result that women's rights, for example, were set back for generations. This comic maybe provides an insight into why that might have been; to the extent that you don't believe in equality, it becomes difficult to imagine, or to work for, equality.
_______________
Update: Again, the rest of the roundtable on race is here.