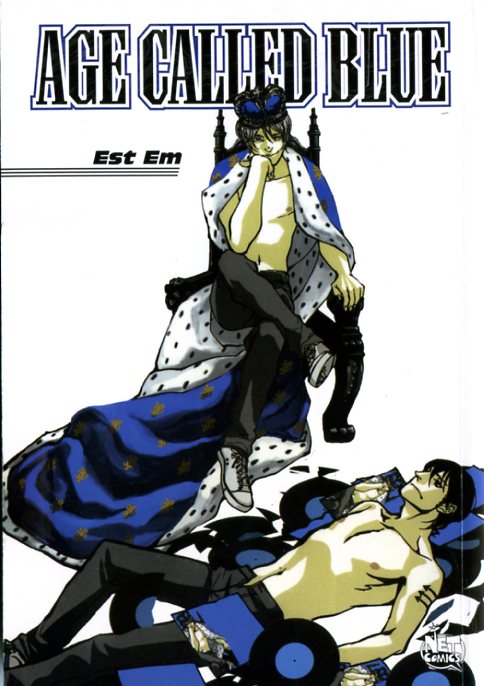 Age Called Blue, est em, 2009, NetComics
I love est em's drawing style. I'm also fond of her gently melancholy tone. I usually like my yaoi crazy and sweet, because I can be unhappy and angsty all on my own, thanks. But you can't eat chocolate all the time – even Kinukitty can't, although I do dream – and sometimes you want something bitter.
Age Called Blue is about rock stars. I've only seen one yaoi manga about rock bands, that I remember, and it was not ideal. (Hard Rock by Akane Abe, which was not hot. Or especially interesting.) This seems like a bizarre omission, since rock stars are a fun, sexy topic, and it's not like there isn't a huge music scene in Japan. Ironically, the rock stars in Age Called Blue are British. One of those things, I guess.
No point in worrying about what is lacking just at the moment, though, when there's such a feast on the table. This is a beautiful, sexy book. It isn't sexy because it's a non-stop romp of bawdy ass piratery – not that there's anything wrong with that – but because it's about intimacy. There's sex and nudity, but it isn't on an epic scale. It does mean something, though. The relationships feel very real, even if the settings are not strictly plausible. (Realistic, yes. Real, no.) There are young men and old men, dreams and betrayals, situations that are messy and wistful. Things fall apart, like things do, and people try, fail, wait, and hope.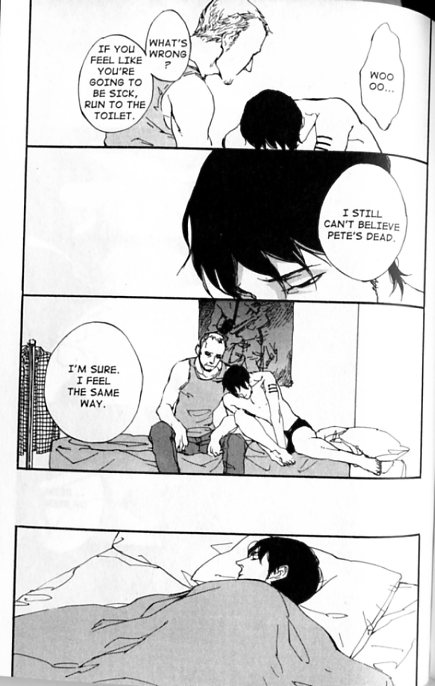 The main story arc, about the band, sort of plots the trajectory of a car wreck (metaphorically, although sort of literally, too), although it isn't told in order. I'm not usually a fan of that sort of thing because it's kind of hard to get it right, and it can add a level of confusion that isn't usually necessary, much less helpful. It's usually better to just tell the damned story and leave evocative to the couple of people who can handle it. Well, est em gives good evocative, it turns out, and the snippets we get, weaving in and out of the timeline and ending with the beginning, really work. It feels like remembering, the way one memory triggers another in an almost random way that isn't random at all. There's also a little bonus two-pager at the very end of the book. It's the sweetest take on a funeral for a friend that I've ever seen. The style is stark and looks almost like a wood-block print, and the feeling is stark, too. Not really sad, though. Sometimes that happens with love.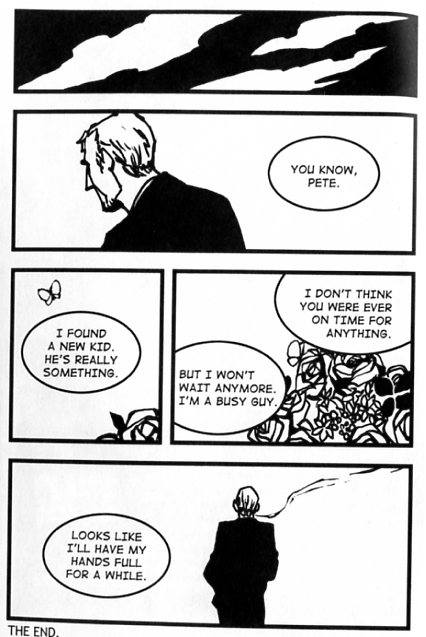 That's what this story is about. The main characters are a pair of up and coming rockers, the singer and guitar player (of course; that's sexier than the bass player and drummer, it just is). The singer (Nick) is a charismatic asshole of the sort we've all pined after (if we're lucky) or chased (if we're less lucky). He drifts through life being all hot and fascinating and hurting everybody. Especially the guitar player (Billy), who actually loves him. I can't think of a way to really discuss what happens in the story without ruining its revelations, so I'm not going to give any details. I'll just note that the complications are painful, but the outcome is sweet and even beautiful. The story also focuses on two older men, rock stars who were big years ago but are now past their prime. The interactions and intersections between these four characters is played quietly, but the patterns are pretty.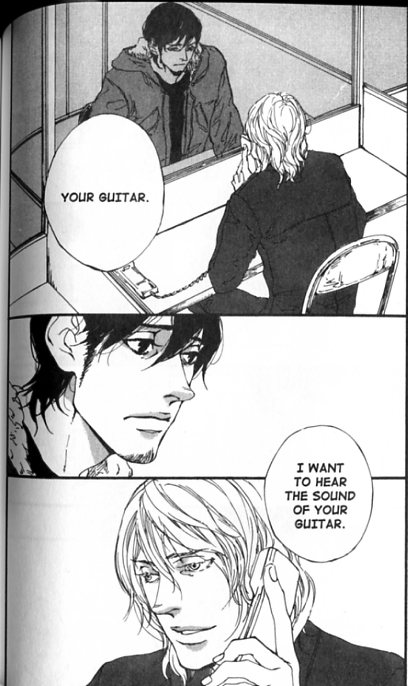 In the first side story, "I Saw the Blue," the first encounter between the two lovers (French, this time) takes place when Lucian delivers something to Professor Pascal and throws up in the envelope (after it's empty, at least). Meeting cute, n'est ce pas? There is a four-star scene where the professor – Michel – pours paint over Lucian's naked body and tells him to roll around on a piece of paper. Lucian tempts Michel to join him (it doesn't take much, but the way he does it makes me smile stupidly), and they wind up rolling in the paint together. It turns out that Michel is keeping something very important from Lucian, and the scene in which this is revealed is painful. The last scene, though, is subtly hopeful, not for anything more to come of this relationship, but perhaps for another love to grow.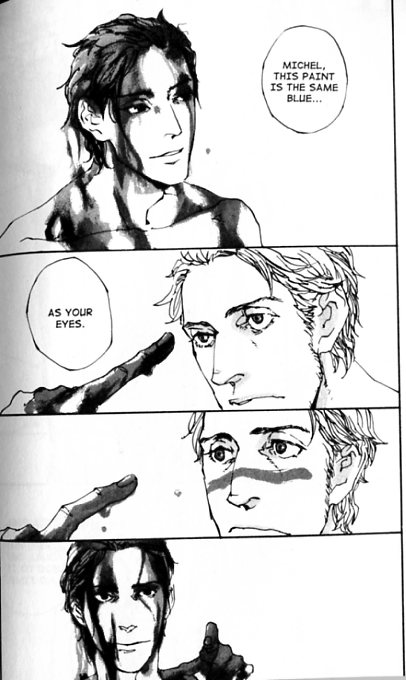 The final side story, "Ni Pukha Ni Pera," is extremely improbable, and I was shocked when it ended up being not only an embarrassment to everyone associated with it but actually touching. It's about a friendship that is obviously so deep as to be a little more (I've been listening to the fabulous Flight of the Conchords album, I Told You I Was Freaky, so this reminds me of a bit from their song, "Friends": "My Uncle John had a special friend/They dressed alike, his name was Ben/I've never seen two friends like them/They were very, very friendly men"). Friendship porn is standard stuff, obviously. Except that this friendship starts in 1950s Russia, and what stands between them is one man's yearning to go into space. As in become a cosmonaut (rather than the "Ground control to Major Tom" way), which he does. This one doesn't end the way you'd expect it to, either. And I'm also a little bit in love with est em's wistful old men.
And that's the book. My understanding is that est em prefers that the Romanized version of her name be all lower case, so I will go with that, even if it makes me start thinking about how not even the rain has such small hands. (That was an e.e. cummings reference, for those of you who hate modern poetry or, perhaps, just e.e. cummings, which is fair enough. Although we are actually supposed to capitalize his name, it turns out, despite what the teachers said in high school. Confusing, isn't it? Annoying bastard.) est em is Maki Satoh, and her pen name is eso to emu, or S&M.
I found that out while trying to find out something about the translation. Age Called Blue was apparently translated by Netcomic's Soyoung Jung, who translated Dining Bar Akira, which read a little funny to me. I was curious because est em's previous book, Red Blinds the Foolish, was translated by Matt Thorne, making it something of a gold standard. And he was "supervising translator" for her first book in English, Seduce Me After the Show. I thought this Publishers Weekly interview snippet with Thorne, "Matt Thorne Returns to Translation", was interesting:
est em, whose real name is Maki Satoh, is a former student and dear friend of mine. Most artists, including est em, have little input in the exporting of their work. So one day her editor told her, "We're putting out an English language edition of your first book," and then months later, she mentions it to me. So I freaked out and said, "Are you serious!? When!? Your work's too sophisticated to be translated by some hack!" So we asked her editor, and learned that the translation was already done, but the editor asked me if I would check it. I ended up pretty much redoing it. For the second volume, I was in from the beginning.
So obviously I had to go reread Red Blinds the Foolish and Seduce Me After the Show, and then reread Age Called Blue to see how the tone compared. (No wonder I never have time to cook or clean or send out Christmas cards.) Anyway, I didn't have any problems with Age Called Blue, although I did wonder about the lyrics to the song that resonates throughout the main story. Although, you know – rock song lyrics. Who knows.
I looked through the Amazon.com reviews to see if anyone addressed the translation question. No one did, but I noticed a lot of comments to the effect that est em's drawing is rough, the stories are raw, and the works are an acquired taste. That makes me shake my head sadly. There is a theory that yaoi fans want nothing but empty-headed stories about 18-year-old pretty boys having explicit sex with other 18-year-old pretty boys. Not that there's nothing wrong with that – I'm a fan. But I think most people can appreciate a beautiful piece of work like this, regardless of their usual tastes and fetishes.