This week I'm taking a brief break from rooting around in the comic racks for new titles. I need to make a trip to a local comic store rather than Borders because I'd like to take a break from the X-Men. I thought I might pick up the most popular comics and do those instead of just whatever catches my eye; but that's for the future.
What's now is Godchild and it is awesome.
For those who don't know, Godchild (and it's sister series Count Cain), follows the story of the young Earl of Hargreaves and his valet, Riff. It's created by Kaori Yuki and available in its entirety from Viz.
The Count is young and beautiful, as per usual for manga: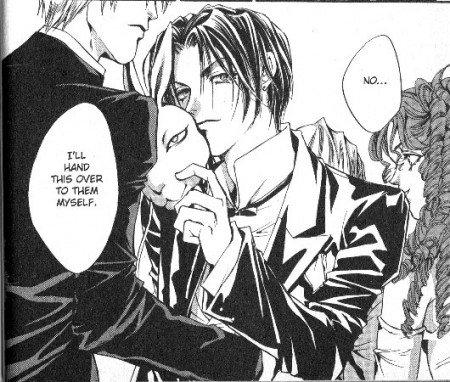 But there are a whole lot of manga about beautiful young men and their butlers. Well, OK, maybe not with their butlers. But why is this manga worth talking about? Why am I recommending it?
First, I think the art is gorgeous. The style in Count Cain (which was written before Godchild) has the older Kaori Yuki style, but Godchild has a sophisticated, lush, beautifully inked style that makes my heart sing. The negative space and the elegance of the line is often enough for me to just stare at a page for a while: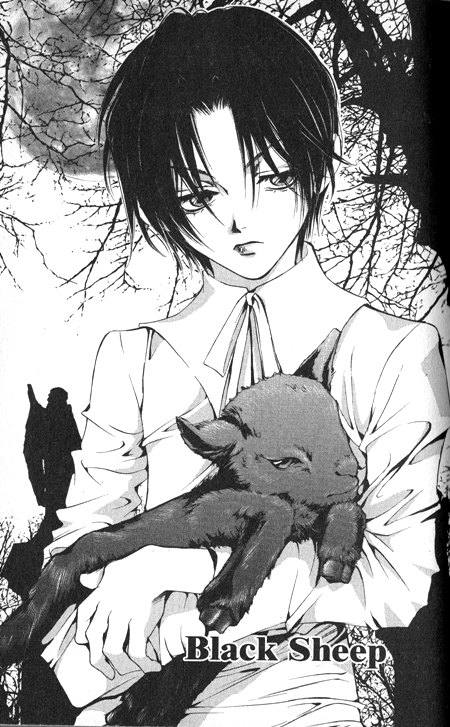 The layout in Godchild is much more varied than the usual manga. The shots focus on a face, then a place, then a hand or symbol, and then back again. It creates a deep rhythm that adds to the Victorian lushness.
Then there's the story. Godchild is about the Earl of Hargreaves and his adventures, but to say that is both accurate and misleading. While Cain is a hero, he's also something of an anti-hero. His personal hobby is poison and in the first story, he uses his dark skills to manipulate a murderer into a vile killing. Cain's hands are clean of blood, but he's still very much responsible for the death. He wound up the murderer and pointed him at the target. He is well aware of this and it doesn't bother him.
This story is dark. It includes abuse and incest, zombies, heads in jars, and death everywhere. One theme in Kaori Yuki's work is scars. Abuse and violence leave permanent marks that can never be fully washed away. Manipulation is everywhere and reality is often fluid. And dark.
Many beautiful old poems, nursery rhymes, and horror themes show up. This is very much an adult story but it includes many looks back towards childhood and the vulnerability of being a child as well as the trappings of childhood.
The beginning volumes are semi-episodic.  They contain small mysteries which the Count solves, but they slowly add in larger story arcs.  One of the things that makes this such a fun story is the horror elements and the twisty character revelations as time passes.  It also includes girls who eat parakeets, killer parrots, heads in jars, zombies, ominous violin players, Tarot groups, deadly treats, and dolls.
I would like to discuss some of the larger themes, but to do so would constitute a major spoiler for the entire series.  Suffice to say that the story slowly builds an amazing amount of information in the strangest and most fun places that are only understandable looking back.  This series bears up well under rereads.  Highly recommended.
Some other excellent essays on Godchild are here: CoffeeAndInk's review of Godchild Volume 1; Oyceter's review of Godchild volume 1.