Alyssa Rosenberg writes on pop culture for the Atlantic and at her own blog. We met a while back when she wrote an article on Twilight, to which I responded snarkily, and she responded to my response with much good grace. After that auspicious start, I asked her if she'd be willing to talk about criticism and art for this blog. In response she wrote the essay below.
_____________________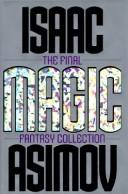 When I was in middle school, a prescient friend bought me Isaac Asimov's Magic, a collection of the science-fiction author's fantasy writing and essays. Some of that book's lessons, have lasted with me for more than a decade: Overindustrialization is Mordor. Writing aliens is pretty hard. And perhaps I should have absorbed a third, delivered in the short story "The Critic on the Hearth": "I have two of my own comments. The first is that every critic ought to become a garbage collector. He will be doing more useful work and he will have a higher social position. The second is that every critic ought to be thrown into the fireplace."
But by the time I got to Magic, it was already too late. My first career as a pint-sized critic was already behind me–and unbeknownst to me, one of my future paths had been set.
To fill lingering hours after elementary school during a four-year stopover in Middlebury, Vt., my mother had convinced an editor at our local newspaper to give me space on the children's page to write about books. The criticism, such as it was, that appeared next to a school picture of me in round glasses and a dress with an equally round lace collar wasn't exactly sophisticated. At eight years old, I wasn't up to doing much more than picking books that had something in common and explaining that I liked them. Or not.
The column ended when we moved away, and high school and college brought pleasures other than criticism: insanely competitive debate programs, hard-fought municipal elections, the ability to drink legally, writing classes, boys. Each time I felt as if I'd found the Next Thing. With the perpetual certainty of youth, I was alternately sure I was going to be the best high school debater ever, an activist professor, a local political fixer. There were a lot of possibilities that felt more important than journalism, much less something like writing about YA literature. And yet, by my senior year in college, I found myself sending off dozens of applications for journalism and publishing jobs, ending up at National Journal, a respectable and deadly-serious Washington, DC political weekly.
It wasn't necessarily the platform from which to get back to criticism. But I arrived in Washington in a season when a thousand blogs weren't just blooming, they were being transplanted into some of the best journalistic greenhouses in the city. And after several years at National Journal and then at Government Executive, a magazine for civil servants, I looked not to political bloggers, but to my eight-year-old self when I decided to start writing on the side and for fun, and wanted to find a meaningful subject. And after watching policy bloggers slug it out against the backdrop of an oft-deadlocked Congress, pop culture seemed more valuable than it had before, as both an escape, and as a field of play. I've become a somewhat more sophisticated consumer and observer of media in the last decade and a half. I can explain why I like or don't like things now. But I've also found myself interested in a larger question: what does what we like say about us?
Noah and I met, in fact, because of a disagreement over what the Twilight phenomenon means for discussions about sexuality and gender. We never reached agreement on the merits, but it was clear we were working under the common assumption that culture, particularly popular culture, is a place where both creators and consumers work out real-life issues ranging from deciding whether to have sex before marriage to what would happen in a world with extremely large, well-equipped private armies.
Doing this kind of criticism doesn't necessarily mean being deadly serious about things that are, after all, a lot of fun. Sometimes a Robyn song is just a Robyn song. But sometimes it's also an argument for female artists about going independent rather than relying on and being shaped by a major label, just as the pop-rap fusions in collaborations between artists like Kanye West and Keri Hilson or B.o.B. and Janelle Monae are evidence for rap's conquest and colonization of popular music. The Iron Man movies are fun because Robert Downey, Jr. is relaxed and having a great time playing a roguish industrialist, but they're also action movies for people who feel ambivalent about the projection of American military power–even if it means they're settling for an individual having tremendous power, fire- and otherwise, because he's charming. Unlike in politics, in pop culture the choices don't always have to be clear. Artists are blessedly free to explore gray areas without risking the career suicide that so often accompanies the impression that a government leader possesses less than crystalline moral clarity.
All pop culture might have larger implications, but that doesn't mean that pop culture is weighed down or overwhelmed by its larger significance. That means that lots of Americans can murder prostitutes in video game worlds without feeling bad about it, but also that they can absorb relevant lessons about respecting the elderly along with a bunch of jokes about talking dogs. Critics are the people who can live in those tensions and contradictions, who interpret and clarify the meaning in jewels and in junk. Maybe for happily residing in the midst of those fractures, for seeing the value in a movie that involves a little girl beaten up, or a cowardly loan officer dragged to the netherworld by a demon, for balancing difficult aesthetic and political judgements, we still ought to be roasted. But I think in a world where culture has such freighted implications, there's room for critics along with the garbage collectors.
_________________
Many thanks to Alyssa for her guest post. Please visit her blog if you get the change; she writes on comics, hip hop, television, movies, and lots more.