One of the things that struck me when reading Erica and Brigid's contributions to the roundtable was that each proposed solutions that made sense for a particular audience. In Erica's case, that audience is comprised of adult manga fans who have a passionate engagement with the medium, a knowledge of its history, and an active interest in the Japanese publishing scene, while in Brigid's case, that audience is comprised of adults who are receptive to the idea of reading a graphic novel, but don't know much about manga. As publishers like Vertical, Inc. and Drawn & Quarterly have demonstrated, these two groups' reading interests do overlap; Buddha, Ode to Kirihito, and A Drifting Life are three examples of manga that appealed to a wide range of readers, from folks interested in good stories to folks interested in reading works by seminal Japanese artists. It's this piece of the Venn Diagram that I'd like to address, in the form of three simple suggestions for marketing books to both audiences.
1. License manga that appeals to older female readers.
There's almost no English-language manga about women over the age of 22 (at 28, the heroine of Tramps Like Us is positively geriatric), and little to no josei that features genuinely strong, independent female characters. (It's telling that two of the best josei titles to be licensed for the US market, Bunny Drop and The Antique Bakery, feature male protagonists.) That's where an artist such as Murasaki Yamada comes in; her work has things to offer the hardcore manga fan and casual reader alike, from her pedigree (she cut her teeth writing stories for COM and Garo), to her elegant, naturalistic style and feminist outlook. Which brings me to my next point…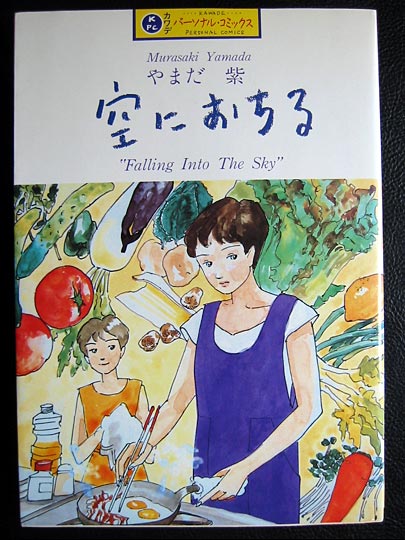 2. Tell a good story about the book.
In their responses to Brigid's post, Noah and Ryan Sands raise an important issue: meet-the-author events and book tours are an important marketing tool for generating interest among book-buyers and media outlets. Though a few publishers have brought Japanese artists to the US for signings, the process is complicated, in Noah's words, "by language and distance." In the absence of opportunities for authors and readers to interact face-to-face, publishers need to step up to the plate to tell readers what's so special about the books they're licensing. Drawn & Quarterly's presentation of Black Blizzard is a good example of how to do just that. Consider the back jacket copy:
In 1956, at the age of twenty-one, Yoshihiro Tatsumi arrived as a major new talent in Japan's burgeoning manga industry with the publication of his graphic novel Black Blizzard. With influences ranging from Osamu Tezuka to Alexander Dumas to Mickey Spillane, Tatsumi's noir thriller displayed a cinematic, hard-boiled aesthetic, as well as a prodigious knack for inventive, fast-paced storytelling. Long out of print and never before published in English, Black Blizzard is a rare piece of Japanese cartooning history and an enduring work of high entertainment. Drawn & Quarterly Publications and series editor Adrian Tomine are proud to present this lost treasure from a modern master.
Without even opening the book to look at the pictures or read Tomine's interview with Tatsumi, readers know immediately (a) who Tatsumi is (b) where the work fits into his development as an artist (c) who influenced him and (d) why Drawn & Quarterly's edition is significant. Bonus points for connecting Black Blizzard with more familiar Western points of reference.
Now imagine doing that for an artist like Murasaki Yamada — not only are you appealing to manga enthusiasts who know about COM and Garo, but you're also pitching your work to readers who enjoyed Persepolis and Fun Home by positioning Yamada as a similarly important female voice in comics (and one with an interesting biography as well — in addition to writing for two seminal manga magazines, she also ran for Japanese Parliament).
3. Get librarians in on the act.
As my colleague Eva Volin pointed out in an earlier discussion about manga marketing practices (this one focused on manga for younger readers), there are a number of compelling reasons to pursue the library market:
1) There are a lot of libraries.
2) We buy a lot of books.
3) We rarely return the books we buy.
4) If the book we buy turns regularly (circulates a lot), we buy extra and/or replacement copies.
5) If a category turns regularly we increase the amount of books we buy in that category.
6) By doing all this we create loyal readers who will often go in search of books at bookstores to buy and keep for themselves.
If you want librarians to buy your books and talk them up with patrons, however, you need to do more than just send out fliers and point to reviews; you need to meet with them face-to-face, explaining how your books fit into a well-rounded graphic novel collection, identifying the likely audience for your books, educating them about the creators, and giving them samplers or review copies. You also need to provide convenient ways for librarians to preview titles online — and you need to tell them about those online resources. The SigIKKI website is a great tool for librarians interested in building a graphic novel collection for adults, as it allows browsers to read entire volumes of manga for free and provides background on each of the featured artists, but if you're not already a manga fan, how would you know about the site and what it has to offer?
Librarians can perform another valuable service for you as well: they can host events to raise awareness about your book, introduce readers to one of your authors, or engage them in a discussion of a broader theme. Done right, these kind of events can draw in long-time manga readers and newcomers alike, especially if you find a compelling hook for the material: a local mountaineering expert discussing the backstory to Summit of the Gods (and maybe sharing a few of his own pictures of Mt. Everest), an art historian tracing a particular manga-ka's style back to nineteenth-century print-making traditions, a translator discussing the difficulty of adapting a script for English-speaking audiences, a film historian comparing scenes from a Masaki Kobayashi samurai film with sequences from Satsuma Gishiden.
__________
Update by Noah: The entire Komikusu roundtable is here.