C. W. Anderson, series, focusing on Blaze and the Gray Spotted Pony and Blaze Finds the Trail.
This easy-reader children's series is from the fifties and sixties.  They have simple, straightforward text and black and white pencil illustrations.  Hands down, they are probably my most favorite books in the entire universe.  When I lost my personal library to a flood, my family instantly Amazoned me the entire set (probably in the hopes that I would stop crying; it worked).
Sometimes, when I read comics or other graphic stories, I find myself frustrated with the art.  For all the options these days in color, from traditional mixed media to advanced Photoshop autofills and filters, there is often, well, a lack of craftsmanship.  There is something to be said for a simple drawing that conveys a straightforward idea in a straightforward way, done well.
I know this may make my tastes dull and boring, but to me, these simple drawings done with nothing more than pencil and paper by one man are more beautiful than many of the creatively mixed media of pencils and ink and Photoshop and InDesign and who knows what all else done by a team of five or more.
One of these books is sixty years old.  So they're not exactly getting a lot of hot press, but they're still in print.  Unfortunately, the current reproductions kind of suck.  They don't do a good job of displaying the subtlety of the pencil drawings' shades, but they're also only six bucks each retail.  If you can get your paws on the older, library bound versions, they're better.
But I wanted to share them, for two reasons.  One, I think they're lovely drawings that some of the art-focused adults here would enjoy.  Second, I think they're a great choice for young children, especially if they're just beginning to read.
The stories are all about a boy named Billy and his faithful pony Blaze.  Sometimes they include his friend down the road, Tommy, who wants a pony of his own.  Here's part of Blaze and the Gray Spotted Pony:
"Tommy was a little boy who loved horses.  Almost all his dreams were about horses–all kinds of horses."  Tommy makes due with his toy horses and his dreams for a while.  Then we get this, "Whenever Tommy got a new little toy horse, he always showed it to Billy.  Billy said they were very nice and looked real."
With the charming picture: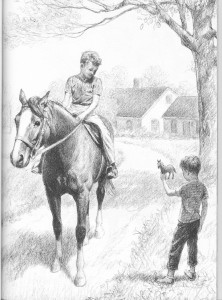 Billy shows Tommy how to ride and how to take care of Blaze.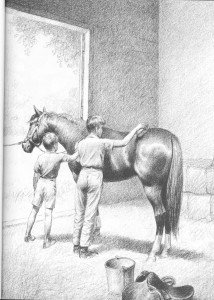 Eventually, Billy and Blaze find Tommy a gray spotted pony of his very own.  (These are not complex, twisty plots.)  Billy and Blaze and Tommy and his Gray Spotted Pony all become best friends.  You can see the bad scanning job and strange pixelations in the reproduction here  (and I thought I was a bad scanner, jeez) , but I also hope you can see the lovely drawing beneath: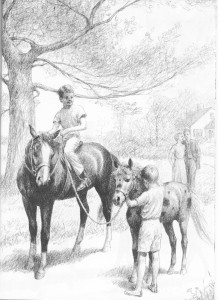 The next story in the series that I wanted to talk about was Blaze Finds the Trail.  As you might imagine, it's a story about Billy and Blaze taking a ride in the woods, getting lost, and –wait for it!– Blaze finds the trail!  Shocking, I know.  But beautifully drawn and simply told.  We start out with this warming picture of the boy and his pony: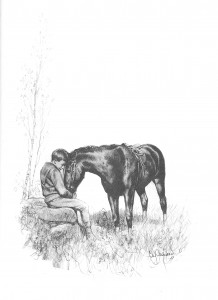 The drawings in this story are especially well-done with the pony rich in shiny coat and detail, and the forest and background rougher and more gestural as they enter the forest for their adventure: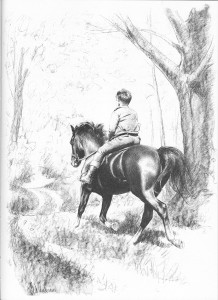 In the tradition of plucky ponies everywhere, Blaze refuses to go the wrong way and eventually leads Billy out of the forest: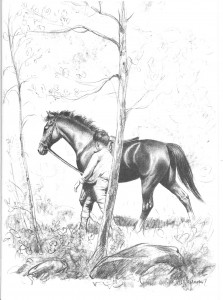 They escape the forest and the building storm, just in time.  Simple stories, simple drawings, but lovely.
I hope you enjoy them as much as I have, and perhaps you can enjoy them with a child and instill in them the fiery hunger for drawing with pencils on copy paper that was lit in me.