Last Saturday, I visited the Small Press Expo in Bethesda, Maryland with three of my friends. We spent nearly all our time wandering around the main convention floor, buying stuff, and occasionally chatting with the exhibitors. Here are some quick thoughts on SPX, in no particular order:
I can't move!
I hope next year's Expo rents a second convention room or moves to a larger venue. I'm not sure if they underestimated the crowds or if money is just tight, but the convention floor was far more crowded than it needed to be.
But I'll give them credit for putting Kate Beaton near a door: she was far and away the most popular cartoonists there (she even put Jaime Hernandez to shame), and the line for her signature formed outside the doorway rather than clogging up the convention room.
There are girls! Reading comics!
And women too. Out of all the (nerd) conventions that I've been to, SPX had the largest percentage of both female attendees and exhibitors. This is a very rough estimate, but I'd say close to 50% of the attendees on Saturday afternoon were women.
One of my friends at SPX had previously accompanied me to the Baltimore Comic-con. She found SPX to be much more female-friendly. At the Comic-con, she complained that some of the vendors had stared at her like she was some alien creature. When I asked about it, she told me that what made her feel comfortable at SPX was not the number of female attendees, but the female exhibitors and vendors. In other words, if you want to sell comics to women, you need women who sell comics.
It's all in the presentation, or lack thereof.
Most of the exhibitors seemed content to put a few books on the table, maybe a print or two, and then wait for the crowds to form. This works fine if the exhibitor is already popular, like Kate Beaton or Jaime Hernandez, but it doesn't work so well for unknown artists. One of my friends was completely unfamiliar with comics, so she had no idea which artists she might like or what kind of content she was interested in buying. In other words, she's the ideal consumer for an unknown artist, but they have to make an effort to get her attention. To be fair, some of the exhibitors were more than willing to engage with attendees and explain what their books were about, but others seemed either shy or bored. And in that moment when a potential customer is walking by their table, they need to do more than just sit there and wait for the money to flow in.
She wanted more free samples or excerpts from comics, not just so she could look at the art, but so she'd have a better idea what the comic was about and how well it read. Again, to be fair, a few of the webcomic exhibitors were handing out samples.
Another friend sent me her take on the exhibitors in an email:
"I think the thing I liked most (as someone who isn't exactly a diehard indie comics fan) was the booths that were selling comics and misc. merchandise based off of the artist's characters.  It was kind of like a comicon meets esty vibe – really neat to see what people came up with.  Some of it I thought 'wow, I could totally make that myself' (monster scarves) but the wooden puzzle guy and many of the poster/print options were truly impressive.
I was also pretty amazed by the mix of levels of, for lack of a better word, professionalism from booth to booth.  You could tell some of the folks there are fully supporting themselves on small press comics; others seemed to be using it as a way to show off their artwork – but they didn't seem all that concerned about heavily promoting the comics part.  Then there was a booth or two where it seemed like the artist was using SPX as a way to promote his/her hobby.
I don't think you were with me at the time, but I saw one booth with really neat stuff – an alphabet of imagined animals, pseudo-victorian faux scientific language, etc. The guy at the booth did the standard 10-second 'this is what I do' that everyone was doing.  He mentioned the alphabet thing was on his blog – so I asked if he had a card.  Apparently he had forgotten to bring any.  He offered me one of the little pamphlets he was selling [more on that below], mentioned suggested donation was $1.  I figured fine, I'll pay $1 to find out about his stuff, and handed him a $5.  He didn't have change.  The guy next to him didn't either, so he gave me the brochure for free.  Very nice and everything, but the highly professional government worker over-achiever in me was *completely* horrified by the idea that someone would show up to exhibit at a convention and be that unprepared.
Also overheard two chicks at a booth chatting about their friend (the artist) who helped them get it set up, stayed a few minutes, then said 'I got into webcomics so I wouldn't have to talk to people" and vanished.'
Overall I very much enjoyed it, mostly for the novelty and the ability to nerd out a bit without feeling like the only girl in the room! :P"
Giving money directly to the artist gives you a warm, fuzzy feeling.
On the other hand, I always feel vaguely guilty when I walk by a table and the artist is just sitting there while no one buys their stuff. It's a sad scene … until I remember that most of their junk is ridiculously over-priced.
Miriam Libicki seems to be doing well.
But she no longer follows the blog (sorry, Noah).
For those of you new to the Hooded Utilitarian, Miriam used to blog on the site back in its Blogspot days, but she's far better known as a cartoonist and creator of Jobnik!, an autobiographical account of her time in the Israeli Army.
I bought one of her kitchen magnets and the latest issue of Jobnik!.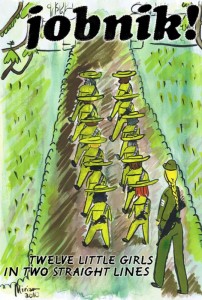 I love the cover. I haven't had a chance to read the comic yet, so I can't offer a review, but the prior issues were quite good. If you're interested, it's available for purchase on her website.
Consumerism, hurray!
What I bought:
Parker: The Hunter, written by Richard Stark and adapted into a comic by Darwyn Cooke. It's not really all that "indie" (and IDW is hardly a small press) but I like detective stories, I like Cooke's art, and it was being sold by the Comic Book Legal Defense Fund. Support free speech and all that.
Prison Pit, by Johnny Ryan. Violence and crude humor. 'Nuff said.
Afrodisiac, by Jim Rugg and Brian Maruca. I love blaxsploitation as much as the next suburban white dude, and this book has gotten positive reviews from most of the critics I follow.
Masterpiece Comics, by R.Sikoryak. It's an odd but potentially funny idea where classic writers are filtered through the tropes of classic comics.
Locas: The Maggie and Hopey Stories, by Jaime Hernandez. I haven't read all of Love and Rockets yet, but the Locas storyline is what hooked me on the series (sorry, Gilbert).
Blazing Combat, by Archie Goodwin and assorted artists. Proof that I am susceptible to advertising. They kept running the banner ads for this book on tcj.com, and eventually I succumbed. Though I've also been looking for a war comic to review, and this fits the bill.
Pang: The Wandering Shaolin Monk, vol. 1, by Ben Costa. An engaging, cartoony style and a kung fu storyline. But what sold me was that the publisher is named Iron Crotch University Press. Well played, Ben.
What my friends bought:
Trickster, edited by Matt Dembicki with assorted artists. Its a collection of Native American folklore (about Trickster gods, naturally) with each tale illustrated by a different artist. Here's a blog about the book for the curious.
A print by Emma Rochon, featuring mer-foxy things.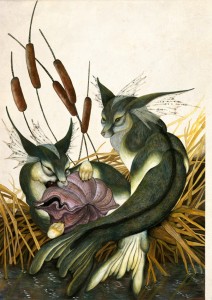 Two prints by Ulises Farinas, including bear-zilla,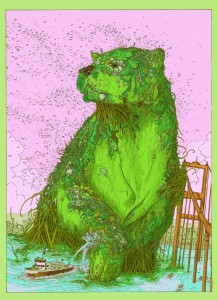 and Lego Doctor Who, which efficiently combines two nerdy obsessions.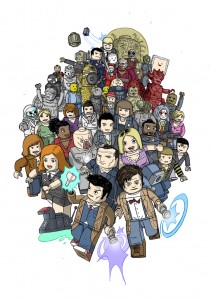 A large print (couldn't find an image of it) by Sara L. Turner, author of the webcomic Ghosts of Pineville.
And a pamphlet by Nate Marsh, creator of The Obscure Animal Compendium.