Who is Hinako Sugiura?
As far as most American comics readers are concerned, she's a sizable entry in Frederik L. Schodt's Dreamland Japan (1996), an article from which much of the web-based information on Sugiura has been obtained (this introduction being no exception). The following points should suffice:
Born in 1958 into a family of kimono makers.
She often wore traditional dress during her public appearances, yet Schodt calls her "a thoroughly modern person who once listed her hobbies as assembling plastic model kits and playing with computers".
Studied visual communication and design in university before dropping out to study with Shisei Inagaki, an expert on the Edo period.
Worked as an assistant to the mangaka Murasaki Yamada and was a contributor to Garo. Schodt has the following to say about one of her ukiyo-e inspired stories: "sometimes she dips so deeply into tradition that the pages truly look like the kibyoshi of old, which she acknowledged to be a powerful influence."
An expert on Edo period customs which led to a number of television appearances. I have at hand one of these works (images reproduced below) which shows charming drawings and descriptions of the period in question.
Won the Japan Cartoonist's Association Award of Excellence in 1984 and the Bunshun Manga Award in 1988.
Died in 2005 of "throat" cancer
I came to Sugiura's work for the first time through a single volume (Chinese language) reprinting of her three volume Hyaku Monogatari (One Hundred Tales; serialized 1986–1993). It is from this collection that one of her earliest translated comics appears to have been taken ("Apparition of an Eel"; Mangajin No. 40, Nov 1994, p. 74). [1].
My copy of One Hundred Tales is prefaced with an explanation of the title which is derived from the Hyakumonogatari Kaidankai, a game where a group of acquaintances gather in a small room, light a hundred candles and tell tales of the supernatural to each other. A candle is smothered each time a story is concluded, and the illustration which prefaces the book (by the ukiyo-e artist, Utagawa Kuniyoshi) depicts the moment when all the candles have been extinguished and a host of unearthly beings begin to materialize.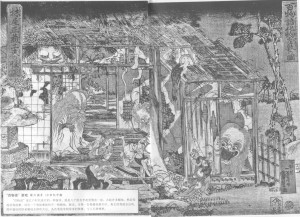 In deference to tradition, Sugiura stops her cycle short of the 100th tale, the telling of which is said to bring forth these demons which will drag the hapless storyteller down to hell.
The stories in the collection have been selected as being best representative of the kaidan of the Edo period. As with corresponding Chinese classics like the Liaozhai, the narratives which fill One Hundred Tales map the numinous landscape of the fields, villages and towns of old Japan; that strange mixture of folklore, tradition, superstition, and mere insanity which has survived down the centuries. Thus a man is greeted by bestial personifications of his family and friends..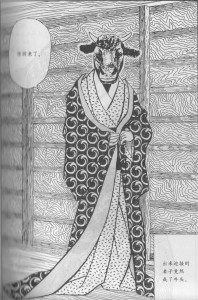 …a curious creature implores a man to tend to her grave…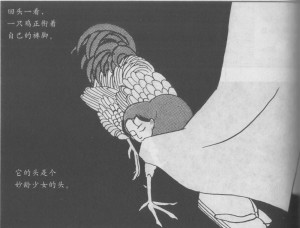 …and a well-mannered and completely invisible guest comes a calling.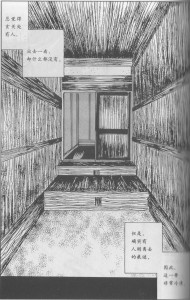 The last is found in a story titled, "When a stranger comes to visit – Two tales" (74th and 75th Stories). It is among the very best in the collection; a story about the human traces which nestle silently in the corners, the unseen visitors who will not enter through open doors nor open any closed ones, and the invisible friends who only ask for a kind word and a greeting.  It quietly delineates a familiar architecture and the curious space between the mysterious and mundane in our lives.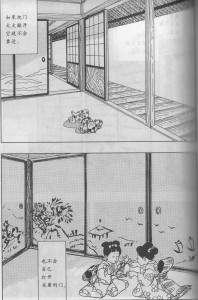 The instigator of these stories is a nameless old man; a character who appears in both the opening and closing tales of the book as well as at various points in the collection, enjoining his friends and acquaintances to tell their own tales. The author of the book's preface sees him as a stand-in for Sugiura herself, an easy enough insight which adds little to our actual appreciation of the manga.
The tone of these stories is gentle and they are meant to entertain and amuse rather than terrify. The plots may be captured in the course of 2-3 sentences but their texture and depth reside in Sugiura's brushwork and graphic narrative which varies in style; starting out tentatively with compositions derived from manga before proceeding to charcoal drawings and brushwork in keeping with fine art traditions. I'll close with an example of this from the 57th and 58th tales in the anthology collectively titled, "Two Explorations of the Path to Immortality" reproduced with a simple translation below (read from right to left).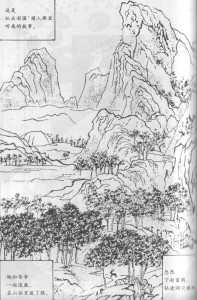 [Page 1]
This story comes from a hunter who lived in Dewa Province.
The hunter and his grandfather were chasing after a deer when they lost their way in a valley.
Suddenly, it started raining heavily and they took shelter in a cave.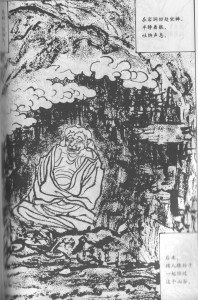 [Page 2]
Within they saw an immortal sitting-zen, his eyes half-open, his breath steady and quiet.
Many years later, the hunter and his grandson passed by the same valley.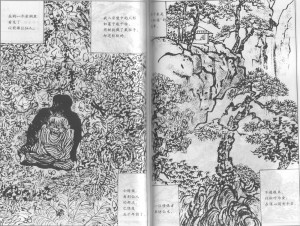 [Page 3]
They found the immortal in the same cave.
The figure embedded in the rock was as dry as a lotus seed but when examined with a branch, his belly still appeared soft.
It had been fifty years since the hunter last saw the immortal as a child.
[Page 4]
The next story is from Yamato Province (present day Nara Prefecture).
A monk well-versed in the magical arts,
was fasting and sustaining himself on a diet of pine leaves. He confined himself deep in the mountains for a thousand days.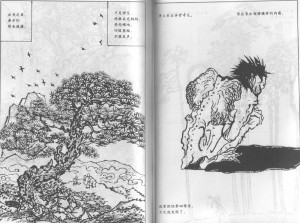 [Page 5]
At the end of this period , his disciples went to receive him.
His  eyes shone brightly, his flesh was shriveled, his limbs withered and he was unable to produce a sound.
[Page 6]
A strange growth of hair and bones was seen on his body.
Wing-like tumors erupted from his back.
He was helped back to his room  but disappeared soon after.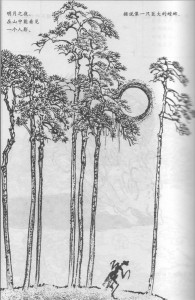 [Page 7]
On nights with a full moon, a shadow can be seen on the mountains.
It has been said that it resembles a large praying mantis.
*        *        *
Sugiura's work here has little to do with the dictates of the marketplace, a fact which makes its publication in America unlikely though not improbable. Little wonder then that Schodt closes his passage on Sugiura with lines remarking on her departure from commercial manga:
"…in 1993 she decided she was ill-suited to the life of a manga artist. At the age of thirty-five, claiming to be dissatisfied with her artwork and unwilling to keep up with the brutal pace of commercial manga publishing, she announced her retirement."
As for the English-speaking world, a more mature and demanding audience will be required to ensure an adequate reception for such manga, one which can look beyond the simple dictates of entertainment to appreciate the depth and breath of everything that lies beyond. Only time will tell if this will ever come to past.
---
[1] A link at manga helpers suggests that one of Sugiura's stories may have been reprinted in Kaiki: Uncanny tales from Japan. I am not aware of any other official English translations of her work