It's that time of the year again and here at HU we're looking back on the year in online comics criticism.
The choices made by our panel of judges will be revealed tomorrow. Today, I'm taking a look at some of the reviews and essays which, for one reason or another, didn't make the cut. I should add that this has no bearing on the actual quality of the articles in question. The important thing to remember is that the process was "democratic". In other words, if you're lucky you just might get Abraham Lincoln. If not, you might have to settle for George W. Bush (who was indeed loved and remains loved by many Americans).
The 7 articles which did make the final list represent a compromise arrived at by the imperfect tastes of 7 judges. The most interesting thing about such lists is how often they get it completely wrong, the bastard child of individual purity and the god damned evils of collective reasoning.
We started out with 8 judges at the beginning of 2010, each of whom submitted individual reading lists of worthy nominees each quarter. Sadly, one of the judges had to drop out due to a heavy workload but I believe the remaining judges present a reasonably broad spectrum of interest and taste in both comics and criticism.
The judges this year were Derik Badman, Melinda Beasi, Johanna Draper Carlson, Shaenon K. Garrity, Tim Hodler, Chris Mautner and Bill Randall. None of the judges were eligible for the final vote. They were also forbidden from voting for writing which appeared on their own blogs (or group blogs). My role in this process was largely as a non-voting organizer (i.e. clerical assistant) and my purpose today is to emphasize the positive as far as the final choices (and runners-up) are concerned. I would, however, encourage readers to disagree vehemently with the final choices if they so wish. If there's any type of writing which should not be spared reproach or negativity, this would be it.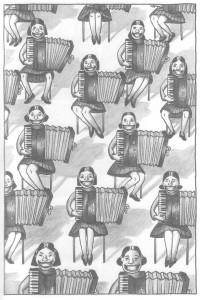 You have to be pretty stupid to write at length about comics online. With a bit of luck, comics scripting can be turned into a lucrative career; writing about comics online, hardly ever. The best criticism takes time and frequently pays next to nothing. In other words, comics criticism requires a special kind of insanity, a recessive trait found found in certain species of determined hobbyists. One of the judges, Bill Randall, has likened it to digging a ditch and singing for the crickets and he's not far off in this description. No surprise then that the attrition rate has been heavy. It wouldn't take too long to name the various comics critics who began their "careers" in the 80s and who remain active in the field today. The history of comics criticism is littered with the corpses of writers who used to write about comics. The resultant toll on experience has had a damaging impact on the art form.
Nonetheless, 2010 was a reasonable year as far as comics criticism is concerned. Coverage remains sparse for newly released works with little long form criticism addressing the major works in any one year. In this, comics criticism remains the poor cousin of most other art forms. It should be noted that this kind of neglect is hardly unique to comics. Consider the somewhat uninspired English language criticism devoted to Michael Haneke's The White Ribbon for example. Of the marquee books, two in particular received solid coverage. These were Daniel Clowes' Wilson and Robert Crumb's The Book of Genesis Illustrated. Others like Love and Rockets: New Stories #3, Charles Burns' X'ed Out and Chris Ware's Lint received only a smattering of worthy reviews.
Largely absent from the long list was criticism focused on new manga releases (here arbitrarily defined as the 2009-10 period; 3 articles in total). This may have been due to the consolidation of votes secondary to the judging process, the preference of the judges or the nature of manga criticism in general.  Two votes were received for Nicole Rudick's article on Moto Hagio's A Drunken Dream but, as is typical of comics criticism, it wasn't the kind of extended piece which Rudick can afford to do for her paid work.
Here are some other pieces of criticism which achieved a total of 2 votes from our jurors:
I'll reserve comment on most of these articles but will say that the piece I was least enamored with was the "AXed Twitter extended short form criticism". This has everything to do with my preference for writing of a more "finished" nature; my idea that the best criticism should be more than a place where information, opinions and ideas are exchanged; that, at its best,  it should be a place where ideas are developed upon to their fullest extent and where there is a certain beauty of language and structure.
Here are a few other omissions.
HU editor, Noah Berlatsky, has advised me that one of his favorite pieces of the year was Shaenon K Garrity's essay on Cathy at Comixology. Her article on Scott Pilgrim gives that article a good run for its money. Two jurors also showed a preference for a pair of articles by Matthias Wivel; one titled Hergé and the Order of Things, the other on Robert Crumb's The Book of Genesis Illustrated. No consensus was arrived at to push either of these article into the final list.
One surprising absence from the runners-up list is Matt Seneca who writes at Death to the Universe. News of his articles reached the collective reading list early in the year and interest was shown in his articles on Roy Crane and his extended discussion with Jog on Jim Steranko's Outland and Jack Kirby's 2001: A Space Odyssey. Seneca, who started blogging in December 2009, would probably be a shoo-in for "best newcomer" in some quarters. He's fast, disciplined and dedicated, and his blog shows 198 entries in 2010, many of which are long form articles. He shares many traits with his co-writer on the Steranko-Kirby discussion. Both are deeply passionate about comics, devote considerable acreage and brain cells to more commercial publications (from the present and days of yore; it should be noted that the interest is far from exclusive), and might be said to be stylists and close readers. Seneca has established a reputation as an astute surveyor of mark making, something to which he brings considerable emotional investment. The word of mouth is that he's the Luke Skywalker of comics criticism.
One characteristic of such devoted writers is that they have little time to expend on works deemed of lesser quality. Which brings me to a final observation. Of particular note this year is the absence of negative criticism on the final list (one article sits comfortably on the fence). In fact, I count only 2 articles (out of nearly 60 nominations) in the long list which could be characterized as being negative in nature. The final list for 2009 contained 2 (maybe 3) articles which could be construed as being "unhappy".  There may be a number of reasons for this. Firstly, we should put aside the idea that negative criticism is inherently inferior to positive criticism. We would not need to look very hard to find quality writing in a negative vein, and I have read a number of book reviews in the past year that are of an unaffirmative nature which are the equal of any of the writing on the final list.
From my travels through the interwebs, it is my experience that most readers and comics critics actually prefer critical writing which is positive in nature. It is a preference which I've seen voiced intermittently both by readers and critics alike. It should come as no surprise then that the vast majority of substantive comics criticism online is positive in nature.
It may be that good negative criticism is far more difficult to write than good positive criticism. This may simply be due to the fact that a writer with a low opinion of a particular comic is high unlikely to devote a huge amount of time and energy to an in-depth appraisal. It's an old chestnut to be sure but one not excessively burdened with cobwebs since it's been regularly dusted-off by practitioners of the form. Whatever the reasons, comics critics should take note that if the appreciation of your readers and peers is of any importance to you, then an antagonistic article may not be the best approach.
TOMORROW: The 7 "best" pieces of comics criticism of 2010
Update by Noah: The final list is now online.