The following article is by Alec Stevens, the publisher of Calvary Comics.
by Alec Stevens
The mere mention of Christian comics usually elicits a polarized response in the western world, and often regarding Jack T. Chick in particular. After all, at age 86, and with over 500 million of his evangelistic cartoon booklets distributed throughout the world in numerous languages, he is the most published living author. What may surprise many, however, is how far-ranging Christian comic books, tracts, and graphic novels are, and how many numbers they have sold over the years.
For example, in 2001 DC Comics touted Frank Miller's Dark Knight 2 as their "highest-selling graphic novel in the past five years" with over 350,000 copies preordered and/or sold. Yet Tyndale House/Wildstorm (the latter a DC subsidiary) sold over 500,000 copies of their Left Behind graphic novels (a fictionalized account of the events of Revelation). Over 24 issues of Powermark, a Christian sci-fi series aimed at children, were published from 1999-2001. Writer-publisher Steve Benintendi remarked, "Our first print was for 640,000 of issue one in English. Quebecor said it was the biggest print run of any comic within the last five years." The Picture Bible, published in 1978 and still available today, was illustrated by Eisner studio alumnus Andre LeBlanc, and has been translated into more than 140 languages with over 86 million copies distributed worldwide. From 1978-1994 the United Bible Society published thirteen Heroes of the Faith comic books, principally drawn by Filipino artist Johnny Yngente, which sold over 100 million copies worldwide. And many other such successful examples can be cited, be it the Spire Christian Comics series drawn by Al Hartley from 1972-1988, or the more recent Japanese Manga Messiah and related titles.
For a thorough introduction to Christian comics, past and present, and from diverse cultures, let me direct you to the ministry of COMIX35 helmed by cartoonist Nate Butler.
Founded in 1996, it is his aim to train the native to reach the native with the Gospel message through visual media, and cartooning in particular. His COMIX35 training courses have been held in various parts of the world with over 49 different nations represented. This ministry also hosts the Christian Comics International website which is an indispensible source of information for Christian comics from the late 19th century to the present in six continents.
With such a richly diverse (ongoing) history, I'd like to select a few highlights:
Rev. E. J. Pace, DD (1879-1946)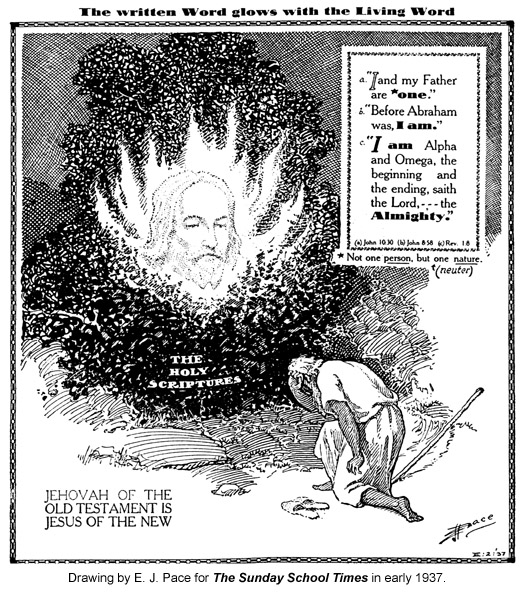 Though not a comic book artist, but an editorial cartoonist in the vein of Winsor McCay (with a touch of Franklin Booth), Dr. Pace was the foremost Christian cartoonist of the early 20th century. Illustrating for top-selling Christian journals like Moody Monthly and The Sunday School Times (which had a peak circulation of 108,500 copies per week in North America), his work was also collected into several volumes: Christian Cartoons (1922), Pictures That Talk, volumes 1 & 2 (1929), Life Begins At… (1936), and From Death Unto Life (1943) which had leading evangelical Christian leaders of the day endorsing his artistic efforts and Bible scholarship. During his lifetime, Pace's work was prolifically reproduced in poster form, leaflets, and tracts in various languages. However, in the years following his death, his work—which visually had a "Gilded Age" sensibility—just as quickly faded from view. In 2007 I published, with the full cooperation of his grandson, the first biography of E. J. Pace with hundreds of his masterful pen-and-ink drawings, as well as many rare photographs.
Nestor Redondo (1928-1995)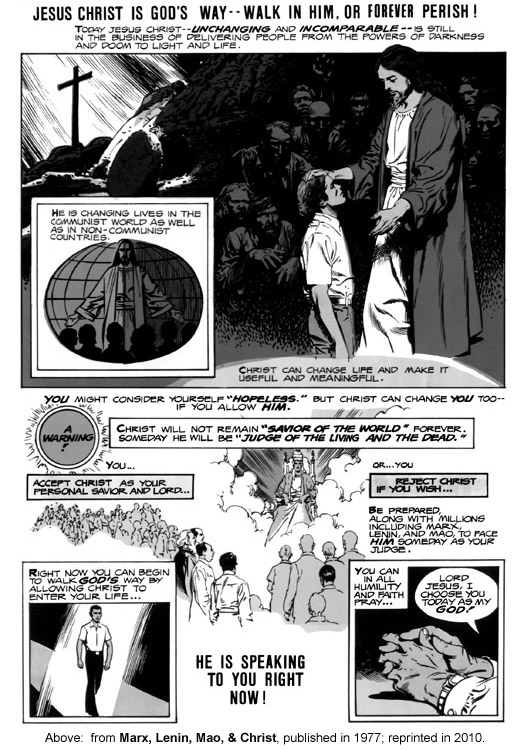 Known to many comics fans of the 1970s (and to Filipino Komiks fans several decades prior to the rest of the world) was the work of Nestor Redondo. Over the course of his long and prolific career he drew countless pages from Genesis and Exodus for Philippine comics. In 1975 he drew, using Joe Kubert's layouts as a guide, the artwork for DC Comics' treasury edition The Bible which dramatically portrayed selected portions of Genesis. In 1977 he, along with others in his studio, provided the art for Marx, Lenin, Mao, & Christ which offered a stark contrast between the Gospel of salvation in Christ and the tenets of Socialism and Communism. The following year he illustrated Lew Wallace's classic Ben-Hur: a Tale of the Christ in comics form for Pendulum Press. Redondo's art reflected his affinity for early 20th century American illustrators as well as the work of Alex Raymond in "Flash Gordon" while yet retaining a distinctly Filipino flavor. In 1988 he drew the story of actor-turned-evangelist Fred Galang for Born Again Comics #2 in his native country, and in later years, due to problems with his eyesight, he turned to inking the work of others, principally in Christian titles published or packaged by COMIX35: Aida-Zee (1990), The Monster (1992), Behold: 3-D (1995), and Christian Comics & Games #0 & #1 (1995).
Rick Griffin (1944-1991)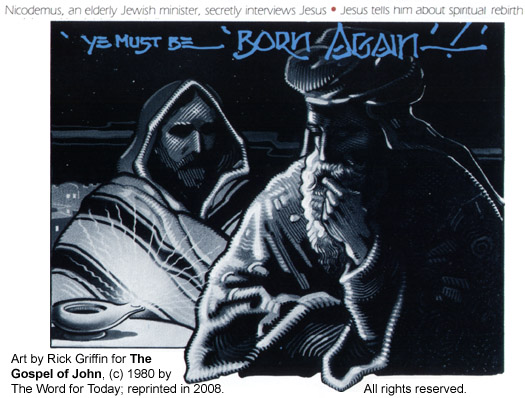 Famed for his surfing cartoons and psychedic rock concert posters of the 1960s, Rick Griffin became a born again Christian in 1970, and soon after began to incorporate elements of his faith in Christ into his "Murphy" comics for Surfer magazine, and in 1971 produced two Christian comics tracts featuring a character called "Holy Ned." Additional work in this vein included the cover art for Craig Yoe's Jesus Loves You and a four page comics story, "For God so Loved the World," for Robert Crumb's Zap Comix #7 in 1974 . From the late 1970s through the early 1980s Griffin provided the album cover art for a number of Christian records, and in 1980 he created many innovative illustrations for The Gospel of John, published by Calvary Chapel (rereleased with additional material in 2008). His last published work, prior to a tragic motorcycle accident, was a self-portrait at "Heaven's Gate" for a San Francisco periodical.
There are so many more examples that could be cited, such as those who have worked in a humorous vein, be it Johnny Hart (1931-2007) whose late-life conversion to Christ was reflected in many of his latter "B.C." comic strips; Kevin Frank (b. 1962) whose "Oboe Jones" strip ran in Cornerstone magazine (1984-1998) and whose "Heaven's Love Thrift Shop" Sunday strips are currently syndicated by King Features; or Ron Wheeler whose comic strips have been published in book and tract form by the American Tract Society, Baker Book House, Barbour, Cook Communications, Fellowship of Christian Athletes, Focus on the Family, Tyndale House, and Beacon Hill Press.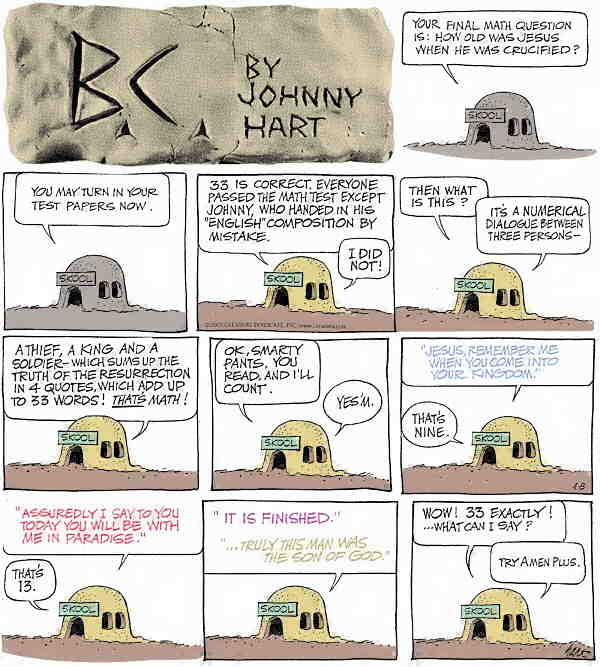 As for myself—aside from my work as an illustrator for secular books, magazines, newspapers, and comics—I drew some short comics stories for various Christian publishers ("The Parable of the Ten Virgins" for Proverbs & Parables in 1999, "Unshackled! The True Story of John Hauff" in 2003, "The Good Samaritan" for Alive Now in 2004, and "The Ascension" for Christian Comics 2005) before embarking on publishing my own graphic novels (and other books, sometimes featuring the work of other artists) under my Calvary Comics imprint. Recent titles include Sadhu Sundar Singh, a biography of India's most famous Christian; Revival Among the Zulus, the story of Erlo Stegen, founder of the KwaSizabantu Mission in South Africa; and Clendennen: Soldier of the Cross which chronicles the life and ministry of B. H. Clendennen, founder of the School of Christ International which operates in over 150 countries.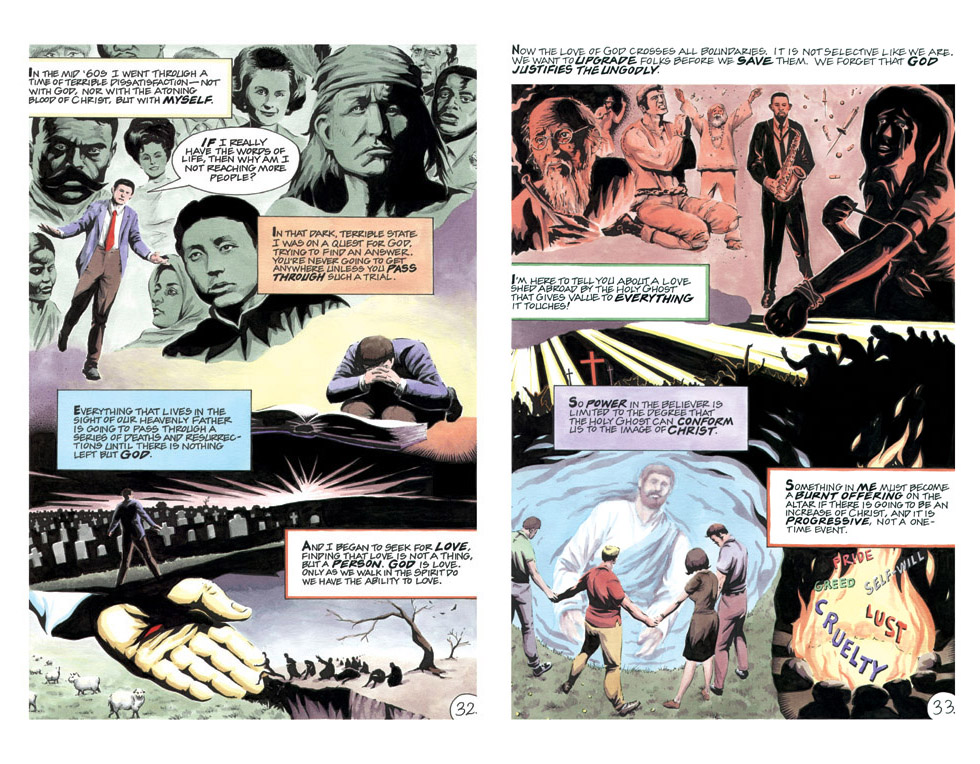 I can safely speak for my fellow believing artists by saying that there is no greater joy for us than to create material that openly glorifies Jesus Christ and which shows what God has done—and continues to do—in and through the hearts and lives of those who have surrendered to His perfect will, regardless of culture and location, past and present.