Endless Comfort, Sakuya Sakura, June Manga.
I admit it up front–I bought this manga for the plucky great danes on the cover.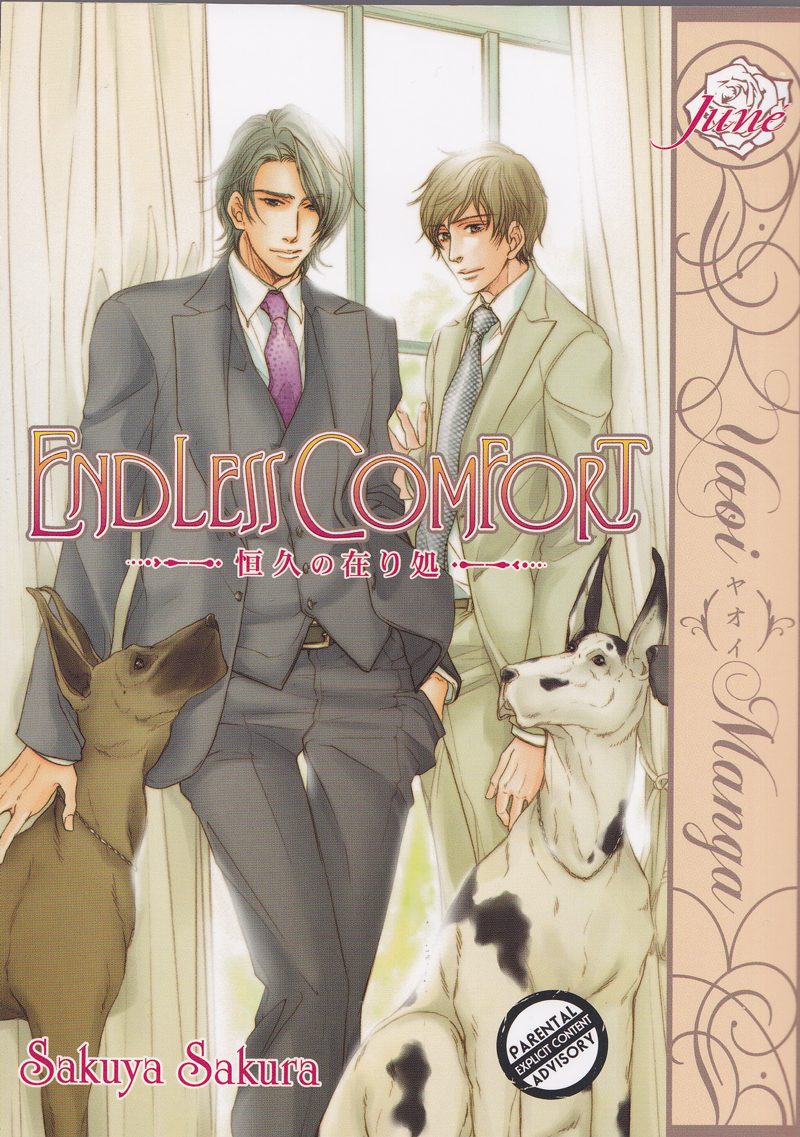 Look at these faces!  (Note the dark grey nose at the far right, just peeking into the frame!)
The art isn't bad, either, and I enjoy yaoi, but it's the dogs that got me to buy this one. 
Yeah, yeah, dogs, mutters someone in the audience, so what?  And to this I say: Endless Comfort is a bit like Zoo Borns, except with porn, deftly handled relationships, and a well-written exploration of the healing of wounds from child sexual abuse.
Uh.  OK.  Maybe not the best ad-copy summary I've ever written.
And yet, I feel, fairly accurate.
Let's try this again.  Endless Comfort is about Kuzumi, a wealthy man who returns to his mother's manor house in the suburbs which she left to him after her death two years.  The manor house is where he spent his weekends as a child, and it houses the family servants (who helped to raise him), three great danes, and a new dog trainer named Yuu.

Kuzumi is trying to come to terms with the loss of his mother, whom he loved, and the comfort that the manor home gave him.  His dogs, Etta and Roscoe, greet him happily, but Kyle, the fawn-brindle dane, hangs back.  At first Kuzumi thinks maybe it's a rejection, but Yuu, the sweet young dog trainer, tells him that it's only that Kyle is shy.  He hangs back because he is uncertain–he only needs to be called.
And this, of course, is the plot of the story.  Like Kyle, Yuu the dog trainer is shy and sweet.  He needs to be called.  Unlike Kyle, Yuu has some painful history, it is this, more than his nature or personality, that makes him hesitant.
I've read a few yaoi that explored child sexual abuse, and most of the time I wanted to throw up, hurl the book at the wall, stomp on it, or shred it into itsy bitsy pieces.  Sometimes it's been played for porn, which is just about the grossest thing ever, as far as I'm concerned, or has been a game of let's blame the victim or here's why the hero is gay, or whatever.  YUCK.
That's not what Endless Comfort does.  Not at all.
Yuu is a sweet, gentle, kind man.  Younger than Kuzumi, sure, but not distressingly so.  He's in his twenties, it appears, and is well past high-school or anything like that.  He is a dog trainer for the manor house's dogs, but he also teaches dog training classes at the school his mentor runs.  He is kind with the dogs, patient, a good person.
He also has nightmares about past rapes.  While the manga makes it clear what happened, I felt it was treated carefully and not for exploitation.  Yuu shakes, he flinches, and when someone tries to cover him with a blanket during sleep, he lashes out instinctively.  After one bad nightmare, he goes to the yard to play with the dogs, but instead of playing, they comfort him.  It's heartbreaking and lovely.
Unlike other stories I've read, this is not a Healing Cock tale.  (For those not in fannish circles, healing cock is when the best answer to a nightmare about rape is for some random person to, er, employ the magical cock.  Because nothing says sexy like a rape nightmare?  I don't even know.)    Right.  Fortunately, this manga does not go there.  Yes, they do eventually have sex, and yes, they deal with the negative experiences by replacing them with more positive experiences, but before that, they comfort each other and, shock!, discuss things.
It's the slow buildup of their relationship, the give and take of healing that takes place, that makes this manga lovely and heartwarming.
Because Yuu, who most manga would treat as broken, heals Kuzumi first.
This manga is very much a give and take.
Yuu helps Kuzumi, and Kuzumi helps Yuu.  Their relationship is quiet, played out in moments over old photographs, or learning to play frisbee with the dogs, or sitting in the living room.  It's not loud or brash, it's just…quiet.  Lovely.
There's also a subplot about two of Kuzumi's friends, but I won't go into too much detail.  All of the characters, including Kuzumi's deceased mother, are portrayed deftly, and none are mere stock extras.  The art is graceful, rather peaceful.  This is not a big story.  It's intimate and slow, but I enjoyed it very much.  Highly recommended.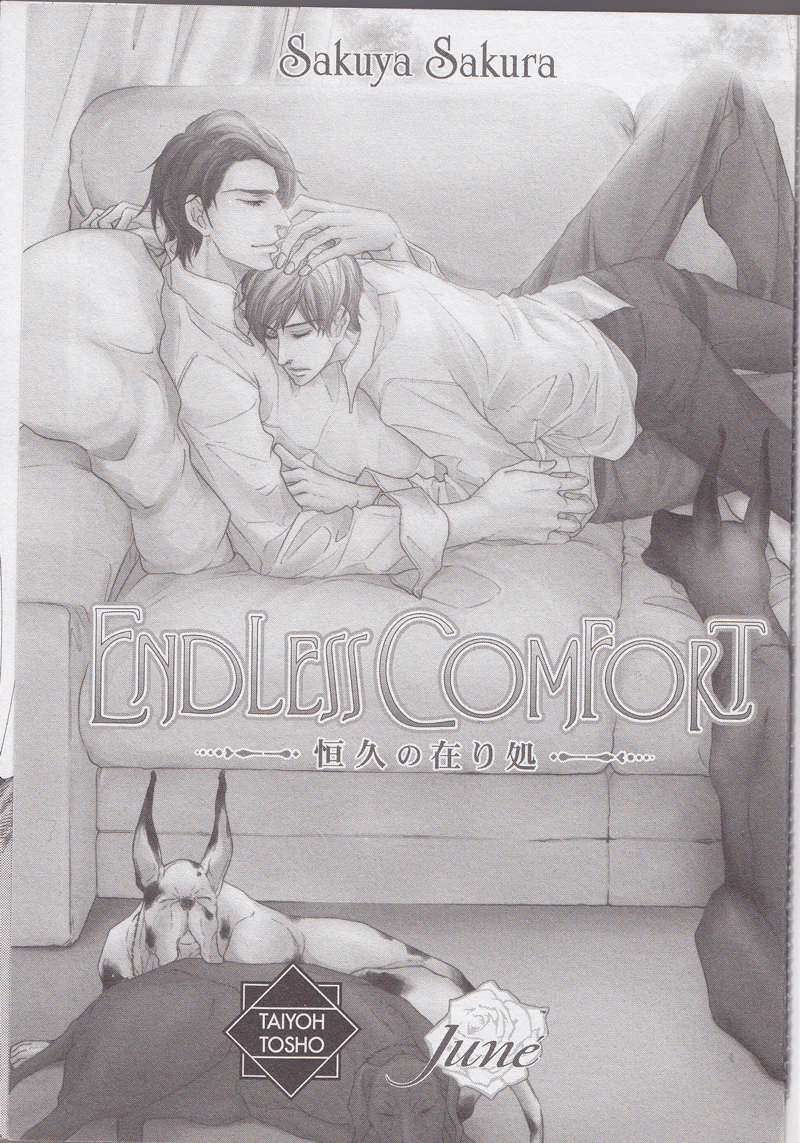 Note: I apologize for the terrible quality and paucity of the scans.  Halfway through, my scanner made a grinding noise and died.  *sigh*