EARLY TATSUMI: The Push Man and Other Stories (1969)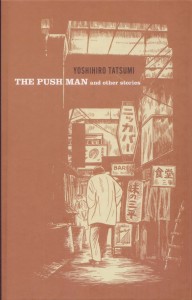 Everyone has to start somewhere.
For Yoshihiro Tatsumi and Drawn and Quarterly that beginning was the collection of short stories titled The Push Man and Other Stories, an anthology of stories dating from 1969 which was translated and published by Drawn and Quarterly in 2005 [1].
It comes with a prodigious list of accolades. Chip Kidd calls it a "revelation" which "[peels] away the lacquered layers of Japanese social and sexual surfaces to reveal the elemental heart beneath, and with such fearless depth of feeling." Paul Gravett proclaims Tatsumi "a master of frank, unsentimental exposés of the human condition", and Jaime Hernandez suggests that "Tatsumi's comics are clean and straightforward without pretentious tricks. Storytelling at its best."
The evidence on the ground is less convincing.
The drawings in this early collection are crude, inexperienced and laid down with the kind of haste which begets mistakes; these problems crystallized in a panel found on the fourth page of a story called, "Black Smoke". Here an immense buxom woman reclines in bed laughing at her husband, a midget standing in the foreground whose height hardly makes up the upper body length of the naked female.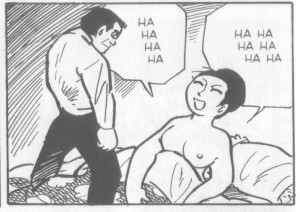 Not, sadly enough, a modernist meditation on the way the naked feminine looms large in the minds of all men, but a simple lapse in ability and attention to detail by an artist who has come to be known as one of the greatest exponents of the gekiga movement (if only in the West).
This is where it begins, a mixture of not so youthful ambition (Tatsumi was born in 1935) and hackery. Habituation to the author's unchanging male perspective is the order of the day. The misogyny is laid down thickly with a trowel: a smörgåsbord of whores, unfeeling sluts, and deceitful and hectoring wives. This isn't particularly surprising or disturbing on a moral level but ultimately deadening from an artistic standpoint, leading to rank predictability. To suggest, as Kidd does, that this brutish view of women is the "elemental heart" of Japanese society is nothing short of ludicrous.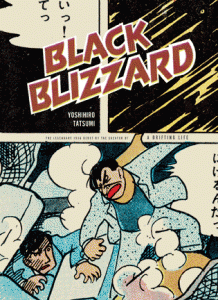 You can understand where all this comes when you consider a book like Black Blizzard (1956), a comic from the prison escape genre created on the commercial treadmill. The arch lack of subtlety, the fixation on melodramatic confrontation and ridiculous coincidence, the barely digested tropes slapped on with a wild disregard for emotional or sensory engagement; all these now transplanted to early gekiga and designated realist stories (or perhaps a kind of comics vérité) on Western shores. They are, of course, nothing of the sort, being little more than a mixture of Tatsumi's genre habits, his knack for tabloid sensationalism, and simple wish fulfillment. These are stories directed at the entertainment and arousal of boys and men, so tame and predictable in their reach for the extremities of human existence that they fail even in comparison to some of the children's horror books of the time.
Certainly, it's a question of interpretation. Deji Olukotun at Dejiridoo has the following to say on these elements:
"…I mentioned that Tatsumi concludes A Drifting Life just as sex enters his life. This makes it all the more striking that the short stories in The Push Man so often hinge upon sexual themes. There are steamy affairs, escort girls, abortions, and even sex slaves. Sex also does not occur without some awful, frequently fatal consequence. Tatsumi the man is creatively exploring a world that he ignored as a boy….That is not to say that the collection is lurid or prurient. The stories are tightly written, often concluding with the kind of ambiguous short story ending that only the best writers can capture."
It's not incorrect to suggest that Tatsumi's stories are tinged with a certain ambiguity. The title story of the collection has a degree of vagueness about it, as does Tatsumi's slight take on a transgendered love affair in "Make-Up". Yet a summary of some of the denouements in this collection will serve to illustrate just how misleading Olukotun's remarks are:
In "Projectionist", an exhibitor of pornographic films with a low libido finds that he is more aroused by crude drawings of women scrawled on a bathroom wall. He has marvellous sex with his wife after just such an encounter.
In "Black Smoke", an infertile, hen-pecked incinerator worker decides to allows his wife to burn to death in an accident.
In "Test Tube", a sperm donor attempts to rape a recipient when his semen is rejected following a lack of success with it.
In "Pimp", an ineffectual kept man is apprised of the limitations of his emasculating condition, and abandons his city girlfriend in favor of a country girl. He finds (and the reader is apprised of this in the most obvious of metaphors – the return of a caged bird) that he has simply exchanged one mistress for another.
In "The Push Man", an otherwise virtuous train push man finds that he has become a part of the on rushing crowd (a metaphor for a highly sexualized humanity) following a night of group sex.
In "Traffic Accident", a car mechanic who is enamored of a television hostess discovers that she has a partner and is of questionable morals. He arranges for her car to crash and kills himself upon the announcement of her death."
In Disinfection", a man who specializes in disinfecting telephones wants to bring his skills to the fallen women of the streets of Tokyo with what I presume to be comic results (it's difficult to tell since Tatsumi is a horrible comedian). The prostitute he engages refuses to be scrubbed and he placidly returns to his telephone cleaning activities.
That whiff of the EC Crime line (their linear structure, their preoccupation with twist endings) from these comics is quite real. Most of these stories have a firm finality about them which apprises the reader that a conclusion has been reached. Like the craftsmen of old, Tatsumi treasured clarity of narrative, emotion and intention above all else, frequently to the detriment of his shorter stories. Almost all of these follow a familiar narrative arc, from the introduction of the protagonist, to the delineation of his fetish or sexual hang-up, and thence to a conclusion wrapped in sex and death.
Tatsumi's laundry list of inept metaphors is ever present: in "The Pimp", the shadow of a bird cage is cast on the protagonist's face in an effort to signal his entangled state.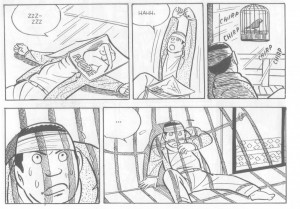 In "The Killer", Tatsumi's main recourse for demonstrating the state of mind of an assassin is to insert a page explaining (badly) the Holocaust and Hitler.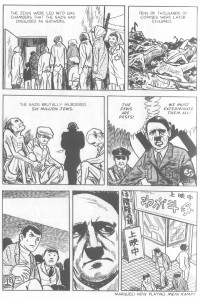 The characters which inhabit these early tales are caricatures, and the plots themselves read like 1 page summaries of The Postman Always Rings Twice. Most egregious of all is the story, "Telescope" which begins at the roof top amusement park of a department store.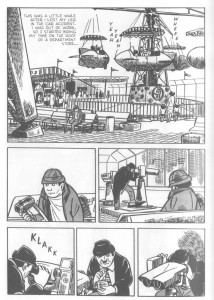 The protagonist of the comic is an amputee nursing a crutch in his right armpit. Following the example of an elderly man, he uses one of the park telescopes to spy on a naked woman (who is seen willingly exhibiting herself) in the apartment across from them. He does the same the next day only to find the old man having sex with his young lover. He is relieved to find that the aged gentleman is as impotent as he is.
The young man is discovered in the midst of this indiscretion but, contrary to expectations, is asked by the elderly gentleman to spy on him again when he has another tryst with the woman. He is even paid in advance for his efforts. The old man is invigorated by this communal voyeurism and gives his mistress a royal screwing. When she is in a state of post-coital bliss, the old man looks back out the window to his witness and assistant. His sly look of triumph crushes the spirit of the young man who promptly hurls himself from the roof killing himself.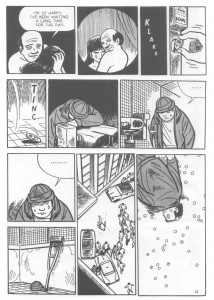 [One-legged, impotent man throws himself from building after seeing old man have sex]
The loss of limb experienced by the young man is a metaphor for his emasculation, that castration of youth conveyed so frequently in Tatsumi's stories. One assumes that readers of the time were expected to delight in the kink of scopophilia, revel in the skilful mingling of sex and death, and meditate on that curious blunt anger directed at an older, corrupt generation.
The only correct response to this heavy handed study of despondency and sterility in this day and age is to burst out laughing.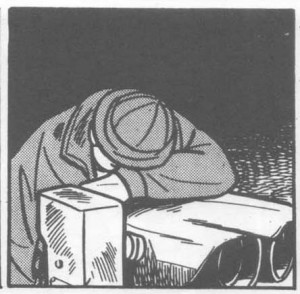 Tatsumi's "Telescope" is without a doubt one of the most cretinous depictions of humanity ever committed to a paneled page. Its sole worth can be found its central implication: the next time you see an impotent cripple walking past you, please remember to tell him to kill himself; a vastly more practical and beneficent solution than creating this comic in my opinion. This is the kind of story which any self-respecting cartoonist would pay his publisher to destroy.
Tatsumi has called the stories in this collection "only an introduction to [his] work". We should add to this the considerably more candid disclaimer that these comics are largely of historical interest only.
*          *          *
LATER TATSUMI: Abandon the Old in Tokyo (1970)
"…these stories from 1969 are only an introduction to my work. The true scope of my work can be understood only after you have read my later stories."
Yoshihiro Tatsumi in an interview with Adrian Tomine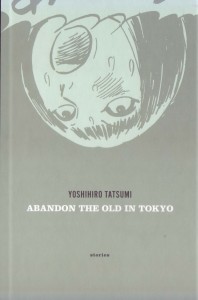 In his pithy review of Yoshihiro Tatsumi's Goody-Bye (1971-72), Bill Randall gave his final word on the comics of the noted mangaka:
"Few Japanese remember the man who invented gekiga, the "dramatic" version of manga. Just two volumes of his solo works are now in print from Seirinkogeisha, the premiere (and small) avant-garde publisher. The trends in manga have led away from the ponderous, grotty style he pioneered…I once referred to Tatsumi's stories as "vicious shorthand," an apt phrase that is not praise…That is not to question their place in history. Tatsumi gave the keys the Garo artists of the 70s, like the Tsuge brothers and the "three retainers" of Shinichi Abe, Ouji Suzuki and Masuzou Furukawa. Their works offer more complexity and range, and have thus been remembered. Tatsumi's work lacks their virtues; nonetheless, Good-Bye shows exactly why he should not be forgotten….His accomplishment lies in his images, none better than in "Sky Burial." The story follows a man who, hearing of a Tibetan tradition of sacrificing the dead to vultures, is hounded by birds. The story's final image, a full page worthy of framing, says more than all the plot and narrative before it."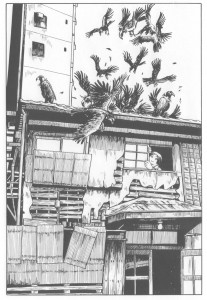 Where The Push Man and Other Stories collected the works of a young artist grasping at something unattainable, the collection of stories titled Abandon the Old in Tokyo signal Tatsumi's development into a more rigorous artist, a development which would find its ultimate distillation in Good-Bye.
One of the finest expressions of this can be found in his story "Forked Road" which dates from a year earlier than Good-Bye. Here we find skilfully worked scenes of a tram car trundling through the streets of Tokyo, the office silhouettes embedding us in a world both familiar and real.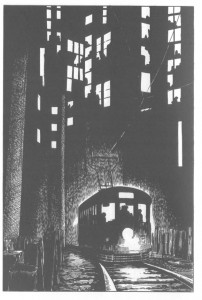 The city streets are as well defined as ever…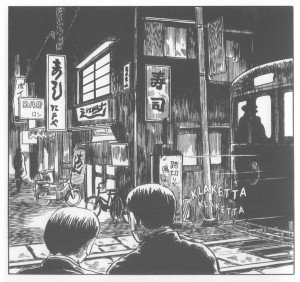 …and Tatsumi frequently shows a deft hand at narrative, pushing his readers through pages of drawn out dialog with skilful shifts in perspective. For once, the gaze is not that of an artist invested in titillation and easy emotional responses, but vigorous and animalistic; everything suggesting movement, grasping, and sweat.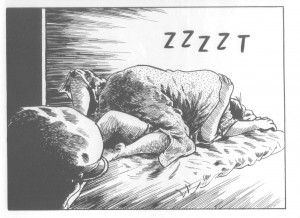 The image of a mattress is reinforced throughout by the author, and is to be compared with an earlier panel showing the protagonist sprawled in a drunken stupor on the same; …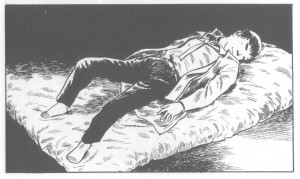 …the fork in the road between childhood…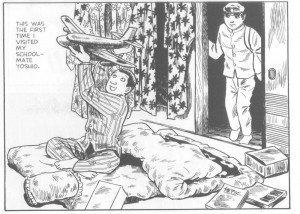 …. and maturity; between union and solitude.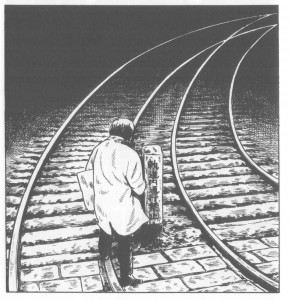 There's less of that resort to genre shorthand, less of that imposition of a definitive conclusion or statement so typical of his early work.
The sensationalism also develops a bit more bite. In "Unpaid", a former company president is forced to act as a dog in front of his creditors and finally seeks solace in the orifices of his pet bitch. Not bad if a bit obvious as a short portrait of degradation, but of little lasting worth compared to a more gentle film like Kurosawa's Ikiru (which also examines a company man at crossroads).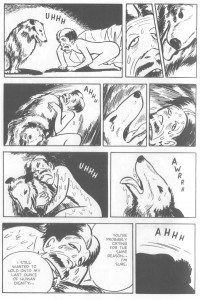 Not all is well with this collection of stories. Repetition is the unforgiving mold which corrupts many of Tatsumi's tales. Those tic and habits formed through years of hard graft remain as inescapable as ever. The subjects of voyeurism and lust are reiterated ad nauseum, as are the cumbersome centrally placed metaphors so typical of his work (trams and penetration; the tyranny of the mob as symbolized by a troop of feral monkeys in "Beloved Monkey").
Nevertheless, the publicity which has followed Tatsumi's rise has been enough to convert critics of every stripe. "Starkly beautiful…revelatory…fearless" cries The Village Voice. "Marvelously evocative" intones Publishers Weekly. James Defebaugh of The Examiner is quick to praise Tatsumi's repetitive figure work as a bold artistic move:
"Many of the differently named and circumstanced protagonists, for instance, look more or less the same. There is also a recurring young, beautiful, round-haired female type who appears in many of these stories. While some readers may be willing to dismiss this as artistic laziness, it's very obvious from Tatsumi's drawings as a whole that there's nothing lazy about them." [2]
An examination of Tatsumi's comics tells us otherwise. This facet of Tatsumi's art plagues the majority of mangka who produce work on a factory scale. Tatsumi was no different from those individuals, and there is little need to give him credit where none is due. The familiar figures which recur and populate Tatsumi's stories are well delineated through years of practice but their repetition is due to the limitations of his creative abilities and imagination; a failure to move beyond what remains totally acceptable in modern day manga.
Tatsumi's stories are frequently compared favorably to those of his Western counterparts from the same era, yet a comparison to the literature and films preceding his moment in history is not only fair but far more telling.
The title story, "Abandon the Old in Tokyo" corresponds in theme to Ozu's Tokyo Story but is so enraptured with melodrama, coincidence, and excess that our engagement and empathy is stifled. Tatsumi's story is about the repulsion and sense of duty attached to the "old" things of his culture; not only the elderly mother who the protagonist has to wash and take care of, and who he sees all too clearly as a neglectful parent, but everything associated with that world.  There's a wrecking ball destroying old tenements to open his story and a spanking new Shinkansen to close it. The intervening symbols are equally tedious and obvious; the insights into a culture seemingly devoted to the concept of filial piety superficial and not worth mentioning. "Metaphors like cudgels" is how Bill Randall puts it in his review of Tatsumi's later collection, Good-bye and not in a good way.
"The Hole" (a story concerning a man trapped in a hole by his jilted wife and a disfigured misandrist) pales in comparison to Kobo Abe's The Woman in the Dunes (1962) in imagination, resolution, and daring. Tatsumi's narrow and poorly conceived views of "fallen women" [3] can only be deeemed an embarrassment if compared to Mikio Naruse's portrait of Keiko in When A Woman Ascends the Stairs (1960). These tales are neither close enough, true enough, sad enough nor vile enough to shock us from our modern stupor.
Despite the last decade of progress, an excessive investment in the worth of comics has led artists and critics to cling to any straw presented to them however frail. The elevation of the manga of Yoshihiro Tatsumi in the West represents an instance of this useless clutching. These stories simply cannot bear the weight of a truly critical reader's expectations. To suggest otherwise is to do the art form a disservice.
---
NOTES
[1] From Adrian Tomine's introduction:
"…Mr. Tatsumi has produced a mind-bogglingly immense body of work. So this will be a selective survey of his best work, beginning, at Mr. Tatsumi's request, with the year 1969. Our hope is to release one volume per year, each focusing on a single year in Mr. Tatsumi's career."
[2] From an interview with Yoshihiro Tatsumi conducted by Adrian Tomine.
AT: Can you talk a little about this sort of archetypal Tatsumi character?  I assume that he's not supposed to be the same person, but the protagonist in a handful of these stories (for example: "Beloved Monkey", "Abandon the Old in Tokyo", 'Eel") is drawn in a similar manner. Do you think of him as the same person, or is he, perhaps, simply representative of a certain type?

YT: The character that looks identical throughout my work is, of course, different in each story, but he essentially represents my view. You could say I projected my anger about the discrimination and inequality rampant in our society through him. Do you see why my protagonists couldn't possibly be handsome?
[3] Dreadful as some of Tatsumi's early works are, his comics have nothing on a film like Kenji Mizoguchi's Women of the Night, a hysterical, moralistic potboiler which will leave your jaw on the floor. Kinuyo Tanaka (as the widow-prostitute Fusako) under the direction of Mizoguchi becomes the Chaplin of unintentional, neorealist comedy in this movie. Read the solemn liner notes of the Eclipse edition DVD for yet more laughs.