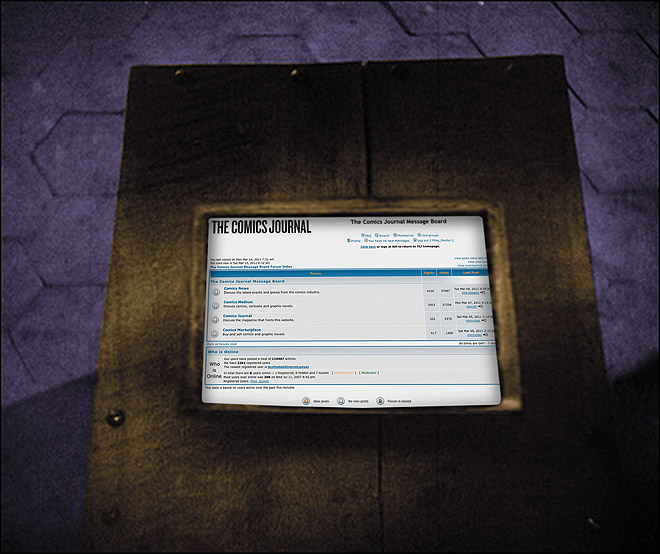 HERE COMES THE SHAFT AGAIN
Not even with a whimper, much less a bang, The Comics Journal message board was closed off Monday, March 7th of 2011. It was the final stage in a slow strangulation; the previous when — during the premiere of the much-ballyhooed original online version of the magazine — the message board was rendered inaccessible for a seeming eternity, and most of its remaining participants gave up and went elsewhere.
No wonder that David Recine wondered, in one of the last few posts to appear, "So is this board back in limbo again? … Have we gotten the shaft again?"
Yes, again. Still, what a ride it was! While the current incarnation of the message board dated from August of 2006, its liveliest years — a whole decade's worth — were lost in the ether due to that redesign, and only exist in some of our memories, a few saved fragments. At least we are promised this last incarnation will remain archived and online. (Crosses fingers.)
Neither the genteel comics-lit salon some would have preferred, nor the eye-gouging Old West tavern brawl all too many perceived, the TCJ message board began in 1996, eventually sapping the mojo from the magazine's famously combative letter column, the appropriately named Blood & Thunder.
B&T benefited from the limits imposed by page-space, and that old-fashioned letter-writing encouraged greater thinking about the words one was about to release upon the world. Non-celebrities were not shut out, but commentary by "names" received proportionately far more prominence. Thus, Harvey Pekar slamming Maus, Jim Woodring inveighing  against James Kochalka's "Craft is the enemy" commentary were Big News in the alt-comics world at the time.
In contrast to this gated community exclusivity, the TCJ message board offered anyone the chance to pop up with a comment, start a thread about an amazingly illustrated old book they'd discovered (and post scans), ask about a strange comic they dimly remembered, and so forth.
What did this lead to? Indeed, as in other places on the Web, a certain proportion of misbehavior. Though others familiar with many other locations on that realm have asserted that there was far worse stuff going on elsewhere, you'd think the TCJ message board was a behavioral sink, displaying the nadir of human iniquity. It would've helped if there had been consistent effort in enforcing discipline; alas, this was not to be the case, despite suggestions offered in the Let's give fascism a chance! thread and elsewhere. The idea that volunteer administrators could help police the joint was likewise ignored.
THREAT OR MENACE?
"A snake pit," said one prominent alt-comics talent; Kim Thompson on one thread ignored the well-behaved great majority, and focusing solely on the few who incurred his ire, proceeded to revile the whole bunch. In his write-up about it, Tom Spurgeon moaned,
I'm happy to see the message board gone. I feel much more responsible for the dark side of comics culture that festered there than I do any sense of community it may have fostered, more than I do whatever exposure to little-known works it may have facilitated. It was a place that had some virtues but mostly, I think, it was a place where unhappy people went to be even less happy.
Um? I feel the disconnect one does when hearing a Fox News commentator describing liberals as America-hating extremist feminists who want to impose Sharia law upon us all, abolish capitalism, force our kids into the horror of same-sex-marriage, end technological civilization and return us to the Stone Age.
If you've never been there, I can hear you asking already: Was it really that bad? In a word, yes. Actually, in another word: worse. The fact that I'm saying this despite the formative role that board played in getting me thinking and writing seriously about comics, and despite the lasting friendships I formed there…should tell you something. The sheer volume of nastiness and trollery was unrivaled, and all the more disconcerting given that this wasn't some battle board where Thor and Superman fans were duking it out for supremacy and where you'd therefore expect some smackdowns, but a place that could otherwise have been utilized for intelligent discussion of The ACME Novelty Library and what have you…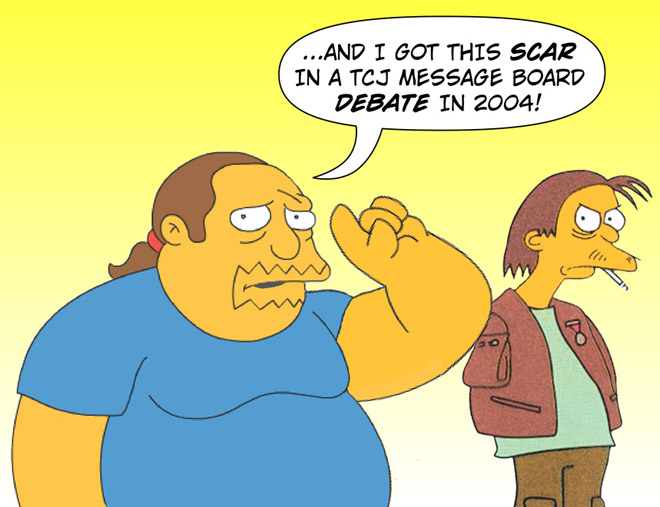 Intelligent discussion of The ACME Novelty Library whilst sipping Earl Gray, pinky up in the air, no doubt. (Though Collins' characterization of the message board as "Mos Eisley-esque" is delightful.) And when The Comics Journal bigwigs kvetched about the nastiness and lack of civility supposedly prevailing at its message board: pot, meet kettle. Which magazine became infamous amongst the mainstream comics industry for slamming most of its creators as hacks cranking out meretricious product, was seen as focusing on negativity, inspired outrage with Gary Groth's comments about the deceased Carol Kalish? And, look at Peter Bagge's portrayal of Messrs. Groth and Thompson in Prisoners of Hate Island: gloomy, sour, cynical pessimists. Is Fantagraphics thus "a place where unhappy people went to be even less happy"? What does it say that Groth & co. like to shoot and blow up stuff for recreation?
THE UNSCARRED SIDE OF THE COIN
If you see that view of The Comics Journal and its creators as one-sidedly negative — as I do — it's worth considering that the magazine's message board was likewise unfairly maligned. And worth remembering the countless pleasures, interactions, and discoveries it contained. (Not to mention that it twice served to spread the word about Fantagraphics' dire financial emergencies, and inspired outpourings of financial and less-tangible support.)
Don't just take my word for it; check out the frozen-in-amber threads at the archived message board and see whether fairly civil discussions don't infinitely outweigh the snark, trollery, and poop-slinging.
The Comics Journal message board was:
– A source for researchers, where those writing an article or dissertation, wondering What's the longest unbroken continuity in Peanuts?, When did 'comics shops' as we know them start?, or asking for Any articles on the use of comics by political parties? or info on Ames lettering guides could count on help. Where erudite suggestions or answers to the most esoteric questions would pop up with amazing rapidity. In the case of a chap wondering, "I recall seeing, in an issue of the New Yorker around late 2004 or early 2005, a back page cartoon of – I think – four panels, featuring caricatures of stereotypical Republican (GOP) politicians ("I believe in a woman's right – to bare arms!" etc.)…Can anyone name this cartoonist?", somebody (ahem!) dug up and posted the actual page in question.
– A place to publicize efforts — calling for contributors to the Shiot Crock books, fr' instance — and new publications, or ask for info about them: Will Fantagraphics publish the complete Krazy Kat dailies?; Boom! Studios to publish Peanuts comics; The Ink Panthers Show!…
– Where one could engage in prolonged debates with other just-as-serious folks about the definition of "comics,"aesthetics, philosophy; being free to research and post links, appropriate imagery…
– A means for turning others on to exciting discoveries, old favorites, or asking about good comics to read. I.e., what are some cool (and consistent) webcomics you follow??!?; Favorite minicomics of 2010?; WW II Photo-Comics from "LIFE"; H.M. Bateman; Mary Fleener's Life of the Party; They Call Him…MILQUETOAST!!!; Horrors of the B&W Glut…
– A gathering of tips for creators, and place to ask for such. Artistic, technical, legal: Best Colourists and their color composition techniques; inking on Moleskins; The Perils of Celebrity Likenesses in Cartoons; publishers to stay away from; tips on printing my mini/home-made comic; questions about scanning comics…
–  "…the genesis of social media for our community," as Ian Harker put it. "That's something that we take for granted in the age of Facebook and Twitter…To whatever extent the message board laid the groundwork for the alt-comics-osphere itself I feel that that's a good thing." And you could show off stuff like your original comic art collection, too; ask for others' thoughts about Ethics: 'Making Fun' & 'Wrong' jokes, or that wacko new Neal Adams Batman mini-series…
– A place where one could post essays at will, when one felt like it, for those not interested in the commitment of regularly producing a blog: 20 French Cartoonists Who Dragged Eurocomics into Adulthood (by Kim Thompson!); a comprehensive detailing of the pro-Che distortions and propagandistic whitewashing in Spain's Che: A Graphic Biography – a readers' discussion…
– Where one could bump up against and talk with creators such as James Kochalka, Tony Millionaire, Danny Hellman, Eddie Campbell, Mary Fleener, and countless others. Even Dave Sim, who was said to have inspired more threads than any other creator, visited the TCJ message board in 2008 as part of his "internet tour" publicizing his new Judenhass and Glamourpuss titles. And, mirabile dictu, the questions and comments focused on his work as a gifted comics creator, rather than his widely derided personal beliefs.
Andrei Molotiu has also provided a substantial accounting of the positive aspects of theTCJ message board . Among which, mentioning that it was
…an early, and extremely important, forum for debating the very idea of abstract comics, a place for me to get feedback on my first tentative attempts at the genre, and a way to contact like-minded folks, some of which…ended up in the anthology." He also noted how "…it was the earlier years when the board was at its best (despite the trolls and the jokers that make some people claim the board was worthless). There were more intellectually-involved, critically complex discussions there than on, say, the comix scholars listserv. At the time I suggested that everything should be archived, but the suggestion was summarily dismissed by a number of then current and former TCJ administrators. I remember one of them claiming there was absolutely nothing worth saving there. But he was wrong, wrong, wrong: the loss of the 1996-2006 archives is a serious loss to future historians of alternative comics…
TALKING COMICS ALONE IN AMERICA
On the launch of the new The Comics Journal website, its editors, Tim Hodler and Dan Nadel, were interviewed and said that
…we are taking down the message board. Its day — and that of message boards in general, frankly — seems to be done. However, most of our posts will have comments enabled (depending on the author). For the most part, the [Comics Comics] comments threads have fostered lively and valuable discussions, so we're hoping that that will continue. On-line comments threads can provide a really good forum to discuss issues, and at CC at least we've been lucky enough to have artists and historians engage with their readers. If we can continue that, we think we can make a contribution to how comics are discussed in general.
Among the responses to Hodler's Welcome to the New Comics Journal at TCJ.com was:
UlandK:
I do think this whole idea that messageboards are outmoded is pretty silly. Message-boards are blank slates. What is facebook, if not a bunch of individualized messageboards? … One important function the board served was in keeping in touch with this idea of fandom. Are those days over?…
Individualized message boards are a sad come-down from a boisterous, wide-open public space where one could regularly encounter new people with new ideas. The fragmentation of society continues; we may not be talking about comics to ourselves (unlike "Bowling Alone"), but the groups are far smaller, restricted, therefore more likely to be homogeneous. In the way many of a certain attitude reject mainstream news shows for Fox, which reflects and reinforces their ideology; some Christians turn away from the greater society, preferring "cocooning" among their own group instead. Personally, I found the extremely wide variety of "types," preferences, and attitudes at the TCJ message board one of its greatest charms.
When one can only post comments to a blog or online article — assuming that its author chooses to allow you to do it — the power to start a discussion or thread is lost. Virtually all are relegated to providing feedback to what one of the Chosen Few has written. That feedback may be substantial in its own right, yet is a reactive rather than proactive position.
A late comment on the TCJ message board:
Dominick Grace:
Argh. This is the only comics-related board I visit regularly. I can't imagine there's another one with a comparably diverse discussion–or is there? Anyone have one to recommend?
Can't think of anything remotely as diverse. Nor does it seem likely there will ever be again. The passing of The Comics Journal message board is a significant loss, whether we're aware of it or not…