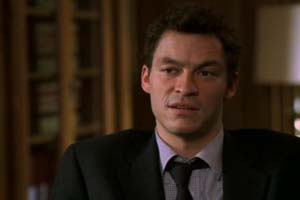 At the end of the first episode of The Wire, the homicide detectives turn over a dead body. As we see the victim's face, there's a flashback to an earlier scene. The writers are letting us know that this body with a hole in the head is what's left of a witness who testified against the Barksdale drug gang at the beginning of the episode.
This sequence is semi-infamous because it is the only flashback in the entire five-year run of the Wire. It was, according to David Simon's commentary, urged upon the creators by HBO, who were concerned that viewers wouldn't be able to follow the story without the extra nudge. Simon admits it might have been the right thing to do for the first episode, where they were still setting the stage and trying to hook an audience. After that though…never again. The Wire went forward, and if you missed a plot point, you were stuck until it got reshown or you bought the DVD with its miraculous rewind technology.
The Wire, with its labyrinthine plot and characters piled on characters, is definitely meant for rewatching. That first courthouse scene, for example, is almost entirely different the second or fifth time through, when all the players —nervous D'Angelo Barksdale, the oleaginous lawyer Maurice Levy, the cheerfully dangerous Wee-Bay, the not-at-all cheerfully dangerous Stringer Bell — are known quantities. The first go round you watch a bunch of unknowns; the second it's all old friends.
The increased familiarity allows for some new surprises. For example, the first time we see Stringer, always the businessman, he's making notes on a pad. Detective McNulty tries to see what he's writing. Stringer looks up at him over his glasses and turns the pad around…revealing that he's been drawing a superhero with what appears to be Africa on his chest insignia. The superhero in the drawing raises his fist and declares "Fuck You Detective".
Stringer the smart-ass project kid isn't a Stringer we get to see much — not least because Stringer himself tries to bury that kid more and more thoroughly as the show progresses. In the second season, Stringer probably would have been too cautious to have a note pad; by the third, he wouldn't have been anywhere near that courtroom. We never see any of Stringer's drawing again, either. So the second time through, that scene seems more like an end than a beginning.
Rewatching though doesn't always add layers. Sometimes it points out holes, or roads not taken which might have been better explored. One of my favorite moments from the first episode occurs a little later, after D'Angelo Barksdale has beaten the murder rap. The judge in the case calls in McNulty to find out (a) why a key witness changed her story, and (b) why McNulty was in court, since it wasn't his case. McNulty explains to the judge that D'Angelo is the nephew of the current West Baltimore drug kingpin,. The gang has beaten a number of cases in court, including a past case of McNulty's. The judge finally asks, "If it's not your case, why do you care?" To which McNulty replies, "Well who said I did?"
Again, that's one of my favorite lines of dialogue probably from the series: McNulty (Dominick West) sells it nicely, looking flat at the judge, with an expression somewhere between slightly amused and blandly unconcerned. The point is emphasized later when McNulty chews out his partner Bunk for picking up the phone on a murder call when another squad was up. "This'll teach you to give a fuck when it ain't your turn to give a fuck!" he says.
The point here for rewatching is, of course, that McNulty actually does give a fuck — way, way too much of a fuck as it turns out. He cares so much that, over the course of five seasons, he destroys his marriage, his career, and almost/maybe a second committed romantic relationship.
Which is all well and good as irony goes. But the thing is…I liked it the first time through better. David Simon on the voice over natters on incessantly about how different the Wire is from other television cop shows — and it is different in many ways. McNulty doesn't really care about doing right, for example, as he would if he were on, say, Bones. He cares about being the smartest guy in the room and about being smarter than the crooks. It's not about good and evil for him; it's about ego. Which is a useful corrective to a lot of cop-show nonsense, as Simon says.
But whatever he cares about, the point is that he does…and that is not especially new in a cop protagonist, on television or elsewhere. There was something really refreshing for me about having our hero declare, boldly and apparently in earnest, that it really was nothing in particular to him if the West Baltimore drug gang beat murder number four, or twelve, or whatever. I kind of like that potential McNulty, that callous decoy McNulty, more than I like the funny, smart, but ultimately perhaps more predictable McNulty that we got.
So we have revealed depths, roads not taken…and finally, maybe a dropped ball. Two thirds of the way through the episode, D'Angelo Barksdale's crew catches an addict, Johnny, who's been trying to buy drugs using counterfeit money. The scene is presented as a dilemma for D'Angelo, who (as Simon says in commentary) is not a brutal man, and clearly doesn't want to order Johnny beaten. But the boy's ripped him off and there's little choice; he turns away saying nothing, and walks into the camera, his face held still. Over his shoulder, and from a distance, we see Bodie, Wallace, and Poot start to beat Johnny. We learn later that they hurt him so badly he ends up in the hospital, where he had to undergo a colostomy operation.
The reason this is a missed opportunity is because of Wallace. Later in the season, the D'Angelo crew is robbed; 16-year-old Wallace provides information that leads to the brutal torture and death of one of the robbers. Seeing the torture victim upsets Wallace so badly that he falls apart. His disintegration eventually leads to his own murder at the hands of his friends, Poot and Bodie.
Wallace's execution is perhaps the grimmest, most emotionally wrenching moment of the entire season. In retrospect, his character is almost as important as D'Angelo's. And, as a result, the second time through this scene of the beating should be telling us something, not only about D'Angelo, but also about Wallace. The Wallace we know later is so upset by brutality that he first becomes an addict and then turns his crew in to the police. The Wallace here, on the other hand, is so comfortable with brutality that he enthusiastically joins in beating a young man almost to death.
The point isn't that the characterization is inconsistent. People are capable of different levels of brutality at different times, and there is, after all, a line between "beaten almost to death" and "beaten to death." Still, if you're going to talk about that line, you probably do in fact need to talk about it, and the Wire doesn't. For that matter, Simon doesn't mention it in his voice over. Rewatching here doesn't so much add resonance as reveal that there isn't any. The creators didn't link what Wallace does here to what Wallace does later. As a result the the possible connections just sit there, looking a little lost.
People often argue that the sign of great art is that you can go back to it again and again and find new depths and meanings. I'm not entirely sure I agree with that. First impressions have their own aesthetic worth; a song that sounds amazing the first time you hear it has achieved something, even if it doesn't bear up to repeat lisening.
The Wire doesn't collapse under repeat viewings. Still, seeing that first episode again and again was not entirely beneficial. When I finished watching this episode the first go round I think I was ready to call it great. After seeing it a few more times, I still like it, but I've got more reservations.
____________
Update: The entire Wire Roundtable is here.