A new crop of comics artists are merging their craft with the journalistic process to create stunning works of reportage that depict everything from war torn countries to wineries. They work in ink, watercolors, and Wacom, telling stories that might not make the front page, but offer a level of nuance and meditative depth often reserved for the best investigative reporting. They are "graphic journalists," and their work is a little-known facet of the infographic revolution that is sweeping the journalism world.
In two weeks, I'll be at the National Conference for Media Reform in Boston, presenting on the role that comics play in the future of journalism as part of a panel I'm co-organizing with Sarah Jaffe. Since HU is dedicated to comics analysis and scholarship, I'd like to give you all a sneak peak at the ideas we'll be grappling with. I'd also like to give a special thanks to Sarah, Susie Cagle, and Matt Bors for working with me to develop our working criteria for graphic journalism.
What is it?
Graphic journalism is an emerging form with a colorful mishmash of influences that include comix, infographics, film, and autobiography. There are multiple ways to categorize and analyze this work. From AlterNet to the Awl; The Rumpus to the Oregonian, graphic journalism offers a powerful opportunity for news organizations to reach out to new readers and experiment with new ways of storytelling without compromising journalistic integrity.
Here's a short overview of the different forms that comics journalism can take. As this is an emerging field that we're working to define and develop, I'd love to hear your recommendations and thoughts in the comments.
Travelogues
Since the underground comix revolution of the 1970s, comics have been used as an autobiographical medium. The late Harvey Pekar used comics to tell the stories of everyday people and everyday life in an accessible manner. Today's travelogues are direct descendants of early diary comics. These works are often meditative explorations of a foreign landscape in which the reader unpacks their cultural baggage with the author, exploring a strange land with them. The key here is in viewer identification: The comics creator has a strong voice leading the narrative, and we trust them to impart facts and dissect stereotypes for us.
Sarah Glidden's How to Understand Israel in 60 Days or Less is a near flawless example of the travelogue. Glidden isn't going for an objective non-fiction work here, which can seem counter-intuitive to journalists. Rather, she's looking to use her experiences as a lens for dissecting her own cultural (mis)perceptions and takes the reader along for the ride.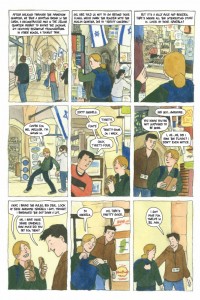 At Cartoon Movement, Matt Bors is publishing pages from his experiences in Afghanistan last summer. While the narrative has yet to fully unfold, so far Matt is taking a more ethnographic/documentary approach, focusing less on how the travel impacted him and more on documenting the landscape around him.
Portraits
The portrait style of grpahic journalism is even more immersive than travelogues, though the two forms often overlap. In a portrait comic, the creator steps back and lets the facts or individuals speak for themselves. Joe Sacco, a pioneering graphic journalist, often lets his subjects tell their stories, letting their words tumble out around portraits of his subjects speaking. By focusing in on facial expressions, the reader is effectively looking over Sacco's shoulder and engaging in a dialog with the subject. The same principles apply to an "over the shoulder" style of interviewing common in documentary films and video journalism. By removing the interviewer from the panel, Sacco is able to increase the readers identification with the subject at hand.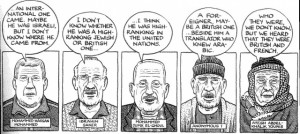 There are many ways to increase identification via portraiture. While Sacco tends to focus on faces, Wendy MacNaughton takes a much more experimental approach in her works for The Rumpus. Through her innovative use of white/negative space, MacNaughton presents comics that are free of an overbearing narrative presence. She often pairs words with snapshots of objects and landscapes to create an experiential identification with her subjects. In MacNaughton's work, the reader is encouraged to focus on and identify with the forms on the page, absorbing the places and things that pepper her subjects lives as a meditation. This approach encourages internal identification from the reader. Instead of presenting her subjects as an interview, she wants us to experience life through their eyes.
Choosing Your Own Adventures
While Susie Cagle creates great non-fiction narrative work, she also experiments with how to make infographics more interactive by introducing comics techniques. Here's a short "choose your own adventure" comicgraphic that Susie did for the SF Public Press. When I interviewed Susie a few months ago for a separate article, she said that infographics and comics have "got a lot of the same things going for them. … [But] my problem with comics journalism is that most comics journalists come to it from an art school background and the writing and research isn't there." Infographics and expository illustrations like the image below are helping fill that gap.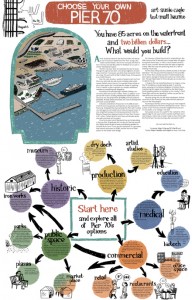 Merging Multimedia
Dan Archer has been experimenting with integrating comics and journalism for years. As a Knight Journalism Fellow at Stanford, Dan is creating annotated comics that source back to videos, audio, and other data that supports his reporting. Readers experience journalistic stories as digital, interactive landscapes. Each click of the mouse–or swipe of the finger–allows the reader to dive further into Archer's reported world. Archer and developer Chris DeLeon recently released an iPhone app comic on the Honduras Coup.
What's next?
This is just a short overview of a few archetypes I've been able to identify in the last few months of studying graphic journalism. These definitions are sure to evolve as additional organizations and journalists begin to experiment with illustrated narratives as a means for telling stories and creating experimental works of journalism. I'm looking forward to identifying new artists and connecting the dots as the field moves forward.