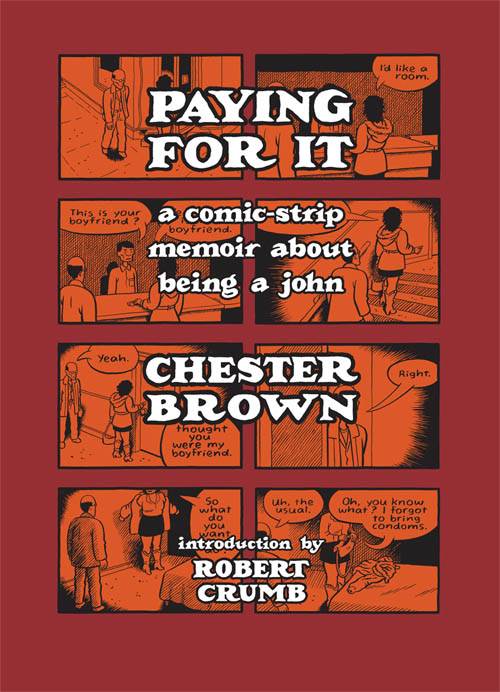 I recently finished reading an advance copy of Chester Brown's new book Paying For It. I'm writing a review for someone who is (appropriately) hopefully going to pay me for it, so I'm not going to talk about the book specifically right at the moment. But…I was interested in talking about Tom Spurgeon's review of the book, and some reaction to it.
Tom's review is striking because he so strongly insists that he doesn't want to talk about the book's content.
I felt myself at a disadvantage throughout the entire process of reading Paying For It, Chester Brown's long-awaited graphic novel about his becoming a John and how that part of his life developed over a lengthy period of time. I have no interest in prostitutes, less interest than that in the issue of prostitution and sex work, and can muster only the tiniest bit of prurient intrigue for watching how a cartoonist of whom I'm a fan orients himself to the aforementioned. That's going to sound like a protestation, but I genuinely mean that I lack a fundamental interest in that specific subject matter.
Consistently enough, Tom then goes on to say that his favorite part of the book was a moment having nothing to do with prostitution.
The most fascinating sequence in Paying For It for me didn't involve a single naked woman or the sensible peculiarities revealed by the veteran comic book maker as he unfurls the operational workings of such enterprises from the consumer's end. What I enjoyed most was a few panels where Brown tries to orient himself to the fact he'll soon move from the home of one-time lover and longtime friend Sook-Yin Lee. Buffeted by very understandable waves of grief, Brown gathers himself, pounces on a brief, inexplicable flash of happiness and pins it to the white board of his consciousness like an amateur entomologist. I've read that section four times now. It feels much more intimate than any time the cartoonist depicts himself in the sexual act, more revealing, even, than when Brown suggests we take a second look at his actions throughout this work for the implications of a surprising, final-act twist. The greatest strength of Paying For It comes in its facilitation of these tiny, off-hand moments, less its ability to bring us the world in which Brown moves than the manner in which he processes what he sees once he gets there. (m emphasis added)
In the remainder of the review, Tom continues this back and forth, expressing discomfort and indifference to Brown's major themes while concluding that the book is still great. "Whatever the comics equivalent of saying you'd watch a certain actor read a phone book might be," Tom says, "that's Chester Brown."
Over at tcj.com in comments, Jeet Heer expressed some doubts as to whether this was a useful approach to Brown's book.
I also want to know what Tom thinks about sex work. Which is another way of saying that, like Joe Sacco's various books on contemporary wars and Crumb's Genesis, Brown's book is one where the content requires the reviewer to give more than just an aesthetic judgement and also weigh in on the content and issues raised. Given the nature of the work, I think its important to be upfront about one's response to Brown's arguments/opinions, although of course it's possible to like the book and think that the legal and cultural changes he's advocating are completely out to lunch.
Tom responded sharply.
I couldn't disagree more that any kind of response is required of anyone writing about a work, either in this case or generally, although I realize that some folks may think less of any piece that doesn't engage a work on those levels. Those kinds of strictures don't seem logical to me — or fruitful, even. Heck, I think you can make a stronger argument that any response to Paying For It needs to be in comics form before it needs to engage X, Y, Z issues in A, B, C ways. And as the former's obviously silly I think the latter's silly, too.

I'll catch you guys up next time (first time) we meet as to my deep and personal opinions on the sex work stuff. It's faaascinating. (No it's not.)
And Jeet then backed and filled a bit.
Just to clarify: I thought Tom's review was really smart and incisive. So if he doesn't want to tackle the politics of the book head on, that's fine. But someone (not Tom, if he doesn't want to) should take "Paying For It" seriously not just as a comic by a major cartoonist but also a book with a radical political message — that message is worth trying to evaluate (along with, of course, the sort of formalist evaluation of the book that Tom did so well).
What's interesting to me is that this is, I think, a debate that comes up a lot in comics criticism. That debate being…what place does content have in a discussion of a comic? Does it matter that Crumb's Genesis (for example) has nothing particular to add to the discussion of Genesis? Do we need to think about Alan Moore and Melinda Gebbie's attitudes towards sex when reading Lost Girls? Is it important to think about Ditko's objectivism when evaluating Ditko? Or are the contributions of cartoonists tied into their art — so much so that responding to what they're saying, as what they're saying, can be beside the point?
In that regard, I think it's interesting that when challenged, Tom went immediately to the idea that it makes more sense for reviews to be done in comics form than for reviews to have to engage with ideas. Again, he said:
Heck, I think you can make a stronger argument that any response to Paying For It needs to be in comics form before it needs to engage X, Y, Z issues in A, B, C ways.
He then adds that either requirement (review in comics form or review responding to polemic) is silly — but he seems to believe that the first is (at least marginally) less silly than the second.
Like Tom and Jeet (in his second comment) I'm somewhat reluctant to say, "reviewers must react to a work in this way." On the other hand…I do agree with Jeet's first comment, that works of art, especially polemical works of art like, say, James Baldwin's essays, really seem to be demanding an engagement with their ideas. If you refuse to grant them that engagement — if you insist, I will not talk about racism, I will only talk about Baldwin's prose style and the moments of personal revelation of universal human insights — you are in fact missing the point in a fairly profound manner.
What's interesting to me, too, is that I don't think Tom does miss the point in that way. He disavows a polemical stance, but there's ample evidence in the essay that he is not so much indifferent to Brown's opinions as uncomfortable with them — especially when they're expressed in the prose appendices rather than in cartoon form.
This is a far cry from what comes through in the essays: that Brown's orientations might somehow be the basis for policy and cultural change, that all stigma is correlative, that the removal of cultural discrimination afforded paid sex is the difference between the world we live now and a world that functions a bit more like Chester Brown. When the cartoonist moves away from his own experiences and into broader proclamations about the nature of romantic love and assertions that more frequent monetary remuneration in sexual relationships will somehow ease relationships between men and women, it's hard to engage with what he's saying beyond being certain he means it. To put it more directly, even for someone not invested in the general subject matter, many of the broader arguments fail to convince.
That paragraph to me doesn't sound like someone who is not invested in the subject matter. It sounds like someone who disagrees with Brown — but who values his cartooning so much that he's ambivalent about saying so.
The thing is, to me Tom is being in many ways more generous to Brown when he agrees to think through and reject his ideas than he is when he suggests that you can put those ideas aside, and that the main thing to go to Brown for are the cartooning choices irrespective, almost, of the issues they engage.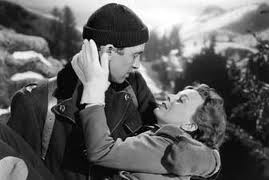 For example, you can say Jimmy Stewart would be great if he read the phone book…and, in fact, I wouldn't mind hearing Jimmy Stewart read the phone book as an exercise in dada. Still, the fact remains that Jimmy Stewart was at his very best when he was directed by Hitchcock and John Ford and Capra in movies that did not suck. Acknowledging that he is not so great when in movies that weren't so great (like the mediocre The Mortal Storm) is not an insult to him. Rather, it's a compliment to his real greatness; he's an actor that deserves great movies — and indeed, his greatest performances are not separable from his best movies.
Similarly, I think we owe cartoonists an evaluation not just of their formal talents, or of their small choices, but of what they do with those talents, and what those small choices add up to. To withhold that is not a mark of respect for comics or for individual cartoonists. Quite the contrary.
________________
It's worth noting that both Sean Collins and Chris Mautner have reviews in which they engage fairly directly with the polemical aspects of Brown's book.