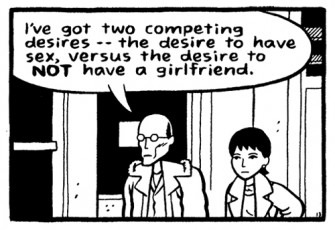 Robert Stanley Martin wrote about the harshest piece I think I've seen on Chester Brown's Paying For It in our comments. It seemed wrong to let it languish there, so I have given it it's own post.
It's three parts, actually. Here's the first.
This book really makes me embarrassed for the comics world. If Chester Brown wants to make a creepy, crackpotted spectacle of himself, I suppose that's his business. But did everybody have to go whole-hog to identify themselves, and by extension, the field with this thing? Judging from the comics-media sites, it's the book of the year so far. It's Chester Brown week over at TCJ, for pity's sake.
Anja Flower then asked Robert what was so embarrassing about prostitution, anyway. Robert responded:
I don't consider the discussion of prostitution and its prospective decriminalization embarrassing. I don't think it's particularly worthwhile, except as an intellectual exercise. The reason is that with, for lack of a better term, morals laws, I don't believe they get changed unless people feel that one is or could be unfairly deprived of something. Obscenity laws began being undermined by people not feeling it was appropriate to legally deny them the opportunity to read writers like Joyce, Lawrence, and Henry Miller. Laws barring gay marriage in the U.S. are now taking a beating that I expect will end in their repeal. Homosexuality is increasingly acceptable in our society, people are more likely to have social relationships with people who are openly gay, and people are seeing that gay partnerships are in practice identical to heterosexual marriage. They increasingly don't think its appropriate for gay couples not to have the legal prerogatives of straight ones.

I don't think that's going to happen with prostitution because I don't see the stigma of being on either end of the transaction going away. I think lax enforcement of the laws is probably the most that can be hoped for.

What I find embarrassing relates to North American comics and their community of artists and readers.

North American comics are invariably unconscious allegories of male potency anxiety that stink up the field like a miasma. (The comic-book efforts that have broken through to success in bookstores–where the customers for memoir and fiction material are overwhelmingly female–either eschew this altogether or interrogate it with such sophistication that people are able to get past the ick factor.) What Chester Brown has produced is an intellectually pretentious acting-out of his fantasies of himself as a porno stud.

Brown has demonstrated exhibitionist tendencies in his work almost from the beginning. A minor example was an autobiographical piece that featured an extended sequence of him picking his nose and eating the half-dried mucus. The major one is The Playboy, a memoir of his experience with pornography that featured several bluntly explicit scenes of him masturbating. Brown obviously has a compulsion to publicly show himself engaging in activities that most people would just as soon stay private. Paying for It is his latest venture with this tendency.

What the comics community has never been able to get through its head is how repellent mpa material largely is to people in the outside world, who at best just consider it adolescent. Show Paying for It to a halfway reasonable person outside the comics world, and they're going to see a rather pathetic crank flaunting his emotional shortcomings and grody personal behavior, which he then tries to portray as virtues. Any other field would marginalize this, such as the literary community did with Mailer's misogyny. But not the comics field. The message of "Hey, everybody! Isn't being a socially stunted dweeb who's into hookers and wants everyone to share the joy fun and cool!" blares like a civil-defense alarm from tcj.com and other comics-press mainstays. The field has had more (much, much more) than its share of embarrassing spectacles, but the reception accorded this book just takes the cake.
And finally this.
Let me add that in general I hold Chester Brown in very high regard as an artist.

Ed the Happy Clown, which I read during its initial serialization, was my entry into alternative comics. It set a standard for cartoon surrealism that all subsequent works in that mode must be measured against, and none have yet to meet. I Never Liked You is an outstanding memoir of adolescence. I'm putting together a list of my top-ten all-time favorite/best/most worthwhile comics for another project, and one or both will likely make the final ten.

As for his other major efforts, what I've seen of Underwater shows it to be an interesting and admirable misfire. I have yet to read Louis Riel, but by all accounts it's a strong piece of historical fiction, and I look forward to reading it. And his Gospel adaptations show just how tepid Crumb's Genesis effort is by comparison.

I want to add that I think he's a nice person. I encountered him once at a Barnes & Noble signing with Seth and Adrian Tomine in New York a few years back. He's a friendly–if very reserved–fellow face-to-face.

However, we all have our unfortunate sides, and Paying for It is the worst aspects of Chester Brown's work writ large.
_______________________
Other posts in what's turning into a slowly evolving roundtable on Paying for It here.