Today is the ABSOLUTELY LAST CHANCE TO CONTRIBUTE TO OUR BEST COMICS POLL. THIS IS IT! WHAT ARE YOU WAITING FOR! CLICK THAT LINK AND SEND US YOUR LIST! IT'S THE CHANCE OF A LIFETIME! FREE BUNNIES IN SUPERSUITS WITH EVERY SUBMISSION! DO IT! DO IT NOW!
Ahem. Sorry. Excitement got the better of me.
Anyway, to get you in the selecting-best-of-things mood, I thought I'd reprint this short essay from Craig Fischer's zine project to benefit Team Cul de Sac and Parkinson's disease research. The zine includes lots of your favorite comics writers ( Jeet Heer! Robert Stanley Martin! Shaenon Garrity! Caroline Small!) writing about their favorite comics. I picked Bob Haney and Jim Aparo's Brave and Bold #104 featuring Batman and Deadman. Here's what I said.
__________________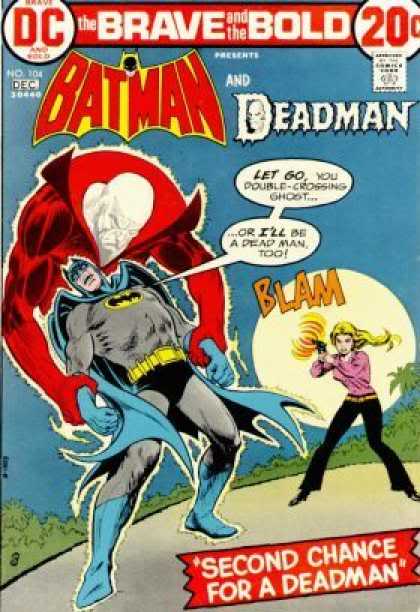 Everybody loves Batman the avenging demon of the twilight, kicking Kryptonian superballs with spiked kryptonite Bat Boots while simultaneously grinding Liam Neeson's Ras Al'Nose against the inflated manliness of Styrofoam pecs. Me though, I prefer Batman the incompetent patsy and bumbling stooge circa Brave and Bold #104. Written by Bob Haney and drawn by Jim Aparo, this is a stylish noir where Batman is framed at dramatic, improbable angles failing to infiltrate a bridge club and/or successfully allowing everyone around him to be murdered. Deadman's thrown into the mix so that the great Bat can cluelessly betray him and ruin his — well, not life exactly, but you know what I mean. This is superheroes the way they were meant to be; as woozy police hacks fucking up everything they touch, wandering off panel after the "happy ending" with a concerned glance at their underwear and a cloud of flies rising from the corpses in their wake. Plus, there's a cameo by God who comes off about as cynically incompetent as Batman himself., randomly tricking Deadman into shooting his lover for no explicable reason. The universe makes no sense, and the guy with the bat ears fighting crime is exactly as ridiculous as he looks, a danger to himself and others. Bob Haney: he had a bleak vision.
________________
And…CONTRIBUTE TO OUR BEST COMICS POLL, DAMN IT.