A Japanese company, Manga Legends, claims to sell original artwork by many of Japan's greatest comic book artists. However, the executive in charge of publishing at Tezuka Productions, a company created by the legendary artist, Osamu Tezuka, has stated that there is a "high possibility" that at least some art sold by Manga Legends is a copy.
Further, Manga Legends claimed in an email that their company was affiliated with Animate, a nationwide anime/manga chain store in Japan. However, an employee at Animate's customer service center had never heard of the company. Later, after looking at Manga Legends website, the employee notified us that Animate had taken legal action against them.
"It really is incredible to see all this stuff coming out of the woodwork."
In recent months, on a community website that allows collectors to display pages of original comic book art – including the art used in the production of actual comic books, called Comic Art Fans, known to its members as CAF, various members had begun posting original panel pages from what appeared to be very significant Japanese artists and manga series.

Unlike their American counterparts who often sell their art to fans, manga artists are well known for keeping their art. With a few exceptions (and the occasional known gift), little of it ever makes it into the open market. The little that does tends to be sold at special auctions run by companies such as Mandarake, one of Tokyo's largest vendors of used anime and manga-related products.
As an example, art from the artist, Rumiko Takahashi, the creator of such successful series as "Ranma ½ "and "Inu Yasha," is considered to be so rare in Japan that an inked sketch of Lum, a character from her "Urusei Yatsura" series, drawn on letter paper, sold at auction on April 13, 2011 for JPY 3,267,500 (US $40,650 at the current exchange rate).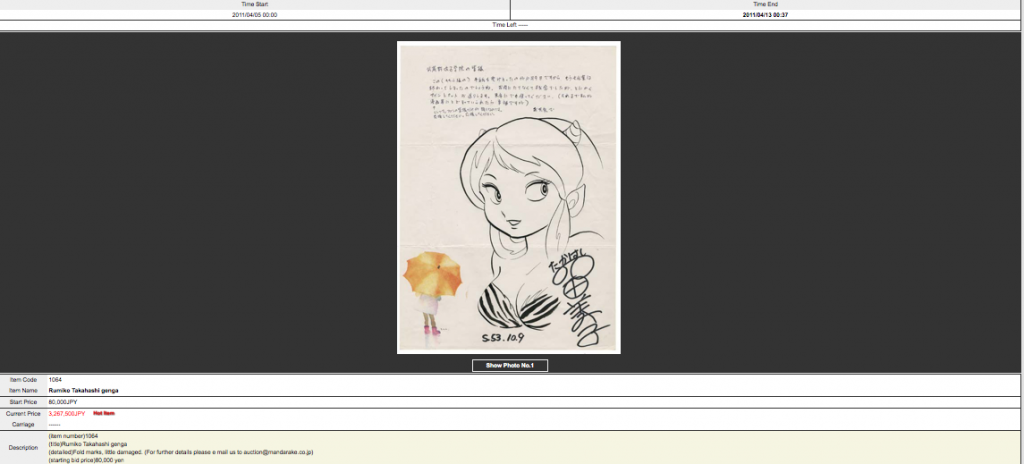 Sketch of Lum by Rumiko Takahashi.sold at auction in Japan
However, since November 2009, CAF members have posted two published interior pages from the "Urusei Yatsura" series on the Comic Art Fans site. Many Japanese would find this hard to believe.
Two Urusei Yatsura pages posted on Comic Art Fans.
Since the initial pieces of manga art started showing up in late 2009, a steady number of key or prime pages have continued to be added to CAF by various, though mostly European, collectors. These have included pages from series such as "Blackjack," "Tetsuwan Atom" ("Astro Boy") and "Adolf" by the so-called "God of Manga," Osamu Tezuka, "Nausicaa in the Valley of Wind" by famed animation director, Hayao Miyazaki, Dragonball by Akira  Toriyama, a "Lone Wolf & Cub" page by Goseki Kojima (a major influence on the American artist, Frank Miller) and many others.
After seeing the "Lone Wolf & Cub" panel page posted to CAF, fan and art collector, Felix Lu, said,  "It really is incredible to see all this stuff coming out of the woodwork. As someone who searched furiously over a six-to-seven-year period for published LWC pages, this latest update is a stunner. My understanding, through multiple sources, was that all the interior pages were held by (series writer, Kazuo) Koike. Given all that – and seeing zero evidence to disprove it, I just came to accept it as fact."
Two of the most stunning examples posted on CAF come from the same series, Katsuhiro Otomo's "Akira," considered by many to be one of the most influential comics ever. These two pages show key scenes from the comic – one shows the story's main character, Tetsuo, meeting the titular, Akira, while the other shows the shockingly memorable scene where Tetsuo loses his arm to a laser blast from a military satellite.

Comic art collector and Akira fan, Satyajit Chetri, said, "I was really excited about the manga art and tried making inquiries. When I heard some of the numbers being thrown around, my first instinct was to go for them by any means possible – it was Akira, after all, something that I really loved and I thought there would be a limited supply of pages available only for a short period of time. But then more and more pages started popping up, good ones, and suddenly the exclusivity factor seemed to go down a little. (There are) 3000-plus pages of (the) Akira (comic book), and if there were some collectors getting PRIME pages, it was inevitable that more pages would turn up, as would a secondary market."
At first, the source of this new vein of art seemed to be a secret. When asked by one of the authors by email, one collector stated that he had a relative living in Japan who acquired it for him. The authors also heard from various sources that the Akira pages had been auctioned by Mr. Otomo himself to raise money for Japan's recovery after a 9.0 magnitude earthquake and tsunami devastated much of northeastern Japan in early March.
"Strangely, Google searches for original Akira pages (from an auction or a store) do not turn up anything," said Mr. Chetri.
Discovering Manga Legends
Recently, however, the authors received a link to a website called Manga Legends from an art collector living in North America who does not wish to be named. "Please keep it between us," he wrote.
According to its URL information, the site was created in 2009. However, on its website, the company states:
"Manga Legends will celebrate its 25th anniversary on 2009. Our online shop and members service is celebrating now its 7th anniversary. From the manga store in Koenji-Tokyo to the homepage, a long way has been walked. Our goal is more than ever to be with you to live your passion at the best price end the best service." (sic)
A URL search on June 5 listed the website as being owned by Alexandre Bodecot and it was located in Fukuoka. As of June 7, "Mita tomoki" (sic) was listed as the owner and the address had been moved to a Tokyo P.O. Box.
Manga Legends' website advertises that it sells "Collectibles, old editions, signed mangas, original art…," and listed available services in English, French, Spanish, Italian and German, but not Japanese. Since it is a Japanese company, this appeared odd.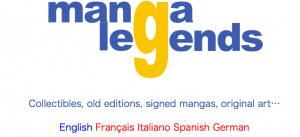 [A screenshot of Manga Legends' homepage. The colors are similar to that of a Japanese company, Animate, which Manga Legends claimed affiliation with.]
Mr. Chetri, who has participated in public comic art auctions in Japan, noted, "Japanese collectors are willing to pay a LOT for original art, as public auctions show. It seems disingenuous to target a European market when there is an eager fan-following right outside your door, unless you are a seller who is making claims that you do not want cross-verified."
As part of Manga Legends' service, the authors learned that the company issues certificates of authenticity with each page that they sell. The company claims that a "sworn expert" issues each COA.
The North American collector, who was in the midst of a deal for an art page drawn by Osamu Tezuka and his studio assistants, wrote an email on June 3, 2011 to Mami. Watanabe, an employee of Manga Legends expressing "concerns about manga-legends." The collector also wrote in this email that he had already bought one page by Mr. Tezuka, a "Blackjack" panel page that he had bought from an unnamed "French collector," and asked if the page had previously been sold by Manga Legends.
Ms. Watanabe answered the same day, writing that Manga Legends had indeed sold the page in question:
"Yes, after checking our datas, it happens that this page was sold to one of  our French members last year. To my surprise, it appears that this page was sold with a COA to this member. When you exchanged this page with this  person, he didn't give it to you ? Please let me know and if necessary, we can  ask to our sworn in expert to reissue a COA for you. The point is, our COA  specifies that our original arts can't be resell without the written agreement of  the author or it's agent, through our company. Let me be sure that this person, in France, didn't sell the page to you but exchanged. " (sic)
Also, Ms. Watanabe stressed the genuine nature of the art. In an email from June 2, 2011,for instance, she noted that Manga Legends acquires all its original art from "collectors in Japan," and "agencies such as Kashima Agency, Morita Ippei Inc. …etc."
Just what is Manga Legends selling?
The authors contacted Ippei Morita through an address provided by Manga Legends and he wrote back in an awkwardly worded Japanese message (one of the authors is a native Japanese speaker), "Your friends from overseas can purchase from us without any suspicion."
However, Akira Kashima, CEO of Kashima Agency, emphasized that his company is a translation copyright agency for multiple publishers and does not handle art.  On the phone, he was audibly upset to learn that Manga Legends was using his agency's name as reference.
Mr. Kashima, whom the authors contacted on their own, told us that one of his clients is Tezuka Productions. Mr. Tezuka, who died in 1989, started the company after his animation company, Mushi Pro, went bankrupt. The company continues to publish his works posthumously, to license the many characters he created and to produce animation based on those characters.
The authors asked Mr. Kashima to send officials at Tezuka Productions links to artwork on CAF credited to Mr. Tezuka., including the "Blackjack" page bought by the North American collector that Manga Legends admitted to selling with a COA to another collector.
Tezuka Production's Chief Publishing Officer (author's translation) replied that while the company will not authenticate individual pages of art, he said there was a "high possibility" the "Blackjack" page is a forgery. He added that Tezuka Productions has virtually all the art to the "Blackjack" and "Adolf" series making it highly unlikely that any page from either of these series was genuine.
(Tezuka Productions did not release the name of the official who responded to the author's questions. In Japanese corporate culture, releasing the full names of employees is not recommended unless both parties know each other. In this case, Mr. Kashima could not release the name of the Tezuka Production official because he had not dealt with the authors personally.)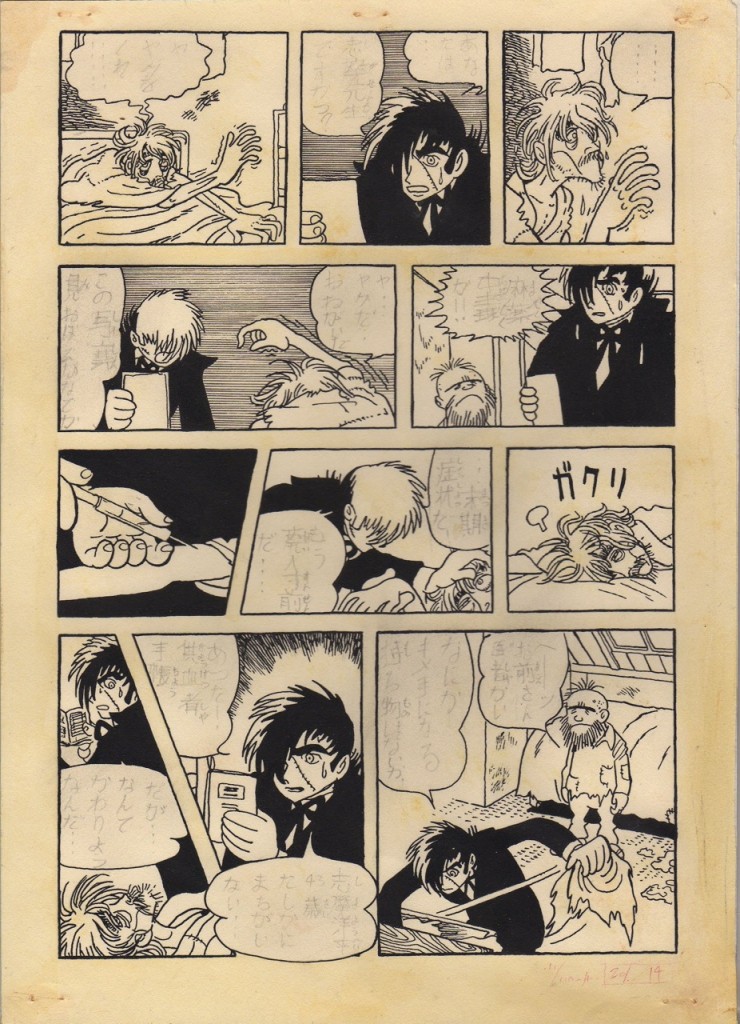 An official from Tezuka Productions reported that there is a "high possibility" this "Blackjack" page, which Manga Legends admits selling, is a copy.
To find out more, one of the authors joined Manga Legends, filling out a membership application and providing a list of Japanese artists in whom he had an interest. Soon afterward, he received an email from Mami Watanabe containing scans of available panel pages from luminaries such as Osamu Tezuka, Katsuhiro Otomo and Go Nagai as well as a splash page by Goseki Kojima along with a set of prices for each page.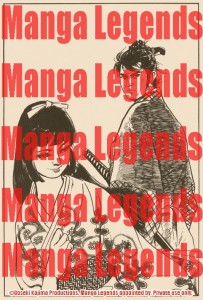 ___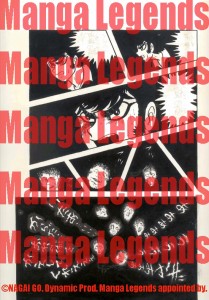 [Scans provided to the authors by Manga Legends of art the company had available for sale. From top left (clockwise), the pages are purported to be from "Adolf" by Tezuka Osamu, "Akira" by Katsuhiro Otomo, an unknown samurai manga by Goseki Kojima and "Devilman" by Go Nagai.]

Getting Animated

Because the company would not provide better scans of the art, the authors asked if it would be possible to visit Manga Legends' galleries in Tokyo. Ai Oonishi, using Ms. Watanabe's company email address, replied:
"Of course, our head company's called Animate, you can find our stores everywhere in Tokyo. I give you the link to our stores maps. Please visit us when you'll come to Japan."

The Animate company logo.
The email clearly indicated a relationship with Animate, the largest retailer of anime games and manga in Japan. Unaware that Animate had expanded into the original art market, the authors contacted the company's customer support center and a telephone operator, who did not release her name, stated that the company only deals in "new, mass-market products," not "specialized products."  After requesting a link to Manga Legends' website, the operator visited it and informed the authors that the site "looked highly suspicious."
The operator then forwarded the information about Manga Legends to a company official who then sent a warning letter to Manga Legends regarding its use of Animate's company logo. The logo disappeared from Manga Legends' website on the following day.  (This information was provided to the authors by the telephone operator at a later date.)
Afterward, the authors gave this information to the North American collector who had provided the original link to the company. He wrote to Manga Legends and asked them to clarify their status with Animate.
He received a reply from Ms. Watanabe that read, "About the company's affiliation, it's a little bit complicated and I can't really explain to you in details, our company is now independent after a long legal 'fight' with the original creator of our stores. That's why we changed our logos and mark color."  (sic)
This remark appears misleading. According to Animate employees, there was never any relationship to become independent from.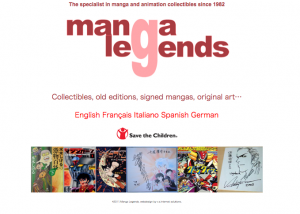 [Manga Legends current homepage after links to the Japanese company, Animate, were removed. Also, the color of the company's logo, which was similar to Animate's, has also been changed.]
As we are collectors of original art ourselves, both authors know that one of the reasons we acquire comic art is nostalgic delight, the ability to hold dreams made tangible in our hands. Manga Legends sells dreams and the lure of those dreams is strong.
When informed that Manga Legends had misled him about its affiliation with Animate, the North American collector wrote back that he admitted that he was probably naïve, but he still wanted to believe that the art Manga Legends was selling was genuine. "I still want to believe it is true."
Update; This is a somewhat altered version of the original article.