I've been obsessed recently with the Showtime series Weeds, about soccer-mom-turned-pot-dealer Nancy Botwin. I've compulsively watched the first three and a half seasons in the last couple of weeks. Thanks a lot, Netflix instant.
Anyway, I had Weeds on the brain when I read this post by Alyssa Rosenberg about how the dealers on the Wire don't get to have any romance.
But with the exception of D'Angelo Barksdale (who ends up as more of a neutral character), the main members of the drug crews either don't have long-term relationships or those relationships aren't a major way of exploring who they are as people (there are exceptions for minor characters, like Bernard, whose girlfriend Squeak leads him into trouble). Avon Barksdale has an ex-girlfriend who Wee-Bay kills, but we don't see him in any sort of relationship with a woman — probably the most important woman in his life is his mother. Wee-Bay is explicitly non-monogamous, and what relationship he has with his son Namond's mother mostly concerns Namond's well-being. Chris Partlow and Michael Lee are both victims of sexual abuse, which motivates murders they commit, but isn't something we see them work out in intimate relationships. There are interesting possibilities in Snoop's gender expression, but the show only really explores her as a soldier. I don't even want to think how Marlo Stanfield would treat a woman he actually dated, much less had sex with and then executed after she turned out to be a spy.

I'm not sure what this disparity means. Does running a drug crew mean folks have less time or inclination to pursue steady relationships? Is it commentary on the crews, suggesting that as they're peddling one means of social dissolution, they're engaging in others? Whatever Simon's intentions, weighting relationship questions and subplots to the police means we get a smaller part of the human spectrum when we look at the crews.
I think Alyssa's point is correct — the drug dealers are not granted romantic sub-plots. I think the reason is because, for Simon, drug-dealing is an intensely male world. There are some women involved, like Brianna and Snoop, but they're obviously exceptions, and both have something of an asterix beside them (Brianna is involved because she's Avon's sister; Snoop is deviant in multiple ways, not least in her gender presentation.)
The maleness of the drug world means that romantic male-female relationships play a secondary role; the most intense focus of interest for the men is homosocial. For instance, we never see Bodie with a girlfriend — but we do see that he has a big old crush on Stringer Bell. The crush is tied up in Bodie's ambition and in his desire to be a man; it's composed of part admiration, part envy, part lust (for power, for money), and it's the lever that impels Bodie to kill his friend Wallace. I don't think it's an accident either that Poot, who is defined in part by his interest in women, eventually gets out of the game.
The main focus of homosocial tension in the Wire, though, is between Avon and Stringer Bell. For both, their partnership is the defining relationship of their lives, and at several points that relationship is explored not just through business, but through sex. The clearest instance of this is when Avon gets out of jail. He's interested in making time with an attractive woman at his coming home party, but Stringer keeps cornering him with business talk. Finally, Stringer drops a frustrated Avon in a luxury apartment. Avon stands and fumes for a couple of seconds…and then Stringer reappears, the attractive woman and a bonus attractive woman in tow. The whole sequence is a sexual tease, and the teaser is Stringer. He uses the women he's bought for Avon to seal their partnership and friendship with sex.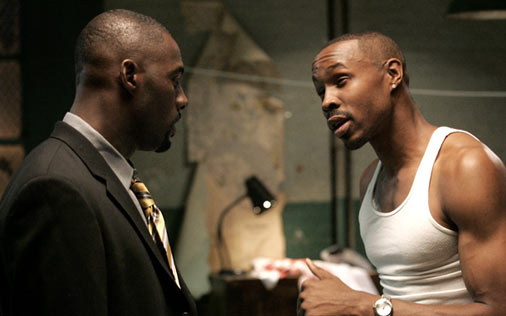 The homosocial possibilities of Avon/Stringer slash are contrasted in the Wire with Omar's much-more-than-possible homosexual relationships. Alyssa doesn't mention Omar — but he's a striking exception to her discussion of drug dealers and romance. Which is to say, Omar is very much defined by his serially monogamous romantic relationships. These relationships are all with men — and the suspicion is that they are possible because they are with men. Romance with women is not possible in this world; but men are a different story.
The parallels between Omar's relationships and the other drug dealers' relationships calls into question the heterosexuality of the entire milieu, a fact of which the other drug dealers seem nervously aware. Both Avon and Stringer initially want to kill Omar because he robbed them — but what really pisses them off is that he's gay. Avon ups the bounty on Omar when he learns that he's a "cock sucker". And as for Stringer, while it's never made explicit, it seems clear that part of the reason he uncharacteristically participates in the torture of Brandon, Omar's lover, is because Brandon is gay. The killing of Brandon, and Omar's reaction to it, ultimately ends in Stringer's own murder. Male-male love is the only kind on offer in the world of the gangs — but it's a love steeped in disavowal, which ultimately leads to tragedy and death.
Weeds presents a very different view of the drug trade. Where the Wire's dealers are manly men thinking about other manly men with whom not to have sex, the world of Weeds is decidedly matriarchal and up to its orifices in intergender fornication. There are certainly a lot of men involved in dealing, from Nancy's drop-out son Silas to the agressively psychotic thug U-turn to the more quietly psychotic DEA agent and thug Peter, to the quietly honorable grower Conrad. But they one and all — tough or weak, dumb or competent — drop to their knees if a pretty girl points at her bits. In this show, it's the women who wear the phallus — sometimes literally, as when Nancy's brother Andy finds himself unexpectedly sodomized with a large black dildo by one of his girlfriends.
Women make dumb choices out of lust in Weeds too — dealer Heylia James lets her iron competence slip for a few episodes when she falls for a Nation of Islam minister, for example, and Nancy's increasingly compulsive sluttishness get her into trouble on more than one occasion (most flagrantly in the first couple of seasons when she mistakes scumbag Peter for a nice guy.) But overall, the women on the show are the ones who display a modicum of responsibility and resourcefulness, and who manage to use their sexuality rather than letting it use them. Heylia's Nation of Islam minister helps her escape a drug bust; Nancy gets Peter to use his DEA office to protect her…and eventually it's Peter who gets killed (set up by Heylia) not Nancy.
One of the more emblematic moments of Weeds occurs when Alejandro, a rival, violent pot dealer, demands to meet with Nancy after threatening her and her children. Nancy drives out to confront him in an alley, the two get in each other's faces…and next moment Alejandro is (consensually) fucking Nancy on the hood of a car. Post-coitally, Nancy informs him that he was a good lay, and then sticks a B.B. gun to his dick and tells him to stay away from her or she'll castrate him. Afterwards, Nancy is extremely upset ("What are you doing?" she asks herself)…but Alejandro turns into a puppy dog, sending her gifts and cheerfully becoming her minion in the drug business even though she tells him she's not screwing him again.
It's not entirely clear whether Nancy slept with Alejandro to get the upper hand or whether it was just a case of rampaging hormones. She does tell Alejandro the rutting was unexpected, but she's certainly capable of lying, to others and to herself. In any case,the point, reiterated throughout the series is clear — men think with their dicks, and their dicks are a lot stupider than women's cunts.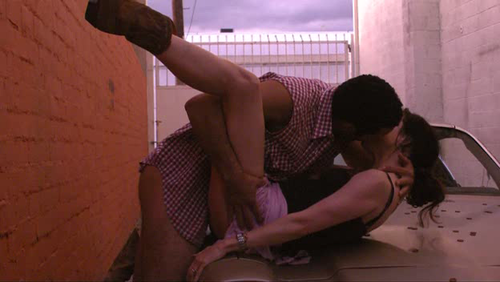 There's a tendency to assume that because the Wire's a gritty serial it must be more realistic than a situation comedy like Weeds. The Wire shows the drug business as a male world, so that's the way it must be. I'm not so sure though. Weeds seems to get other things closer to right than the Wire does; for example, it's more on target about police corruption. Moreover, in the freakonomics series where drug dealers commented on the Wire, one argued that the maleness of the show was one of its least convincing features.
"Women," said Tony-T. "Where I come from, women run most of the things [that the show] talks about. It's the women that have the power in the ghetto. This show totally got it wrong when they made it all about men. Women are the politicians; they can get you a gun, they got the cash, they can get you land to build something on."
What's perhaps more interesting than which is more true to life, though, is the fact that both the Wire and Weeds share the broad assumption that women in control is odd, unusual…or, in other words, funny. When Stringer Bell says something is "just business," it's chilling — a sign of his cold, calculating lack of emotion. When Nancy says that a relationship is just business (as when she declares that her relationship with Peter is just a business relationship) it's generally at least half a joke — she's covering her ass, or lying to herself, or otherwise shucking and jiving. Because, presumably, nothing with women is just business.
You can see this idea played through in the one woman in the Wire who tries to run a drug business: De'Londa. De'Londa is a controlling, castrating, shallow bitch, who treats her child with unfeeling ruthlessness. She's a lot like Weeds' Celia, in other words…and like Celia, the ruthless woman in control is played much more for laughs than are the ruthless men in control. De'Londa is wrong and ridiculed not because she's evil (lots of people on the Wire are evil) but because she's a woman and a mother.
In other words, Weeds is a comedy because it's a matriarchy and a matriarchy because it's a comedy, just as the Wire is a tragedy because it's homosocial, and homosocial because it's a tragedy. Man's world is serious and scary; woman's world is funny and sexy. Stringer Bell can no more fall in love than Nancy Botwin can be a tragic Shakespearean hero. Their genders put limits on their genres.
_________________
Update: Alyssa points out that she did mention Omar; she attributes his romance to his neutrality, or as she says: "Characters who aren't affiliated with the crews like Omar Little, who has multiple long-term relationships throughout the series, or Cutty Wise, who eventually begins dating a nurse, are allowed significant romantic attachments." Sorry Alyssa!