Those two-seconds-late realizations when Calvin's mom realized what his last absurdist claim meant. The jarring reminders when Hobbes was drawn as a stuffed tiger. That quaint moment when you first figured out that Suzie would always be his one true love. Trying to figure out which of the Calvins was the one who actually went to school after he created all those cardboard clones. Getting jealous of his tree forts and the friendships contained within them. The lettering that Bill Watterson used for Moe's threats, and the way Moe's physical prowess was never bested. Knowing that, since she was a Mrs. Wormwood, that meant there was a Mr. Wormwood hiding somewhere else who only knew about our hellion secondhand. The first time you tried to make snowmen the way Calvin did. When Calvin's dad broke down and taught you that your dad could be as confused and scared as you always were. The majestic, experimental Sunday strips where you saw all the other styles that Watterson had at his beck and call, and the moment when he brought you home with the one you knew best. Learning what the word sabbatical meant. Learning that artists could stand up for themselves, and that they should stand up for themselves, and always holding up the moment when this one did as the bar that all other artists had to clear. A hippopotamus with wings. Calvin's face. Calvin's ambition. Calvin's imagination. Calvin's hair. How hard he tried, how often he failed.
The way he loved Hobbes. The way we loved them.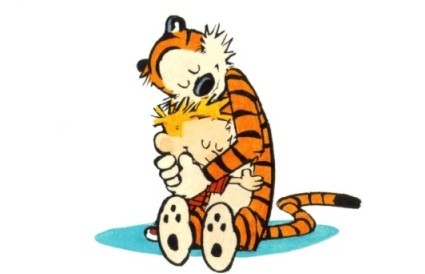 Tucker Stone is an actor who most recently appeared in the film Quiet City and a whole mess of plays in New York City. He writes about comics for comiXology and The Comics Journal, and he blogs about all kinds of trash culture at The Factual Opinion.
NOTES
Calvin and Hobbes, by Bill Watterson, received 45 votes.
The poll participants who included it in their top tens are: Michael Arthur, Robert Beerbohm, Piet Beerends, Eric Berlatsky, Corey Blake, Scott O. Brown, Bruce Canwell, Scott Chantler, Brian Codagnone, Roberto Corona, Jamie Cosley, Dave Coverly, Martin de la Iglesia, Randy Duncan, Jason Green, Steve Greenberg, Greg Hatcher, Alex Hoffman, Abhay Khosla, Kinukitty, T. J. Kirsch, Sean Kleefeld, Nicolas Labarre, Sonny Liew, Alec Longstreth, John MacLeod, Vom Marlowe, Gary Spencer Millidge, Pat Moriarity, Eugenio Nittolo, Rick Norwood, José-Luis Olivares, Jim Ottaviani, Michael Pemberton, Andrea Queirolo, Martin Rebas, Giorgio Salati, Val Semeiks, Joe Sharpnack, Kenneth Smith, Tom Stiglich, Tucker Stone, Kelly Thompson, Sean Witzke, and Yidi Yu.
Bill Watterson's Calvin and Hobbes was a newspaper strip published between November 18, 1985 and December 31, 1995.
There have been 18 book collections of Calvin and Hobbes published. The most comprehensive is The Complete Calvin and Hobbes, a three-volume hardcover set that reprints every strip along with all supplementary and promotional art produced for the feature.
Those looking for a single, introductory collection are probably best served by Calvin and Hobbes: The Tenth Anniversary Book, which features a selection of strips chosen by Bill Watterson. The book can be found at most bookstores and online retailers, as well as in many public libraries.
–Robert Stanley Martin