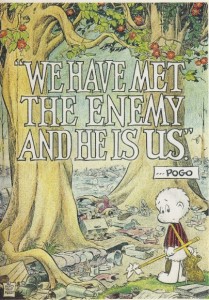 Lenny Bruce will always get credit for having house-invaded the Fifties, but the satirists who threw the bricks through the front window and gadflied the powerful were saloon comics like Mort Sahl, folkies like the Kingston Trio and the Limelighters, that sublimest of television shows, Rocky and Bullwinkle (still state of the art "kids" teevee), and three cartoonists: Jules Feiffer, Herblock, and mainly Walt Kelly. Pogo was Doonesbury before the name. Kelly, who came to panel cartooning with a Disney pedigree (he worked on Pinocchio), understood that the only defense of humanism against the ideologues was irony. He went after Joe McCarthy unprotected and was prophetic in seeing that the problem was Tailgunner Joe. And so? The Gulf of Tonkin, Vietnam, Watergate, Reagan and Irangate, the Savings and Loan fiasco, Iraq I and II, the Clinton Impeachment, the present economic crises, and the Tea Party—where is he when we need him?
J. T. Barbarese is an Associate Professor of English at Rutgers University.
Pogo, by Walt Kelly, received 24 votes.
The poll participants who included it in their top ten are: J. T. Barbarese, Robert Beerbohm, Alice Bentley, Kurt Busiek, Brian Codagnone, Dave Coverly, Francis DiMenno, Jackie Estrada, Andrew Farago, Larry Feign, Bob Fingerman, Larry Gonick, Diana Green, Sam Henderson, Kenneth Huey, John MacLeod, Eugenio Nittolo, Rick Norwood, Stephanie Piro, Kenneth Smith, Tom Stiglich, Ty Templeton, Jason Thompson, and Mark Tonra.
Walt Kelly's Pogo began with the story "Albert Takes the Cake" in Animal Comics, published in 1942. The story introduced Pogo Possum and Albert Alligator. This was the beginning of a regular comic-book feature that continued in Animal Comics and other titles through 1948.
On October 4, 1948, Pogo was launched as a daily newspaper strip in the New York Star, a left-leaning newspaper for which Kelly worked as art director and provided editorial cartoons. This initial run continued until the newspaper stopped publishing on January 28, 1949. On May 16, 1949, the strip was relaunched under the auspices of the Post-Hall Syndicate.
During this time the comic-book feature continued in its own title, Pogo Possum, which began in 1949 and continued until 1954. With its end, Pogo became a newspaper-only comic. It continued for the next three decades.
In 1972, Walt Kelly became seriously ill. During this time, the strip was largely restricted to reprints. After he died on October 18, 1973, the strip was continued by his widow Selby Daley Kelly and others until its cancellation on July 20, 1975.
There have been dozens of Pogo collections and other books published over the years. None are in print at this time. The best one-volume introduction is probably Selby Daley Kelly and Steve A. Thompson's Pogo Files for Pogophiles, published in 1992. It can be found in many public libraries.
–Robert Stanley Martin