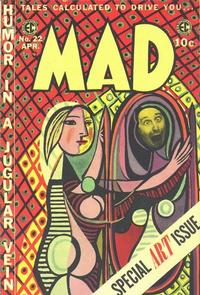 It's a funny thing, but as with many of the great cartoonists, Harvey Kurtzman's work is far better known than the artist who created it. His most famous creation, MAD, long ago transcended the medium that spawned it, becoming a fixture of American culture and among the most influential sources of comedic humor in the late twentieth century. Fittingly, MAD was both a way for Kurtzman to exercise his talents . . . and to make a buck. Frustrated that others in the EC Comics stable were earning more than he, Kurtzman approached his publisher, William Gaines, who offered the cartoonist the opportunity to come up with another comic book title. Kurtzman tapped into his own satiric streak and used this new forum first to send up the medium in which he worked, and then, in short order, the rest of American culture.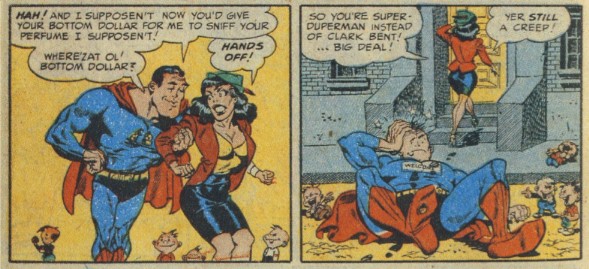 MAD mocked comic books, television programs, films, advertising, and everything else that populated the common consciousness. It was eventually upsized from a comic book to a magazine format, and all-too-soon, Kurtzman was out as editor after a business dispute with Gaines. Nearly six decades later, MAD is still in production and still carries the tone set by Kurtzman's initial parodies. Kurtzman would go on to try his hand at additional humor magazines, but none came close to enjoying MAD's success.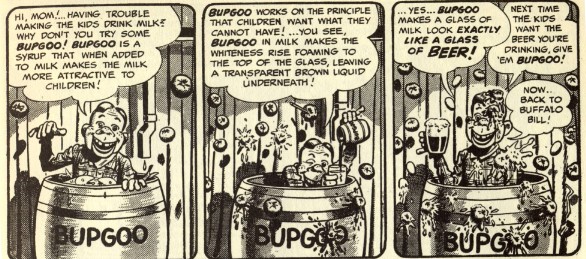 Kurtzman's talents weren't just limited to humor. He single-handedly redefined what war comics could be with his other two EC titles, Two-Fisted Tales and Frontline Combat. Painstaking research brought to the comics page historically accurate accounts of conflicts ranging from gladiatorial bouts to aerial dogfights. However, the stories did not glorify the battles. Rather, Kurtzman's realistic portrayals of the harsh realities of conflict offered sobering commentary on war's folly.
Since I began to teach a course on comics several years ago, I've consistently included a selection of Kurtzman's work among the "must read" assignments. Indeed, I feel I would be remiss to teach a course about the medium and not address the lasting contributions of this largely unsung but enormously influential cartoonist. Last year, I added to my required readings list a well-crafted book of biography and analysis, The Art of Harvey Kurtzman: The Mad Genius of Comics. by Denis Kitchen and Paul Buhle. I recommend it for anyone who wants to learn more about Kurtzman and his contribution to American comics history.
Matthew J. Smith, Ph.D., is a professor of Communication at Wittenberg University in Springfield, Ohio, where he teaches courses in "Graphic Storytelling," "The Graphic Novels of Alan Moore," and "The Field Study at Comic-Con" (www.powerofcomics.com/fieldstudy). Along with Randy Duncan, he is co-author of The Power of Comics: History, Form and Culture (Continuum, 2009) and co-editor on the forthcoming Critical Approaches to Comics (Routledge, 2011).
NOTES
Harvey Kurtzman's tenure on MAD received 23.5 votes.
The poll participants who included it in their top ten are: J. T. Barbarese, Terry Beatty, Alex Buchet, Francis DiMenno, Jackie Estrada, Andrew Farago, Larry Feign, Shaenon K. Garrity, Richard Gehr, Larry Gonick, Steve Greenberg, Danny Hellman, Sam Henderson, Carol Lay, Jay Lynch, Scott Marshall, Pat Moriarity, John L. Roberson, Johnny Ryan, Kevin Scalzo, Shannon Blake Skelton, Matthew J. Smith, Ryan Standfest, Ty Templeton, Mike Vosburg, and Karl Wills.
Steve Greenberg voted for the material illustrated by Jack Davis.
J. T. Barbarese, Richard Gehr, Larry Gonick, Kevin Scalzo, and Karl Wills voted for the material illustrated by Will Elder.
John L. Roberson voted for the material illustrated by Will Elder or Wallace Wood.
Larry Feign and Ty Templeton voted for the story "Superduperman," by Harvey Kurtzman and Wallace Wood.
Carol Lay voted for the EC Comics edited by Harvey Kurtzman, which resulted in a 0.5 vote for Kurtzman's MAD.
Danny Hellman and Pat Moriarity both voted for illustrator Wallace Wood's work for EC Comics, which resulted in a 0.333 vote each for MAD under Kurtzman.
Johnny Ryan voted for MAD by "UGoI" [the Usual Gang of Idiots]. This covers MAD's entire run, resulting in a 0.333 vote for Kurtzman's tenure.
Harvey Kurtzman's work on MAD as writer, layout artist, editor, and art director encompasses the first 28 issues of the publication. Issue #1 is cover-dated October-November 1952, and #28's date is July 1956. (The first 23 issues were in the comic-book pamphlet format; #24-28 were published as full-size magazines.) Apart from an out-of-print four-volume hardcover reprinting in 1985, and a magazine-format reprint in the late 1990s (both of only the first 23 issues), Kurtzman's work on the title has never been collected in one place. However, the material has been widely reprinted in MAD book collections alongside efforts postdating Kurtzman's tenure. Many MAD books contain at least some Kurtzman material. The easiest way to see if a reprinted MAD story is from Kurtzman's time is to look at the story byline. If Kurtzman's name is there, you are looking at work that contributed to this ranking in the poll.
The most widely available book featuring material from Kurtzman's MAD is The Smithsonian Book of Comic Book Comics, which can be found in many public libraries. The anthology includes "Superduperman," Kurtzman and Wallace Wood's famous parody of Superman, and "Howdy Dooit," Kurtzman and Will Elder's lampoon of the Howdy Doody TV show and commercial children's television programming.
–Robert Stanley Martin