The following lists were submitted in response to the question, "What are the ten comics works you consider your favorites, the best, or the most significant?" All lists have been edited for consistency, clarity, and to fix minor copy errors. Unranked lists are alphabetized by title. In instances where the vote varies somewhat with the Top 115 entry the vote was counted towards, an explanation of how the vote was counted appears below it.
In the case of divided votes, only works fitting the description that received multiple votes on their own received the benefit. For example, in Jessica Abel's list, she voted for The Post-Superhero comics of David Mazzucchelli. That vote was divided evenly between Asterios Polyp and Paul Auster's City of Glass because they fit that description and received multiple votes on their own. It was not in any way applied to the The Rubber Blanket Stories because that material did not receive multiple votes from other participants.
Duncan Falconer
Contributing writer, Mindless Ones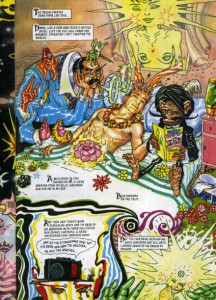 Rogan Gosh, Peter Milligan & Brendan McCarthy
______________________________________________
Andrew Farago
Curator, Comic Art Museum; co-author, The Looney Tunes Treasury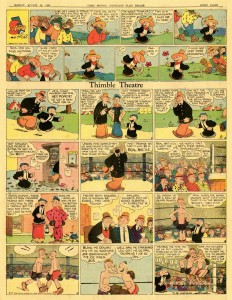 Thimble Theatre, starring Popeye, E. C. Segar
COMMENTS
Given twenty spots, I think I'd veer farther away from the classics, but this is my take on it as of right this minute.
______________________________________________
Matt Feazell
Cartoonist, The Amazing Cynicalman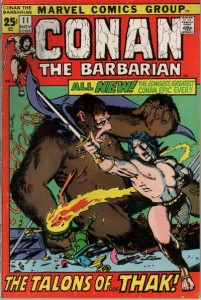 Conan the Barbarian, Roy Thomas & Barry Windsor-Smith
______________________________________________
Larry Feign
Cartoonist, The World of Lily Wong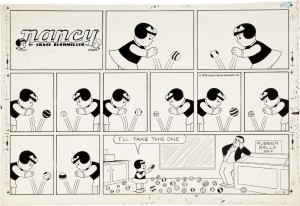 Nancy, Ernie Bushmiller
COMMENTS
Some comics I would consider "great," but not my favorites, such as Peanuts. I have confined my list to my favorites and greatest influences.
______________________________________________
Bob Fingerman
Cartoonist, Beg the Question, From the Ashes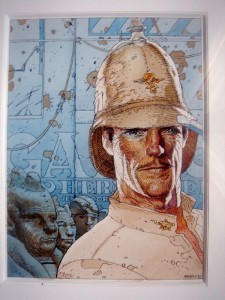 Le Garage hermétique, Jean "Moebius" Giraud
______________________________________________
Craig Fischer
Associate Professor of English, Appalachian State University; contributing writer, The Panelists, The International Journal of Cartoon Art, The Comics Journal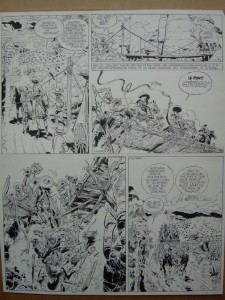 Blueberry, Jean-Michel Charlier & Jean "Moebius" Giraud
COMMENTS
This was a real horror to put together, and I'm sure that tomorrow my choices would be 90-percent different. But c'est la vie!
Below is a list of favorites, without any claims to being an "objective" canon…
The ACME Novelty Library Final Report to Shareholders and Rainy Day Saturday Afternoon Fun Book, Chris Ware (Pantheon, 2005). I prefer this big red book to Jimmy Corrigan and Ware's other extended continuities. I find Shareholders more mordantly funny and more stylishly designed, and I'm nuts for Ware's microscopic, hilarious prose and faux advertising. Comics as sublime, heartfelt graphic design.
After the Snooter, Eddie Campbell (Eddie Campbell Comics, 2002). My favorite autobiographical comic, in a field of formidable achievements (Binky Brown, American Splendor, Maus: A Survivor's Tale, Fun Home, etc.). I love the way Campbell's Snooter vignettes build a network of motifs and themes that playfully capture the rhythms of domestic life. Snooter works pretty well as part of the Alec: The Years Have Pants omnibus, too.
Ballad for a Coffin, Jean-Michel Charlier and Jean "Moebius" Giraud (Dargaud, 1972). Moebius was lukewarm about this Blueberry volume, but the trajectory of the plot—from Leone-style hijinks to chilling scenes of dead, water-logged corpses to a dead-end for Mike Blueberry—feels as barren, absurd, and frightening as a Beckett play. And you can see the avant-garde Moebius style sluicing under the "Gir" visuals.
The Fantastic Four #62, Stan Lee, Jack Kirby and Joe Sinnott (Marvel, May 1967). This comic includes much of what I value about Silver-Age Marvel: melodramatic, passionate overwriting (thanks, Stan!), densely detailed panel backgrounds, and a double-page collage of Reed Richards careening through the Negative Zone that remains one of the coolest images I've ever seen. (Thanks, Jack!)
Forty Years with Mr. Oswald, Russell Johnson (Self-published, 1968). Johnson wrote and drew the Mr. Oswald strip for over 60 years (!), and gradually built a self-contained world out of bigfoot characters, the details of hardware retailing, and middle-class anxieties over bankruptcy and crumbling social status. Can we really call our era the Golden Age of Comic Strip Reprints as long as Forty Years remains out of print?
Hey, Wait, Jason (Fantagraphics, 2001). When we're kids, the world seems full of endless possibilities, but Hey, Wait artfully depicts how a tragic event can bring that optimism to an end. Jason's elegant minimalism is deceptively simple—-I've used Hey, Wait as the central text in a graphic novel class for six weeks without exhausting its depths—and there's no comics artist alive who modulates pace better.
Jean qui rit et Jean qui pleure, François Ayroles (L'Association, 1995). A 24-page mini-comig big enough to capture a profound theme (the unfairness of life), Jean is also a study in the uniqueness of the comics medium: it's dependent on the proximity of two panels in a single space to achieve its effects. Viva L'Asso, a mighty current in contemporary comics!
The Land of Nod #2, Jay Stephens (Black Eye, July 1966). The premise of this comic is simple: a nameless character, little more than a stick figure, tumbles into an escalating series of mishaps, and cries out for a superhero named "Captain Rightful" to save him. This is maybe the funniest comic I've ever read, the cartoon equivalent of an improvisation by a prodigiously gifted stand-up comedian.
Pluto, Naoki Urasawa and Takashi Nagasaki (Viz, 2009-10). My favorite comic of the 21st century so far is unabashedly sentimental—more characters weep in its eight volumes than in twice as many pages of any other comic—but it's also a postmodern essay on originality, copying, and the elastic definition of what it means to be "human." (That latter theme is, of course, borrowed from Tezuka the trailblazer.)
Terry and the Pirates 7/9/39 Sunday page, Milton Caniff (1939). Sure, there are more famous Terry Sundays (Flip Corkin's patriotic speech, Caniff's "Ring out the Old" farewell), but in the 7/9/39 strip Caniff wrings an entire page's worth of drama out of Pat Ryan just talking on the phone. The relentless shifts in framing and angles mount an implicit argument for the connections between comics and cinema.
______________________________________________
Anja Flower
Illustrator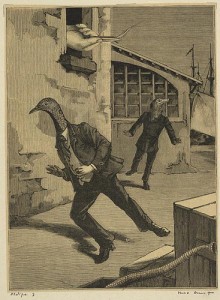 Une Semaine de bonté, Max Ernst
______________________________________________
Erica Friedman
Writer, Okazu; president, Yuricon & ALC Publishing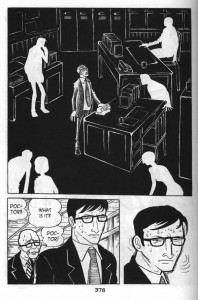 Kirihito Sanka, Osamu Tezuka
COMMENTS
The Mighty Thor – Stan Lee/Larry Lieber/Jack Kirby
Some of the finest classic Marvel work I've ever read. Not bound by laws of physics or sense, but fun stories—this is what got me into comics in the first place.
Wonder Woman – George Pérez/Len Wein/Greg Potter
Towards my last few years of collecting American comics, this series kept me going. The reboot was handled just as I would have hoped—art and story flowed beautifully. Powerful stuff every issue. When Pérez left this title, I left American comics.
A Drunken Dream and Other Stories – Moto Hagio
There are no words to describe this book. These are "classic" stories in every way. Even when we're reading something that has been done a dozen times before or since, there is an emotional commitment in these renderings that drags you in whole. Art and stories combine for one-two sucker punches to your own weak points.
Ode to Kirihito – Osamu Tezuka
This is quite possibly the most horrible book I have ever enjoyed. By the time I finished it, I realized I was in the presence of genius.
Thermae Romae – Mari Yamazaki
It would be very easy to dismiss this as a silly story, but aside from the amount of research that goes into it, and how ultimately goofy it is, Thermae Romae is a tale about humanity…and about how some things never change, nor should they.
Fun Home – Alison Bechdel?
Another moment with genius. This autobiographical tale is neither raw, nor emotional. It's coldly executed, with intellectual honesty, and then more intellect heaped up over it to re-clothe the pain in creative finery. This book hooked me over and over as I read it.
Gunjo – Ching Nakamura.
One more "genius" title. This is the raw emotion and brutality we will never see from Bechdel. Because it is so brutal, those moments of tenderness that leak through the cracks are profound and painfully gentle.
Yokohama Shopping Log – Hitoshi Ashinano
Nothing happens in this series. Humanity dies away quietly and gently in the world's twilight, and we watch it through the eyes of an android who celebrates the lives and rituals and hobbies and small happinesses of human life day after day.
Birds of Prey – Gail Simone/Ed Benes
I'm not sure what to say about this except that, if this series had been running when I was collecting American comics, I might have stuck with it.
One Piece – Eiichiro Oda
Can 62 million people be wrong? Not in this case. I've been reading One Piece for a really long time now, and I'm still reading it. I could be reading it 10 years from now. That thought makes me kind of happy. It's a story about a rubber pirate. What's not to like?
______________________________________________
Shaenon Garrity
Cartoonist, Narbonic; contributing writer, Comixology.com, Otaku USA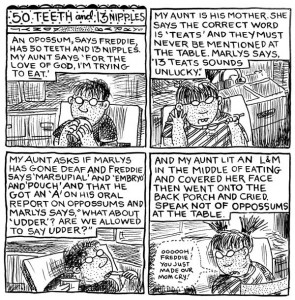 Ernie Pook's Comeek, Lynda Barry
COMMENTS
If there was an eleventh slot, I'd go with Sheldon Mayer's Scribbly.
______________________________________________
Richard Gehr
Contributing writer, The Village Voice, The Comics Journal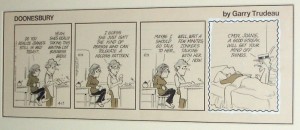 Doonesbury, Garry B. Trudeau
______________________________________________
Larry Gonick
Cartoonist, The Cartoon History of the Universe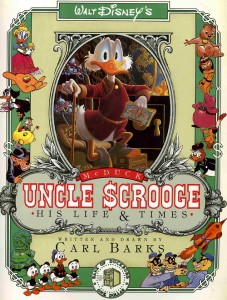 Uncle $crooge, Carl Barks
COMMENTS
Man, this was hard! There were so many others that just missed the list…
______________________________________________
Jenny Gonzalez-Blitz
Cartoonist, Too Negative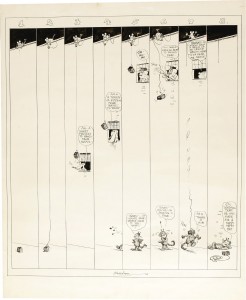 Krazy Kat, George Herriman
______________________________________________
Diana Green
Cartoonist, Tranny Towers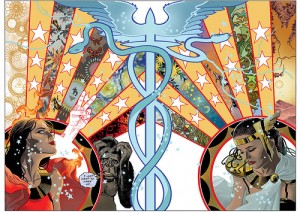 Promethea, Alan Moore & J. H. Williams III
______________________________________________
Jason Green
Comics Editor, PLAYBACK: stl; contributing writer, Shots in the Dark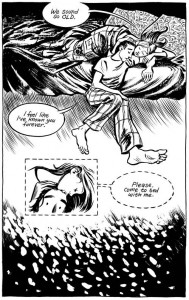 Blankets, Craig Thompson
COMMENTS
I tried to not overthink this too much, so I put it together based solely on what came to mind right away, which means I surely missed something. If you asked me tomorrow, this list would probably be quite different. I tried to concentrate on books that were "significant" in the way they made me think about how comics work, and what comics are capable of.
And a quick list of honorable mentions that came to mind but I decided didn't quite make my top 10:
Strangers in Paradise, Terry Moore; I Kill Giants, Joe Kelly & J. M. Ken Niimura; Cerebus, Dave Sim & Gerhard; Howard the Duck, Steve Gerber & Gene Colan, et al.; Moon Knight, Doug Moench & Bill Sienkiewicz; Scud: The Disposable Assassin, Rob Schrab; The Fantastic Four, Stan Lee & Jack Kirby, with Joe Sinnott, et al.; Superman: The Man of Steel, John Byrne, with Dick Giordano; Sin City, Frank Miller; V for Vendetta, Alan Moore and David Lloyd; Teenage Mutant Ninja Turtles, Kevin Eastman & Peter Laird; Persepolis, Marjane Satrapi; Dominion C1 Konfurikuto [Dominion Conflict 1: No More Noise], Masamune Shirow; Gansumisu Kyattsu [Gunsmith Cats], Kenichi Sonoda; Astro City, Kurt Busiek & Brent Anderson, with Alex Ross, et al.; Hellboy, Mike Mignola
______________________________________________
Steve Greenberg
Editorial cartoonist, Ventura County Reporter, L.A. Observed, Jewish Journal of Los Angeles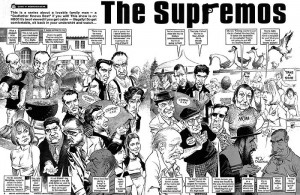 "The Supremos," from MAD, Mort Drucker
COMMENTS
Other favorites:
9 Chickweed Lane, Brooke McEldowney; Bizarro, Dan Piraro; The Editorial Cartoons, Tony Auth; The Editorial Cartoons, Clay Bennett; The MAD Stories, Sergio Aragonés
______________________________________________
Geoff Grogan
Cartoonist, Fandancer, Look Out!! Monsters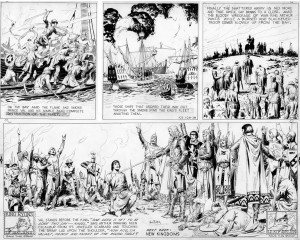 Prince Valiant, Hal Foster
COMMENTS
And there are many, many more.
These lists are always a fun—if a bit silly. The best stuff is the stuff you keep returning to year after year across a lifetime—and for an artist, the stuff you keep learning from.
______________________________________________
Patrick Grzanka
Honors Faculty Fellow, Barrett, The Honors College, Arizona State University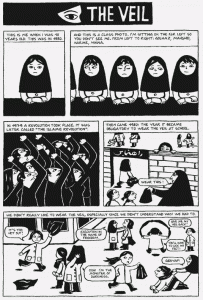 Persepolis, Marjane Satrapi
______________________________________________
Paul Gulacy
Illustrator, Master of Kung Fu; co-creator & illustrator, Sabre

Peanuts, Charles M. Schulz
__________