The following lists were submitted in response to the question, "What are the ten comics works you consider your favorites, the best, or the most significant?" All lists have been edited for consistency, clarity, and to fix minor copy errors. Unranked lists are alphabetized by title. In instances where the vote varies somewhat with the Top 115 entry the vote was counted towards, an explanation of how the vote was counted appears below it.
In the case of divided votes, only works fitting the description that received multiple votes on their own received the benefit. For example, in Jessica Abel's list, she voted for The Post-Superhero comics of David Mazzucchelli. That vote was divided evenly between Asterios Polyp and Paul Auster's City of Glass because they fit that description and received multiple votes on their own. It was not in any way applied to the The Rubber Blanket Stories because that material did not receive multiple votes from other participants.
Katherine Dacey
Writer, The Manga Critic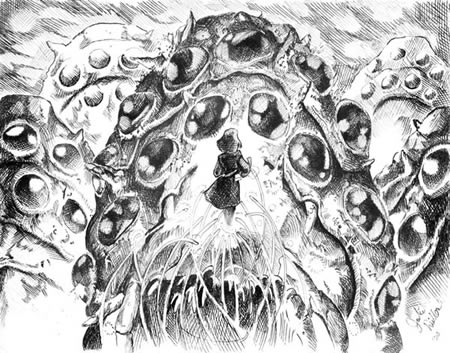 Nausicaä of the Valley of the Wind, Hayao Miyazaki
______________________________________________
Marco D'Angelo
Writer, Sono Storie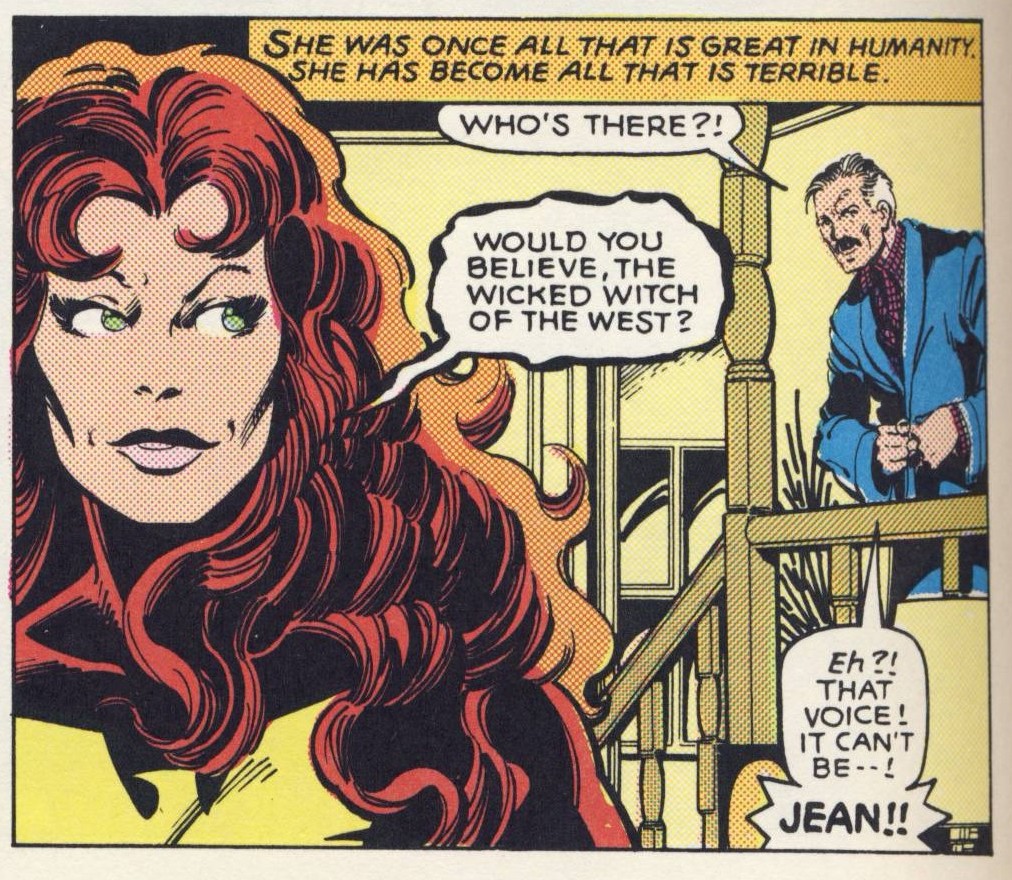 X-Men, Chris Claremont & John Byrne
______________________________________________
Alexander Danner
Instructor, Emerson College; contributing writer, ComixTalk
______________________________________________
Mike Dawson
Cartoonist, Gabagool!, Freddie & Me, and Ace-Face: The Mod with the Metal Arms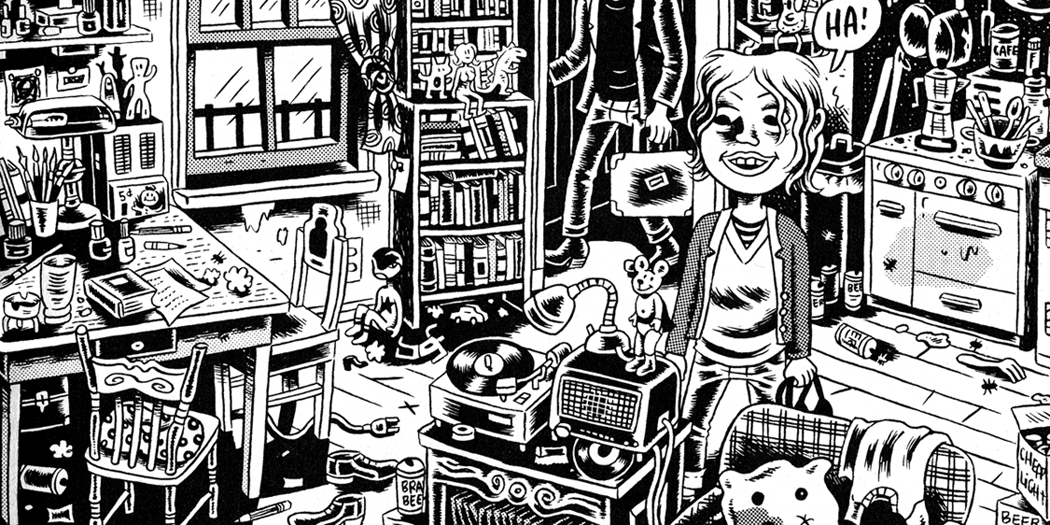 My New York Diary, Julie Doucet
______________________________________________
Kim Deitch
Cartoonist, The Search for Smilin' Ed, The Boulevard of Broken Dreams, Alias the Cat
COMMENTS
This is in no particular order.
Well, Genesis by Crumb would be number one.
And Palestine by Joe Sacco might be number two, but then I haven't read his newest book.
Wimbledon Green was awfully good.
I have not read it yet, but what I have seen so far of Harvey Pekar's posthumous book Cleveland, illustrated by Joseph Remnant, looks very promising.
Lots of other comic books by Crumb could be included. I think the strip "August 1976," by Nina Bunjevac, that recently ran in Mineshaft magazine was quite excellent. I know I'm leaving out a ton of things.
______________________________________________
Martin de la Iglesia
Contributing Writer, International Journal of Comic Art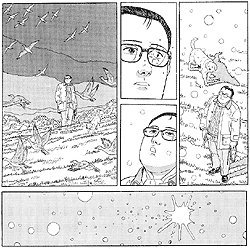 The Walking Man, Jiro Taniguchi
______________________________________________
Camilla d'Errico
Cartoonist, Tanpopo, Helmetgirls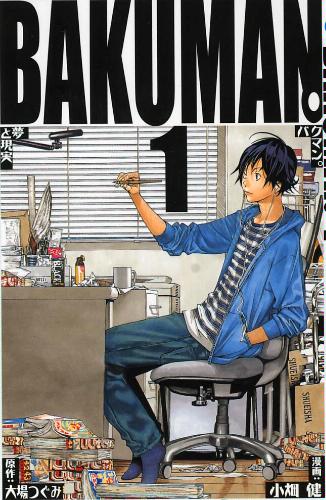 Bakuman, Tsugumi Ohba and Takeshi Obata
______________________________________________
Francis DiMenno
Director, Emily Williston Memorial Library and Museum; contributing writer, The Lemon Basket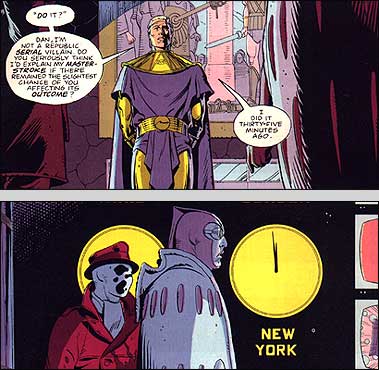 Watchmen, Alan Moore & Dave Gibbons
COMMENTS
If obliged to select only one [of The Complete Crumb editions], I would select Volume 6, "On the Crest of a Wave". If this is not suitable, than I would select Robert Crumb's body of work in Zap Comix.
Watchmen, A Brief Appreciation
I don't want to brag, but I spotted Alan Moore as a genius right around the time of "Whatever Happened to the Man of Tomorrow?" I showed that particular story to all my friends. You can ask them.
And Watchmen was a signal accomplishment for its time, right up there with Frank Miller's Batman: The Dark Knight Returns, Rônin, and Daredevil: Born Again. It still holds up well over 25 years later. It is still one of the few graphic novels with the density and complexity of a good novel.
Quite frankly, I've made this peculiar sub-genre of literature my field of study for over 40 years. (Yup, I'm that old.) Watchmen is at or very near the top of the heap as far as I'm concerned.
Moore himself would probably tell you himself that he is thoroughly steeped in comics lore, and that he borrowed quite a few of the genre's tropes to tell his story. Harold Bloom called it "the anxiety of influence." It's not by any means a bad thing. Nearly all authors draw upon genre conventions of one kind or another to tell their stories. What really counts in the end is how they use those narrative conventions.
Watchmen will stand because it was one of the very first self-aware works of graphic art, and one of the very first graphic novels truly worthy of the name…
______________________________________________
Alan David Doane
Publisher/editor, Comic Book Galaxy; writer, Trouble with Comics, The ADD Blog
______________________________________________
Randy DuBurke
Cartoonist, Hunter's Heart; illustrator, Malcolm X: A Graphic Biography, Yummy: The Last Days of a Southside Shorty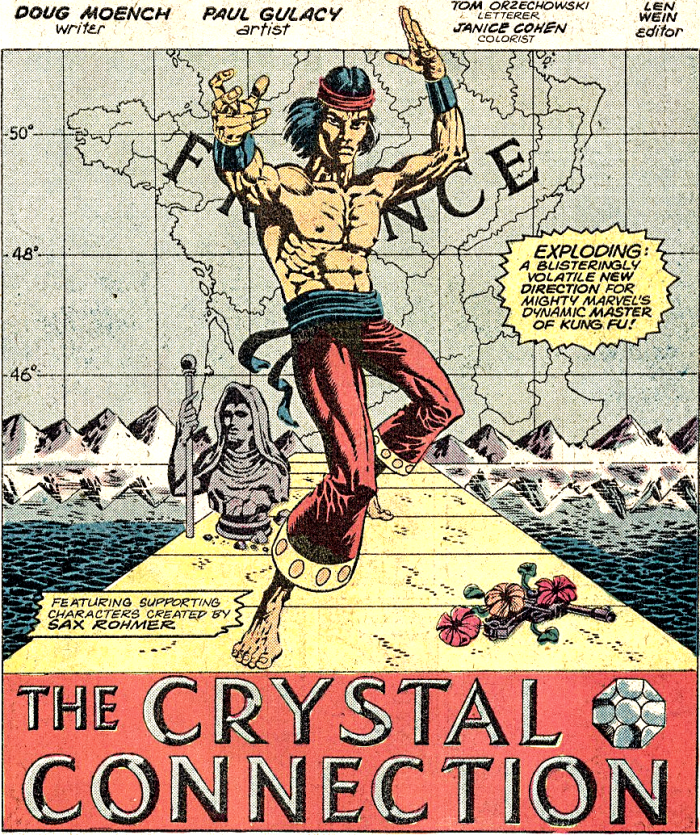 Master of Kung Fu, Doug Moench & Paul Gulacy
______________________________________________
Randy Duncan
Professor of Communication & Theatre Arts, Henderson State University
COMMENTS
This list is not designed to impress anyone with my "good taste." It is not meant to be a canon-building exercise based on an objective standard of quality. It is a very subjective list of work in comics form that has been (and, in most cases, continues to be) important to me.
Formalist that I am, sometimes I am responding to the intellectual experience of appreciating skillful, even innovative, use of the comics form (3, 4, 5, 8, 9).
In other instances it is an emotional experience of connecting with characters (2, 6, 7, 10).
A couple of the comics provide me with the sublime experience of being transported to fantastic worlds by the audacity of the concepts and the power of the artwork (1, 7).
_____________________________
Kathleen Dunley
Faculty Chair, English, ESL, Reading & Creative Writing, Rio Salado College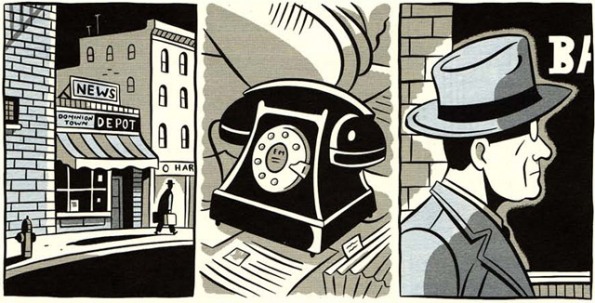 It's a Good Life, If You Don't Weaken, Seth
COMMENTS
[About the vote for The ACME Novelty Library] If I have to narrow it, I'd say Volume 18 ["Building Stories"].
______________________________________________
Paul Dwyer
Cartoonist, I Shot Roy!
______________________________________________
Joshua Dysart
Scriptwriter, Violent Messiahs, Unknown Soldier, Neil Young's Greendale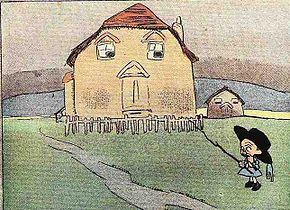 Wee Willie Winkie's World, Lyonel Feininger
COMMENTS
But I just can't do ten. It's driving me crazy…
11. Journey, William Messner-Loebs; 12. Wasteland, John Ostrander & Del Close, et al.; 13. The Tale of One Bad Rat, Bryan Talbot; 14. The Spirit, Will Eisner; 15. Love and Rockets, Gilbert Hernandez & Jaime Hernandez; 16. American Flagg!, Howard Chaykin; 17. Two-Fisted Tales, Harvey Kurtzman & Jack Davis, John Severin, Wallace Wood, et al.; 18. Dalgoda, Jan Strnad & Dennis Fujitake; 19. Krazy Kat, George Herriman; 20. Luther Arkwright, Bryan Talbot; 21. The Frank stories, Jim Woodring; 22. Roarin' Rick's Rarebit Fiends, Rick Veitch; 23. Bacchus, Eddie Campbell; 24. Kozure Ôkami [Lone Wolf and Cub], Kazuo Koike & Goseki Kojima; 25. Eightball, Daniel Clowes; 26. MAD #1-28, Harvey Kurtzman & Will Elder, Wallace Wood, Jack Davis, et al.; 27. Nexus, Mike Baron & Steve Rude, with Gary Martin, et al.
______________________________________________
Joe Eisma
Illustrator, Existence 2.0/3.0, Morning Glories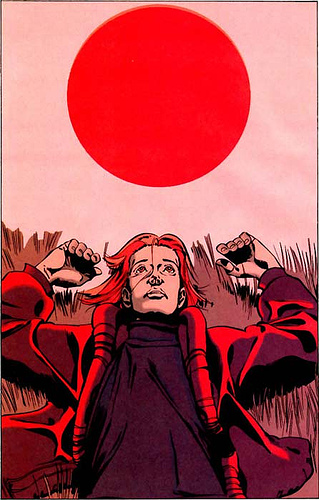 The Invisibles, Grant Morrison, et al.
______________________________________________
Austin English
Cartoonist, Christina and Charles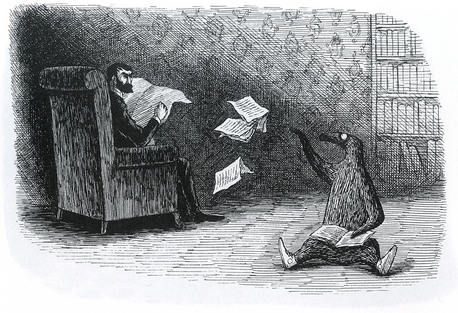 The Doubtful Guest, Edward Gorey
COMMENTS
Leben? oder Theater?: Ein Singspiel, by Charlotte Salomon. This work is usually talked about due to the tragic circumstances surrounding its creation and ultimate fate of its author. I remember seeing it before reading about Salomon's biography and was filled with inspiration for the way Salomon drew figures and poses as I struggled to find my own way to draw characters in a picture story. This is a singular work in so many ways: a long narrative drawn in a rich way that most long comic narratives would shy away from. There is also an intensity of emotion that you can't miss even before you know the situation the work was born into. So, for its sustained richness of images and unembarrassed emotional force, this work seems to tower above almost every other work of graphic narrative. Somehow its example has been ignored, perhaps because its too strong to grapple with.
Chimera by Lorenzo Mattotti. I enjoy looking at the neat panel borders in this comic, and then shifting my attention to the flurry of lines within those neat borders. I like to imagine the borders sketched out first, as little areas for Mattotti to pour out his heartbreaking work. I don't know if he comes at those panels unleashing a torrent of jagged lines or if he methodically applies each stroke in a systematic way. Either way, Mattotti's system is not just thrilling to read and digest, but enriching to anyone who attaches any value to the idea that one can express ones self through drawing.
Der Palast by Anke Feuchtenberger. Hard to narrow down one Feuchtenberger work for this list. As a reader, I prefer her W the Whore work. But this album is something of a perfect object: the long size of the book and the shape of the characters. The imagery is "personal" (who else could it have come from except for Feuchtenberger) but also communicates something that is not about unadulterated expression. As in many of my favorite works of art, the drawings are labored over not to achieve perfection, but to achieve shapes that convey a world of thought and feelings beyond the narrow scope of our brains. These drawings are for our hearts, all the parts of it.
Hero's Life and Death Triumphant by Frédéric Coché. For the scale, the ambition, and for the heroic achievement, this work has to be on a ten best list, even if I find it somewhat lacking as a story. The overall punch of it is enough: page after page of gorgeous etched comics. Comics are always hard work, and the noble effort of this volume is always inspiring to me.
The White Boy page by Garrett Price from the Smithsonian collection. Specifically, I'm talking about the page with the large bottom portion featuring a richly drawn sky. That single page seems to be a secret influence lurking over the ambitions of many a contemporary cartoonist: the simplicity of the figures combined with the devil-may-care attitude that went into the drawing of the landscape.
The Kin-der-Kids by Lyonel Feininger. I prefer it to Little Nemo by a long shot. I find it more interesting on a technical drawing level, and the shapes to be far more pleasing aesthetically. Most of all, it has the visual bravado of Nemo, but it happens to be full of beautiful writing and stories. A pity that it was out of print for so long, only to be reprinted to mass indifference.
Krazy Kat by George Herriman. My Krazy Kat collections will never be sold when I'm short on money or left behind when I move. I'll keep going back to them for my entire life. When I'm feeling down, they make me happy. When I want to see some imaginative drawings, I know there will always be something in them that I missed before. When I want to see everything that comics can be—a world totally with its own laws of language, design, and logic that is still more inviting than intimidating—Krazy Kat is what I always want to go to first. As a work of art that makes you feel alive as a human and as an artist, Krazy Kat is still my favorite.
The complete works of Edward Gorey. The last page in the last big Gorey collection is a heartbreak: a ruled page, awaiting detail. Gorey kept making books, and I can't think of a clunker. Together, they are full of all kinds of stories, all kinds of shapes and figures. The scope of Gorey's ideas and tones are so vast that I don't understand why he isn't talked about more in comics circles. Often, with someone of Gorey's caliber, I have the sinking suspicion that the work is "too good" to be engaged in comics terms. It has such a distance from the rest of the pack that it becomes to seem like a strange anomaly.
The Walking Man by Jiro Taniguchi. Hard to limit myself to one work of manga, but this one always leaps to mind first. I sometimes have the guilty feeling of liking Taniguchi more than Hergé, and this is the work that usually pushes me into that thinking (Hergé would have never let himself release a book this eccentric). I admire this book as an example of "perfect" comics drawing (more perfect to me than Jamie Hernandez), but it's the writing that gets it on the top ten list. An achingly calm story punctuated by moments of small action that feel monumental, this is a book that shows day-to-day life as not mundane but thrillingly odd.
The autobiographical comics of Luc Leplae. I look at a lot of comics, and I yearn for more like these. The figures are drawn in a unique style, and you can see Leplae's brain trying to figure out the basics: Where should I put text? How many drawings on one page? I suspect that if he had been in contact with other cartoonists, his style would have become more refined, more readable. And that would have been fine—I like refined comics a lot. But I also like the thrilling originality of this work, and the energy that comes from it.
______________________________________________
Jackie Estrada
Co-publisher, Exhibit A Press; administrator, The Will Eisner Comic Industry Awards
______________________________________________
Al Ewing
Scriptwriter, Zombo, 2000 AD
__________