The following lists were submitted in response to the question, "What are the ten comics works you consider your favorites, the best, or the most significant?" All lists have been edited for consistency, clarity, and to fix minor copy errors. Unranked lists are alphabetized by title. In instances where the vote varies somewhat with the Top 115 entry the vote was counted towards, an explanation of how the vote was counted appears below it.
In the case of divided votes, only works fitting the description that received multiple votes on their own received the benefit. For example, in Jessica Abel's list, she voted for The Post-Superhero comics of David Mazzucchelli. That vote was divided evenly between Asterios Polyp and Paul Auster's City of Glass because they fit that description and received multiple votes on their own. It was not in any way applied to the The Rubber Blanket Stories because that material did not receive multiple votes from other participants.
Flint Hasbudak
Cartoonist, Totuk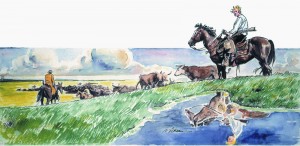 Ken Parker, Giancarlo Berardi & Ivo Milazzo
COMMENTS
Tough question! But to put a few in mind, I've always admired these.
A list can be very long. And obviously there are many I haven't read yet.
______________________________________________
Greg Hatcher
Contributing Writer, Comic Book Resources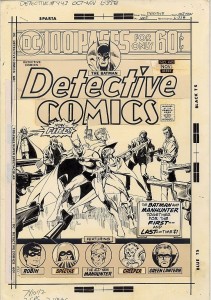 Detective Comics, Archie Goodwin, et al.
COMMENTS
The best comics run of all time? If you mean just character and story, I'd go with the Archie Goodwin-Walt Simonson Manhunter. That was just brilliant. Modern creators are still going back to the stuff, there—ninjas, clones, superheroic anti-heroes that are willing to use lethal force. Not to mention an approach to the art itself that was 20 years ahead of its time. Look at the original Manhunter today, and Simonson's layout and lettering doesn't look dated at all.
But really, I'd take it a step further. I'd add that the comics in which those seven Manhunter installments appeared, Detective Comics #437-443, were themselves great comics. Goodwin was writing the Batman lead feature as well, and he kept luring guys like Alex Toth and a young Howard Chaykin to illustrate them, along with stalwarts like Jim Aparo and Dick Giordano. It's also where you found the original "Night of the Stalker" by Steve Englehart, one of the greatest Batman short stories ever.
[On The Defenders Stories] Social commentary and satire masquerading as Marvel soap opera and amazingly successful today.
[On The Marvelman [Miracleman] Stories] I think Miracleman is a better superhero deconstruction than Watchmen, which (heresy!) hasn't aged well, and also I've gotten so sick of superhero writers cribbing from it that Watchmen is tainted for me. But this is mostly because if you have to choose between Watchmen and Miracleman, Miracleman is better.
[On Smile] This is kind of an upstart entry, but the craft involved just knocks me out, and the entire project serves as a primer of the kind of thing mainstream comics ought to be doing and just…don't do.
______________________________________________
Charles Hatfield
Associate Professor of English, University of California at Northridge; author, Alternative Comics: An Emerging Literature; contributing writer, The Panelists, The Comics Journal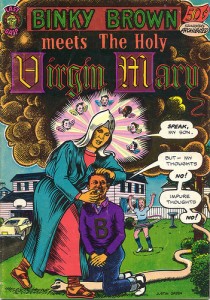 Binky Brown Meets the Holy Virgin Mary, Justin Green
______________________________________________
David Heatley
Cartoonist, Deadpan, My Brain Is Hanging Upside Down; contributing artist, The New Yorker, The New York Times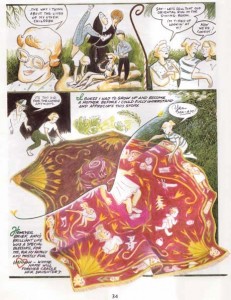 "The Hannah Story," Carol Tyler
COMMENTS
I hate having to actually rank these because this kind of thing changes all the time in my head. Here's a stab at it though.
Runners-up: Peanuts (1950s era), Charles M. Schulz; Perfect Example, John Porcellino; The ACME Novelty Library, Chris Ware; Affiches—film posters by Albert Dubout; Wilson, Daniel Clowes; My New York Diary, Julie Doucet; Norakuro, Suiho Tagawa; Dirtbag (mini zines), Dave Kiersh; Annual Illustrated Calendars, Leif Goldberg; Binky Brown Meets the Holy Virgin Mary, Justin Green; It's a Good Life, If You Don't Weaken, Seth; "Bomb Scare", Adrian Tomine; Schizo, Ivan Brunetti; Nowhere, Debbie Drechsler
______________________________________________
Jeet Heer
Co-editor, A Comics Studies Reader, Arguing Comics: Literary Masters on a Popular Medium; contributing writer, Comics Comics, The Comics Journal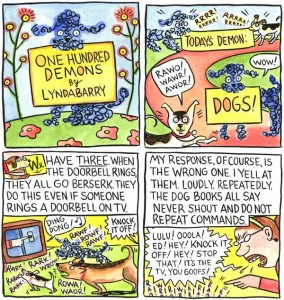 ONE! HUNDRED! DEMONS!, Lynda Barry
______________________________________________
Danny Hellman
Contributing illustrator, The Village Voice, Guitar World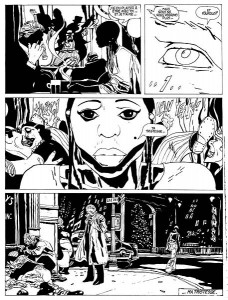 Alack Sinner, José Muñoz & Carlos Sampayo
COMMENTS
This list is all about the art; screw the writers. [Note: Danny Hellman only included the names of the cartoonists/pencilers in his lists above and below. The editor added the names of separate scriptwriters and inkers. This was done for the sake of completeness and editorial consistency.]
And some highly honorable mentions: Abandoned Cars, Tim Lane; The Arcade Stories, Spain Rodriguez; Batman: The Killing Joke, Alan Moore & Brian Bolland; The Captain Marvel, Jr. Stories, Mac Raboy, et al.; Cheech Wizard, Vaughn Bodé; Cochlea and Eustachia, Hans Rickheit; Coochy Cooty, Robert Williams; Ed the Happy Clown, Chester Brown; El Borbah, Charles Burns; The Howard the Duck Stories, Steve Gerber & Gene Colan, with Steve Leialoha, et al.; Idyl, Jeffrey Catherine Jones; The Incal, Alexandro Jodorowsky & Jean "Moebius" Giraud; Maakies, Tony Millionaire; The MAD Stories, Bob Clarke; The MAD Stories, Paul Coker, Jr.; The MAD Stories, Harvey Kurtzman & Will Elder; The Metamorpho Stories, Bob Haney & Ramona Fradon; The Nick Fury, Agent of S.H.I.E.L.D. Stories, Jim Steranko; The Spirit, Will Eisner; Snappy Sammy Snoot, Skip Williamson; Trashman, Spain Rodriguez; Trots and Bonnie, Shary Flenniken
______________________________________________
Sam Henderson
Cartoonist, Magic Whistle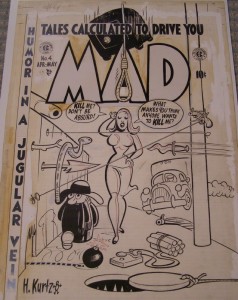 MAD, Harvey Kurtzman, et al.
______________________________________________
Alex Hoffman
Cartoonist, Libertarian Rabbits from Outer Space; Editorial cartoonist, When Falls the Coliseum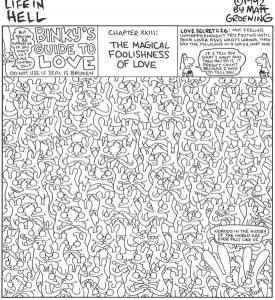 Life in Hell, Matt Groening
______________________________________________
Ben Horak
Cartoonist, Grump Toast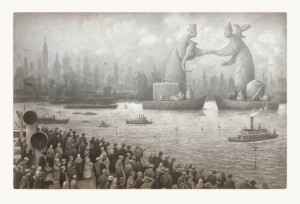 The Arrival, Shaun Tan
______________________________________________
Kenneth Huey
Contributing cartoonist, Commies from Mars; Illustrator; "Humanoid," Church of the Subgenius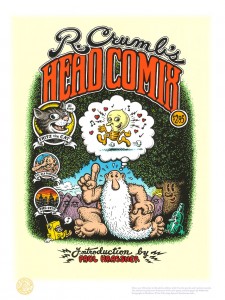 Head Comix, R. Crumb
COMMENTS
Any "best of" list naturally invites a vigorous "sez who?" After all, who among us is truly qualified to judge the comparative importance of, say Lyonel Feininger's The Kin-der-Kids vs. John Byrne's run on The Fantastic Four? So, I'll do something a bit more modest. Off the top of my head, these are ten features that have meant a lot to me over the years.
______________________________________________
Jelle Hugaerts
Contributing writer, Forbidden Planet International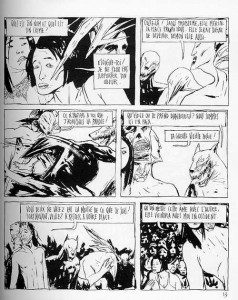 Conte démoniaque, Aristophane
______________________________________________
Mike Hunter
Contributing writer, The Hooded Utilitarian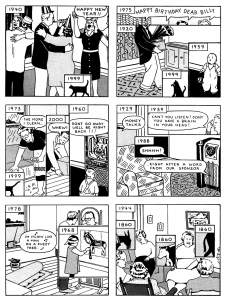 "Here," Richard McGuire
______________________________________________
"Illogical Volume"
Contributing writer, Mindless Ones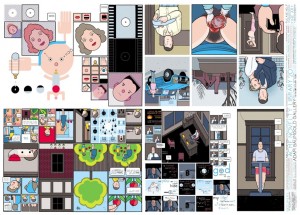 "Lint," Chris Ware
______________________________________________
Domingos Isabelinho
Contributing writer, The Hooded Utilitarian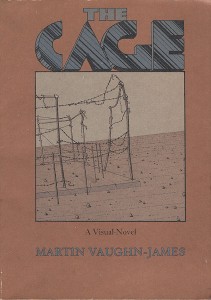 The Cage, Martin Vaughn-James
COMMENTS
Here's my top ten (restrict comics field). If my top ten included things from the expanded field it would look quite diffrent with things like: Jacques Callot (Les Misères et malheurs de la guerre [The Miseries and Misfortunes of War]); Francisco de Goya (Los Desastres de la Guerra [The Disasters of War]), Los Caprichos [The Caprices]); Katsushika Hokusai (Fugaku Sanjûrokkei [Thirty-Six Views of Mt. Fuji], Fugaku Hyakkei [One Hundred Views of Mt. Fuji]); Charlotte Salomon (Leben? oder Theater? [Life? Or Theater?]); Francis Bacon (Triptych May-June 1973); William Hogarth (A Harlot's Progress, A Rake's Progress); Pablo Picasso (Songe et mensonge de Franco [Dream and Lie of Franco]).
______________________________________________
Cole Johnson
Cartoonist, Sleepover Comics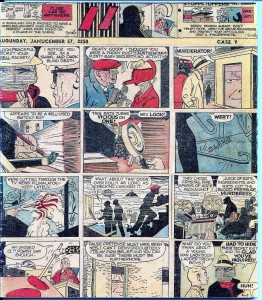 Tricky Cad, Jess
______________________________________________
"Jones, One of the Jones Boys"
Writer, Let's You and Him Fight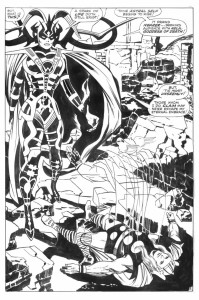 Thor, Jack Kirby & Stan Lee
COMMENTS
MASSIVE DISCLAIMER: You've asked for "the ten comics works you consider your favorites, the best, or the most significant," and this is a list of my favourite comics as of 29 June 2011. It sure as hell isn't the ten "best" comics!
______________________________________________
Bill Kartalopoulos
Instructor, Parsons The New School for Design; programming coordinator, Small Press Expo; contributing editor, Print magazine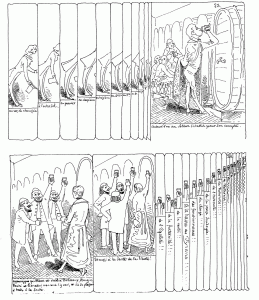 Histoire d'Albert, Rodolphe Töpffer
______________________________________________
Megan Kelso
Cartoonist, Artichoke Tales, Queen of the Black Black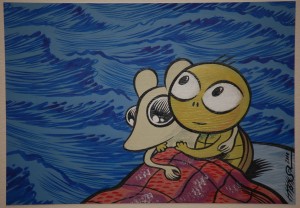 Goodbye, Chunky Rice, Craig Thompson
______________________________________________
Abhay Khosla
Contributing writer, The Savage Critics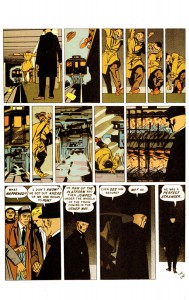 "Master Race," Bernard Krigstein & Al Feldstein
COMMENTS
I don't want to overthink this because otherwise this'll turn into a thing with me… Also: I question that lists like these are a good idea. But whatever, who cares. Thanks for asking. Oh: if I have to pick just one, for The Fourth World, let's go with The New Gods. But that would be the incorrect way of looking at that work, and not how I understand they're being published currently, so I'm going with The Fourth World.
______________________________________________
Molly Kiely
Cartoonist, Tecopa Jane, Saucy Tart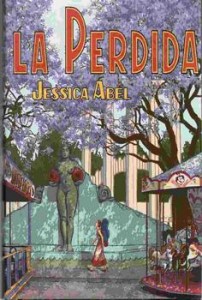 La Perdida, Jessica Abel
______________________________________________
Kinukitty
Contributing writer, The Hooded Utilitarian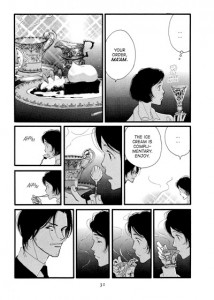 Seiyô Kottô Yôgashiten, Fumi Yoshinaga
______________________________________________
T. J. Kirsch
Co-creator & illustrator, Uncle Slam Fights Back; illustrator, She Died in Terrebonne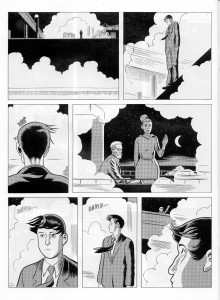 David Boring, Daniel Clowes
______________________________________________
Sean Kleefeld
Writer, Kleefeld on Comics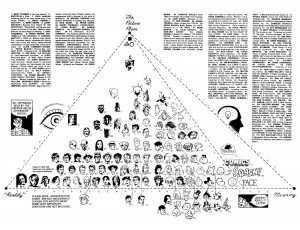 Understanding Comics, Scott McCloud
__________