The following lists were submitted in response to the question, "What are the ten comics works you consider your favorites, the best, or the most significant?" All lists have been edited for consistency, clarity, and to fix minor copy errors. Unranked lists are alphabetized by title. In instances where the vote varies somewhat with the Top 115 entry the vote was counted towards, an explanation of how the vote was counted appears below it.
In the case of divided votes, only works fitting the description that received multiple votes on their own received the benefit. For example, in Jessica Abel's list, she voted for The Post-Superhero comics of David Mazzucchelli. That vote was divided evenly between Asterios Polyp and Paul Auster's City of Glass because they fit that description and received multiple votes on their own. It was not in any way applied to the The Rubber Blanket Stories because that material did not receive multiple votes from other participants.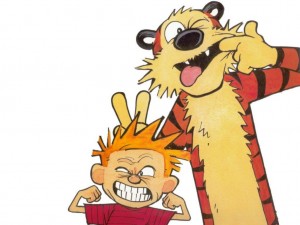 Calvin and Hobbes, Bill Watterson
Editor, Conversazioni sul fumetto
______________________________________________
Casey Rae-Hunter
Contributing writer, The Hooded Utilitarian; Deputy Director, Future of Music Coalition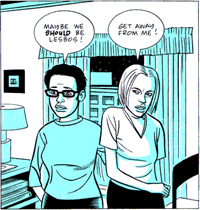 Ghost World, Daniel Clowes
______________________________________________
Ted Rall
Pulitzer-nominated editorial cartoonist; author, To Afghanistan and Back, 2024, Silk Road to Ruin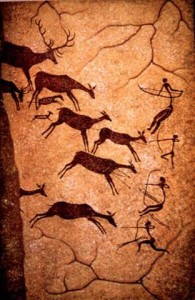 The Lascaux Cave Drawings
COMMENTS
The cave cartoons at Lascaux, France, because cartoons invented Art.
The obscene political cartoons about Roman officials found on walls at Pompeii, the oldest known editorial cartoons and bawdier than anything a newspaper would run today.
The postwar editorial cartoons of Bill Mauldin, roughly 1945-1955 (many are collected in the book Back Home), which are constructed using modern tropes and bravely call out American cultural hypocrisy.
Peanuts by Charles Schulz, the first truly modern comic strip, and consistently entertaining and philosophical.
The Far Side by Gary Larson, often forgotten today but still the most consistently funny comic I've read.
Jules Feiffer's cartoons from 1955 to 1975-ish, which established the genre of alternative newspaper comics.
Life in Hell by Matt Groening, particularly the 1980s era that opened the field to new artistic approaches.
Fun Home by Alison Bechdel, the first graphic novel to fulfill the form's potential as literature.
Weird War Tales comics of the 1970s not because they're objectively great. I just love them. So trashy, so fun. I wish there was a reissue.
Tom the Dancing Bug by Ruben Bolling, the best syndicated cartoon in the U.S.
Honorable Mentions: Stephanie McMillan's experimental environmental comics, Matt Bors' editorial cartoons and graphic novel(s), Tom Tomorrow, Ward Sutton's Onion satires.
______________________________________________
Martin Rebas
Cartoonist, Sömnlös [Sleepless], Ledsen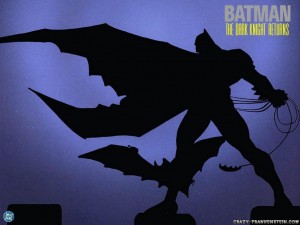 Batman: The Dark Knight Returns, Frank Miller
COMMENTS
I went for a list of "coup de coeur" favorites; comics that I love, rather than trying for an objective list of best or most significant works (which would have looked very different). I wasn't sure if the last vote should go to the Donald Duck comics of Carl Barks, or Krigstein's "Master Race," so instead, I threw Mark Millar's Ultimates 2 in there, because I think it's better than it gets credit for, and I had a hunch that Millar wouldn't get many votes.
As someone who reads comics largely for the artwork and visual storytelling, there were lots of artists I wish I could have mentioned in the list — e.g. Dave McKean, Blutch, Mike Mignola, Moebius, Man Arenas — but none of their stories (that I have read) have really grabbed me. And while I actually prefer non-genre fiction and slice-of-life stories, I haven't been able to find much of that in comics. Works like Asterios Polyp, From Hell, Cages, Blankets, Cinq mille kilomètres par seconde [5000 Kilometers Per Second], and Heute ist der letzte Tag vom Rest deines Lebens [Today Is the Last Day of the Rest of Your Life] get pretty close to what I'm looking for, but there's something missing.
So far, Locas is the best I've found. I also had to include Yotsuba&! on my list — while its slice-of-life stories tend to the cute and innocent side, you have to respect a comic that spends a chapter showing a child trying to make pancakes, and makes it riveting.
______________________________________________
Charles Reece
Contributing writer, Amoeblog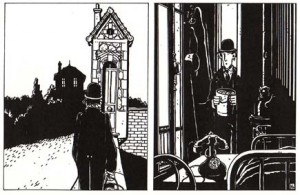 Ici même [You Are There], Jean-Claude Forest & Jacques Tardi
The ACME Novelty Library, Chris Ware
Counted as a vote for "Building Stories," Jimmy Corrigan: The Smartest Kid on Earth, Quimby the Mouse, and Rusty Brown, including "Lint"
Black Hole, Charles Burns
David Boring, Daniel Clowes
Flex Mentallo, Grant Morrison & Frank Quitely
From Hell, Alan Moore & Eddie Campbell
Ici même [You Are There], Jean-Claude Forest & Jacques Tardi
The Locas Stories, Jaime Hernandez
Shôjo Tsubaki [Mr. Arashi's Amazing Freak Show]. Suehiro Maruo
Uzumaki, Junji Ito
Watchmen, Alan Moore & Dave Gibbons
______________________________________________
Hans Rickheit
Cartoonist, The Squirrel Machine, Ectopiary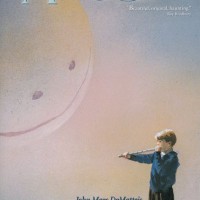 Moonshadow, J. M. DeMatteis & Jon J Muth
1. JIM, Jim Woodring
Counted as a 0.5 vote each for The Book of Jim and The Frank Stories
2. No Such Things as Monsters, Stephen Holman
3. The Adventures of Mr. Pyridine, Mahendra Singh
4. Robot Comics, Bob Burden
5. Cerebus, Dave Sim
6. The Fantastic Four, Stan Lee & Jack Kirby, with Joe Sinnott, et al.
7. From Hell, Alan Moore & Eddie Campbell
8. Little Nemo in Slumberland, Winsor McCay
9. Moonshadow, J. M. DeMatteis & Jon J Muth
10. I Shall Destroy All the Civilized Planets, Fletcher Hanks

______________________________________________
Oliver Ristau
Contributing writer, Der Tagespiegel, Der Freitag

In the Shadow of No Towers, Art Spiegelman

COMMENTS

Krazy Kat, George Herriman – Admired by one no less than Picasso and declared as America´s only contribution to art, this newspaper strip shows that the medium was mature long before it grew up. Sounds contradictory, but at least that's the whole essence of Krazy Kat. A bizarre love triangle with anarchistic humor and a complete refusal to mass appeal that it could only be continued publishing through the coverage of a patron. And if it even had that, it must have been art. The scribbly but well composed lines of Herriman fit the crazy genius of his protagonists as well as the melancholic moments in their relationships.

Flash Gordon, Alex Raymond – From three of the great masters in the field of newspaper-adventure-strips, the vote goes for Alex Raymond. Although Hal Foster impresses much by his clean and perfect style on Prince Valiant, and Burne Hogarth was even called at times a Michelangelo of comics and featured a savage style which fit his Tarzan adventures well. maybe a pulpy and trivial work with racist undertones, but purity and mastership in style were rarely achieved ever again. Creating fantastic worlds in breathtaking views that almost come to life by his use of background lines take the reader hostage on his escape trip.

"The Story of Gerhard Shnobble," Will Eisner – His works since A Contract With God brought the medium back to a higher level again, after it seemed to have lost its spirit for a while. But speaking of "spirit," his use of cinematic views, lettering, and creating front-page arrangements that are copied until today plus the heartwarming tone in this story, which combines humor and tragic to form a dramatic masterpiece was state of the art at that time.

"Master Race," Bernie Krigstein – His stylish use of screen-splitting and his lines reminiscent of expressionism make one of the darkest chapters in human history come horribly to life and puts the reader in a dizzy mode. The twisted shock ending defines also the end of the EC era of storytelling for using it in such a heavyweight theme in a medium that once seduced the innocent. It remains therefore also an ironic comment on the seduction of a whole country by his (voted) leader.

"Lost in the Andes," Carl Barks – One of Disney´s most gifted storytellers and artist in one person (next to Romano Scarpa and Don Rosa) shows perfectly the elemental indegredients for the often used recipe of the Duck-Tale about an adventure in a foreign land. The humorous, fast-paced plot (where even square bubbles can be made by junior woodchucks if they´re only clever enough) never slows down. Also the endless gags about the square eggs show a sense of comedy and timing that is missed painfully in countless stories by other artists that came later on.

"More Than Human," Doug Moench & Alex Niño – To honor an artist´s artist, recommended by the likes of Chaykin and Steranko, here's a piece of illustrated fiction adapted by Alex Niño and Doug Moench. Moench's runs on "darker" DC heroes like Batman or Deadman with Kelley Jones showed his sometimes excellent writing abilities later on. This classic Theodore Sturgeon novel is unequalled in the science-fiction of the Fifties for its depth and declaration of humanity. Niño shows a sense for visuals that look almost organic. (Until today and most recently in 2010's "Dead Ahead" by avoiding conventional arrangements his sketches seem to flow over the pages.) The sheer beauty in the illustrations of this parable about equality adds a remaining value to Sturgeon´s timeless classic.

V For Vendetta, Alan Moore & David Lloyd – Before the essence of Moore's manner in intelligent graphic storytelling came to life in landmark works like Watchmen and From Hell there was this work. The original black-and-white magazine version that began running in 1982 shows that Moore's plotting and the gorgeous artwork of David Lloyd complement one another. Lloyd's drawings, which put black silhouettes before white backgrounds and vice versa, set the tone for an unbound gruesome political lesson. After finishing the book readers may ask themselves if the end justifies the means. And recognize how real this dystopian tale can become in reality anytime, anywhere…

In The Shadow Of No Towers, Art Spiegelman – Though Maus was groundbreaking and even won the Pulitzer Prize, this one is, by using one of the greatest traditions in American comic history, the newspaper strip, in the truest meaning of the word, a great work of art. The oversized format stands symbolic for the subject matter.

Understanding Comics, Scott McCloud – Using the medium itself for explaining it is a very clever and consistent move that even outdoes Eisner's Comics And Sequential Art, where this concept was only done halfheartedly. It attracts even readers who are outside the comics field and will remain as a standard textbook for many years to come.

Fires, Lorenzo Mattotti – One of the few artists who tells stories not only by words and pictures, but rather through his use of colours and shapes in an almost cubist way where the shape defines the content. Fires remains as an orgiastic trip which sometimes burns your eyes and is art without crying this fact out loud and provoking it on every second page.

…and there still are McCay, Feininger, Schulz, Gaiman, Hugo Pratt, Toth, Kurtzman, Druillet, Moebius, Bilal and legions of others like Kohlsaat, Yelin and Schultheiss missing. But that´s the deal, right?
______________________________________________
Chris Roberson
Scriptwriter, iZombie, Cinderella: From Fabletown

Finder, Carla Speed McNeil

______________________________________________
John L. Roberson
Cartoonist, Vitriol, Vladrushka

Shock SuspenStories, Al Feldstein, ed.

______________________________________________
Sean Michael Robinson
Contributing writer, The Hooded Utilitarian, The Comics Journal

La Femme 100 têtes, Max Ernst

COMMENTS

Well, this was really painful for me, but here you go…

The more the field opens up, the more good material that is available, the more a list like this fractures, splintering into an incoherent mess. At least, that was my experience! Some of these I've included because I love them, some because they point the way to other possible futures of comic making.
______________________________________________
James Romberger
[Click James Romberger's name to go to his Wikipedia biography.]

The Arzach Stories, Jean "Moebius" Giraud

______________________________________________
Joshua Rosen
Cartoonist, Edwitch


Panorama of Hell, Hideshi Hino

COMMENTS

Jesus was it hard pairing this list down to just ten books. At times it sort of felt like murdering children.
______________________________________________
Marcel Ruijters
Cartoonist, Troglodytes

Adèle Blanc-Sec, Jacques Tardi

COMMENTS

[About Trailer Trash] There was a collection of Harvey the Hillbilly Bastard in preparation at one time, but that sadly never happened.
______________________________________________
Johnny Ryan
Cartoonist, Prison Pit, Angry Youth Comix

Hyôryû Kyôshitsu [The Drifting Classroom], Kazuo Umezo

______________________________________________
Giorgio Salati
Scriptwriter, Disney Italia

Sin City, Frank Miller

COMMENTS

As you can guess, I had to cut out a big number of my favourite comics, as for example I love almost all of Alan Moore's stories like V for Vendetta, The Killing Joke, The League of Extraordinary Gentlemen, Top 10… And I also love The Dark Knight Returns, 300, and Ronin by Frank Miller, but I wanted to report only once the name of an author, so I didn't have to delete some authors just to leave room for more comics by the same author.
______________________________________________
M. Sauter
Cartoonist, Pints and Panels

Achewood, Chris Onstad

______________________________________________
Kevin Scalzo
Cartoonist, Aw, Nuts!, Sugar Booger

Peanuts, Charles M. Schulz

______________________________________________
Val Semeiks
Illustrator, Marvel Entertainment, DC Comics

100 Bullets, Brian Azzarello & Eduardo Risso

______________________________________________
Matt Seneca
Cartoonist, Affected; writer, Death to the Universe

Valentina, Guido Crepax

COMMENTS

Matt Seneca writes about his list here.
__________