Since around 2006, the Middle East has played host to a small and steadily growing scene of locally produced comics. Distinct from the rich history of children's comics in the region (the likes of which I have touched on in the past), this contemporary comics' culture has seen the output of comics that are explicitly intended for an adult audience. This new crop of independent Middle Eastern comics spans familiar western formats such as graphic novels, monthly issues, and anthologies, while addressing topics ranging from religion to politics to sex. The survey I've compiled here is not complete, but it is a start at cataloguing the wonderful dialogue that is happening right now with comic art in the Arab world. My hope is that what follows can serve as a space for others to add to, comment on, and maybe encourage some space shaving on bookshelves.
Lebanon:
Samandal (2007 – Present)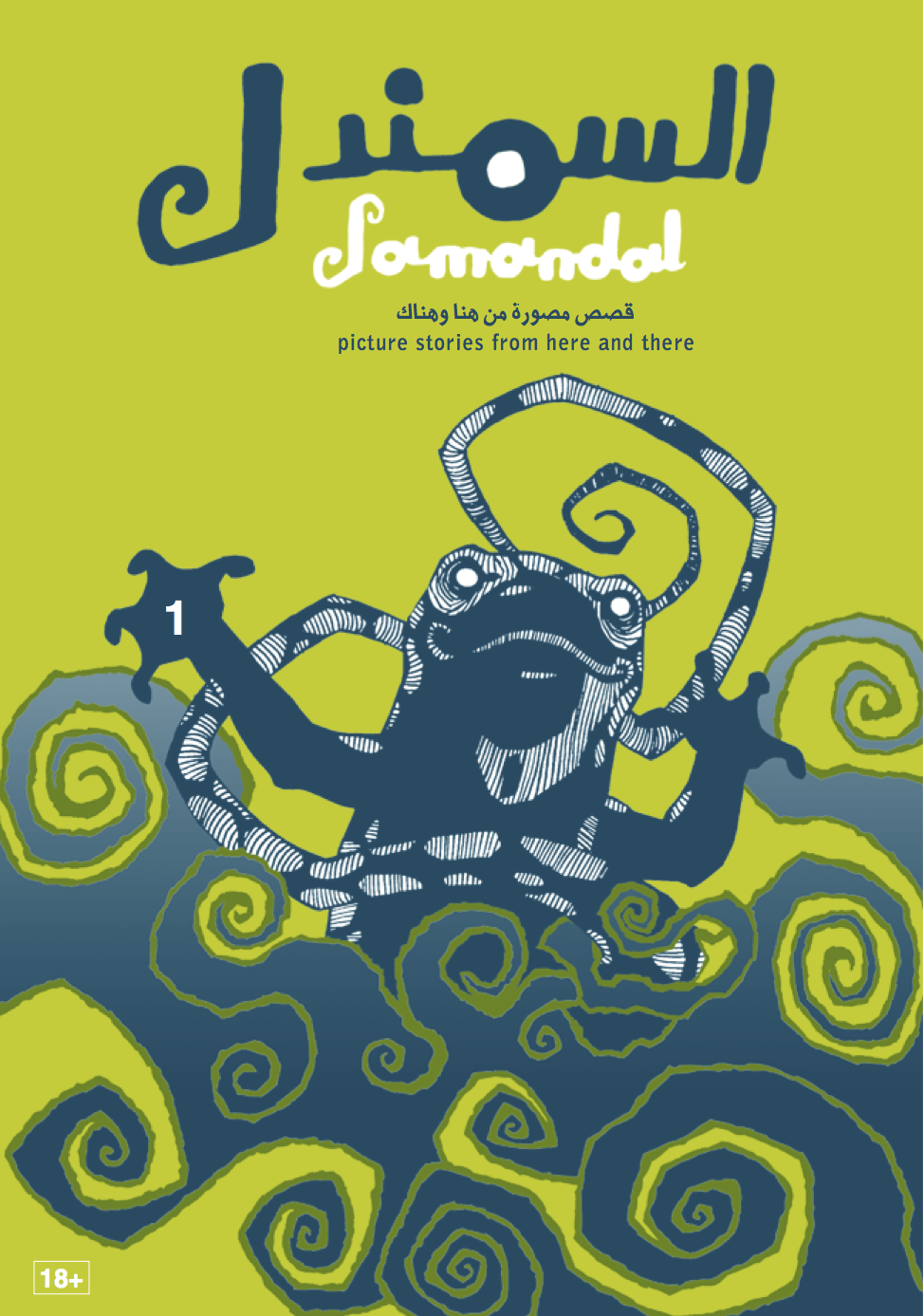 Creators/Editors: Omar Khouri, Tarek Nabaa, Hatem Imam, Lena Merhej, and Fadi Baki (as Fdz Bx)
Website: http://www.samandal.org/
About: If there is a ground zero for this recent wave of Arab comics than Samandal marks the spot. Samandal started in 2006 as a fully-realized and fully-packed comics' magazine for "picture stories from here and there." Each subsequent issue — currently up to 11 — has been a sizable collection of comics from local artists in all three of Lebanon's official languages (Arabic, French, and English). The quality varies, but Samandal at its best features comics that are better than many of its global counterparts. It's hard not to be excited when reading an issue of Samandal: at its core it is a comics' anthology that captures the vibrancy and complexity of the country which it was created in. It is no surprise this successful DIY effort has since inspired so many others in the country and region to take a stab at making comics.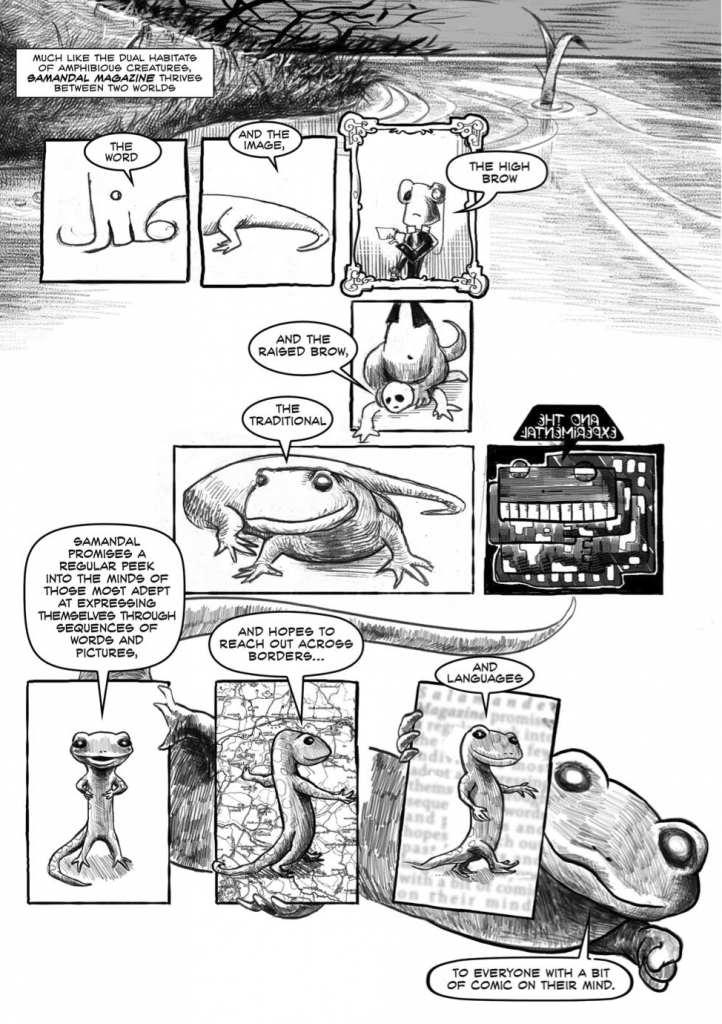 In the premier issue the staff offers an answer to "What is Samandal?"
Supplementary Links: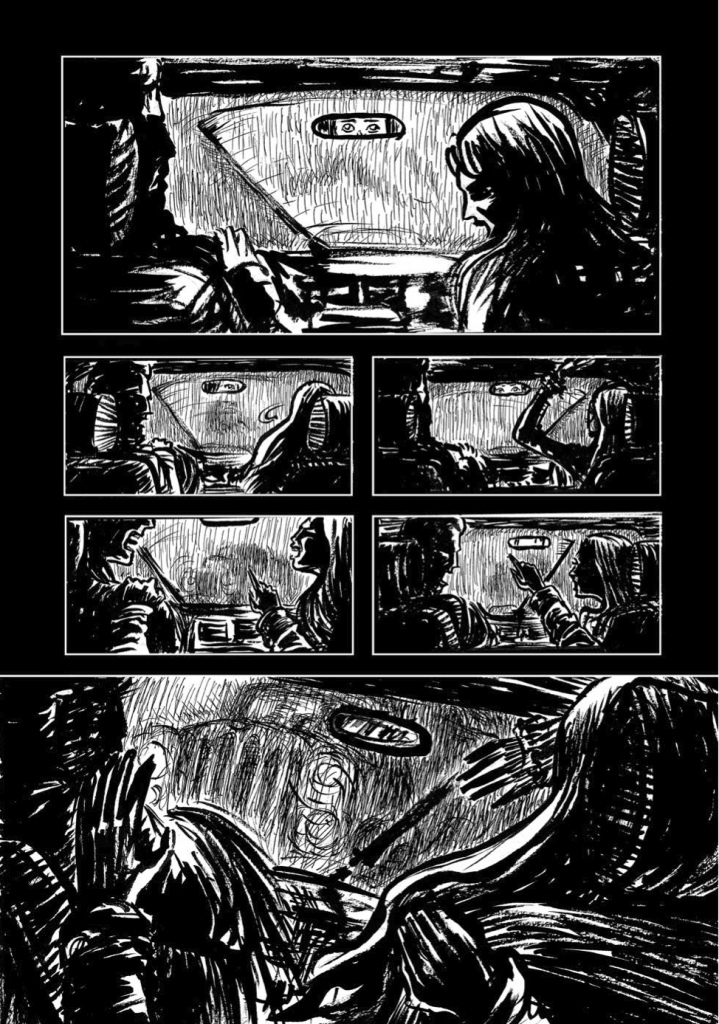 A page from co-founder Omar Khouri's "Salon Tarek el Khurafi" in Issue One
The Educator (2007-2010)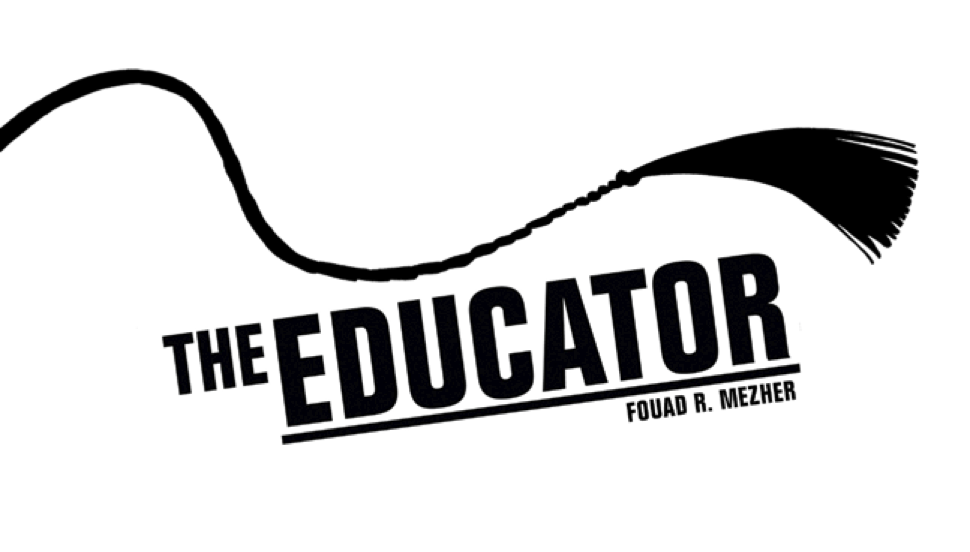 Creator: Fouad Mezher
Website: http://fouadmezher.blogspot.com/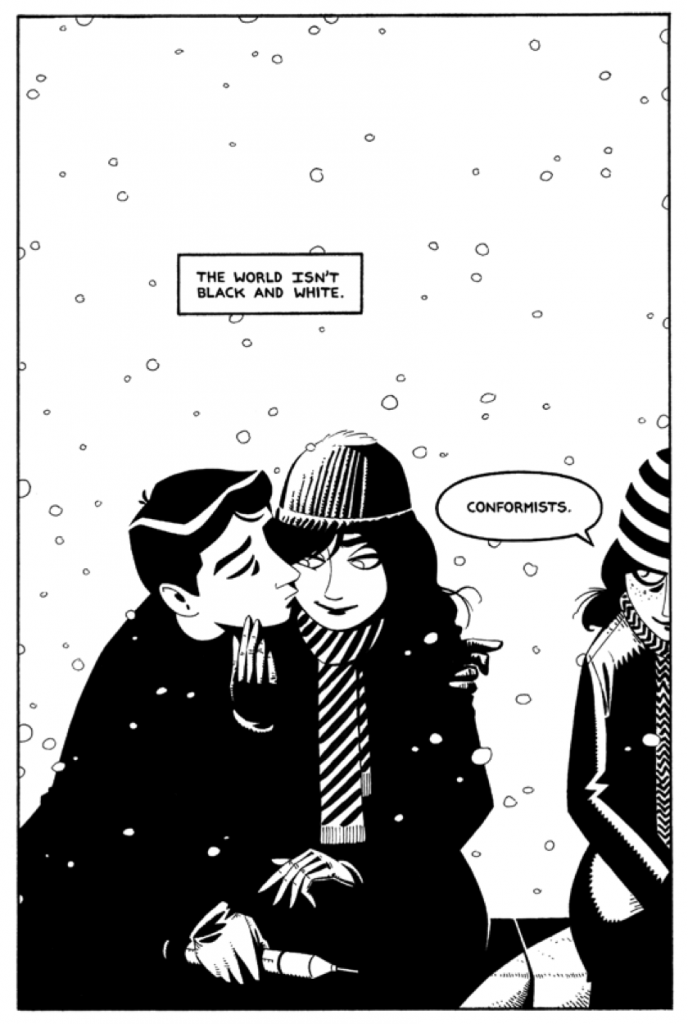 About: The best longer form comic to emerge from the depths of Samandal is the work of Fouad Mezher in The Educator. The story of how straight-laced John Fawkes finds love and a cause in the backdrop of a totalitarian academy seams simple enough at first blush (ha) but one of Mezher's greatest talents is embedding a seemingly straightforward action comic with commentary about Lebanese politics. Put differently, imagine if Vertigo knew how to do subtlety and refrain from being overly-preachy and you would have something resembling The Educator. This charming (and violent!) comic is also notable for using the high contrast black-and-white approach masterfully for capturing the pseudo-Lebanese landscape.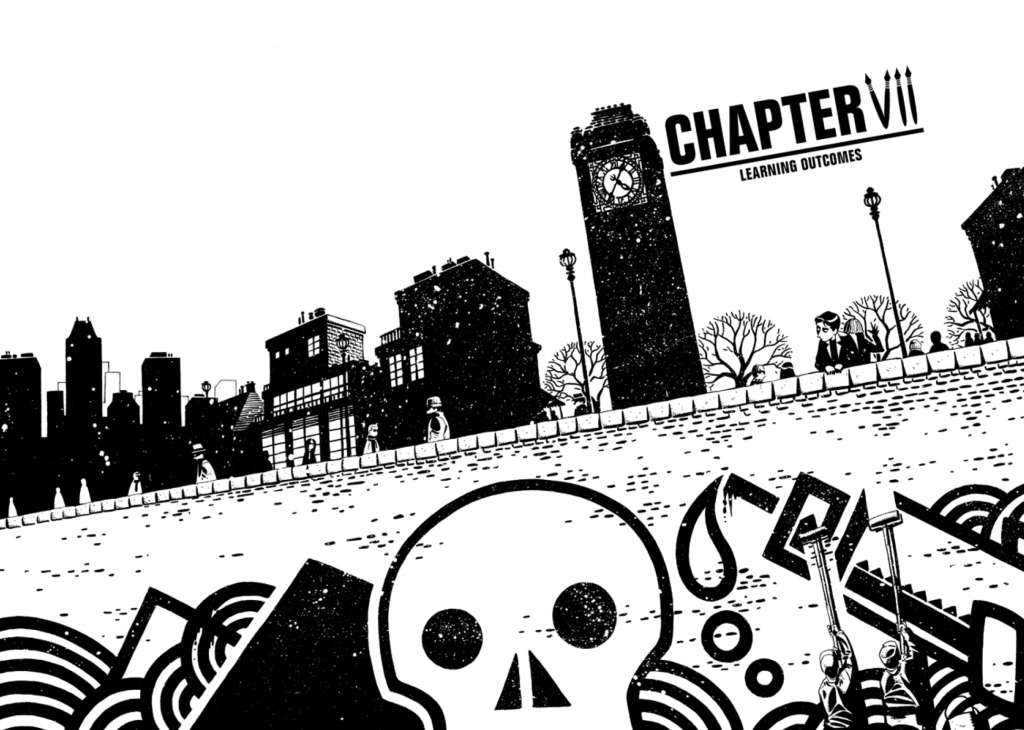 Mezher's follow up to The Educator, a comic about an Arab-American girl who becomes a superhero called Enigma, is currently one chapter in and looks like an extradroadinarly promising follow-up.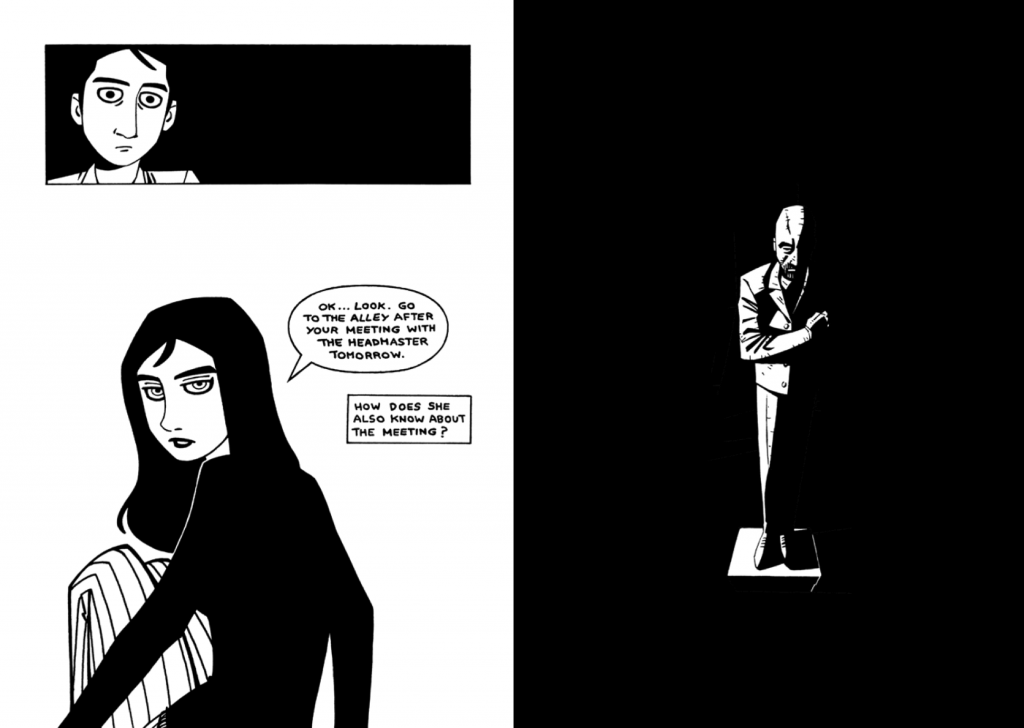 More black-and-white goodness from The Educator.
Malaak, Angel of Peace (2006 – Present)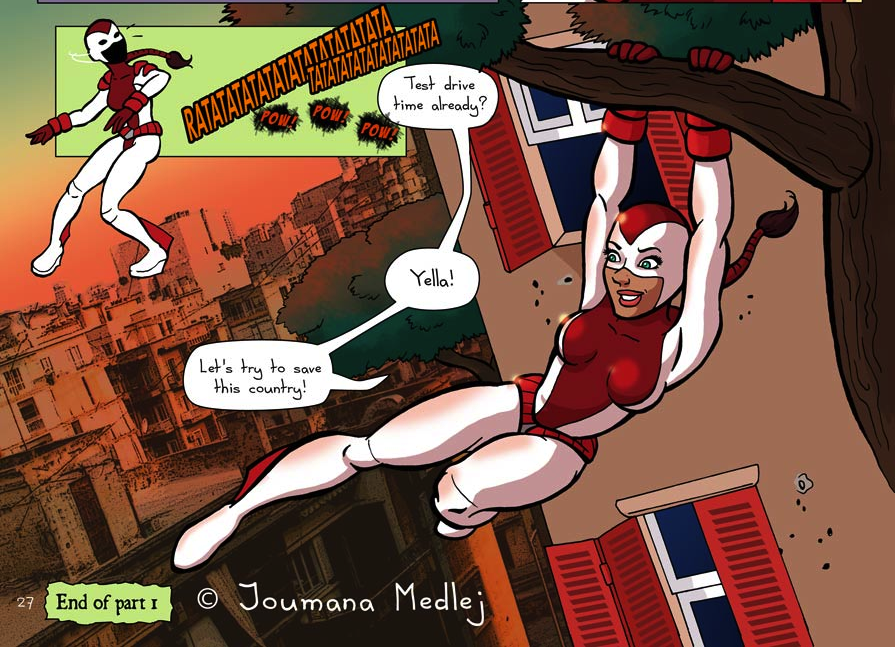 Creator: Joumana Medlej
Website: http://www.malaakonline.com/index.html
About: Malaak: Angel of Peace is a prime example of how Arab artists are using a long-established medium to convey a very different kind of message. I'm not usually crazy about superhero comics, but then again superhero comics aren't usually about measuring the human cost of sectarian violence. As a fellow Lebanese who is discouraged by the political bickering of the country (and region) almost always, it is nice to read Medlej's clever response to inflammatory rhetoric in the form a superhero who champions the people. In my opinion, the series (currently in its fifth volume and all available for free online) greatest success is the way in which Medlej wonderfully captures Beirut in her pages. From the backgrounds to the people to the dialogue, this is a comic with a distinct point of view from an author who is a keen observer of her surroundings.
Also, it needs to be mentioned that Malaak is pretty great at fighting.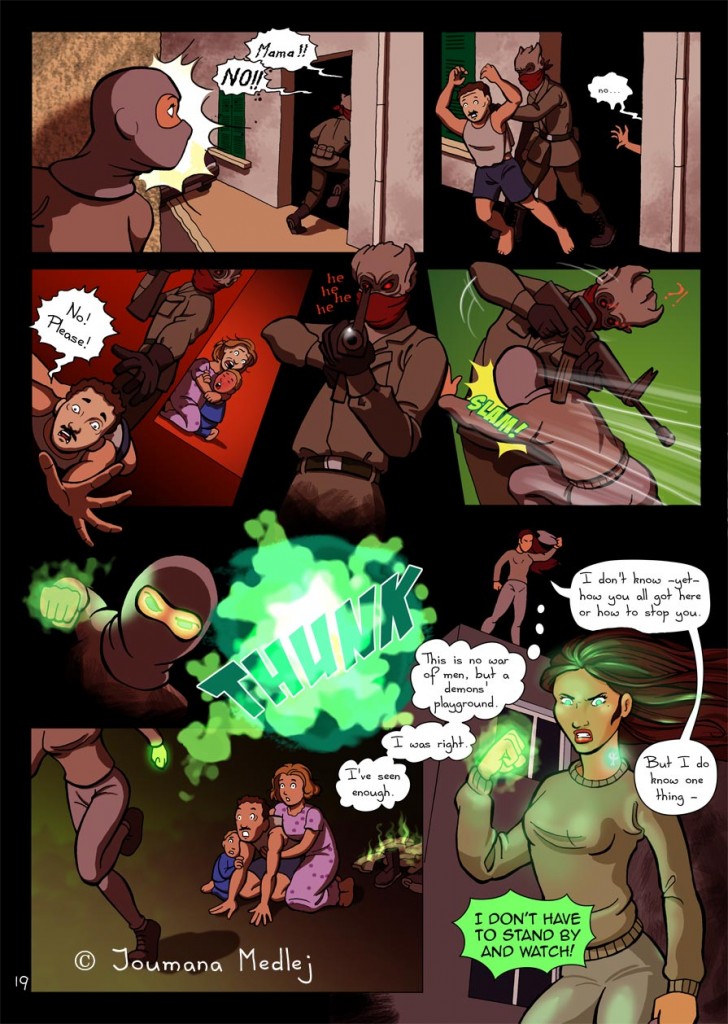 As a parting thought I feel comfortable recommending Malaak based solely on the sublime and beautifully executed dream sequences. Proof: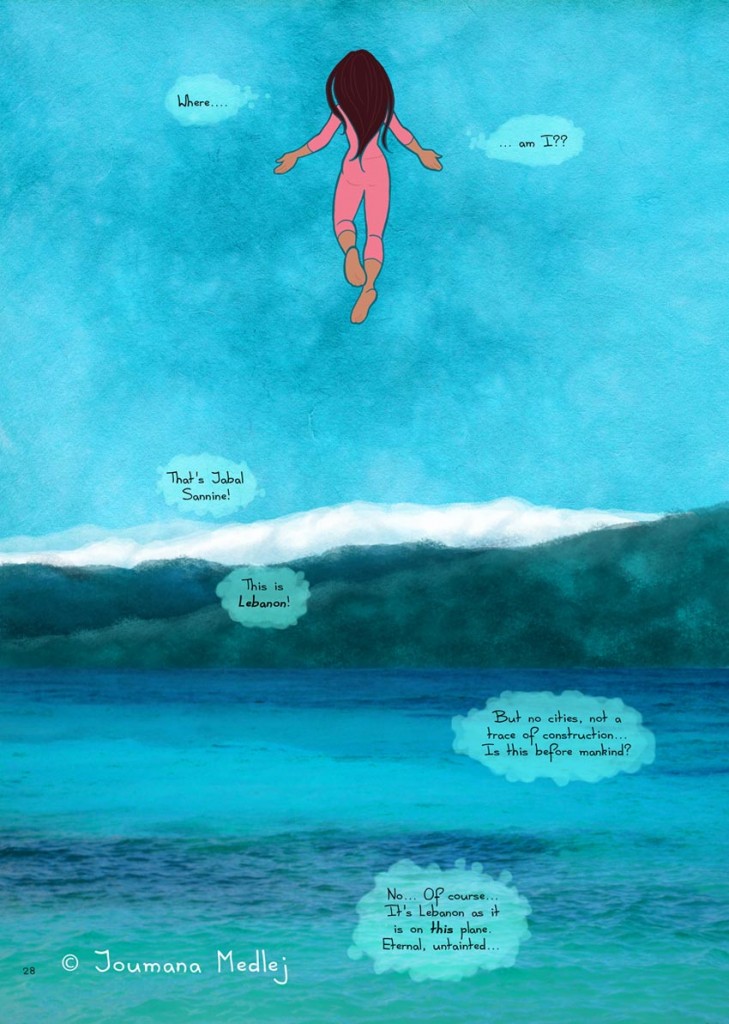 Supplementary Links:
Mazen Kerbaj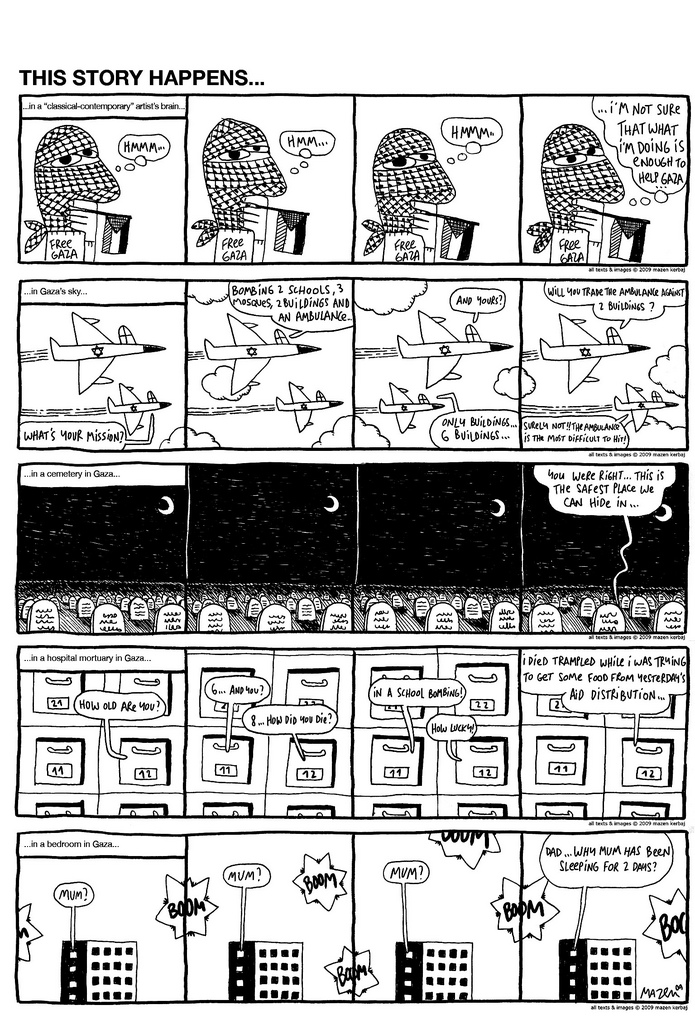 Websites: http://mazenkerblog.blogspot.com/ and http://www.flickr.com/photos/kerbaj
About: You can't really talk about Arab comics without talking about Mazen Kerbaj. Although he hasn't produced a proper collection of comics to my knowledge, he has been an active practitioner since at least 2000. Kerbaj's comics skew towards the political (above, obviously) as he bridges the gap between the older generation of Middle Eastern political cartoonists (dating back to 1920s) and the newer Samandal-influenced crop. I find his straightforward approach to comics to be highly effective, almost like a millennial Handala.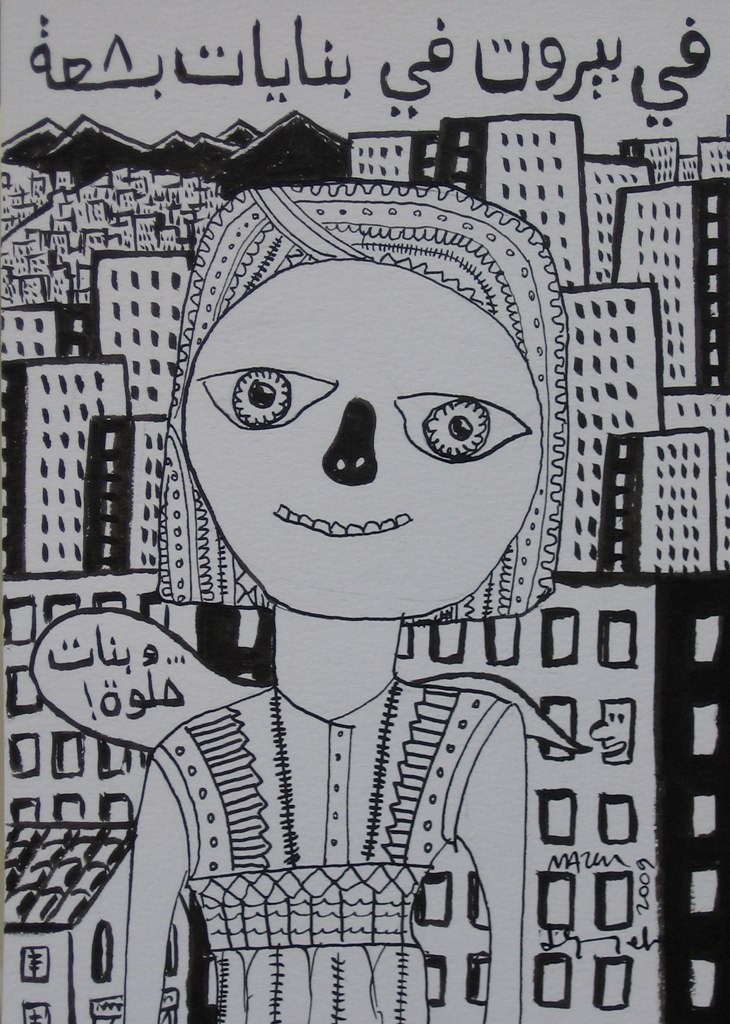 Translation: In Beirut there are ugly buildings, and beautiful women! (It's funny because those words are similar in Arabic. And because it's true.)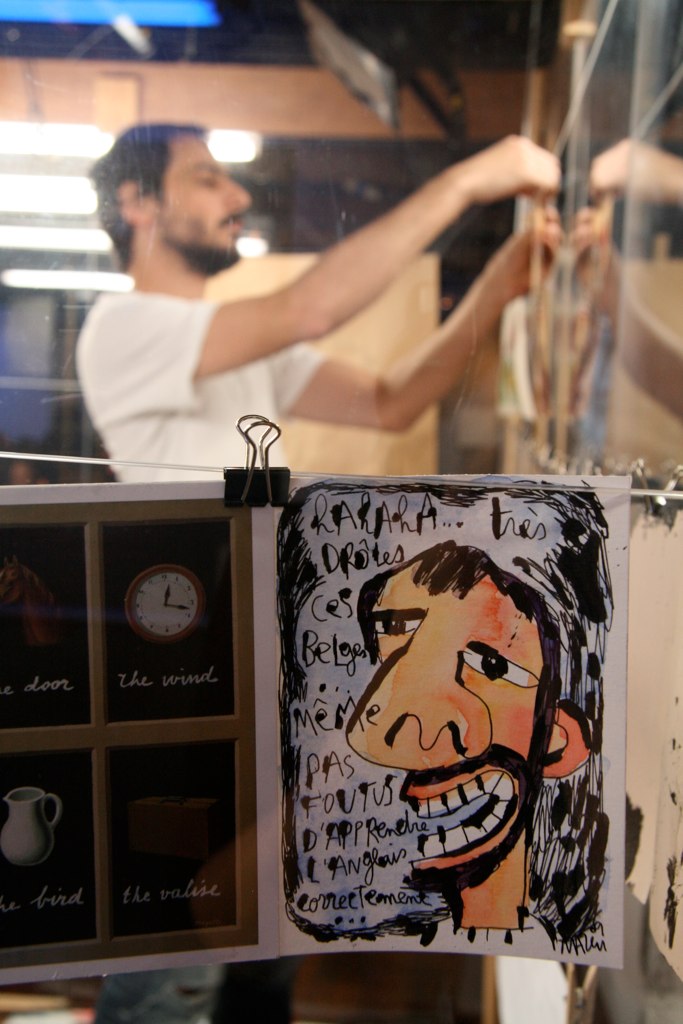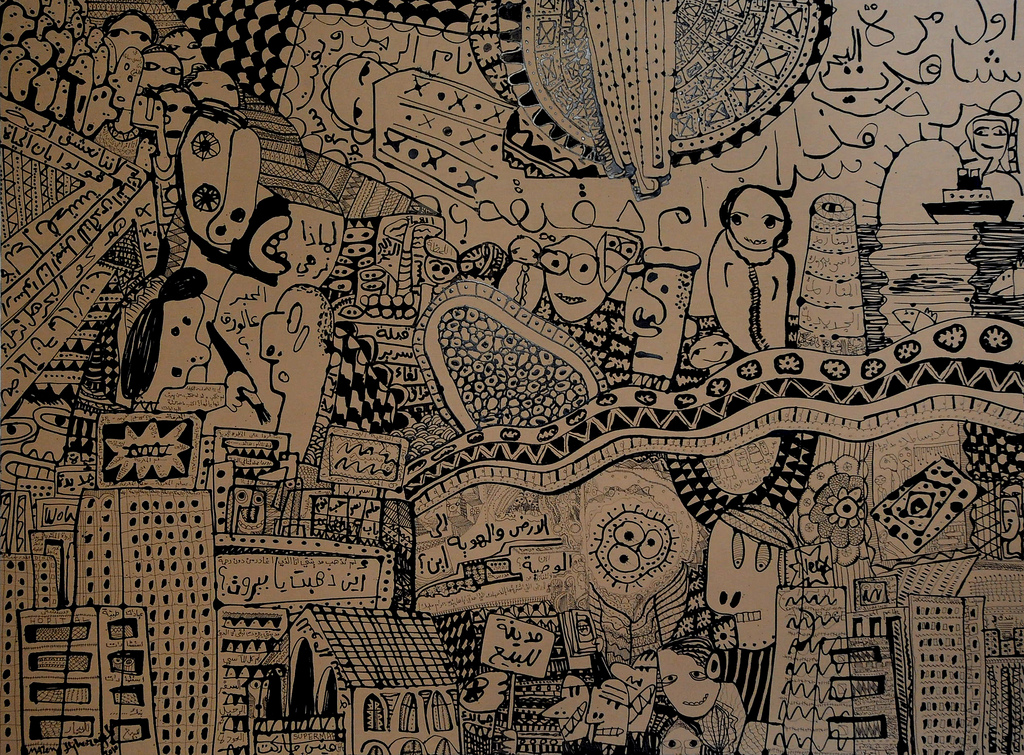 All Photos From Kerbaj's extensive Flickr Feed.
Egypt:
Metro (2008)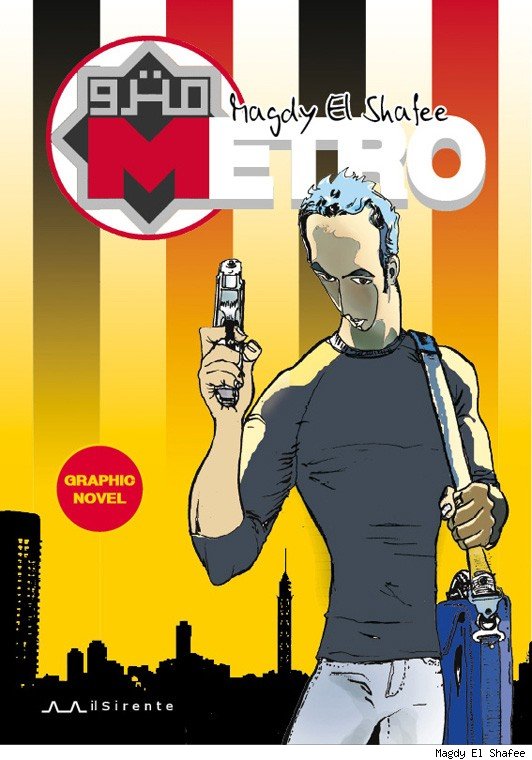 Creator: Magdy El-Shafee
Publisher: Mohamed El-Sharkawi
Website: http://www.magdycomics.com/

About: Because of the recent media attention Magdy El-Shafee's Metro has garnered, you may already know about this comic that was published in Arabic by El-Malameh Publishing House. Billed as "the first Arabic graphic novel," Metro tells the story of a young software designer named Shihab who decides to rob a bank in order to pay back a massive amount of debt he owes corrupt officials. The comic paints a scathing portrait of Mubarak-era Egypt (known for last the thirty years as "Egypt") where all police are corrupt and Egyptians themselves are too complacent to change anything. It should come as no surprise then that during the era of Mubarak's police state control this revolution-friendly comic was banned soon after its release. El-Shafee and El-Sharkawi were slapped with fines for "distributing graphic pornography" (there is a sex scene in the comic), but not before police raided and confiscated the majority of El-Sharkawi's offices. Just this past year an unshaken El-Sharkawi tried to open a comic book store only to be thrown in jail and have the property taken away. In my opinion, the story surrounding this comic most certainly eclipses the comic itself.
Supplementary Links:
TokTok (2011)
Creators/Editors: Andil, Tawfi2, Shennawy, Makhlouf, Hisham Rahma, Khaled Ab3ziz, Mona Sonbol, and Anwar. 
Website: http://toktokmag.com/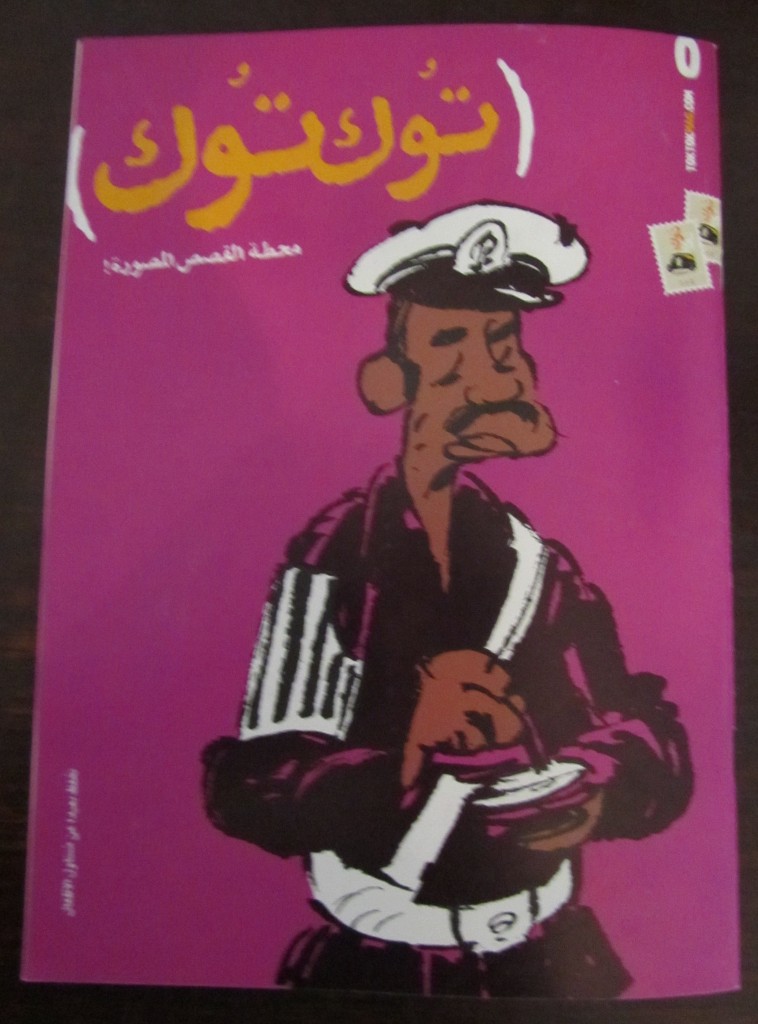 About: Egypt's response to Samandal comes in the form of this new comics' magazine. As the creators describe the Arabic-only magazine, "TokTok is different from traditional comic books, which are usually made for children.  It's a monthly review that aims to produce a bustling mass of comic strips in a free, contemporary spirit, drawn and edited by its own artists." Despite the whole revolution thing happening shortly after the release of their first issue, Toktok is back on its monthly rate with this Summer's release of issue three. The first couple of issues look promising!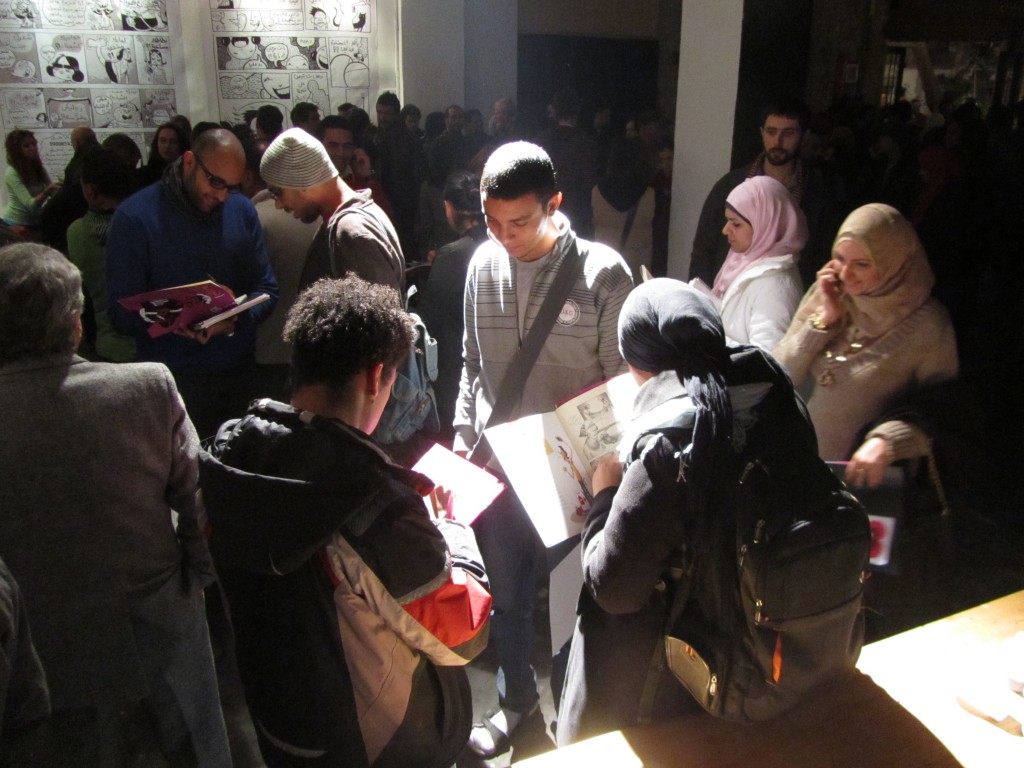 From the very well attended TokTok release party. Photos by me.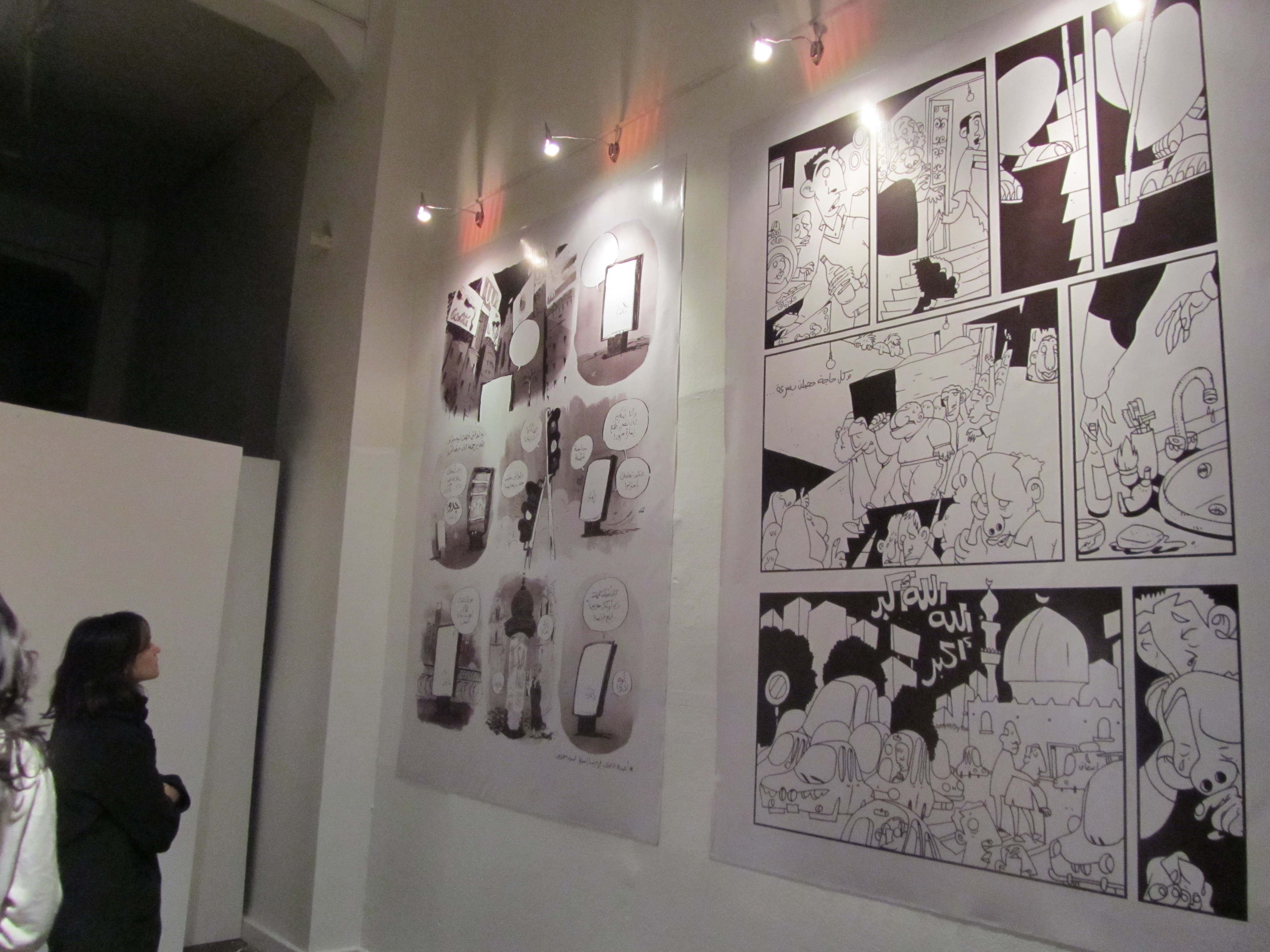 Supplementary Links:
Ruins of the Future (2009)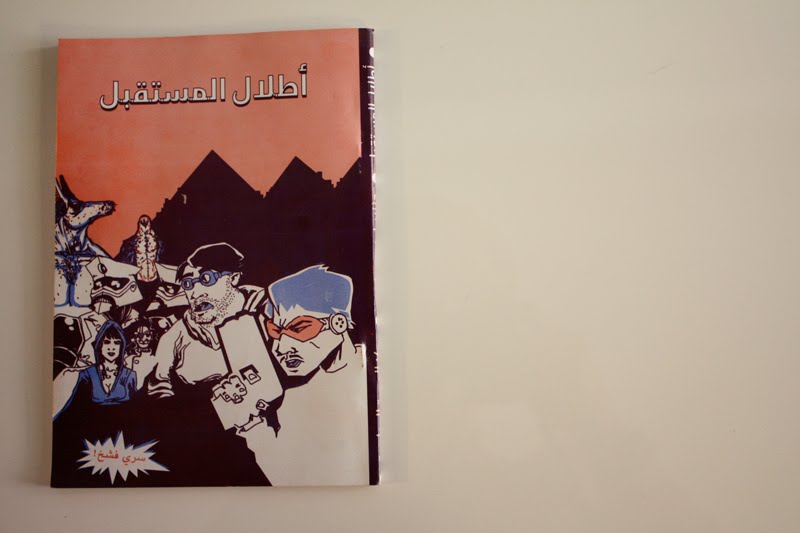 All photos from Ganzeer's blog
Creator: Ganzeer
Website: www.ganzeer.com / http://ganzeer.blogspot.com/2009/12/archives-ruins-of-future.html
About: Although I haven't gotten a chance to read Ruins of the Future for myself, it sounds pretty amazing. From what I gather from Ganzeer's blog it a science fiction graphic novel set in the pyramids. As he writes, "Upon noticing that all scenes at the pyramids in Egyptian movies either take place in the past or present, but nothing in the future, so the idea was suggested to borrow a bit from Egyptian novels, the only source of science fiction in Egypt, and look up some scenes that take place at the pyramids, and see if a full-fledged sci fi graphic novel can come out of it."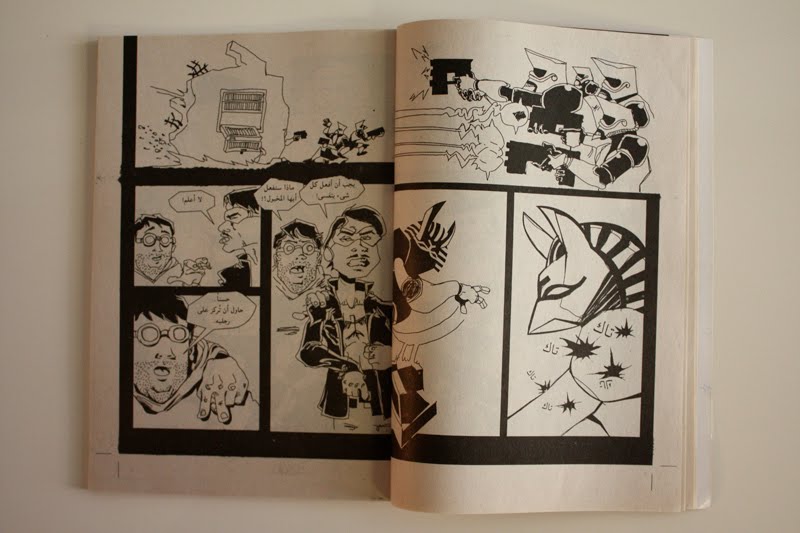 Since the release of Ruins of the Future, Ganzeer has strayed away from pure comics while venturing into some pretty amazing illustrative work. Most recently his street art has become a critical component of the revolution. A great example is this "Mask of Fredoom" sticker that Ganzeer has been passing out around Tahrir Square: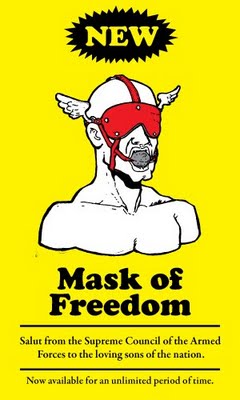 Supplementary Links:
The United Arab Emirates:
Gold Ring (2009 – Present)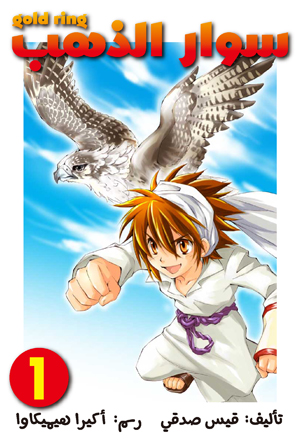 Creator: Qais Sedki
Website: http://www.goldring.ae/main.html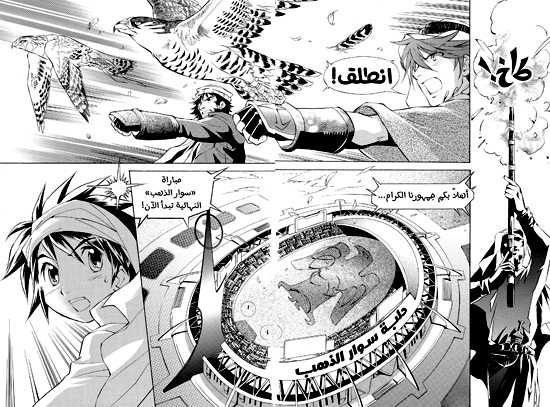 About: A highly buzzed about comic created by an Emirati software engineer turned comics creator by the name of Qais Sedki. Gold Ring marks another "first," this time the first Arab-language Manga. Because of the UAE's proximity to Asia it makes sense Dubai was the the first place to use the Manga format to tell a distinctly Arab story. And what a story it is, from the press release: "The story revolves around Sultan, an Arab boy who watches the Gold Ring falconry competition with his friend Ziad. At the competition they find a caged falcon. Sultan convinces his friend to release the falcon into the wild. The next morning, the falcon is at Sultan's doorstep. Sultan calls the bird 'Majid' and trains her for an upcoming falconry competition." The comic currently has one volume out, with an English translation of the first and a second Arabic volume on the way soon.
Supplementary Links:
Kuwait:
The 99 (2004 – 2011)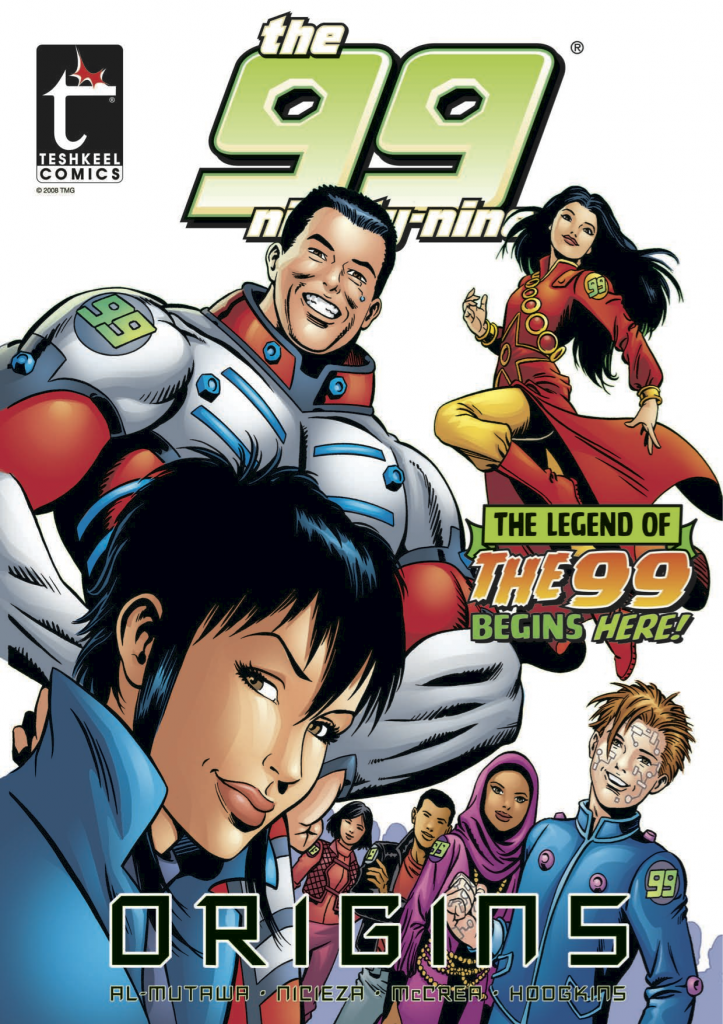 Creator: Dr. Naif Al Mutaway
Website: http://www.the99.org/
About: This is certainly the most well-known Arab comic outside of the Middle East, no doubt attributable to the media savvy of its creator Dr. Naif Al Mutaway. And when I say widely known, I mean that even President Obama gave it a shout out in a speech. The 99 is the tale of superheroes whose powers are based on the 99 attributes of Allah. Although this is a particularly Islamic set-up, Dr. Al Mutaway recruited Marvel/DC vets such as Fabian Nicieza, Stuart Moore, June Brigman, and more to give it that distinct superhero polish from the get go. The ties to the American comic industry are further exemplified by a recent cross over event which saw members of The 99 fighting crime alongside the JLA. Since its premiere and wild success in the Middle East, the comic has spawned a theme park, a television show and there are future talks of developing it into a movie. In fact, as of this year The 99 has halted production as a comic book.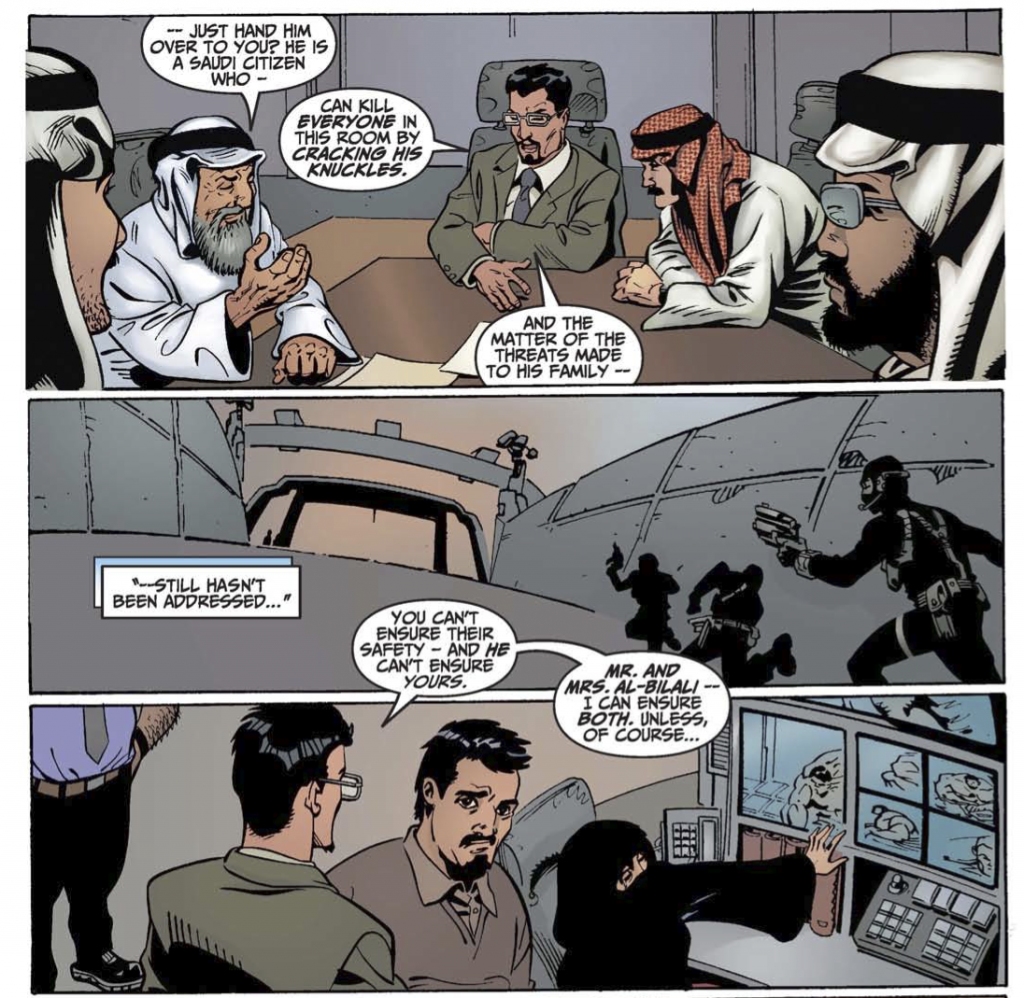 Supplementary Links: